►
◄
latest
habitat tv
blog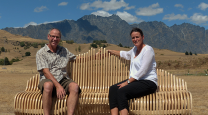 5 key interior trends
Interior designer Nicola Manning was invited to gaze into the crystal ball of trend forecasting when she attended this year's Décor + Design show in Melbourne.
Forecasting company Scarlet Opus shared the secrets on five key looks while Nicola adds her comments and creates a key Resene colour palette for each.
Published: 16 Sep 2015
Do you have a home full of wonderful Resene paint and colour? Send us some snaps by emailing [email protected].
Nature luxe
This look has a close relationship with nature but adds glamour in the form of metallics and sheen. Animal skins and hides play a big role; texture and tactile qualities are key components of this look. Craft textures are strong – knitted, woven and braided textiles – as are natural elements such as leaves, feathers, fish scales and plants. Textured treatments are used on hard surfaces to mimic soft products.
Warm metallics are the keystone component to this look, mostly a mix of brass and bronze with gold also apparent. Touches of metallic are being incorporated into materials like timber and ceramics in tiles, flooring and furniture.
Carara marble is still very on-trend and the use of travertine will come through strongly, particularly in very chunky natural pieces of furniture.
Colour is an important aspect of the nature luxe trend, comprising creams, pastels, taupe and warm grey. The stand out colour is blush, used with matt and chalky textured finishes.
Colour cues Resene Basalt, Resene Cest La Vie, Resene Spring Wood, Resene Zorba
Privacy
The somewhat sophisticated privacy theme is based around the premise that the greatest luxury in the past decade has been time, and that the greatest luxury in the next decade will be privacy.
With the growing amount of social media, extensive use of technology and the culture of sharing more aspects of our lives electronically, privacy is something we are starting to crave.
People's reaction to the increasingly open-plan nature of many workspaces and homes also contributes to this. People want to feel safe and secure, cocooned and enveloped – and in control of what we share. We want the flexibility of open-plan living but the ability to adapt those spaces to private retreats. For example, we might choose a combination of sofas and chairs that allow families or people to sit together while still being able to watch or enjoy their own private media.
The colour palette associated with this trend is soft, comforting, discrete pastels with a hint of grey; not too girly or feminine.
Colour cues Resene Turkish Rose, Resene Whiskey, Resene Blossom, Resene Soft Amber
Fantastical nature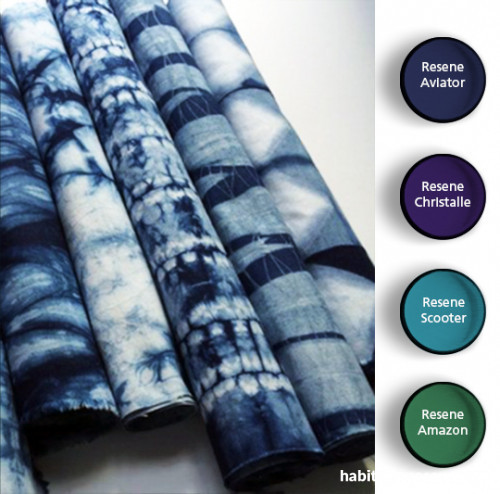 With heavy influences from both the sea and the jungle, this trend uses pattern, graduated colour, ripples and waves, feathers and plumage. Fantastical nature's most noticeable pattern technique, is the Shibori, a Japanese technique for dying cloth by binding, stitching, folding, twisting, and compressing fabrics. The result is diagonal stripes that are reminiscent of storm-driven-rain.
Strong influences of the look are the types of organic architecture coming to the fore globally, as well as movies like Avatar 2, the much-anticipated sequel to which is due out in 2017.
Indigo is the most prominent colour in the fantastical nature trend, joined by lagoon blues, strong unisex pinks, lush greens, neons and pearlescence finishes – creating a look that is dark and exotic. Bronze metallics work beautifully with this trend.
colour cues Resene Sassy, Resene Zuccini, Resene Can Can, Resene Toledo, Resene Victoria
Belo Rio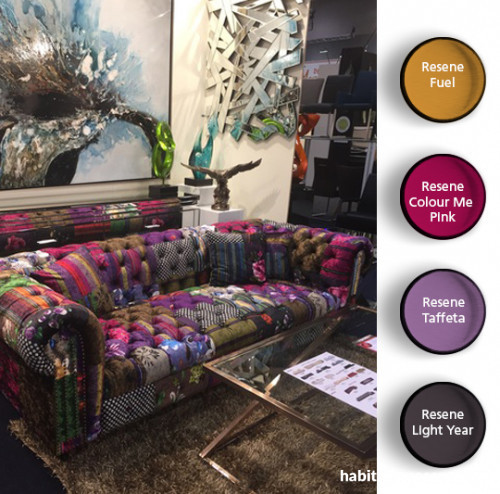 A carnival vibe mixed with the vibrancy and energy of South America's street culture, Belo Rio is an exciting new trend. Influences for the trend come from the Amazon rainforests, and from Africa.
It has a 'purposefully imperfect' element with repurposed furniture and accessories as well as a layering of colour, texture and pattern. Bird motifs are big, and Belo Rio is as much about decorating our outdoor spaces and our indoor ones with outdoor rugs, all-weather fabrics, louvres and shutters. It's a casual, easy-to-achieve look with a vibrant colour palette.
Colour cues Resene Deep Koamaru, Resene Homegrown, Resene San Felix, Resene Well Read
Modern nomad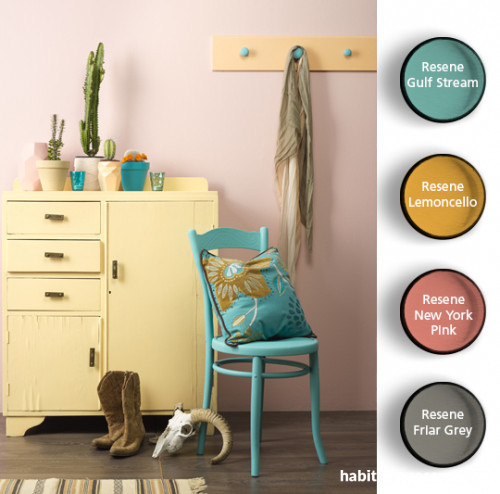 This trend is based on the understanding that we have become more mobile, both in the way we live and work. This change in lifestyle has impacted hugely on design in our homes with increasing need for furniture and other interior products that are multi-purpose, space efficient and sustainable.
The look embraces a mix of timbers in a single piece of furniture or area of flooring, while concrete, plywood, chipboard, and reclaimed wood clearly emerge as key finishes of this trend. The colour palette is generally muted.
Colour cues Resene Green Pea, Resene Gulf Stream, Resene Cannon Pink, Resene Cranberry
To find out more about interior designer Nicola Manning and her work, see www.nicolamanningdesign.co.nz.