►
◄
latest
habitat tv
blog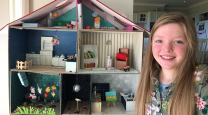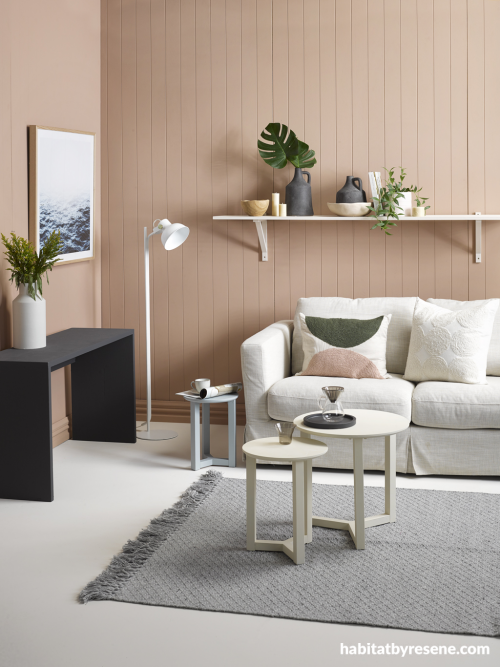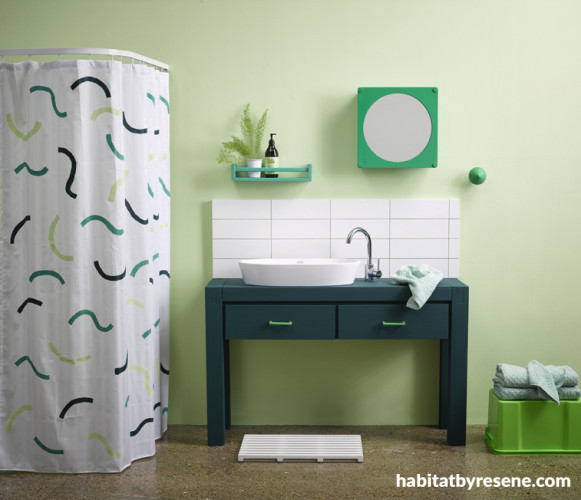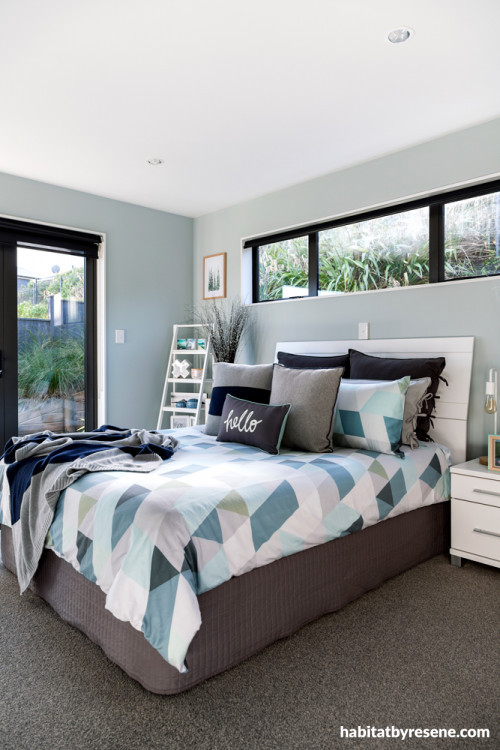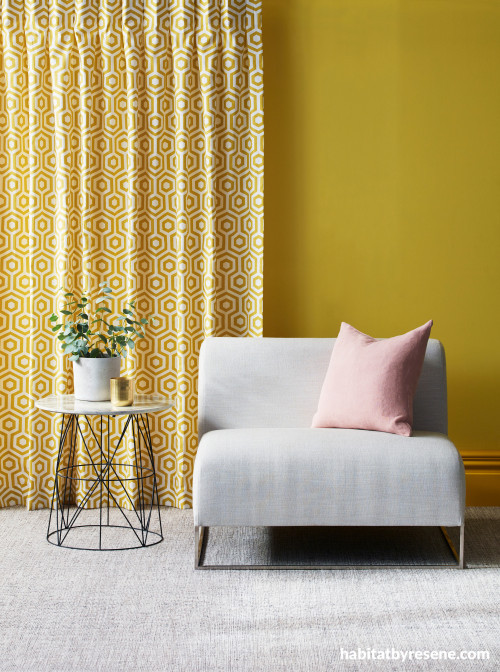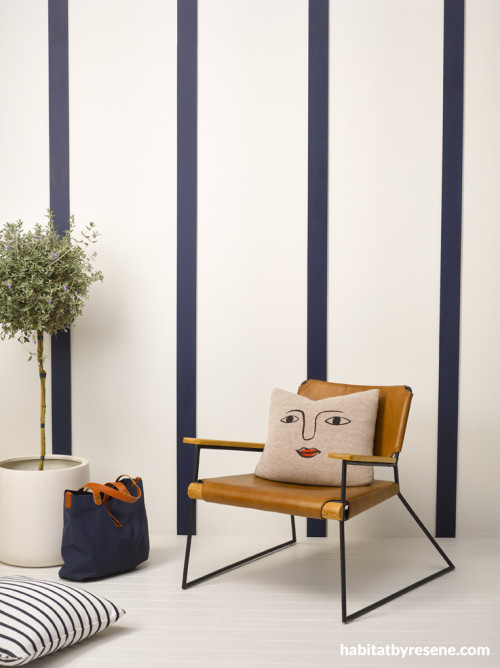 5 must-have colours this season
Now that the weather's warming up, it's time to shrug off the dark, cocooning colours of winter and brighten up your home with the on-trend colours for spring and summer.
The types of colours that are on the rise this season are soft, weathered tones, as well as fresher greens and hits of citrus. A spring and summer favourite is always sea tones – aqua, duck egg and gentle blue. When it comes to white, watch them warm a little as we move away from the grey-edged crisp whites to ones with bone or antique cream tones.
Dusky pinks: We've left behind the pretty and icy pinks and embraced pinks that are a bit more ambiguous. They're edged with sandalwood, tan, smoky mauve or biscuity brown.
Much easier to use anywhere in the house, these dusky pinks also go with a surprising array of other colours. Check out ochres and charcoals, or try with smoky blue, fleecy white, deep brown or khaki green.
Dusky pinks to try:

Fresh green: Nothing says spring and summer like a newly emerged leaf. The crisp, almost fragile green of a new shoot is easily relatable to our interiors. Green has been a favourite of late, with botanic greens a hot trend last year, morphing into dark and khaki greens this winter.
Colour forecasters say that greens with a cleaner, fresher edge are set to rise. Keep them fresh with simple accessories of clear finished timber and clean white.Fresh greens to try:

Soft sea blue: There's a reason people go ga-ga over Resene Duck Egg Blue. It's one of those hugely versatile grey-blues that can form the basis of so many interior styles, from beachy to high-brow.
Other sea-inspired colours from bleached blues through to misty greens are always to the fore in warmer months. Use them with bright beachy accents like red or yellow, or keep it tonal with whitewashed timber, deep dusky blue and seafoam greens.
Soft sea blues to try:

Yellow: A sparkling sunshiny colour, yellow will bring on the feeling of spring and summer like no other. This year, we're seeing yellows that are deeper – for winter they were mustard and ochre but for summer, we'll see rich but softer yellows like honey, sand or butter.
Warm whites are a yummy accompaniment for these deeper yellows (if your yellow is clear and bright, use a cleaner white). Also try soft greys and greens as accents.
Yellows to try:

Blue and white: Blue and white stripes are a classic summer motif. You can use them in a nautical-inspired scheme with regimentally straight, even stripes of crisp navy and white.
Or try them in a more subtle format: widely spaced 'pin-stripes', or hand-painted stripes for a more individual look, or broad horizontal stripes. Whatever your stripe style, using blue and white together will give your room a fresh summery look.
Published: 11 Oct 2017
Do you have a home full of wonderful Resene paint and colour? Send us some snaps by emailing [email protected].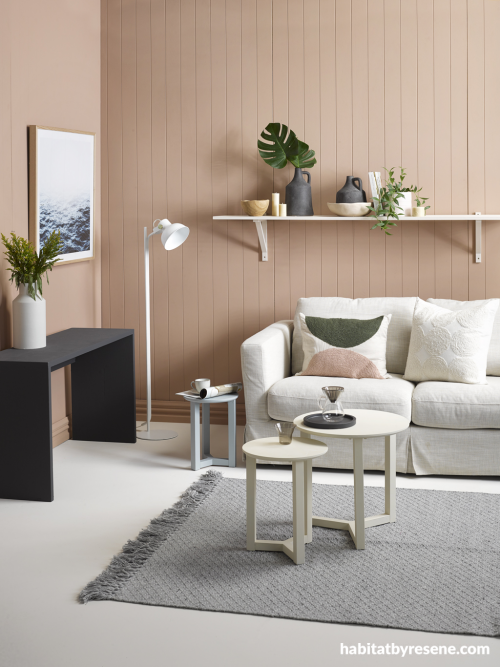 Who would have thought that a pink living area could look this good? This toasty biscuit pink is Resene Rascal, the floor is Resene Quarter Sandspit Brown, and there are accents in Resene Gumboot (sideboard), Resene Dusted Blue and Resene Spanish White (coffee tables), Resene Half Biscotti (shelf) and Resene Quill Grey (tall vase).
pictures
by Melanie Jenkins. Styling by Gem Adams. Sofa from Freedom Furniture, cushions from Citta, rug from Tessuti, art prints and accessories from Father Rabbit.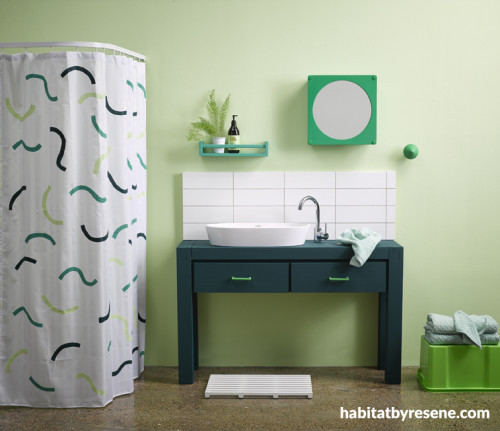 Green looks great in a bathroom. This one has walls in Resene Fresh, the vanity is in Resene Atlas (use Resene Enamacryl for durability), the shelf is in Resene Vitality and the duckboard mat is in Resene Alabaster.
pictures
by Melanie Jenkins. Styling by Kate Alexander. Basin and tap from Plumbline and towels from Farmers.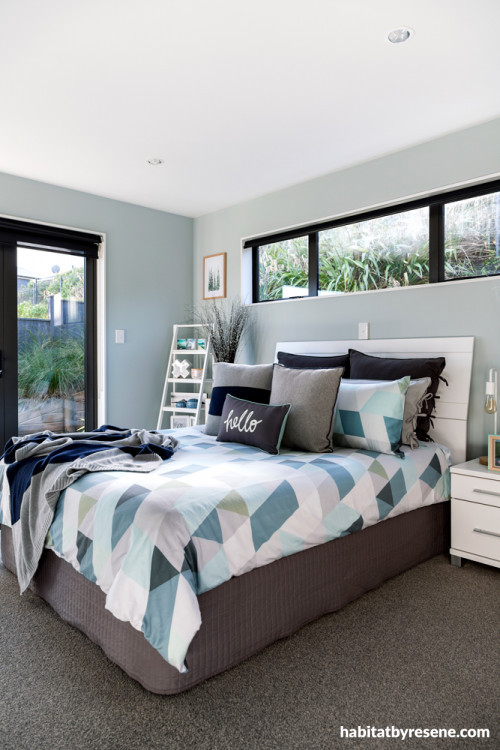 Resene Duck Egg Blue is a restful colour to use in any bedroom. Homeowner Jenna Sims used it to great effect here. See the rest of her house here.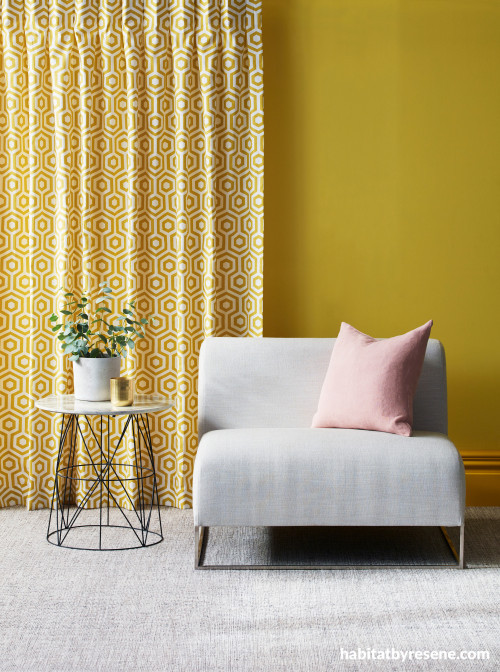 This Resene Energy Yellow wall is a striking colour, softened by fabrics from the James Dunlop Textile Hexagon range.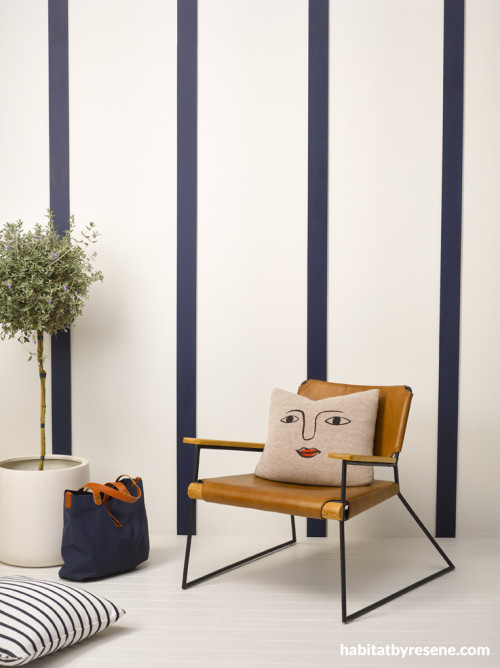 A wall painted in Resene Wan White has been given stripes in Resene Blue Night in this room styled by Amber Armitage for Remix magazine. Add some quirky accessories and it's a fresh, summery space.
Resene Quarter Sandspit Brown
the look
If you're stuck on what
colour to use or need colour
advice, try out the Resene
Ask a Colour Expert service.