►
◄
latest
habitat tv
blog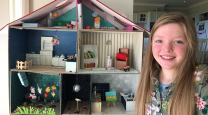 5 perfect ways to go purple
Where does your mind go when you think of purple? Chances are a certain shade will stand out to you – be it vibrant violet, spicy plum, or gentle lavender or lilac.
Whether your pick is a full-on purple or more of a neutral undertone, it's easy to find a purple to suit anyone's personality and home. And even a quick glance at the range of purples Resene has on offer will show you how rich and varied the tones can be – which is why the thought of introducing the colour to your home shouldn't be scary at all. Rather, it can be fun and exciting!
In celebration of it being Purple Day for Epilepsy New Zealand, a day dedicated to increasing awareness about epilepsy worldwide, we've been inspired to look at ways to include purple into your interior: through full-on rooms painted in purple, to subtle pops of the delicious colour, as well as gorgeous wallpaper feature walls.
Go all out
"Purple is the pick if you're after a little glitz and glam," says stylist Kate Alexander of Places and Graces. If you want to go headfirst into the world of purple, Kate suggests going for deep, mysterious shades of ruby combined with unexpected pops of orange or gold and surfaces with sheen and shine. The orange and gold could be in the form of candlesticks painted in a metallic – think Resene Gold Dust – or a wooden table stained in a subtle orange hue, such Resene Colorwood Oregon timber stain. The end result is a beautifully warm interior, inviting and exciting all at once.
Published: 25 Mar 2020
Do you have a home full of wonderful Resene paint and colour? Send us some snaps by emailing [email protected].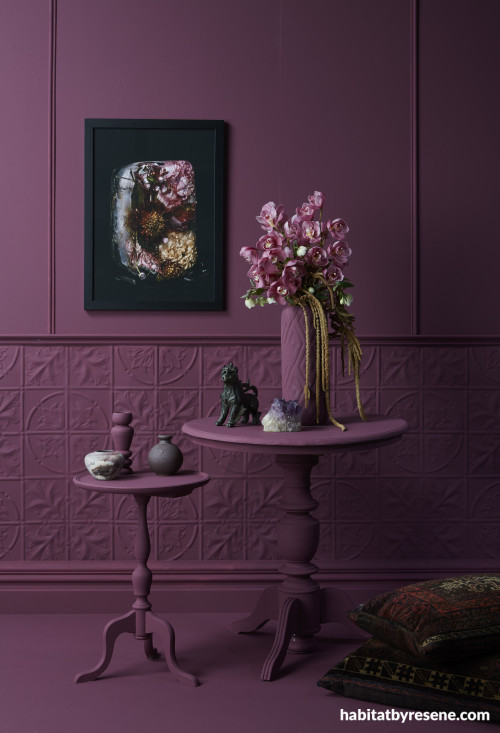 From tip to toe, this room makes a statement in rich and vibrant Resene Virtuoso.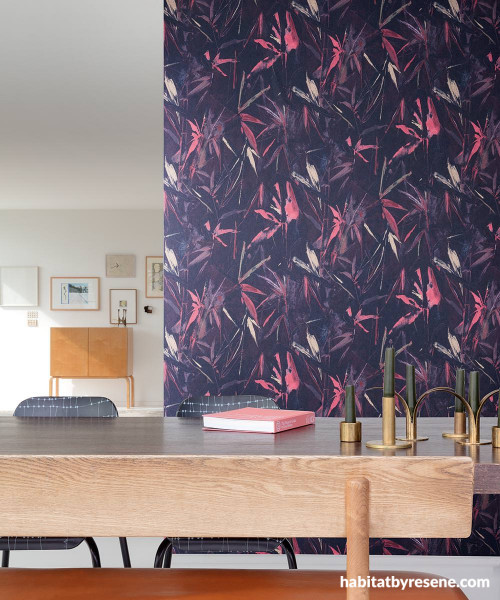 Resene Wallpaper Collection IUM107 is a leafy design that's ideal for bringing drama as an accent wall in an open plan dining room. For balance, go for adjacent walls and ceilings in Resene Half Sea Fog, a floor in Resene Whiteout, and bring in a few small accessories in Resene Foundry and Resene Apple Blossom to pick up the detail colours in the wallpaper design.
Create a timeless palette
If a lighter hue is more to your taste, try a grey-hued mauve but mix it up with a darker neutral – this will create a modern, adult look, rather than a nursery feel.
"Mauve is my absolute favourite tone of purple," says Kate. "You can take it really soft so in some lights it almost looks grey."
This is a gentler approach to purple, but one you can really punch up with a darker neutral. Something like a dark charcoal grey, think Resene Bokara Grey, or a dark, red wine purple, such as Resene Spitfire, will take it from simply pretty to timeless and cool. For a Scandi feel, add crisp white details and grey accents throughout the room in shades like Resene Half Black White and Resene Half Nocturnal.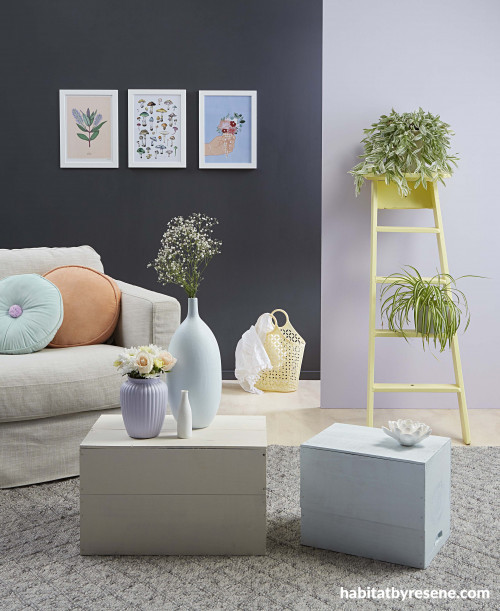 Mix a light lilac with other pretty pastels for a Scandi look. For balance, keep the rest of the room neutral with varying depths of greys and keep timber floors light in Resene Colorwood Whitewash. Wall at left in Resene Nocturnal, wall at right in Resene Poet, smaller vase in Resene Poet, large vase and smaller coffee table in Resene Cut Glass, ladder in Resene Moonbeam and larger coffee table in Resene Sazerac.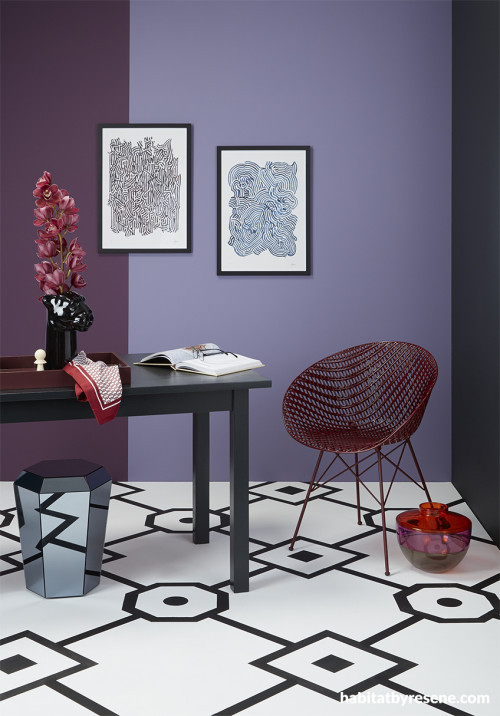 For a sophisticated look, try pairing more than one deep purple together with a dramatic black. Walls in (from left to right) Resene RSVP, Resene Memory Lane and Resene Blackjack, table in Resene Blackjack, floor in Resene Elderflower with painted pattern in Resene Black.
Introduce it through patterns
Patterns are a lovely way to introduce any colour to your interior, and the Resene Wallpaper Collection has a wide array of options to choose from. As with any pattern, the busier the wallpaper, the less busy you will want your furnishings.
A busy pattern will look great with solid-hued furniture such as a couch, ottoman or carpet in complementary purple hues. If the wallpaper design is more on the subtle side, introduce more texture through cushions and other accessories.
Another nice way to add to the wallpaper is choosing three colours that are complementary. Introduce your three hues through candlesticks, vases, cushions, throws and on adjacent walls – try going with lighter shades, and be sure to ask advice from the expert staff at your local Resene ColorShop if you're unsure just what colour to pick. Or, ask a Resene Colour Expert free online, www.resene.com/colourexpert.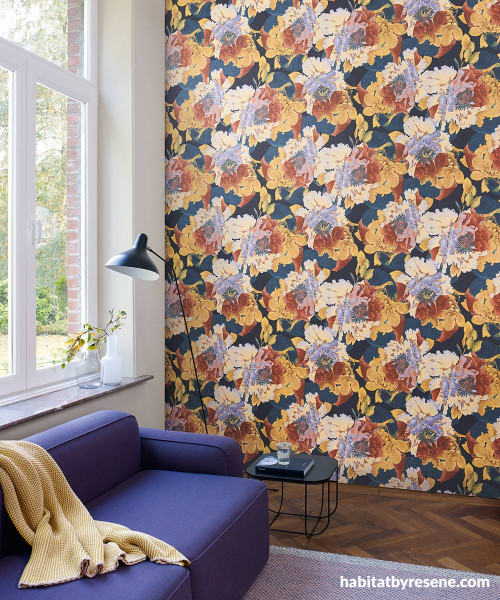 Resene Wallpaper Collection GLA707 has hints of violet, making it an ideal partner for a purple sofa in Resene Paua and a rug in Resene Sonique. Go for trims in Resene Alabaster, adjacent walls in Resene Rice Cake, a timber floor stained in Resene Colorwood Natural, then throw in a throw in a buttery yellow like Resene Oasis and you'll have a lounge others will long for.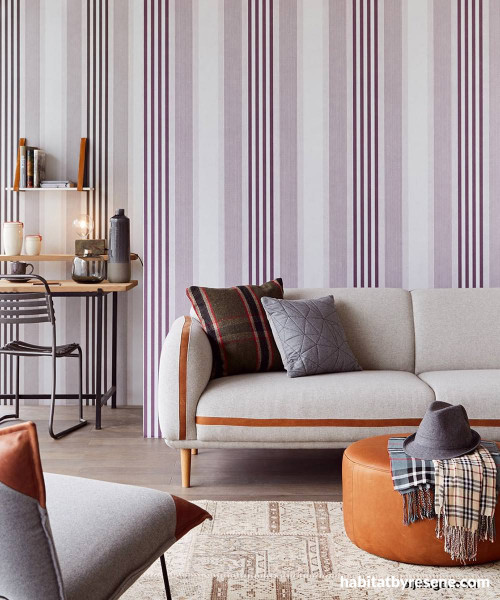 Take the strong lines from Resene Wallpaper Collection E377102 and echo them throughout your space through other linear, angular and rectilinear shapes. Go for timber floors in Resene Colorwood Light Greywash, a sofa in Resene Truffle and add an ottoman and accents in Resene Twizel.
Try it in your child's room
For children's rooms that are needing a refresh, Kate loves plum and aqua as a combo. "Plum vibes with aqua, like pink goes with blue," she says.
When it comes to using this scheme, use your imagination and have fun with it! Think striped walls, painted cabinets, upcycled skateboards painted in a few aquas and purples. Let the kids take part in choosing the colours as well – they'll love their bright and playful new space, which they've helped to create.
Kate's final tip: "Add a touch of highlighter yellow for a scheme that's right up any kid's alley."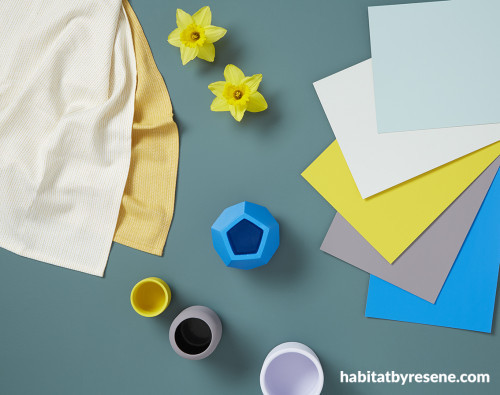 This cheerful colour palette, punctuated with pretty purples, would look lovely in any kids' room. Background in Resene Blue Meets Green, A4 drawdown paint swatches in (from top to bottom) Resene Unwind, Resene Secrets, Resene Hive, Resene Sixth Sense and Resene Endeavour and vases (clockwise from top) in Resene Endeavour, Resene Hive, Resene Sixth Sense and Resene Dreamtime.
Gently, gently
So, what if you like purple but you don't want to go all out? Kate suggests using it simply as a highlight to liven up an otherwise monochromatic room. As mentioned before, today's popular purples are pairing up nicely with aquas, oranges, dark neutrals and gold. Even natural wood grains look stunning with a touch of mauve or plum red painted alongside. Give a wooden bath mat a makeover, brighten up a plant pot or freshen up a splashback with one of the many gorgeous purples from the Resene range – a Resene testpot ought to do it. Who knows – it may spark the purple-lover inside you, with bigger, more purple projects in the future!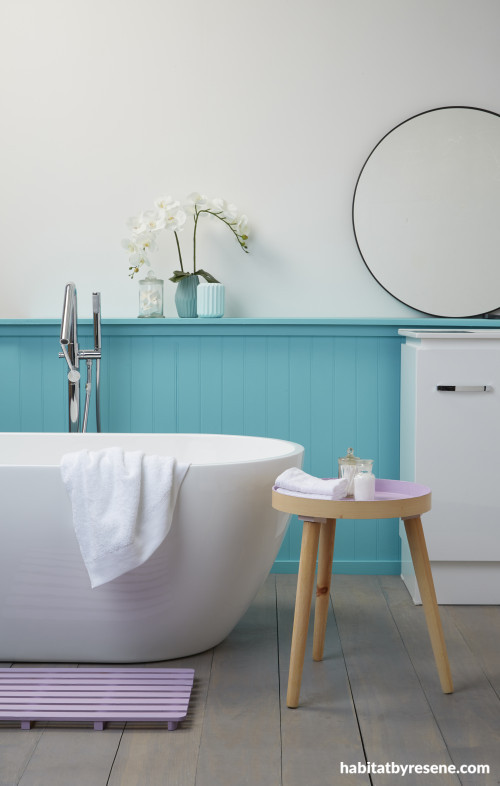 Just a few hints of Resene Mozart on the tray table and duck mat go a long way in this washroom. Upper wall in Resene Elderflower, tongue-and-groove panelling in Resene Yes Please, floor in Resene Colorwood Mid Greywash and vases in Resene Meditation (left) and Resene Kandinsky (right). Tub, vanity and bath filler from Plumbing World.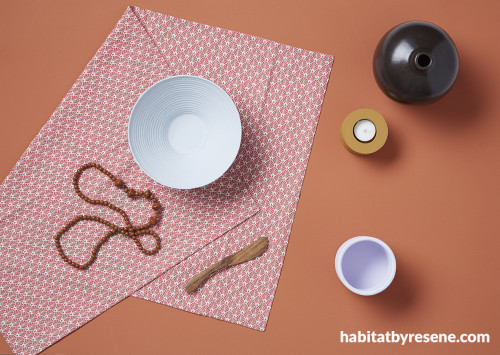 A touch of cool lavender and a pale blue are a lovely way to balance out a toasty terracotta, caramel and coffee colour palette like this one. Background in Resene Sunbaked, bowl in Resene Remember Me, tealight holder in Resene Swiss Caramel and pot in Resene Dreamtime.
styling Kate Alexander, Laura Lynn Johnston
images Bryce Carleton