►
◄
latest
habitat tv
blog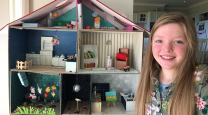 5 sophisticated colours to covet for your home
Staying in is always a bit of a trend in the cooler months, but this year it seems even more appropriate. With hunkering down in mind, toasty colours and cosy furniture are just what your home needs to make cocoon-like spaces even more inviting. Striking yet warm and welcoming colours like rich navy, spicy orange, warm gold, olive green and warm neutrals are perfect for cocoon-worthy spaces
If you're unsure exactly which one to pick, we've rounded up five on-trend Resene colours you'll be quick to fall in love with. Combine one of these sophisticated shades with elegant furnishings and layer in some favourite muted hues for a home you won't want to leave.
Resene Jaguar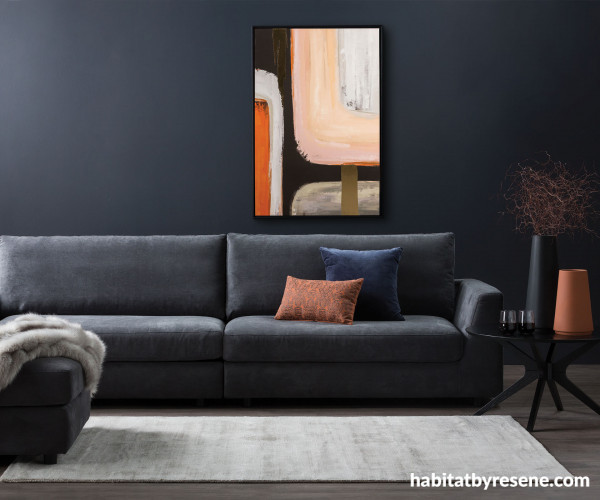 Dark walls are often misconstrued as being cavernous and un-inviting when in fact the opposite is true. A sumptuous lounge in the alluring and dramatic inky blue of Resene Jaguar creates a space that oozes style and comfort. To prevent this luxe colour from slipping into dark depths, bring in a mix of lighter tonal hues such as Resene French Grey and Resene Rhino with bright pops of Resene Tuft Bush and Resene Hyperactive for contrast and to round out the colour palette.

Above: Eden 4 Seat Sofa in Anthracite, Eden Ottoman in Anthracite, Saxby Coffee Table in Black, Taper Vase in Rust, Taper Vase in Black, Linked Frame Canvas, Hiro Cushion in Rust, Askam Velvet Cushion in Navy, Arctic Fox Faux Throw in Grey and Antique Viscose Rug in Sand, all from Nood.
Resene Cinnamon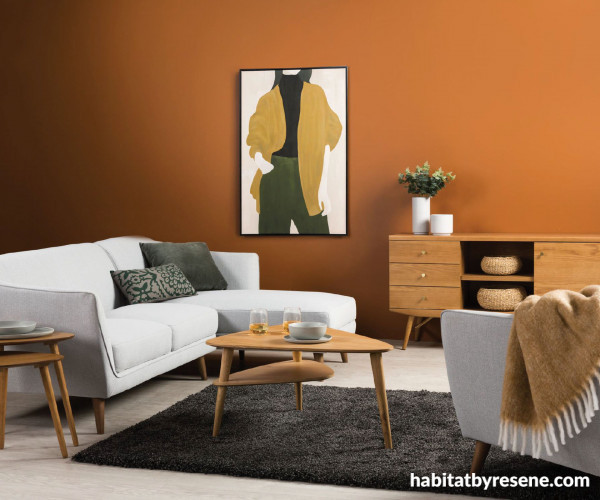 The inviting copper brown of Resene Cinnamon is the perfect warming hue for a lounge that might not get a lot of natural light. Pair this cosy colour with other earthy tones such as Resene Tussock, Resene Millbrook and Resene Hot Chocolate. To break up this rich palette of dark oranges and browns, employ a lighter grey hue such as Resene Bon Jour in larger furniture items to keep these colours feeling fresh rather than dated.
Layering is a key element to creating cosy, inviting spaces, so don't forget to add in throws, cushions, a rug and nesting tables to really amp up the comfort factor.

Above: Logan Right Hand 2 Seat Sofa in Light Grey, Barber Nest Table in Oak, Barber Coffee Table in Oak, Barber Sideboard in Oak, Girl in a Cardy Framed Canvas, Monty Shag Rug in Anthracite, Siren Throw in Caramel, Printed Flower Cushion in Green/Grey and Askam Velvet Cushion in Dark Green, all from Nood.
Resene Hot Toddy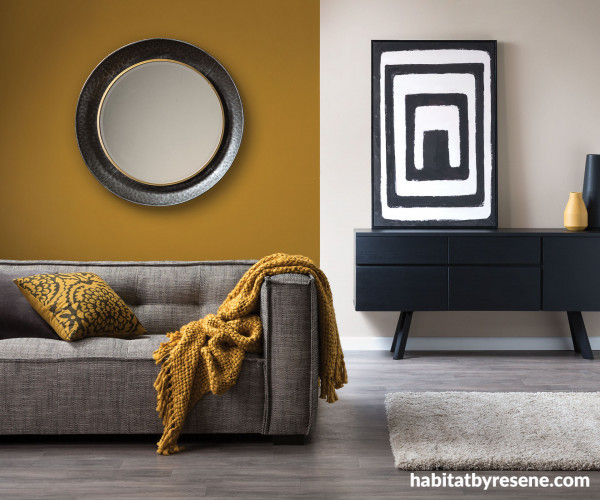 Nothing says comfort and warmth more than a hot toddy, and that's just what this appropriately monikered accent colour is called; Resene Hot Toddy. When paired with adjacent walls in Resene Biscotti, this rich, luxe colour makes even more of a statement. Repeat Resene Hot Toddy around the room in smaller doses to tie the look together. Supporting colours should be kept neutral and warm so as not to compete, so look to Resene Cod Grey, Resene Zircon and Resene Tide to contrast and balance the palette out. Timber flooring in Resene Colorwood Riverstone will help to anchor this colour in the room.

Above: Immerse 2 Seat Sofa in Charcoal, Printed Flower Cushion in Mustard/Dark Grey, Mega Moss Knit Throw in Mustard, Tiku Round Mirror, Abstract Arches Framed Canvas, Calais Sideboard in Black, Taper Vase in Mustard, Taper Vase in Black and Monty Shag Rug in Grey, all from Nood.
Resene Olive Green
Resene Olive Green has moody and elegant written all over it. For a more pared-back look, that's still packed with warmth and sophistication, look to team this yellow-based green with natural timber in a tone like Resene Colorwood Oregon. A monochromatic colour scheme works particularly well in this setting with a hue like Resene Chicago to provide tonal variance and Resene Blackout and Resene Dover White for subtler contrast. Keep texture natural and soft and introduce a nature-inspired print to round this look out.

Above: Harris 3 Seat Sofa in Light Grey, Askam Velvet Cushion in Dark Green, Ruby Coffee Table in Dark Oak, Silver Birches Framed Canvas, Ruby Sideboard, Segment Vase and Monty Shag Rug in Anthracite, all from Nood.
Resene Biscotti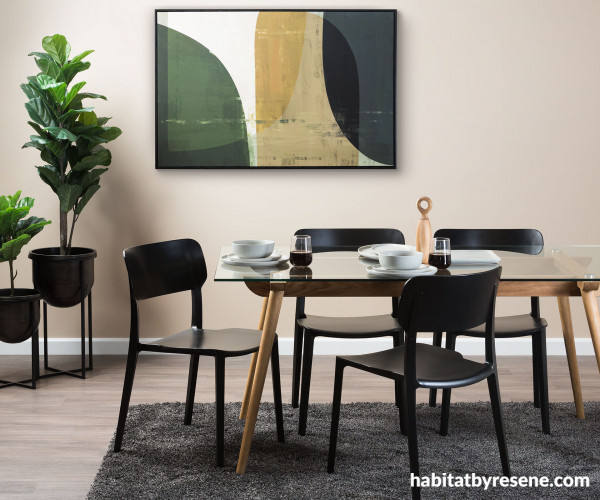 Who says neutral walls have to be boring? Resene Biscotti is the perfect example of how an elegant biscuit beige can add character and warmth to any room. It's the feature hue in this well-styled dining space with other colours such as Resene Turtle Green, Resene Travis and Resene Black playing important supporting roles. Inject a hint of fresh white to prevent the space from appearing too flat while leafy indoor plants and a shaggy rug add just the right amount of cosy texture.

Above: Green Brown and Black Framed Canvas, Brighton Dining Table, Monty Shag Rug in Anthracite and Crossing Planters Stand in Black, all from Nood.
images Nood
Published: 12 Aug 2020
Do you have a home full of wonderful Resene paint and colour? Send us some snaps by emailing [email protected].