►
◄
latest
habitat tv
blog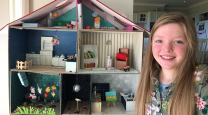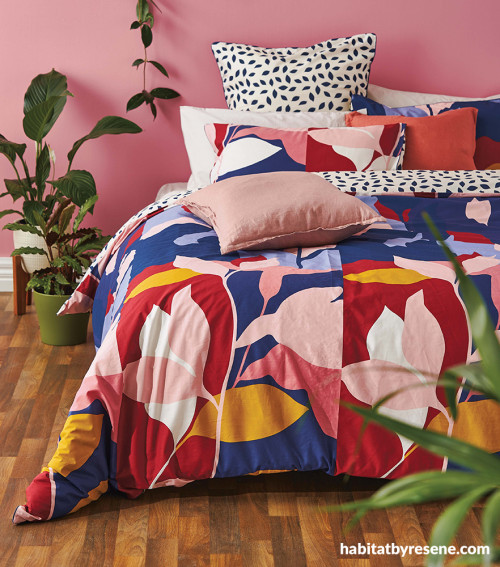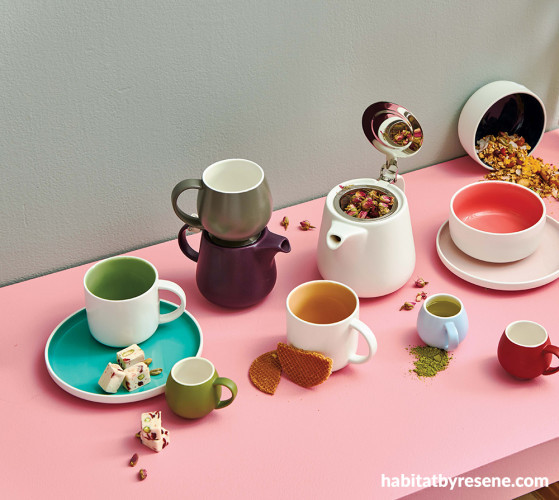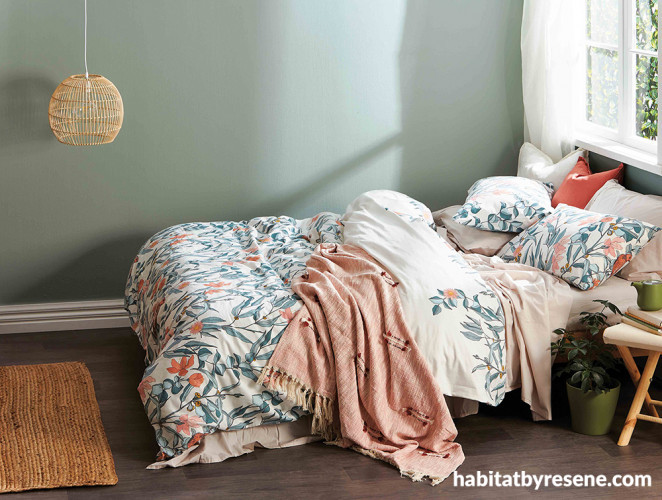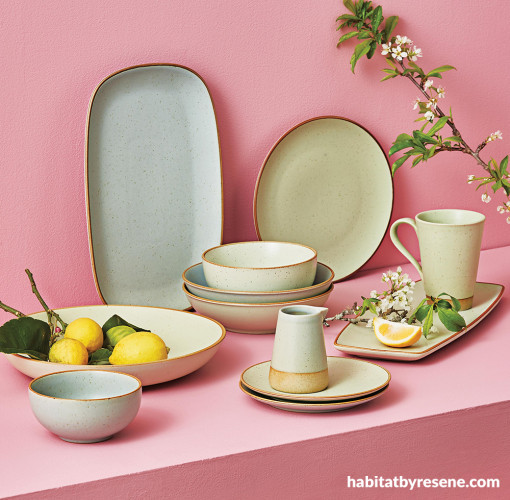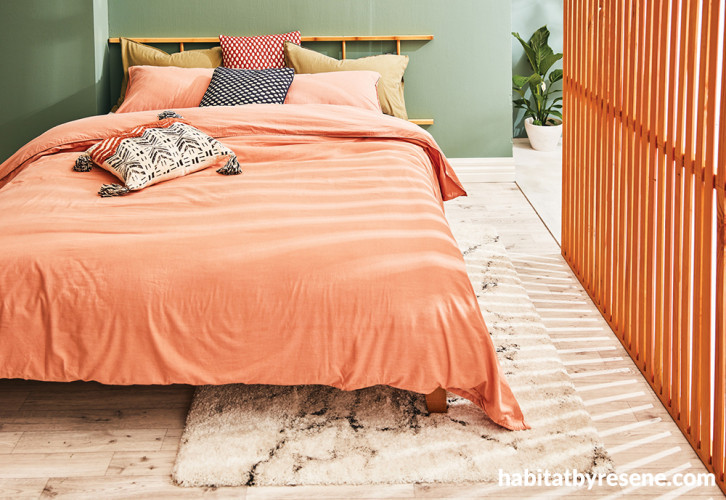 5 summer looks that prove green and pink are simply heavenly
Positioned diagonally across from one another on the colour wheel, pink and green are outright opposites. Combined, they're a recipe for maximum contrast, and with the right Resene shades, can offer a plethora of possibilities: the soothing pairing of olive and blush, the opulence of emerald and dusty rose.
There can be some trepidation when approaching such distinctly different colours, so we've rounded up five gorgeous looks to inspire you throughout the warmer months. Full of good vibes and summer's character, this time of year is the perfect time for a pink and green refresh.

Soft yet vibrant, this teatime spread includes a wall in Resene Haven and a table in Resene Can Can. The tableware is from Briscoes' Maxwell & Williams Tint Coffee Mugs and Accessories collection.
This teatime spread is pure delight thanks to grey green, light coral and an assortment of homewares that are united in their zest for colour. If you're wanting to similarly adopt limes, turquoises and grapefruit-esque oranges, having softer hues like Resene Haven and Resene Can Can serve as a backdrop to these more punchy colours will mean your background and foreground aren't both competing for attention. Instead, they'll be in perfect harmony.
Complete the look by bringing in deep purples and wine reds like Resene Aubergine, Resene Spitfire or Resene Rustic Red, dark browns like Resene Saddle or black like Resene Nero. These darker shades will add a subtle depth and bring out the best in your other colours.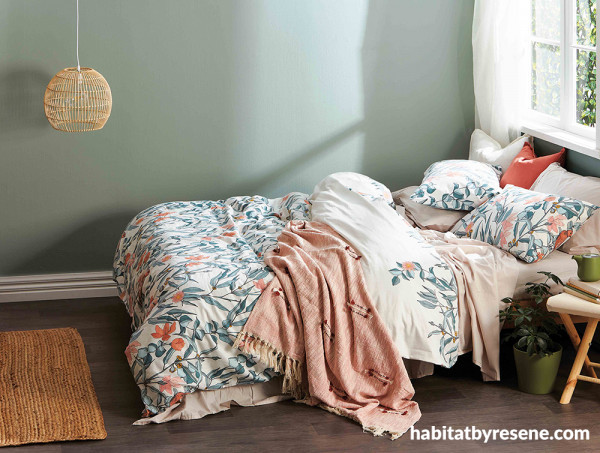 This cosy bedroom has walls in Resene Haven. The bedding includes a Twill & Co Queen Duvet Set and a Fieldcrest Soft & Vintage Plain Queen Sheet set from Briscoes.
Indulge in a bedroom that's cosy and light with a palette of softer, more muted greens and pinks. Try a pink-toned pastel like Resene Just Right with a grey green like Resene Haven or a blue-tinted green like Resene Edward and Resene Green Meets Blue – they'll give off that crucial feeling of calm every place of respite needs.
Take your layering to the next level by bringing in earthy tones and natural textures, from woven rugs to wooden furniture and lightweight linen blankets, and soft furnishings in similar shades. In this comfort-filled room, bedding punctuated with terracotta-toned flowers similar to Resene Trinidad shows how effective a patterned bedspread can be in helping you to streamline your look while still adding points of interest.
Top tip To achieve a similarly warm, rich look with your timber flooring, stain your floor with Resene Colorwood in Resene Bark. The interior wood stain will add colour while still allowing the natural grain of the wood to show through.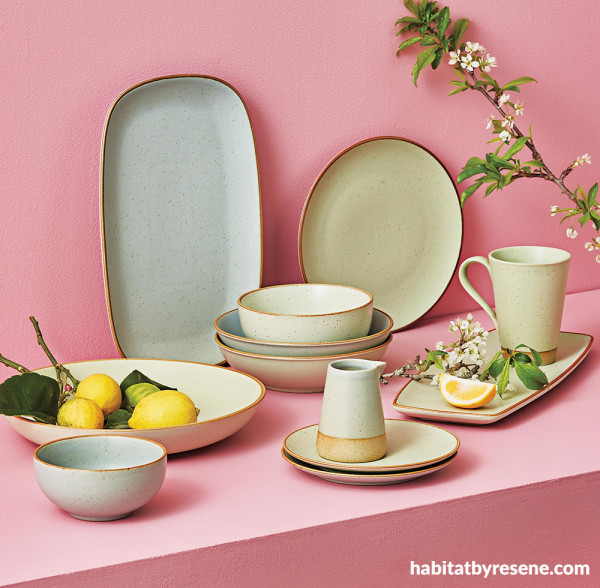 In this room, the wall and table are in Resene Can Can. The tableware is Simon Gault Metro Speckle Dinnerware, all from Briscoes.
Decorating for a pink room can be a task fraught with challenges, especially if the room is where you dine and entertain. While very often the sky is the limit when it comes to tableware, consider sets with a hint of green. Where white or cream ceramics will enhance the strength of a pink by highlighting the colour's natural vibrancy, a gentle green will wash over those pigments with a coolness that will balance the space.
Top tip When considering the right shade of pink for your room, opt for pale and mid-tones like Resene Can Can or Resene Paper Doll. If you already have a pink piece of furniture or artwork that you want to include in the space, use it as a reference point for the shade of your walls – cohesiveness is key, too.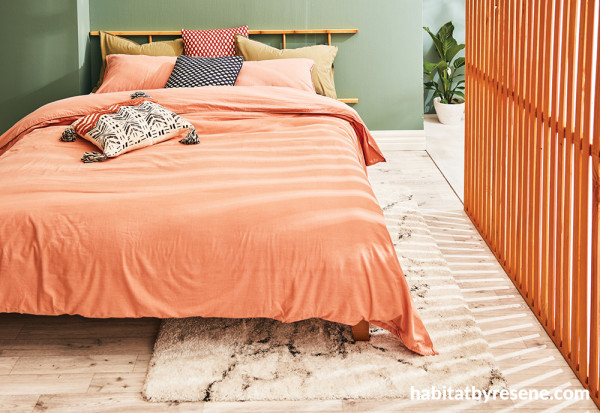 Wall inResene Scaramanga. Soft furnishings include a Fieldcrest Toulouse 100% Washed Cotton Queen Duet Cover Set, Kas Bango & Axon Cushions and an Urban Loft Abstract & Marble Sherpa Rug, all from Briscoes.
Salmon- and peach-toned pinks are formidable when it comes to creating warmth. They're warming without being hot, like reds, and have a soothing quality when diluted. Use shades like Resene Sorbet, Resene Sakura or Resene Cosmos, then combine them with a warm-toned dark green like Resene Scaramanga, as in this room.
What's great about these shades is that you can easily add to them. Introduce golden yellows like Resene Rob Roy, chocolate browns like Resene Brown Pod and creams like Resene Anglaise for a bit of dynamism.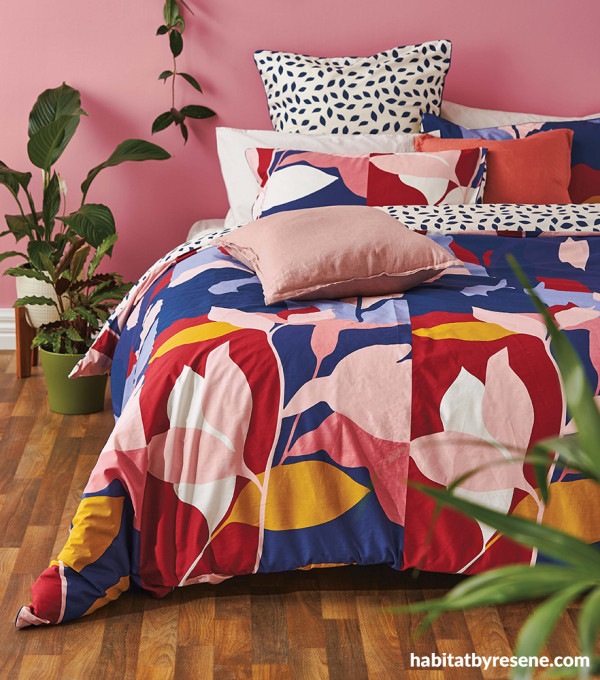 With a wall in Resene Can Can, this room is bright and joyous. Bedding includes the Esprit Maisie Queen Duvet Set and Kas Linen Cushions, all from Briscoes.
Adding lush house plants is a simple way to offset some of the vibrancy of a bold pink, which can be important when it's used in a space intended for complete serenity, like a bedroom. Try looking for plants with full green leaves to maximise the amount of verdant colour you have to play with.
With this in mind, there's no reason to shy from using bold colours and patterns. In this room, the exuberant duvet is tempered with moments of crisp white. Pink is the room's uncontested focal point, bringing energy to the room. Team an extroverted pink with bold hues like Resene Bunting, Resene Carpe Diem, Resene Echo Blue, Resene New York Pink and Resene Paprika.

images supplied by Briscoes
Published: 21 Oct 2020
Do you have a home full of wonderful Resene paint and colour? Send us some snaps by emailing [email protected].