►
◄
latest
habitat tv
blog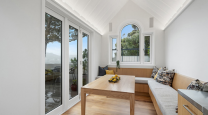 Master Builders' Chief Executive David Kelly shares his tips for building in the challenging climate.

Planning... more
5 tried and tested whites and neutrals - that make your space come together
While we're obsessed with Resene's bold range of vibrant colours and daring hues, it's often their carefully considered range of whites and neutrals that inspire homeowners when it comes to renovating everyday spaces.
Whites can transform a room. They can create contrast when paired with darker hues or can single-handedly lift a space to new heights – making a room feel larger or taking on a background role to let your décor shine. We've collected five of the top Resene whites and neutrals that are tried, tested and perfect for any type of home.
Resene Black White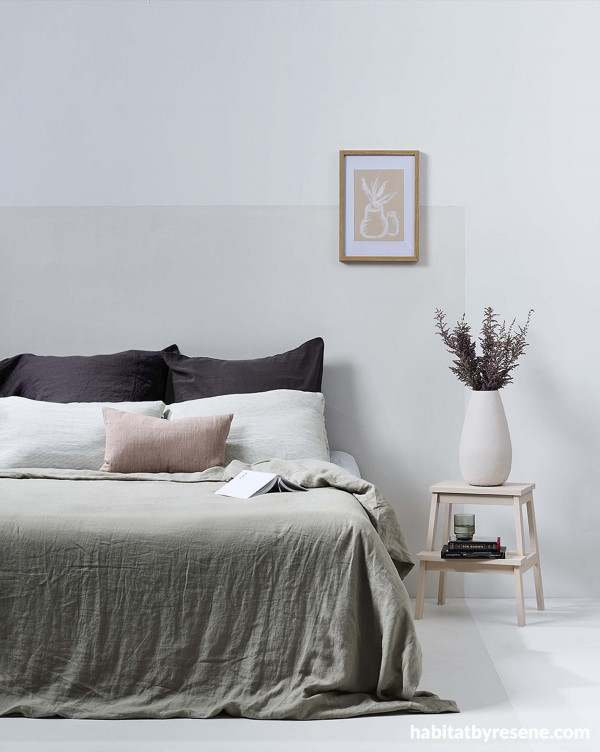 This bright bedroom was created with walls and floor in Resene Quarter Black White with rectangular painted wall effect in Resene Double Black White. Step stool in Resene Alpaca, large vase in Resene Pearl Bush, and DIY artwork in Resene Alpaca and Resene Quarter Black White.Duvet cover and cushions from Citta. Project by Laura Lynn Johnston. Image by Bryce Carleton.
Get your home looking sharp with Resene Quarter Black White, a smart and sophisticated white with just a hint of grey to keep it looking crisp. Originally thought of as an architectural white, Resene Quarter Black White has been welcomed into the homes, and hearts, of Kiwis and Aussies. With its ability to instantly create a clean and refined atmosphere, it's a colour that you don't want to miss if you're after a fresh new look. Use Resene Quarter Black White as a base for your colour palette and keep things light and breezy with accents in beige Resene Alpaca or airy Resene Half Duck Egg Blue.
Resene Merino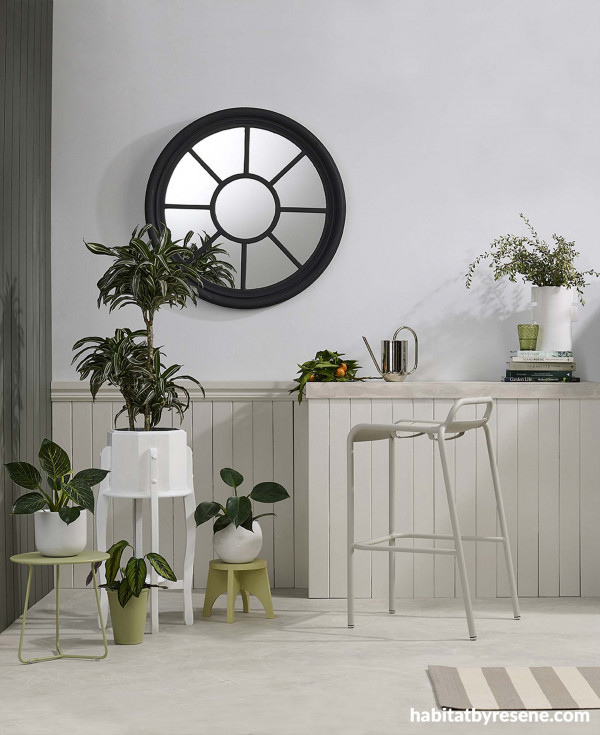 This lush conservatory is brought to life with Resene Double Merino on the back wall, the left wall in Resene Quarter Karaka and the back wall bench and boards in Resene Quarter Merino. The top of the bench is in Resene Quarter Merino with Resene FX Paint Effects medium coloured with Resene Foggy Grey. The floor is in Resene Foggy Grey with Resene FX Paint Effects medium coloured with Resene Quarter Merino. Tall white planter painted in Resene Quarter Merino, small cork stool in Resene Quarter Crisp Green and mirror in Resene Nero. Barstool from Jardin. Project by Kate Alexander. Image by Bryce Carleton.
Choosing the right white can be a daunting task. Resene Double Merino is a timeless classic, perfect for updating your villa or adding a touch of warmth to your living space. Resene Double Merino is a fleecy warm neutral whose versatility makes it a fabulous companion for any home renovator. The warm nature of this colour means it works well with feature walls in other warmer colours, such as buttery yellow Resene Chenin or terracotta hues such as Resene Beethoven. Its slight touch of green oxide means Resene Double Merino will also pair nicely with an abundance of indoor plants, making it a top colour to consider for your conservatory or garden shed.
Resene Spanish White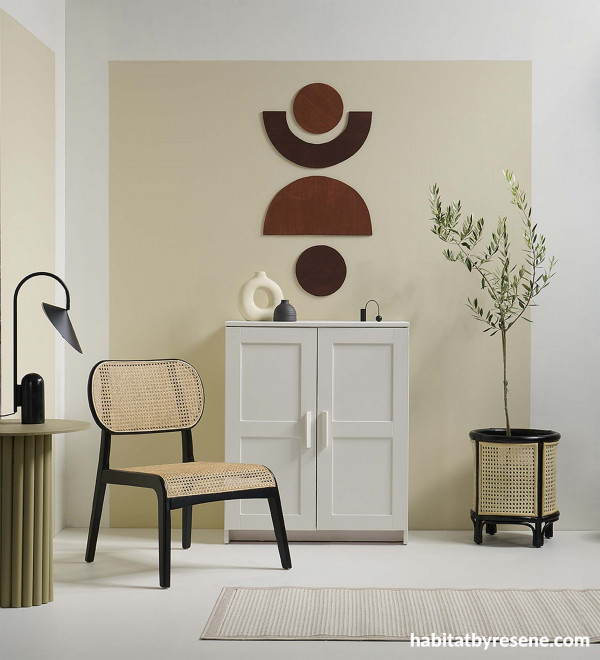 This relaxing space features walls in Resene Double Spanish White with borders in Resene Eighth Spanish White. The floor is in Resene Quarter Spanish White and the cabinet is in Resene Quarter Spanish White. The timber shapes are stained in Resene Colorwood Meranti and Resene Colorwood Dark Oak. The Art Deco table is in Resene Clay Creek, small vase in Resene Half Bokara Grey and larger vase in Resene Eighth Spanish White. Rattan chair and plant pot from Cane Collective, lamp from 10 Curated, rug from Briscoes. Project by Melle van Sambeek. Image by Bryce Carleton.
Wonderfully warm, cheerful and calm, Resene Double Spanish White is a soft, well-balanced hue that bridges the gap between beige and neutral. Resene Double Spanish White will bring an earthy element to any space, but is best used in living areas, kitchens and bedrooms. Try using Resene Double Spanish White in a south-facing bedroom. Its extreme warmth will counter the cooler natural light from south-facing windows to create a composed and considered space. Pair Resene Double Spanish White with décor – think dark stained timber or warm wicker furniture – to enhance that earthiness and bring a natural flow to the room.
Resene Tea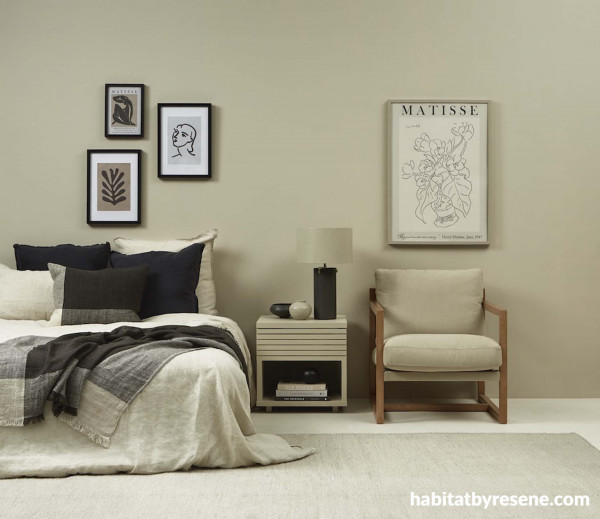 This calming bedroom's walls are in Resene Tea and the floor is in Resene Blanc. The bedside table is in Resene Bison Hide and bowl in Resene Black. The lamp is in Resene Bison Hide with a Resene Black base. Duvet cover and cushions from Adairs, chair from Freedom, throw and rug from Citta. Project by Vanessa Nouwens. Image by Bryce Carleton.
Bring some complexity into the bedroom with bold walls in Resene Tea. Resene Tea is a river boulder beige and is an ideal alternative for those spaces where white seems just a bit too harsh. Perfect for imperfect walls, Resene Tea works well with lighter accent colours such as Resene Blanc. Resene Tea will work best in an east-facing room, where its greener undertones will be illuminated by bright early morning light. One trick to incorporate complex neutrals such as Resene Tea into your space more fully is to paint décor – such as vases – in varying strengths of the colour. A vase or cabinet in Resene Triple Tea will create a bold statement that will also connect the walls to the space within.
Resene Canterbury Clay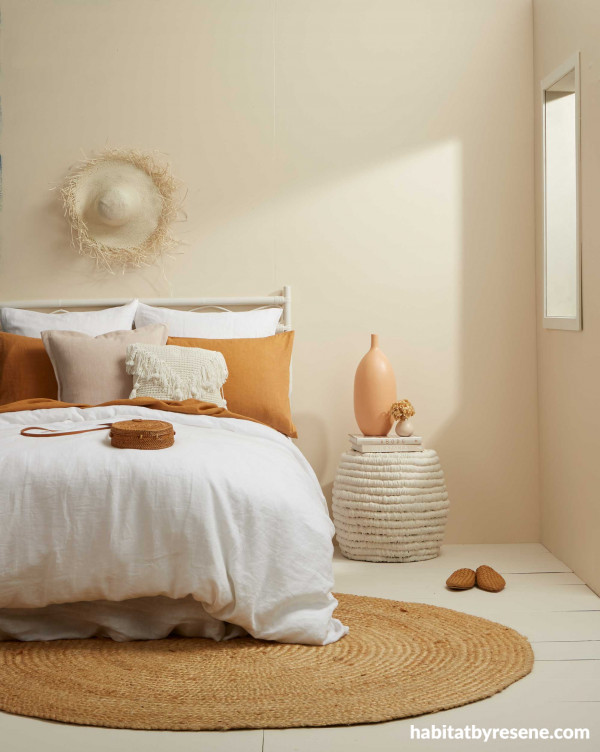 Layer Resene Canterbury Clay in different strengths to create an earth-toned relaxing space. Wall in Resene Eighth Canterbury Clay, floor and headboard in Resene Eighth Joss, side table in Resene Parchment and vase in Resene Beethoven. All items from Mood Store. Project by Melle van Sambeek, Image by Bryce Carleton.
Fun fact: beige is the French word for the colour of natural unbleached wool. It's fitting that Resene Canterbury Clay, Resene's foremost French beige is named after a region with a proud sheep farming tradition. When used in its full strength it has bold earthy qualities which bring warmth to a space but for a fresher neutral wall colour, try
Resene Eighth Canterbury Clay which has a milky creamy quality. It's an ideal choice for rooms you wish to infuse with a feeling of relaxation or bright rooms where a brighter white would be too harsh. Pair Resene Eighth Canterbury Clay with earthy colours such as Resene Brown Sugar and Resene Felix, wine and purple colours such as Resene Aubergine and Resene Cab Sav or with mineral blues such as Resene St Tropaz.
Resene's collection of whites and neutrals has everything from warming whites to beautiful beiges and gentle greys. For more of our favourite whites and neutrals and advice on how to use them in your home, click here
Published: 23 Sep 2021
Do you have a home full of wonderful Resene paint and colour? Send us some snaps by emailing [email protected].
the look
If you're stuck on what
colour to use or need colour
advice, try out the Resene
Ask a Colour Expert service.