►
◄
latest
habitat tv
blog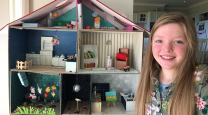 5 two-toned rooms that'll make you want to double your colour
'Twice the colour, twice the impact' is a maxim that can apply to a lot things, but it is especially true of interiors. Dividing your walls from your wainscotting, your floor or your ceiling is a sure-fire way to achieve contrast. Then there's the undeniable drama of a room halved horizontally.
In many ways, achieving a two-toned room is simple. First you choose your colour combinations, then you mark out where and how you want the room divided with masking tape to achieve those clean, flawless lines.
For such a bold move, though, this process can also feel a little daunting. With this in mind, we've compiled five gorgeous rooms, which all make serious cases for swapping one colour for two, and some helpful tips along the way, so 'double' needn't become 'trouble'.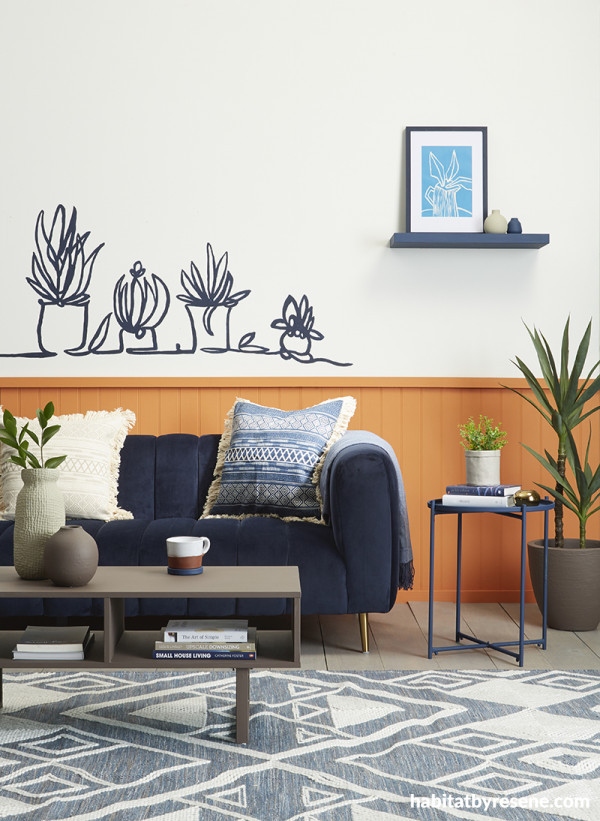 The upper wall is painted in Resene Rice Cake and the lower wall is painted in Resene Smoke Tree. For an added point of interest, we've painted a whimsical plant mural in Resene Midnight Express. The side table, wall shelf and coaster are in Resene Bunting. Sofa from Nood, rug from Freedom Furniture and cushion covers, throw, candleholders, keepsake dish and bookend from H&M Home.
Bright, vibrant colours might not be your first choice for your walls, yet they work surprisingly well when halved and paired with a more neutral colour or a lighter hue from their tonal family. The corresponding colour does the job of mellowing any immediate brilliance, meaning your space is left exciting but not jarring. This tongue-and-groove panelling is painted in Resene Smoke Tree and the upper wall in Resene Rice Cake.
A deep blue sofa anchors the room, while a playful succulent mural in Resene Midnight Express creates a meeting or centre point for the wall's creative spirit.
Top tip For split colours in your lounge, measure the height of your couch. When marking your wall, have the top of your bottom-half colour come above the top of your couch to make the room feel cosy and den-like.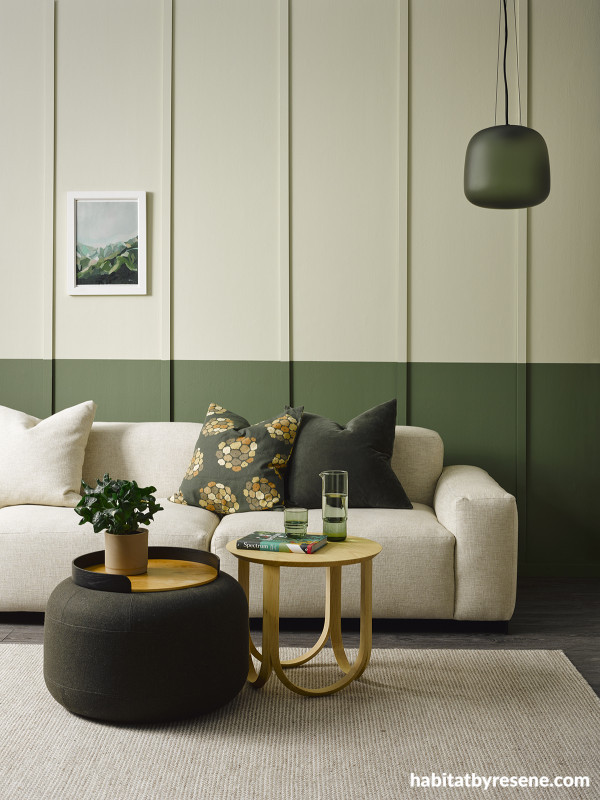 The upper wall is painted in Resene Zen and the lower wall is painted in Resene Woodland. Furniture from Cittá.
Dark green has the power to transcend seasons and, with the right partner-in-colour, completely steal the show. For a soothing pairing, match yellow green Resene Zen and moss green Resene Woodland. Then celebrate those close links to nature by bringing in light neutrals, charcoals and blacks, and the seemingly endless array of shades one might find in a forest. We recommend soft furnishings similar in colour to Resene Double Black White, Resene Quarter Napa and Resene Smooth Operator.
Top tip If you have a hanging ceiling light, match its colour with the lower wall. The lowest and highest points of the room will tie together and produce a sense of balance.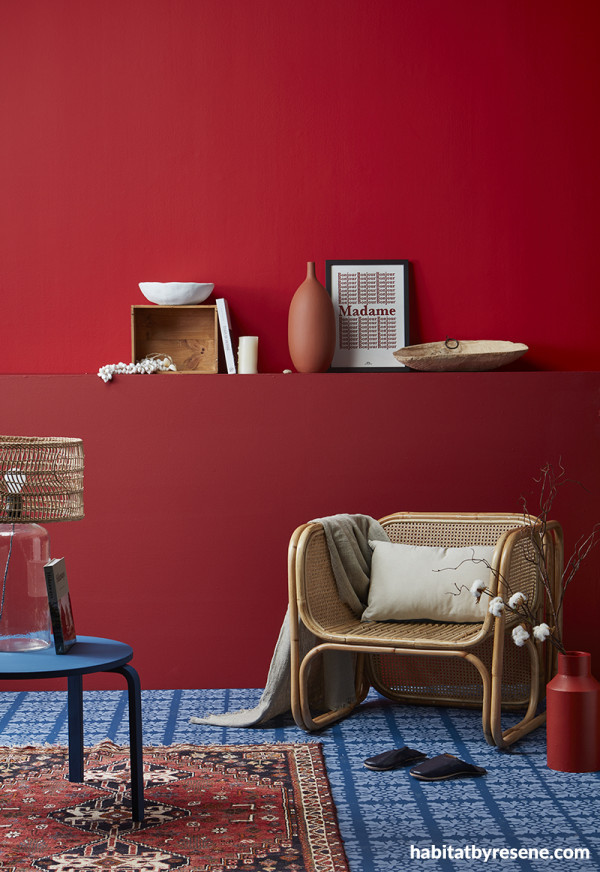 The upper wall is painted in Resene Poppy and the lower wall is painted in Resene Dynamite. The floor vase is painted in Resene Raging Bull, the shelf vase in Resene Moccasin and the side table in Resene Wishing Well. The floor has a base colour of Resene Wishing Well and a stencilled overlay in Resene Time After Time. Chair from Indie Home Collective, slippers from Paper Plane, Bonjour Madame Print, bowl, rug and lamp from Father Rabbit, cotton stems, branches and throw from Flux Boutique and cushion from Freedom Furniture.
Reds are poised to be a popular choice in coming seasons. Their draw card: They have that unique ability to electrify one's room with their energy. For this room, we've chosen two close but perceptively different reds, brought to life by the strong upper wall in Resene Poppy. Combined with the lower wall in Resene Dynamite, which has a deeper, bluer nature and a cooling effect on the space, the overall look is dramatic, with a subtle contrast.
Take your look further with an intricate floor pattern reminiscent of ornate tiles. We've painted the floor's base colour in Resene Wishing Well, then used an overlaid stencilled floor pattern painted in Resene Time After Time.
Top tip Weary of bright reds? Pair a full burgundy or brown-toned reds with muddy creams or khaki greens for a room with equal wow-factor. Layer in extra red tones with earthy terracotta and natural textures to accentuate the existing features.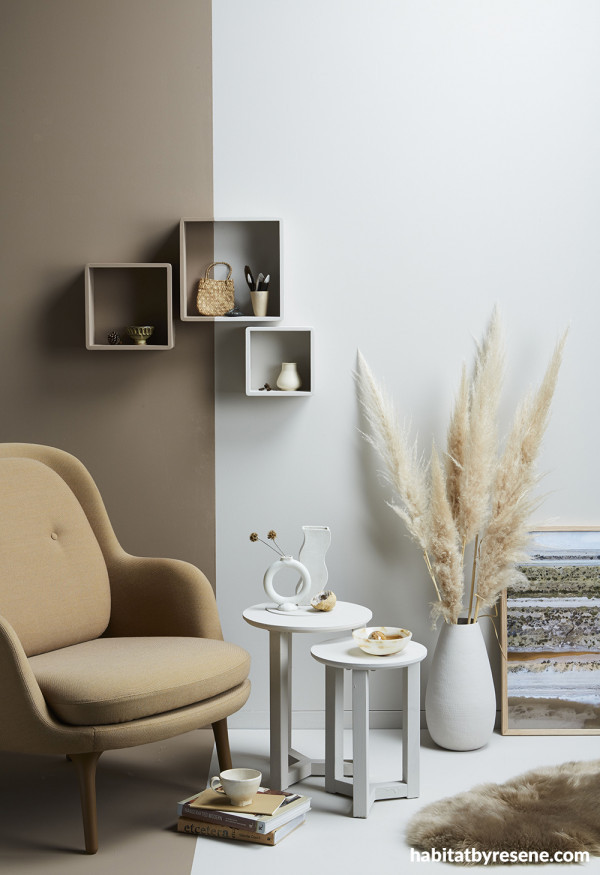 The left half of the room is in Resene Tablelands and the right half is in Resene Eighth Stonewashed. Chair from Cult Design, sheepskin from Father Rabbit and bowls, cup and vases from Dryburgh and Fourth St.
A vertical colour division is a great way of separating one area of your room from the rest, whether you want to create a snug corner, add structure or bring attention to a favourite piece of furniture.
This look – a combination of Resene Tablelands and Resene Eighth Stonewashed – brings to mind a foam-topped latte, warm and inviting, and is an easy option if you're looking to refresh an already white, cream or beige room. Amplify the sense of drama by continuing the duo-tone across your floor and along the ceiling.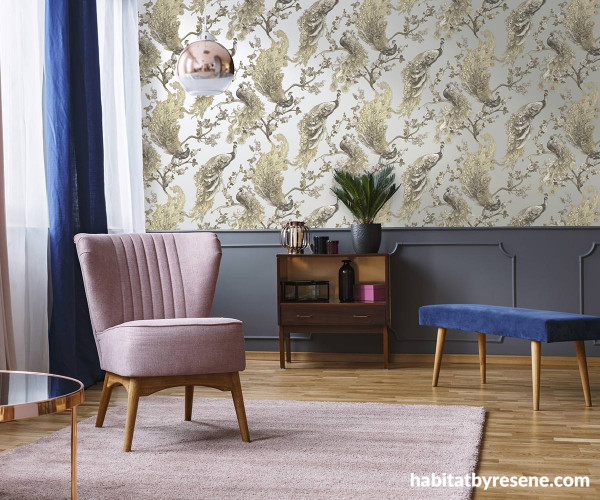 The upper wall is Resene Wallpaper Collection 90673. Paint the lower wall in Resene Hammerhead and finish the flooring in Resene Limed Oak. Pair with furnishings in shades inspired by Resene Surfs Up and Resene Divine.
Depart from colour-blocking and elevate your room by bringing in an ornate twist of wallpaper. With the incredible variety of options available, you can create swathes of sophistication, continue a motif you have throughout your room or home, or make one wall – or many – a work of art.
A good way of picking a complementary colour for your wallpaper is to focus on the print's more subtle tones and repeat them. In this room, for example, the steely grey of Resene Hammerhead corresponds with the pattern's darker peacock feathers. In doing this, you'll draw those colours out and harmonise your room's many working parts.
Top tip If you're halving your wall horizontally, paint the lower half wall in the darker of the two colours. It'll give the optical effect that your ceiling has been lifted and your room has increased in size by lightening – rather than compressing – the space.
styling Gem Adams, Amy Armitage, Laura Lynn Johnston and Lisa Morton
images Bryce Carleton and Wendy Fenwick
Published: 07 Oct 2020
Do you have a home full of wonderful Resene paint and colour? Send us some snaps by emailing [email protected].