►
◄
latest
habitat tv
blog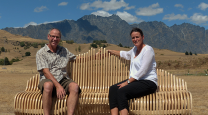 5 ways to bring Scandi style home, downunder
We may be half a world away, but Scandinavian style feels right at home to many of us. In fact, the tell-tale markers of Scandi-inspired design - think warm and inviting textiles, low-profile window treatments and an emphasis on minimising clutter - are pretty much synonymous with modern interiors.
Combining utility and beauty, Scandi style can be adapted suit fit in with many different lifestyles and weathers – including the sub-tropical climate we enjoy down here in the Pacific. Maybe the prolific Scandinavian style in our homes could be because of how well it matches with our love of casual living. The Scandi vibe speaks directly to the relaxed beachy vibe seen in many coastal homes.
That's not to say that the Scandi look can only work during summer, rest assured it offers the necessary snugness when the winter months roll around. Just follow the Nordic example of incorporating thick, warm textiles to soften the cool look – seek out furs, sheepskin and mohair.
Rugs are an easy way to delineate spaces and by simply tossing throws over chairs and beds instant warmth and cosiness are achieved. Cushions, throws, rugs, timber touches and woven baskets - texture is key to counteracting the Scandi staples of refined furniture and clean white and grey walls.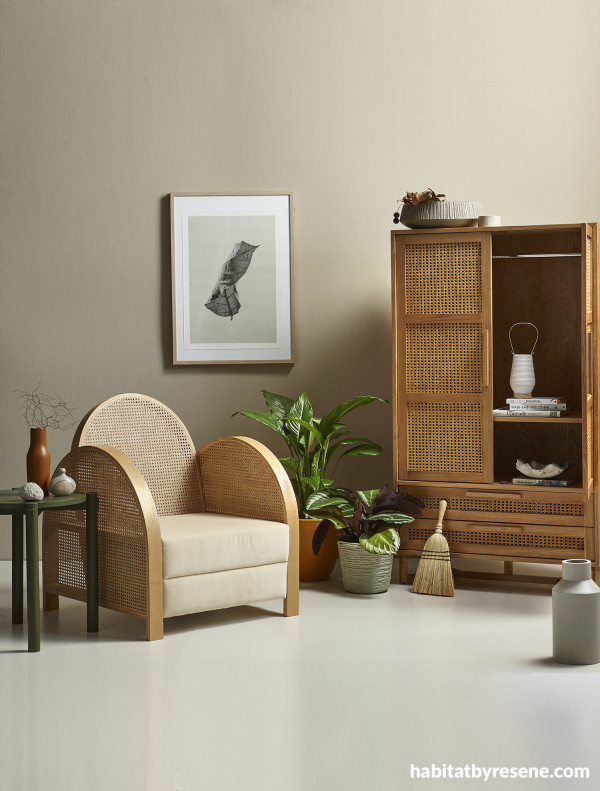 It may be called Scandi-cool, but the look doesn't have to be cold. Create a warm organic style that adheres to Scandinavian design principles by using natural colours, organic shapes, and textural elements. Walls in Resene Double Sisal, floor in Resene Parchment, side table in Resene Scrub and jug in Resene Korma. The plant pot is in Resene Mai Tai, the basket planter is in Resene Double Lemon Grass and the tall vase is in Resene Triple Ash. The wide bowl on top of the cabinet is in Resene Soya Bean.Chair from Douglas and Bec, Lantern from Everyday Needs, Print from Paper Plane, in frame from Factory Frames.
Surrounded by forestry, it should be no surprise that Scandi looks love lumber. Bleached timbers are commonly paired with misty greys and interesting whites in a decluttered, fuss-free look. Incorporate pared-back woodgrains into your Scandi inspired project by using Resene Colorwood Greywash or Resene Colorwood Whitewash.
Paint is far from the only option for giving surfaces the Scandi treatment. Scandinavian interior design embraces a love of wallpaper too – and somewhat surprisingly, the bolder the design the better. While it's more traditional to choose subtle tonal patterns, there'snothing stopping you going all-out with a daring design. Both approaches can work well; just like in the other elements of Scandi style, the key is in striking the right visual balance.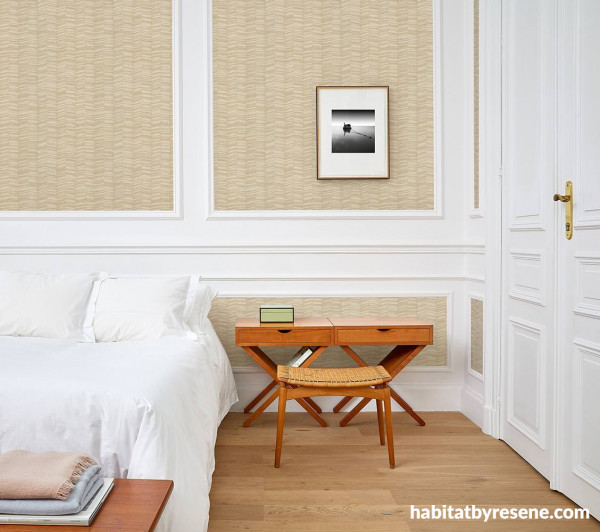 While our Nordic counterparts embrace boldly patterned wallpapers, tonal designs are more common this side of the world and can still work well with a Scandi style look. Resene Wallpaper Collection M01501, available from Resene ColorShops, fits the bill for building a convincing Euro-inspired space when framed with moulding in Resene Half Alabaster.
Follow these five rules to successfully import the classic Scandi-look into your home:
Take the time to get the white right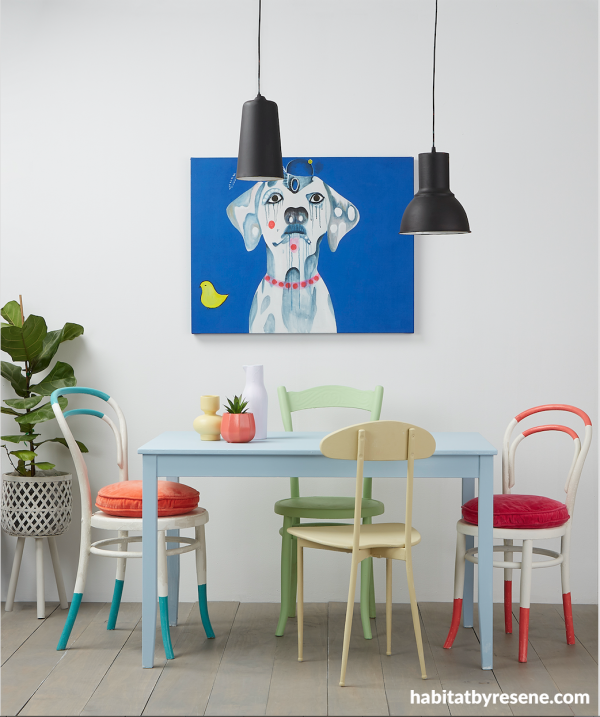 White walls tinged with grey and green undertones are the darling of the Scandinavian design world because of their refinement. We've used Resene Alabaster, a near white with a light blackened edge, on the walls here. The table is in Resene Frozen, with bistro chairs in Resene Bubble White and details in Resene Maestro and Resene Rapture. Solid chairs are in Resene Yuma and Resene Anise. Pendant lamps have been coated in Resene Nero.The trio of vases are in Resene Blue Chalk, Resene Frozenand Resene Vibe.
In its native environment, which featured seemingly endless winters and few sun hours, pale washes of colour are favoured on walls and floors to amplify and reflect any glimpse of light. Luckily for us, these same pale whites – think Resene Black White, Resene Alabaster and Resene Quarter Concrete – will still work to take the edge off our hotter, sunnier climate.
However slight adjustments might be required depending on how much natural light your rooms receive. Off-whites used on the ceiling will look often shadier than the same colour on the wall because there is less light reflected. Use a half strength of your wall colour on your ceiling so the two areas are well balanced.
Think carefully about the sheen level as well. A flat paint will bring out the muddier and denser elements of whites, while a glossy finish will make them look cleaner and brighter. Use this to your advantage by varying the gloss level to make a neutral colour palette more interesting and to highlight specific areas of the room.
Look to the chalk board for colour inspiration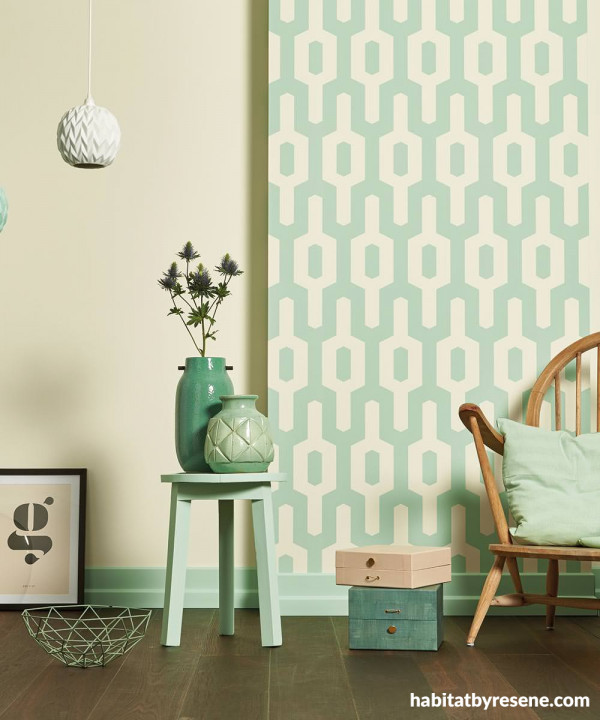 The Scandi palette traditionally sticks to colours that are underpinned with chalky tinges. Try walls in Resene Wallpaper Collection 34124-3, available from Resene ColorShops, and Resene Pearl Lusta with timber flooring stained in Resene Colorwood Natural and skirting boards and a side table in Resene Kandinsky to get the look.
For an easy aesthetic win incorporate shades of muted pastels into your colour scheme. Soft blues and greys like Resene In The Mauve, Resene Quarter Frozen, Resene Longitude and Resene Envy are the way to lean, rather than lolly shades.
There are plenty of colour options to indulge a love of the Scandinavian aesthetic – just see the icy blue shade Resene Scandi or Resene Norway, a mid toned, calming and quiet green. Resene also has plenty of the dusky pastels, chalky whites and silvery grey paint colours that underpin Scandi looks. Try out Resene Quarter Atmosphere, Resene Double Black White, Resene Dusted Blue and Resene Duck Egg Blue.
With furniture – clean lines pack a punch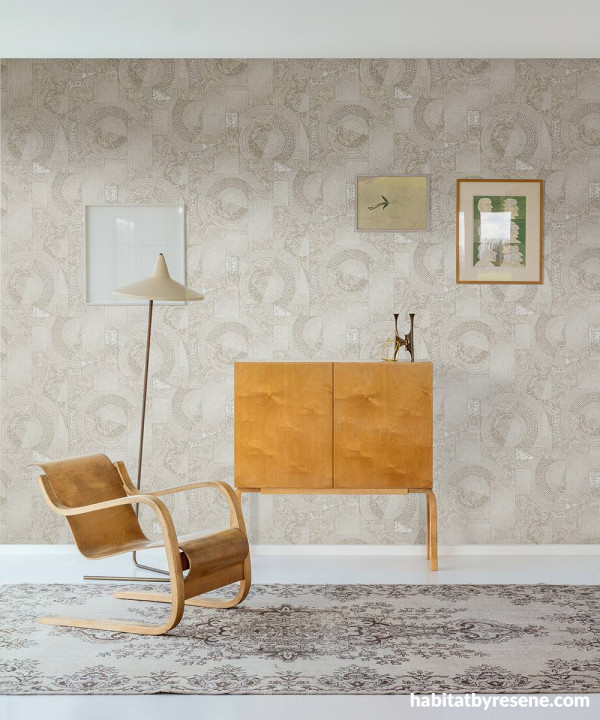 Scandinavians take great pride in their furniture. Hero pieces feature clean lines and natural materials, often with a mid-century modern twist. Resene Wallpaper Collection IUM205, available from Resene ColorShops, features a tonal design that looks sensational with Scandinavian style furnishings. Try it with flooring in Resene Double Merino, skirting boards in Resene Rice Cake and a ceiling in Resene Half Merino.
Being the birthplace of Ikea, simple furniture plays a huge part in the Scandi aesthetic. Navigate towards clean lines and showcase pieces made from natural materials. If there's a mid-century modern twist, even better. The key to replicating clean, clutter free spaces is to seek out multi-functional furniture and clever storage solutions This is especially useful for smaller homes, like apartments.
Take a walk on the white side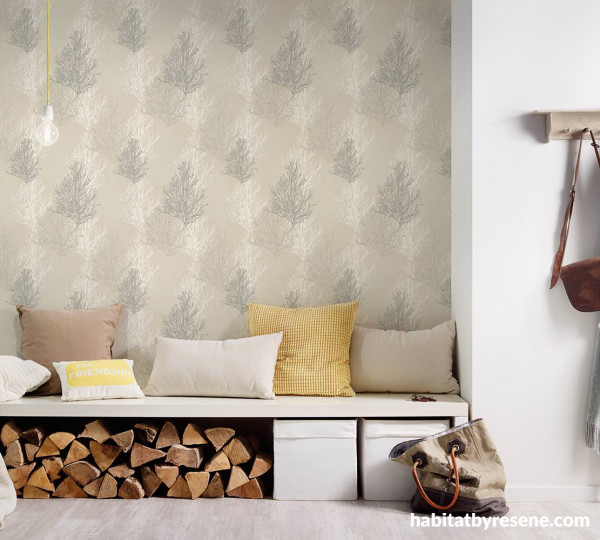 For a truly Scandinavian look go for light wooden flooring wherever possible, such as with Resene Colorwood Whitewash. Combine Resene Wallpaper Collection 34819-2, available from Resene ColorShops, with adjacent walls in Resene Quarter Thorndon Cream and a raw wood pile to complete the look.
Quintessential Scandinavian interiors have a wooden, preferably light, floor - a look already well loved by our nation of jandal-wearing beachgoers. If you'd prefer not to go down the natural timber path, painted white floors are another option using Resene Walk-on in your favourite white.
Don't draw the shutters
Maximise natural light wherever possible. If Scandinavians have any window coverings at all they will be very low-profile. Keep the weightier fabrics confined to rugs and throws, instead opting for light linen treatments to achieve that easy, breezy look.
Styling by Gem Adams and Annick Larkin
Photography by Wendy Fenwick and Bryce Carleton
Published: 16 Sep 2020
Do you have a home full of wonderful Resene paint and colour? Send us some snaps by emailing [email protected].