►
◄
latest
habitat tv
blog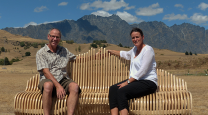 5 ways to embrace wallpaper for winter wellness
The cold getting you down? Time to roll out Resene wallpaper! Let warm maroons, woodland patterns and foliage-dotted scenes transform your space. Wallpaper is one of the best investments you can make in upping the ambiance of your home. It can completely transform a room and set the scene, whether you're after a country chic, contemporary or formal feel. In winter, wallpaper is a fantastic addition to warm your home's palette, boost the cosiness of your space, or simply add a bit of brightness. The Resene Wallpaper Collection has plenty of options to dive into.
What style of wallpaper should I go for?
The beauty of wallpaper is it can allow you to be a little more daring and bolder than you would perhaps be with a paint colour or your furnishings. Often wallpaper looks best on one wall as a feature piece, so you can try something new without the fear of donning your whole room in it and regretting it. Ideally the style of Resene wallpaper you pick should match the rest of your décor style (either your existing style or what you have planned for the room). Patterns should flow naturally with your space, and not detract from the rest of the room. Some styles include:
Country rustic: A textured, grass-cloth like wallpaper works well or try a gingham. Plaid or a motif pattern can also work well. Pair with soft hues in your home like Resene Duck Egg Blue, Resene Wheatfield, Resene Putty, Resene Rainee, Resene Mischka.
Formal: Try an elegant wallpaper look that features hand-printed designs, damask or gilded looks. Complement your wallpaper with tones like Resene Black Sheep, Resene Timbuktu and Resene Gold Dustmetallic paint.
Glamorous: Go for embossed or glittery reflective designs that add drama. For something modern, try a geometric or abstract pattern. Embrace deep purples like Resene Paua and Resene Gun Powder.
Traditional/Regency-core: Floral damask is your best friend for this look. For complementary hues, go for Resene Escape, Resene Duck Egg Blueand Resene Pattens Blue.
We share five reasons to embrace wallpapers for wellness.
Bring art to life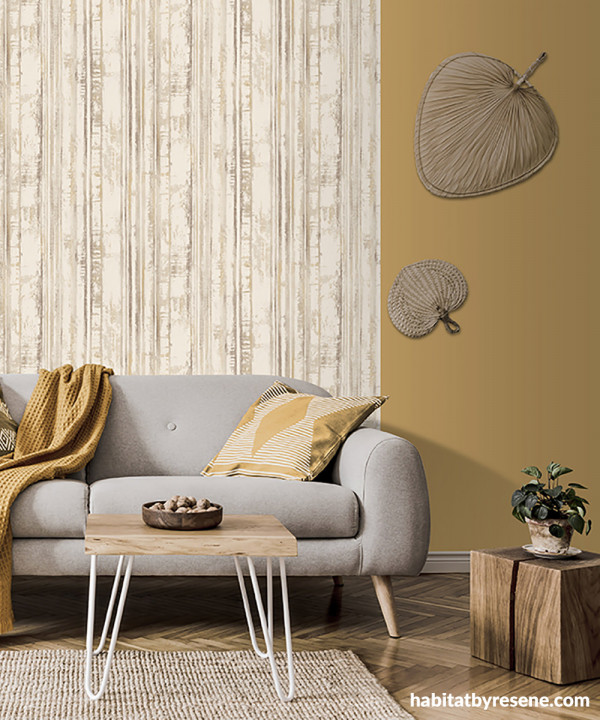 Create a soft woodland scene with Resene Wallpaper CollectionM29607. This pattern will transport you to the shelter of the trees. Complement the subtlety of the wooden print wallpaper with natural furnishings like wooden side tables, wool throws, rattan and jute rugs. Try shades like Resene Noosa, Resene Rob Roy and Resene Twine on opposite walls and Resene Black White on trims and ceilings.
A wonderful approach to wallpaper is to view it as art. Looking at patterns from the Resene Wallpaper Collection imagining them as large-scale artworks in your space really pushes you to get creative. Often you will find a wallpaper that you can't take your eyes off – trust your instincts! Have fun with it and create a mood or atmosphere. Who needs a painting when you can embrace an entire wall of art you love?
If you find yourself gravitating towards wallpapers with natural motifs like trees, woodland scenes, landscapes and grasses, know that these offer a calming warmth. They work well in living and bedroom settings (picture them with cosy throws and a log fire), but also are fantastic in dining rooms behind your table. If you're going for a nature-inspired palette, add in some green hues like Resene Saratoga or Resene Turtle Green, and browns like Resene Cinnamon and Resene Toffee.
Embrace its versatility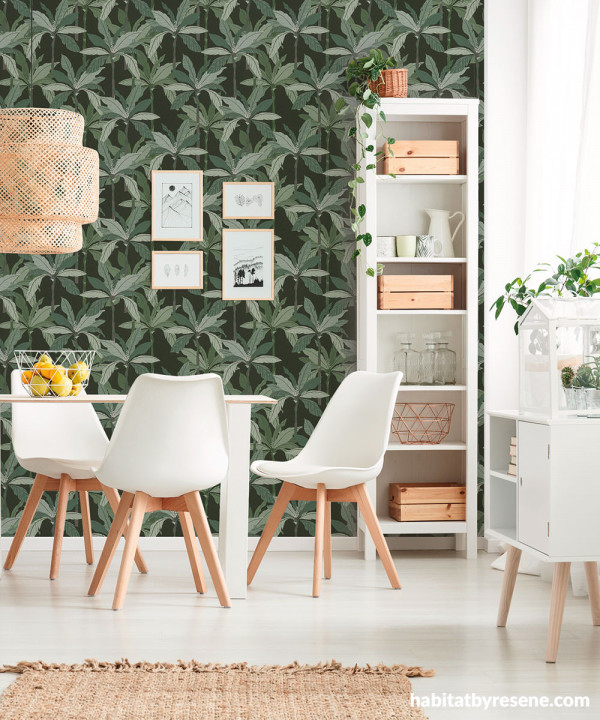 Resene Wallpaper Collection 37530-3 brings this Scandi-feeling dining room to life. Nothing goes with crisp whites like deep leafy jungle greens. Try shades like Resene Alabaster and Resene White Linen to contrast green-toned wallpapers.
The versatility of wallpaper is one of its biggest benefits. You can cover a small section of a bedroom (perhaps in a few little alcoves as a feature), just as you can splay it across a whole wall in a dining room. Either way, it adds layers of interest to each room. You can use as little or as much wallpaper as you like, there are no set rules. Consider too the amount of textured looks wallpaper can offer. Brick or marble-look wallpapers add even more dimension to a room, as does embossed wallpapers, which is wonderfully tactile and adds to the mood of any space.
Don't be afraid of funky prints and daring design – start with applying the wallpaper in a small area to see if you like it first, then go big.
Be bold, be daring
Resene Wallpaper Collection M29607 pops in warm mustard yellows with splashes of blue. The grey couch keeps the look modern and fresh. Team with adjacent walls in Resene Surf Spray Grey or Resene Grey Chateaufor contrast. Wooden shelves add further interest to the room and really pop against the yellow of Resene Wallpaper Collection M29607.
Be daring in your wallpaper choice if you want to really revamp the mood of a room. It's key to take note of your room's natural light and temperature. Is there lots of ambient window light? Then it's safer to use a wide range of colours from light to dark. It will make darker wallpapers feel far less brooding and intimidating. In rooms where there is little light, aim for a lighter pattern so the room doesn't feel too cave-like (unless that's what you're going for, striking wallpaper looks in bathrooms or reading nooks can look fantastic!)
Top tip: Don't forget you can still layer artwork or shelving on top of your Resene wallpaper. With artwork, think big. If you choose a wallpaper with a busy energy, you'll need an adventurous frame and a big artwork to create distance between the piece and the wall. It's also a good idea choose art in similar hues/colour palettes to your wallpaper if its sitting on top of it.
Tie a room together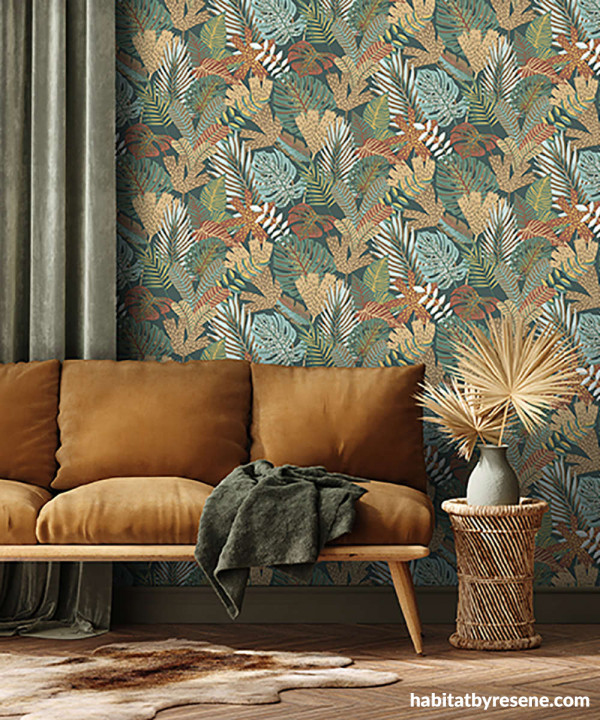 The autumnal Resene Wallpaper Collection M36904 works beautifully to tie in the cosiness of this home's earthy furnishings. Colours like gold and red in the leafy wallpaper pair well with earth tones like Resene Mai Tai and Resene Swiss Caramel.
If you're doing up a room from scratch this winter, why not use Resene wallpaper as your first inspiration point? Create a theme for your room with wallpaper, it will enhance its character and feel hugely. Try adding plenty of texture like woolly throws, rugs and large maroon linen cushions for an autumn-vibe teamed with Resene Wallpaper Collection M36904. Wanting to add a tropical vibe to boost your winter wellness? Pick a parrot or palm-dotted wallpaper and furnish the room with bright blue cushions and potted plants.
Wallpaper use can be subtle and still have impact. Pick a lighter palette or softer design if you're planning to cover a whole room in a print and a bolder style isn't calling your name.
Embrace the unexpected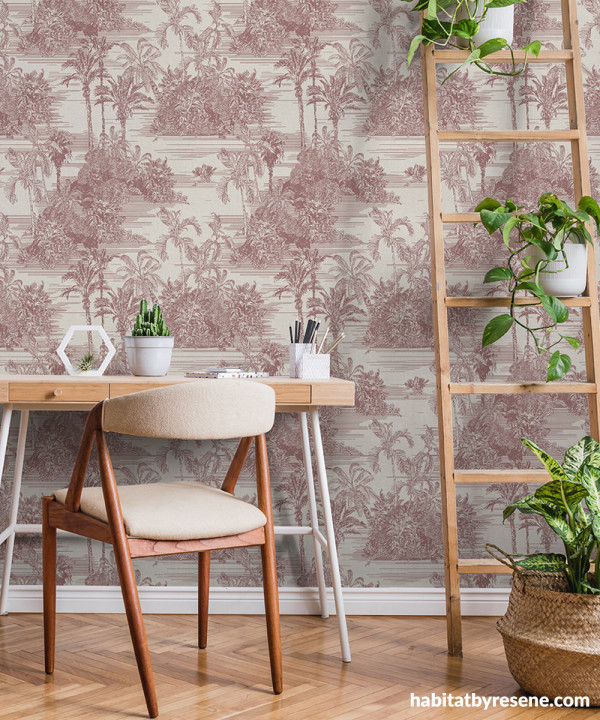 Resene Wallpaper Collection M37310 is the perfect delicate backdrop for a very zen study space or a chic and soothing bedroom. Pair the cream and soft red design with natural wooden furnishings and trims in Resene Black White for a fresh touch.
There could be places in your home wallpaper could work incredibly well, but you haven't thought to try yet. Think about study areas, laundries, dining rooms, powder rooms and bathrooms. Even a ceiling in a funky wallpaper design is very on trend at the moment (go for a light and airy pattern to create spaciousness). Perhaps there's an imperfection or two you'd like to hide on your walls. Wallpaper is fantastic for hiding cracks, smudges and unsightly blemishes.
Whether it's a living room with wow-factor you'd like to create or perhaps a soothing reading nook, the Resene Wallpaper Collection has something for everyone – view a taste of the latest collections online, www.resene.com/wallpaper. If you need help getting started on your journey to creating winter wellness with wallpaper, visit your local Resene ColorShop. Or to use the free Ask a Resene Colour Expert service or book a Resene Colour Consultation.
Published: 27 Jul 2022
Do you have a home full of wonderful Resene paint and colour? Send us some snaps by emailing [email protected].
the look
If you're stuck on what
colour to use or need colour
advice, try out the Resene
Ask a Colour Expert service.
the look
If you're stuck on what
colour to use or need colour
advice, try out the Resene
Ask a Colour Expert service.