►
◄
latest
habitat tv
blog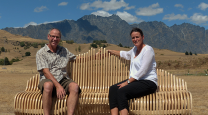 5 ways to play with pattern in your home
Nothing adds character to a room like a pattern – whether you're a fearlessly bold decorator or relaxed minimalist, patterns are worth embracing in any home. It can feel easier to play it safe and work solely with solid hues in a home, but stripe up some courage, because patterns can completely change the vibe of a room.
Be it geometric, striped, animal printed, minimal or maximalist, any room can benefit from a little pattern magic. Create dynamic spaces filled with personality by painting patterns on your walls with Resene paint or put the Resene Wallpaper Collection to good use and paste up a pattern storm.
Picking patterns
Think about the mood you want to create in your space. Pastel and floral patterns in summery hues will emphasise light, airiness and warmth, for example, while darker patterns in moody greens or navies will have a more dramatic feel that can also add intimacy to a space.
If you err on the side of caution and prefer a subtle look, white-on-white patterns can add depth and texture to a neutral room (try Resene Titania, Resene Spanish White) Larger, more dramatic motifs in neutral tones (try Resene Double Spanish White) can add opulence and plenty of character, too. Don't feel pressure to use bright tones if that's not your style.
Ordered patterns like stripes and geometrics work well in greys and blues for a mature look (try Resene Surrender or Resene Neutral Bay), whereas geometrics in brighter shades like yellows or earthy tones (like Resene Influential and Resene Mai Tai) offer playfulness and energy.
Stripe it up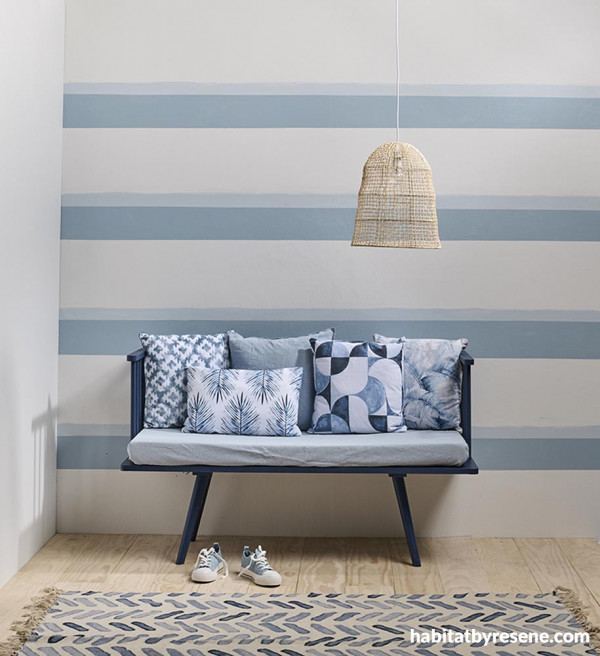 Stripes are a good starting point when trying to incorporate more than one pattern into a room, as they mix well with prints including botanicals and geometrics. Not all stripes are created equal. Create crisp lines using painter's tape or create a soft watery-effect with hand-painted soft edges. Main wall base colour and side wall painted in Resene Alabaster, thick stripe in Resene Frozen and hand-painted soft stripe in Resene Quarter Frozen. Flooring stained in Resene Colorwood Natural and bench seat in Resene Biscay. Light blue cushion from H&M Home, patterned cushions and rug from Spotlight. Project by Vanessa Nouwens, image by Bryce Carleton.
Inject a shot of colour into your space with a minimal pattern as a feature wall. Stripes are a great way to add flavour to a room and create a feature area in any part of your home. They can be multi-coloured or part of a simpler scheme of just two colours. They can be evenly sized, or in a variety of widths from wide to pin-striped. Stripes are easy to paint and with all of the Resene colours available, you will end up with a very individual look. All you need is a ruler, some masking tape and a paintbrush or roller.

When you're painting a pattern on your wall, consider its breathing room, i.e., the amount of empty space left around your pattern. Leaving some breathing room stops a pattern from cramping a room, and allows the eye to rest on a centre point, rather than darting all over the show.

Top tip: If painting stripes on the wall seems too difficult, check out the many stripes and other patterns available in the Resene wallpaper collections, at www.resene.com/wallpaper. Or try colour blocking or stencilling for a shot of added colour.

Play with scale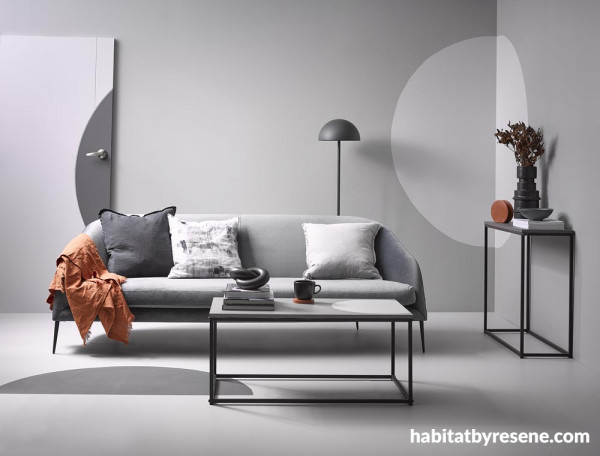 Stripping back the colour and allowing saturated grey and charcoal patterns to take over the space plays an interesting trick on the eyes – as if you really are seeing it in greyscale. Walls painted in Resene Half Stack, circle in Resene Silver Chalice, circle feature on wall in Resene Surrender, floor in Resene Silver Chalice, coffee tabletop in Resene Double Stack with circle detail in Resene Silver Chalice, console top in Resene Half Grey Friars, door in Resene Surrender with circle in Resene Half Grey Friars, bedside table in Resene Double Stack, tall vase in Resene Blackjack, bowl in Resene Grey Friars, tealight holder and vase on bedside table in Resene Cape Palliser, small round vase in Resene Desperado and round ball in Resene Blackjack. Lamp from Città Design. Project by Vanessa Nouwens, image by Wendy Fenwick.
Connect your room together with coloured patterns and play with contrast and scale. Try a monochromatic look, choosing a few shades from the same base colour and then creating a pattern. Keep it cohesive – avoid teaming large patterns with other large patterns, as the room will become too busy. Pick one shape (like little crosses on a wall, large semi-circles or horizontal stripes) and repeat it. When playing with the sizes of your shape, know that large patterns and small patterns together work better than large and medium, because the difference is more obvious.
If you have a 20 centimetre-wide stripe, for example, pair it with a stripe that's 10 centimetres wide. A 15 centimetre-wide stripe doesn't have enough contrast and will tend to get a bit lost.
Top tip: Beyond visual interest, geometric shapes, particularly as painted wall features, can be used to highlight an area in your room, frame small or large artworks (depending on the scale of your shapes) or break up a dominant colour scheme. Keep this in mind when deciding where you want your shape or shapes to go.
Get Creative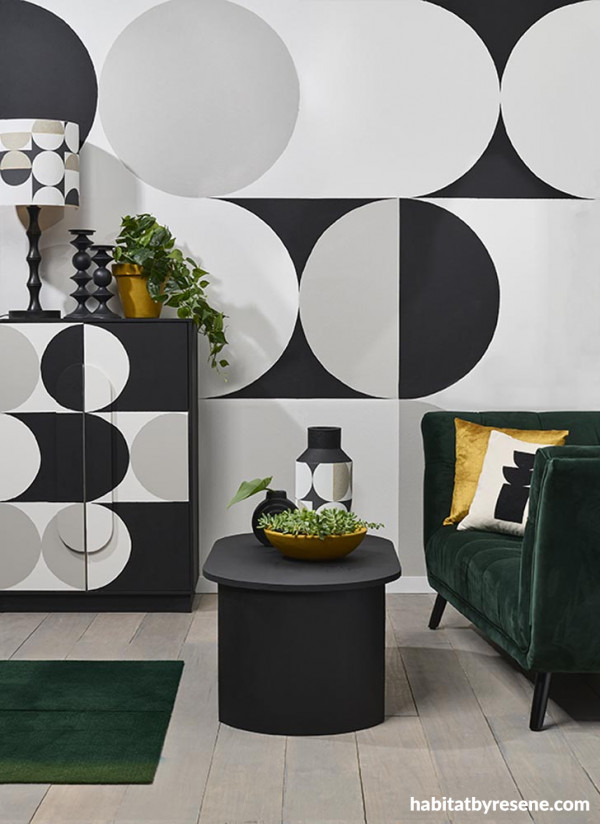 Get creative with wallpaper by painting wallpaper designs in a different scale or reversed colourway. This mid-century inspired pattern, used on the wall mural and cabinet, is an upsized version of that used in Resene Wallpaper Collection 538021, wrapped around the lamp and the vase. Walls and cabinet painted in Resene Sea Fog, Resene All Black and Resene Grey Friars, flooring in Resene Colorwood Mid Greywash, coffee table in Resene All Black and bowl on coffee table in Resene Hot Toddy. Sofa from Interior Warehouse, cushions from Nood and H&M Home.
Incorporating the pattern trend into your home can be subtle and creative. Don't feel you need to necessarily deck out a whole wall in stripes or polka dots, you can inject fun into your room with even a little pattern. Why not paint some shapes on a furniture piece in a bedroom, like bedside tables, or in the lounge, like a coffee table. Or, grab a big canvas and some Resene testpots and create bold, geometric shapes for a modern look. Who said modern art had to be expensive?
Try colours like Resene Ballerina, Resene Nero and Resene White together, or for a pastel look, Resene Half Mischka, Resene Nero, Resene Cornflower and Resene Permanent Green. Continue your pattern colour scheme in soft furnishings like rugs, patterned duvets and cushions.
Start with your star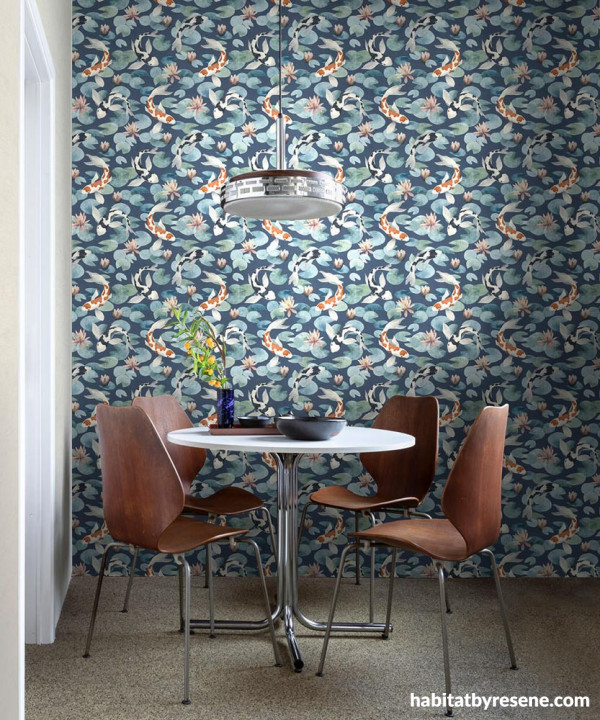 Patterned with koi and with a Japanese influence, Resene Wallpaper Collection 409444 is at the heart of this cosy dining space. Pair with trims and ceilings in Resene Black White for balance and contrast.
Going for a bold patterned wallpaper look from the Resene Wallpaper Collection? Run with that colour scheme and theme the rest of your room around it. Your wallpaper will be the focal point of your room, so pull colours from it when you're choosing your furnishings, trim colours or any art. If your wallpaper has a lot of blues and greens in a hallway space, you might paint your trims and ceilings in Resene Black White for contrast, and paint a side table in Resene Blue Night or Resene Bunting.
Patterned Resene wallpapers can help to overcome existing problems such as low light levels and less-than-perfect walls. In a hallway or dark room, choose a wallpaper that has sheen, so it will reflect light around the space. Also consider metallic or iridescent designs. Aim to generally steer away from heavily textured wallpapers, which will appear darker.
Top tip: It's true that seeing a photograph of a wallpaper design won't reveal its full beauty. Many have sometimes subtle visual and tactile elements that have to be experienced in person – textural finishes, a variety of sheen levels, embossing, velvet, even grit and beading. You have to see and feel today's wallpapers to get the full effect. Pop into your local Resene ColorShop to look at their full range of wallpaper books and order samples.
Mix patterns and textures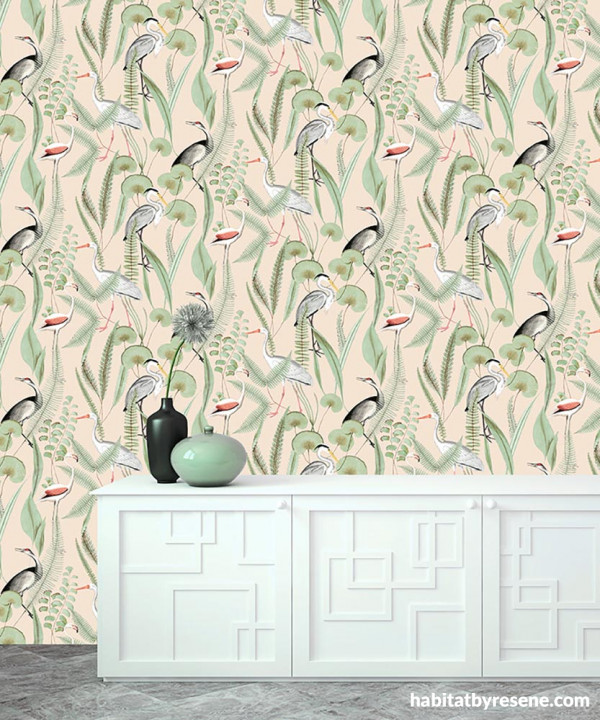 Soft and elegant, Resene Wallpaper Collection M37403 has been paired with a textured and patterned dresser perfectly. The starkness of a dresser in hues like Resene Black White allows both patterns to exist without one outshining the other/confusing the room.
It's called happy clashing! Mixing patterns colour-wise and texture-wise is a bit of a balancing act (on both walls and furniture), but it can be incredibly fun. Successful mixed-pattern rooms generally offer places for the eye to rest, or spaces where there isn't as much stimulation or interest. This gives our brains the space to make sense of what it can see. You can combine patterns with blocks of colour in matching hues to make your room feel cohesive. It will calm your scheme and offer a more unified look.
Have a look at the complexity of your chosen patterns and simplify the rest of the room. If you're using two complicated patterns (like a stripe and a floral wallpaper, for example) use a solid Resene colour for balance on another wall (like Resene Rice Cake or Resene Alabaster), you won't go wrong with this recipe.
Top tip: On-trend patterns for wallpaper this season include bright leafy and floral wallpaper, animal prints and tropical designs (think palms and macaws), such as Resene Wallpaper Collection 91310, 91250, 91101 and 529302. Find them all in the Resene Wallpaper Collection.
If you need help deciding which pattern combo is right for your place, ask our Resene Colour Experts for help, free online www.resene.co.nz/colexpert or book a consultation, www.resene.co.nz/colourconsultation.
Published: 03 Aug 2022
Do you have a home full of wonderful Resene paint and colour? Send us some snaps by emailing [email protected].
the look
If you're stuck on what
colour to use or need colour
advice, try out the Resene
Ask a Colour Expert service.