►
◄
latest
habitat tv
blog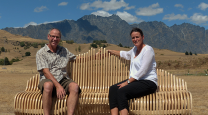 5 ways to update your space without buying new stuff
Keeping the planet healthy has become increasingly important, and many of us are searching for ways to help do our part. This new priority has led a number of homeowners to rethink the way they design their interiors and look for opportunities to breathe new life into old things, whether it be through reclaimed materials or upcycled furnishings and accessories.
While the concept of upcycling certainly isn't new, taking advantage of the renewed interest in this trend offers a creative method for updating your decorating and injecting fresh colours into your home without needing to dispose of perfectly useful things that already meet your needs.
If your surroundings are in need of an update, start by grabbing some Resene testpots and try out these five simple tips.

Give your accessories a colourful facelift
Looking to introduce bold colours to your bedroom or bring striking pops of colour to your living room shelving? Adding a fresh coat of paint to accessories you already own and love is a small but effective way to bring a fabulous touch to any room. If your garage doesn't unearth any gems, visit your local second-hand and charity shops to find those hidden treasures just waiting to be transformed and kept out of the landfill.
Everything from photo and mirror frames to vases and other decorative pieces can make all the difference to an otherwise neutral room. Try some bold blues like Resene Endeavour, Resene Bowie or Resene Tory Blue if you're feeling adventurous.
Take a look at the two images below to see the difference new paint colours can make in the same space.
Published: 20 Feb 2020
Do you have a home full of wonderful Resene paint and colour? Send us some snaps by emailing [email protected].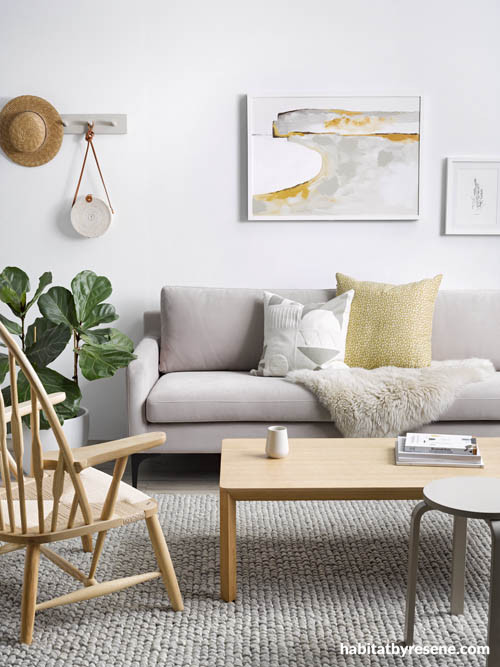 Resene Poured Milk is a chilled white with a soft edge of blue grey hiding at its heart, an ideal backdrop on these walls and plant pot. Hooks and stool in Resene Napa. Painting in Resene Poured Milk, Resene Napa, Resene Sambuca and Resene Thumbs Up.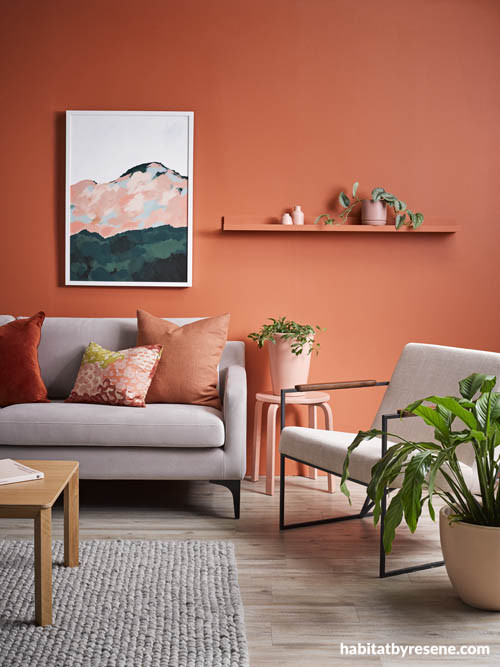 The same major furnishings look dramatically different in front of walls and a shelf painted Resene Sunbaked – a Mojave Desert terracotta that's versatile and timeless. Stool and small pot in Resene Soulful, large pot in Resene Shabby Chic, small vases (on shelf) in Resene Just Dance. The artwork was created using Resene Poured Milk, Resene Shabby Chic, Resene Soulful, Resene Just Dance, Resene Sunbaked, Resene Family Tree and Resene Mother Nature.
Repaint your furniture
That old dresser or side table gathering dust in your shed is simply ripe for a colourful refresh. Keep it simple with a single colour like classic Resene Woodland or let your creative side show with patterns and unexpected colour combinations that add individuality to a classic palette. If you're feeling extra creative, paint the insides of drawers in a contrasting pattern or colour for a fun surprise when they're opened. For a kid's room, try funky tones like Resene Turbo, Resene Roadster and Resene Dizzy Lizzy in a myriad of patterns.
If you have like-minded upcycling friends, consider starting a Facebook group to let each other know when you have furniture or decorative painted items you're finished with and want to swap for something else.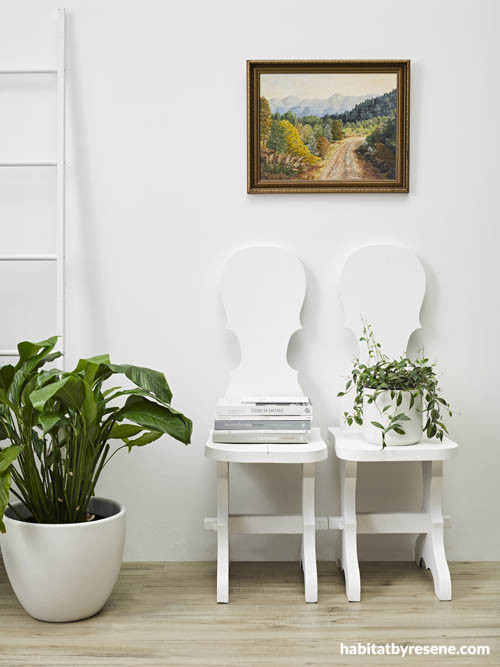 A surefire way to ensure everything in your space matches is to paint it all the same colour. The wall, chairs, plant pots and ladder in this room have all been painted Resene Alabaster for a cohesive look, yet it still maintains a sense of character.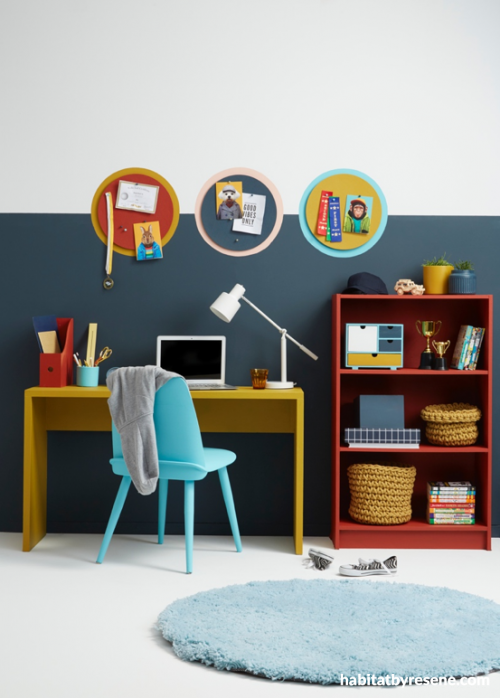 Nearly everything in this joyful home study space has been livened up with paint. Lower half of wall in Resene Coast, top half of wall and floor in Resene Poured Milk, desk in Resene Influential, chair in Resene Yes Please, bookshelf and magazine file in Resene Raging Bull, plant pots (on bookshelf) in Resene Influential and Resene Coast, mini draw unit (inside bookshelf) in Resene Poured Milk, Resene Yes Please, Resene Coast and Resene Influential, wooden box in Resene Coast, pencil pot in Resene Yes Please, circles painted on wall in (from left to right) Resene Influential, Resene Shilo and Resene Yes Please with cork placemats used as pin boards in (from left to right) Resene Raging Bull, Resene Coast and Resene Influential.
Go green
Adding green, leafy elements to your living room, bedroom or home office will instantly boost your mood and uplift a neutral space. A brightly flowering plant will very effectively add a blast of colour – more so when placed in an upcycled and brightly toned planter.
Terracotta, concrete, wooden or plastic pots are cheap to buy, easy to repurpose and can add an instant splash of colour. If your rooms feature neutral-toned walls, try highlighting the existing colours in your soft furnishings by painting pots to match. If your sofa is a deep green, go with pots painted in Resene Scrub or perhaps deep earthy browns like Resene Espresso or Resene Moccaccino.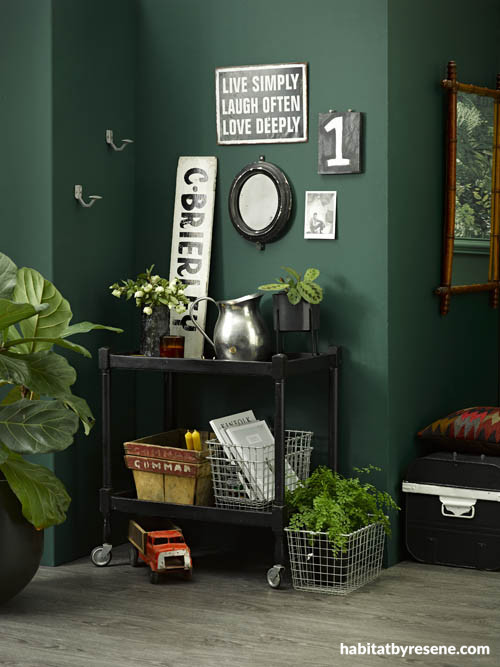 The best way to go green with your interiors is to invest in quality vintage items, restore and upcycle them – creating beautiful spaces with uncompromising style. Walls in Resene Family Tree, floor in Resene Colorwood Tiri timber stain, pot, trolley, small potted stand and trunk all painted in Resene Noir, with trim on trunk in Resene Alabaster.
Create your own art – over and over again
Use up your testpot leftovers with some home-made artworks on canvas, card or ply. You can even re-use these for new artworks at a later date by repainting them with a primer such as Resene Quick Dry primer undercoat before breaking out the artist brushes once again. It's a great solution for getting the kids to get involved in decorating their own rooms.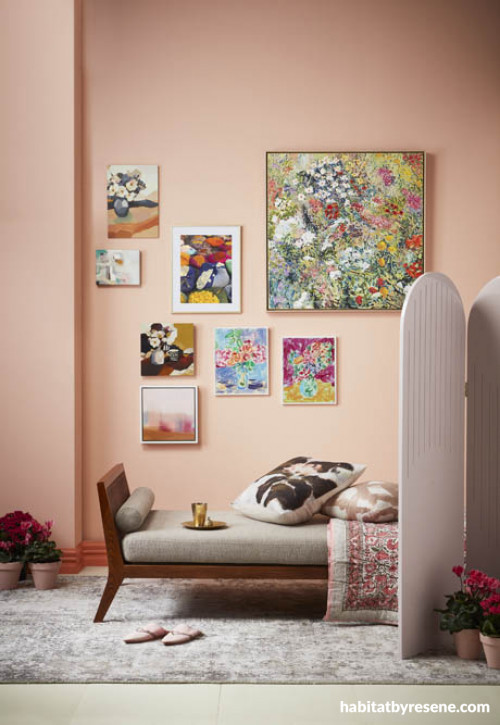 Create a gallery wall to display your artwork, and don't be afraid to mix up colours and media, as photos, paintings and pieces you've made yourself will all work beautifully alongside each other. The key is to start with a linking theme, such as nature or flowers. Walls and pots painted in Resene Wax Flower and skirting boards in Resene Japonica.
Give odd pieces new purpose
Find your home filled with odd items you simply don't use? Give them a new lease on life by adding a colourful coat of paint and assigning them a different task. Spare bricks, for example, can make trendy book ends and would certainly look fitting in an industrial-styled home. Old cake tins painted in your favourite colours make great planters for succulents and cacti. Try some theme-appropriate – and on trend – adobe shades like Resene Moroccan Spice or Resene Ayers Rock to make a real style statement.
Additionally, if you have any unused bed linen, curtains or clothing handy, avoid sending them to landfill by repurposing them into cushion covers, placemats or upholstered stool tops and chair bases.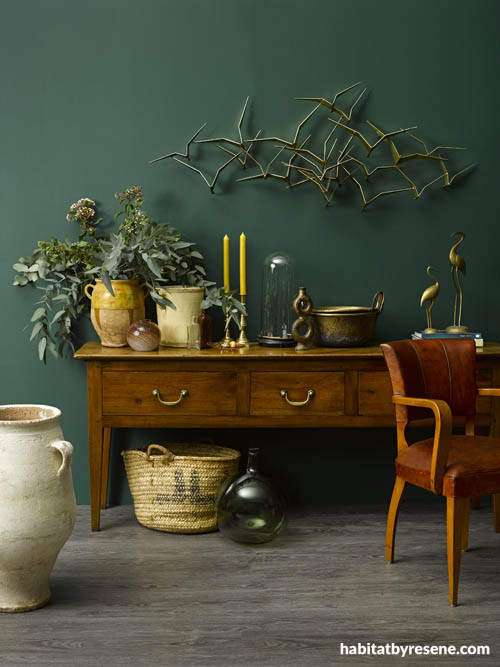 Incorporating antiques and vintage items into your décor – especially ones that have special meaning to you, or things you may have inherited from a family member – is a beautiful way to being depth, texture and richness to a space while saving useful objects from ending up in the landfill. Wall in Resene Mother Nature and floor in Resene Colorwood Tiri.
styling Amber Armitage, Vanessa Nouwens?
images Bryce Carleton, Wendy Fenwick, Melanie Jenkins