►
◄
latest
habitat tv
blog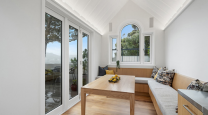 Master Builders' Chief Executive David Kelly shares his tips for building in the challenging climate.

Planning... more
6 beautiful blue rooms that will convince you that it's time to redecorate
Restful, relaxing and reassuring, blue hues have long been used to create tranquil spaces in our homes. A colour that calls to mind the sea and the sky, it's ideal for creating a calm bathroom oasis, a Zen-like lounge or a serene nursery.
We've rounded up six beautiful blue rooms that prove there's almost nothing a good blue can't do. Try our tips from incorporating today's trending new breed blues into your home with stunning effect.
This bedroom in Resene Juniper
We wouldn't be surprised if Resene Juniper is the colour Goldilocks chose for her bedroom walls, because the Nordic blue green shade is neither too light, too dark but instead 'just right' for a restful bedroom.
To make sure the rest of the room follows suit with your calm theme, go for complementing colours that sit above and below your hue on the colour wheel. The grey slate blue of Resene Balderdash used here on the bench plays on the dusty tones on the wall without providing too sharp a contrast.
The sophisticated timber floor finished in Resene Colorwood Mid Greywash subtly reflects the grey tones elsewhere in the room such as the bedhead in Resene Dover White, helping to ground the space and create a truly serene space to rest your weary head.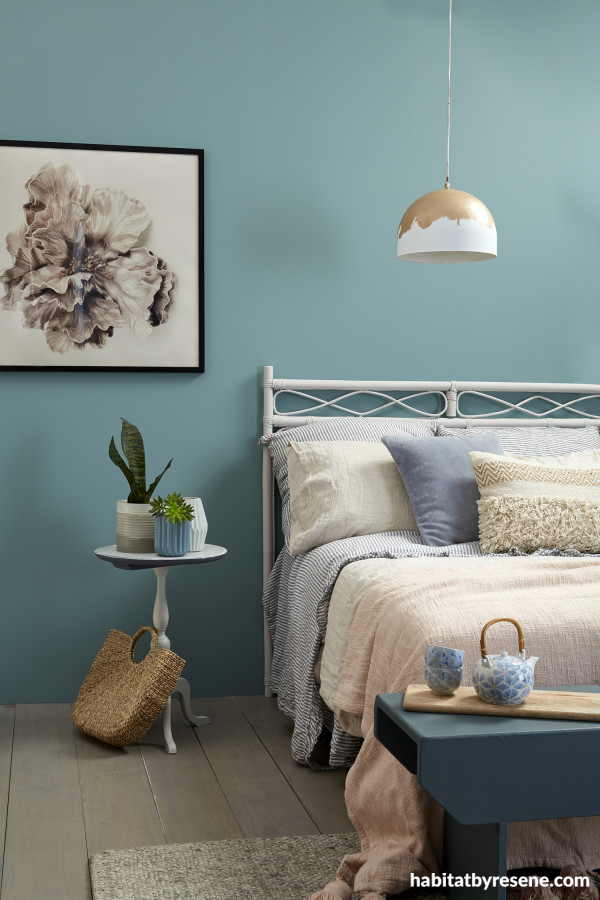 Walls in mid-toned blue greens such as Resene Juniper paired with darker hues in the same range such as Resene Balderdash (on the bench) bring in calming sea colours that ensure a serene sleep. Timber floor in Resene Colorwood Mid Greywash grounds the peaceful space. Headboard in Resene Dover White, pendant lamp in Resene Sea Fog and Resene Rose Gold metallic, bedside table in Resene Double Sea Fog (top and base) and Resene Hammerhead (underneath), ribbed vases in Resene Balderdash and Resene Double Sea Fog and large basket (with plant) in Resene Double Sea Fog. Cushions and rug from Me & My Trend, duvet and pillowcases from Society of Wanderers, throw from Kip & Co, tote bag and art from Kmart.
This home office in Resene Wishing Well
In creative spaces, the benefits of smart colour choices can be two-fold – adding both visual appeal and maximising productivity, too. In this lively home office, blue shades were chosen to stimulate the mind withyellows to inspire creativity. The saturated sapphire base of Resene Wishing Well pulls out the optimistic energy of the mustard design in Resene Cleopatra while muted blue-grey tone in Resene Time After Time anchors the room with a calm focus.
Of course, there's no reason to limit the creativity just to the walls. Embellishing your office décor in coordinating colours like the vases in Resene Cleopatra, Resene Influential and Resene Time After Time carry the fun vibe throughout the room. If yellows aren't your thing,an invigorating orange like Resene California will also add vitality.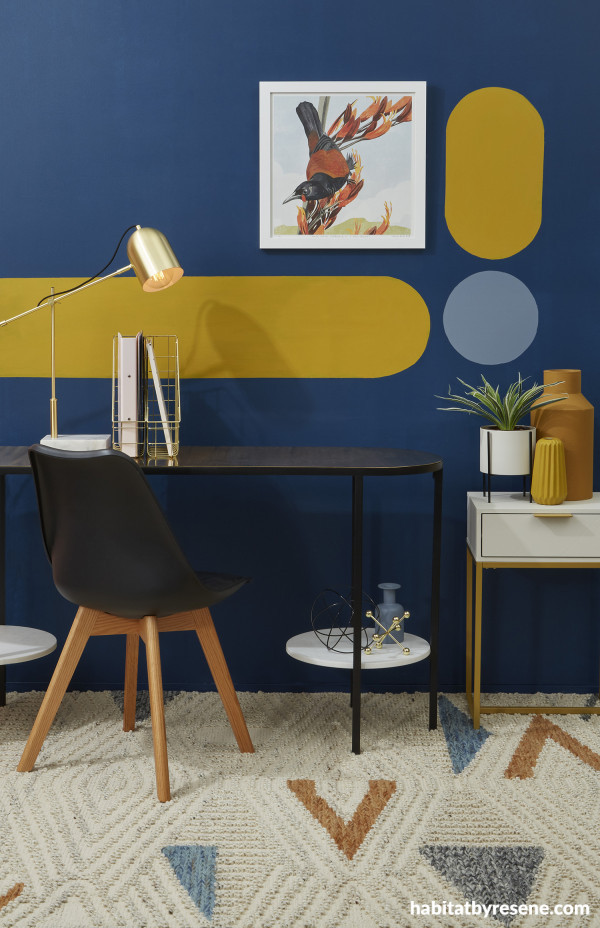 In a lively office space, smart colour choices can help get those creative juices flowing. This sapphire wall of Resene Wishing Well and the shadowy blue circle in Resene Time After Time stimulate the mind, while the pops of bright mustard via Resene Cleopatra inspires imagination. Side table in Resene Half Tea, tall vase in Resene Influential, ribbed vase in Resene Cleopatra and small vase (on lower shelf) in Resene Time After Time. Desk, lamp and rug from Freedom Furniture, chair from Nood, art from endemicworld.
This cosy bedroom in Resene Tangaroa and Resene Indian Ink
This inviting bedroom is testament that darker colours on the walls are anything but overpowering. The on trend rich and inky tones of Resene Tangaroa and Resene Indian Ink wrap this bedroom retreat in a cosy, intimate mood. Sharp white accents, such as the bedhead and bedside table in Resene Half Black White, provide a smart contrast in tonal rooms that feature deeper marine blues. The decorative wall hung buoys and life preserver in Resene Raging Bull, striped linens and tongue-and-groove feature wall are a themed nod to our nautical heritage.
This cocooning effect also lends itself well to a distinguished bathroom, a haven to unwind in after a long day. Try Resene Bunting or Resene Tarawera paired with a large mirror to bounce light around the room to create a space you'll want to soak in.
Not quite ready to take the deep plunge? Resene Navigate and Resene Undercurrent are lighter marine blue options that would be equally suitable for a bedroom.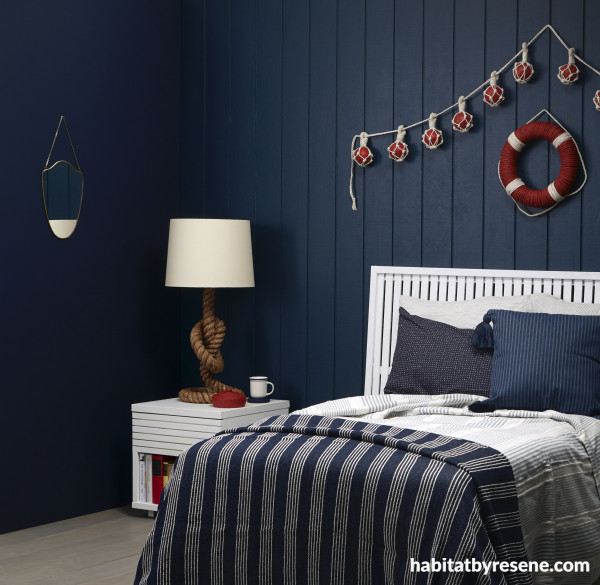 Resene Tangaroa creates a cosy cocooning effect on the moody tongue-and-groove wall of this bedroom, perfect for snuggling in with a good book. Left wall and coaster in Resene Indian Ink, bedside table and headboard in Resene Half Black White, floor in Resene Colorwood Mid Greywash, lidded basket, DIY buoy garland and life preserver in Resene Raging Bull. Lamp from Freedom Furniture, duvet cover from Ezibuy, pillowcases from Citta, cushion, throw and mirror from H&M Home.
This living room in Resene Bluetooth
If you want a space that is swimming in upbeat colour, a lighter, brighter blue like Resene Bluetooth is the way to go. For a super fresh take, incorporate a bold bright colour into the colour palette to really dial up the energy in the room. The console table in Resene Jailbreak and the small bowl in Resene Japonica are great examples of how complementary colours can bring a vivid, perky look.
Incorporating a darker blue shade as an accent adds further visual contrast. Limiting these accents to the furniture and accessories such as the petrol blue sofa and the lampshade, smaller nesting table and vase all in Resene Wishing Well makes it super easy to switch things up when you're ready for a change.
For more muted walls, Resene Slipstream, Resene Mystery, Resene Raindance or Resene Lazy River are all lovely alternatives.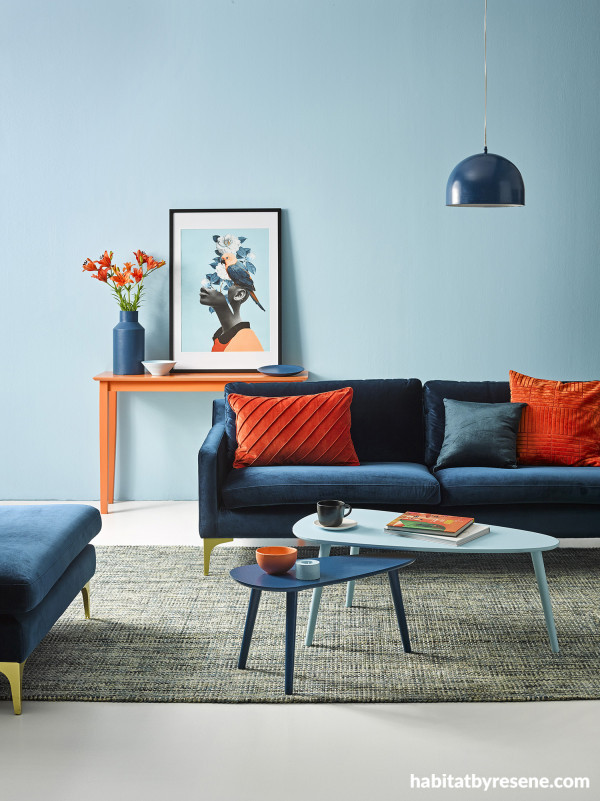 Resene Bluetooth is a vivid modern that contrasts with bold orange of Resene Jailbreak console table to create a contemporary space that is fresh and invigorating. Walls, large coffee table and tea light holder in Resene Bluetooth, floor in Resene Alabaster, console table in Resene Jailbreak, small coffee table, pendant lamp, plate and vase in Resene Wishing Well and bowls in Resene Slipstream and Resene Japonica. Sofa and chair from Me & My Trend, rug from Freedom Furniture, art from Pop Motif, cushions from H&M Home.
This entryway in Resene Bunting
Repeating colours and shapes is an easy way to bring balance and interest to areas of the home that see a lot of use. Adding bright flashes of fiery Resene Jalapeno on the pendant lamp shade, stool, umbrella stand and storage boxes to pop against the comforting blues of Resene Bunting and Resene Hammerhead ensures this entryway is high impact from a design perspective but remains user-friendly.
Our eyes love balance, so a neutral floor in Resene Sea Fog and clean accents in Resene Breathless keep a sense of order about this high traffic area. This look would also look great in a child's playroom or bedroom where you want to strike an equilibrium between fun and calm.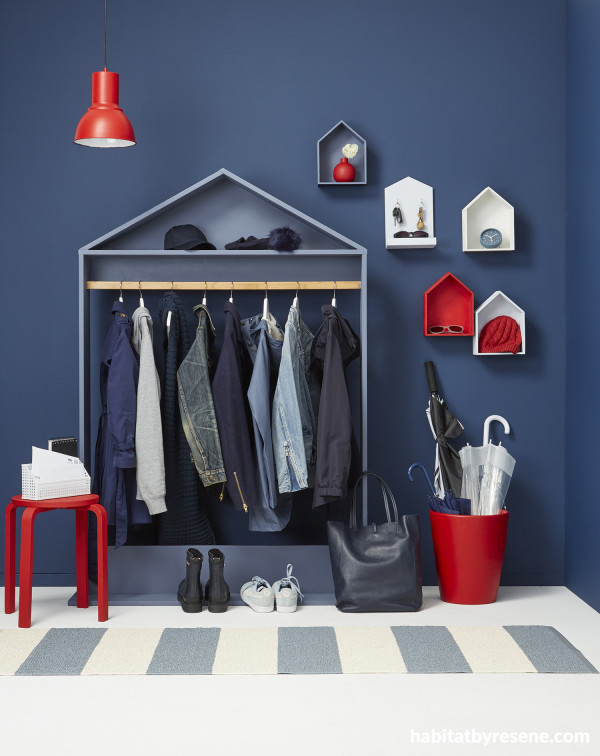 Tonal blues shades of Resene Bunting (on the walls) and Resene Hammerhead (on the coat rack) have been used to breathe fresh life into a classic red, white and blue colour theme. Pendant lamp, stool and umbrella stand in Resene Jalapeno, floor in Resene Sea Fog and shadow boxes (clockwise from top left) in Resene Hammerhead, Resene Breathless, Resene Sea Fog, Resene Breathless and Resene Jalapeno. Coat rack from Mocka, rug from Kmart.
This living room in Resene Duck Egg Blue
If it's serenity you crave from your living spaces, you'd be hard pressed to find a better solution than a soft palette of blues and greys. Building a tonal scheme in multiple soft shades of blue adds layers of interest and retains a refined feel in this laidback space.
Washing the walls and ceiling in Resene Duck Egg Blue and the sixth wall – the floor – in Resene Quarter Duck Egg Bluewill set a restful tone for the space from the bottom up. Carrying tonal hues onto your soft furnishings, artwork and furniture such as the coffee table and shelf in Resene Unwind will highlight your design rather than distract from it.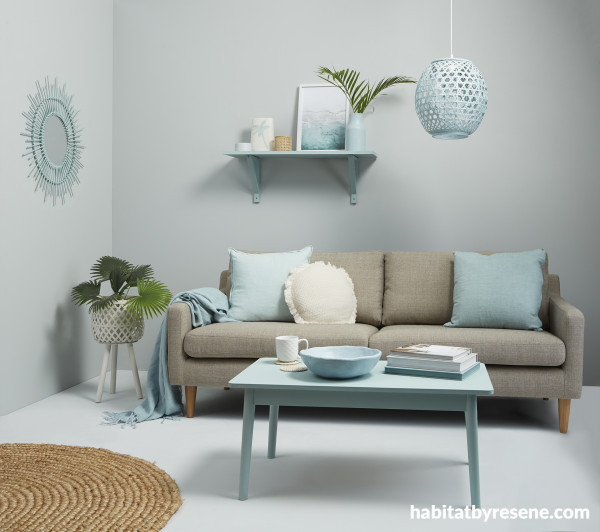 To get the most tranquility out of calming blue tones, create a truly harmonious look by continuing different hues onto your soft furnishings, light fixtures and furniture. Walls in Resene Duck Egg Blue, floor in Resene Quarter Duck Egg Blue, coffee table and shelf in Resene Unwind, pendant lamp and mirror in Resene Raindance, plant stand in Resene Quarter Tea and small accessories in Resene Slipstream, Resene Raindance and Resene Quarter Tea. Sofa from Me & My Trend, rug from Freedom Furniture, cushions from Allium Interiors and Adairs, throw from Adairs.
Published: 09 Sep 2020
Do you have a home full of wonderful Resene paint and colour? Send us some snaps by emailing [email protected].