►
◄
latest
habitat tv
blog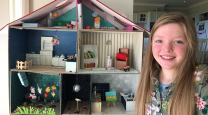 6 bright and beautiful yellow ideas for your home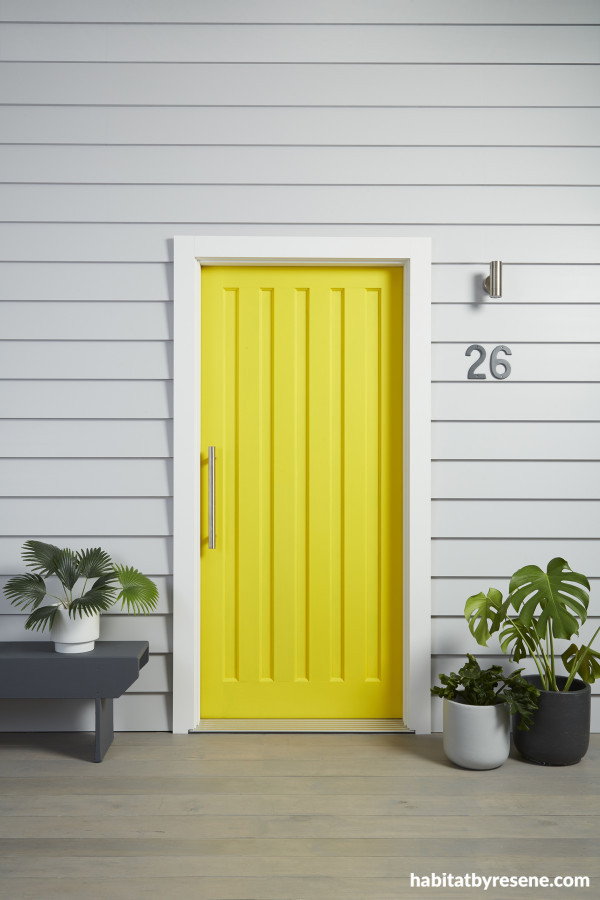 Add street appeal with a yellow front door. The door on this villa is painted in Resene Turbo with Resene White on the trim and weatherboards in Resene Triple Concrete. The deck is in Resene Woodsman Greywash. The dark plants pot and plant bench are Resene Nocturnal and the small plant pot is Resene Silver Chalice.
Is it time to look on the bright side of life? Do your interiors or exterior need a little oomph? Turn mellow into yellow with these six yellow decorating ideas using sunny shades of Resene paint.
There's a reason Colour Institute Pantone chose illuminating yellow, along with grey, as its colours of the year. Yellow represents optimism and a sunny outlook – who could resist that?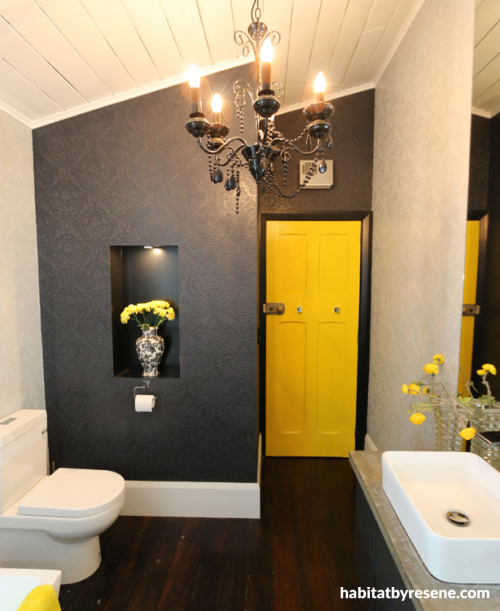 The Resene Turbo door in this bathroom contrasts against the dark wallpaper (try Resene Wallpaper Collection 303965 for a similar style) and the walls in Resene Shark and Resene Silver Chalice.
Open new doors
Inside or out a zesty-coloured door makes your home feel like good opportunities will come knocking. Painting a door in a sunny shade will give an instant lift to a neutral or dark room - and it's a job that can be done in a day! If repainting an old door give it a good clean first with Resene Interior Paintwork Cleaner. Paint with Resene Lustacryl semi-gloss waterborne enamel for an easy clean finish or for a glossier contrast use Resene Enamacryl gloss waterborne enamel.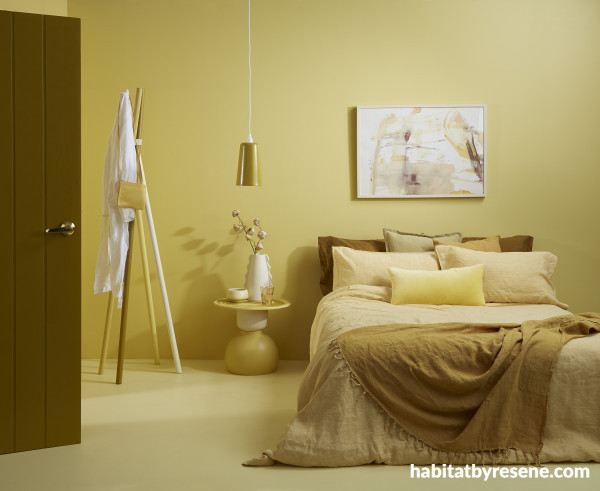 This sunny room has walls in Resene Chenin and the floor in Resene Mellow Yellow. The door is in Resene Stringer, the coffee table is in Resene Golden Sand, the tall cream wavy vase is in Resene Solitaire and the low dish is in Resene Gin Fizz. The coat rack is in Resene Golden Sand, Resene Gin Fizz, Resene Laser and Resene Stinger and the artwork frame is in Resene Blank Canvas. Duvet and pillowcases from Home Republic, throw from Adairs. Styling by Vanessa Nouwens, image by Bryce Carleton.
They call me mellow yellow
Go for the full shebang and try a yellow-on-yellow tonal room. A soft yellow shade such as Resene Chenin and Resene Mellow Yellow will mean you wake up bright and early with a spring in your step. The way to make a yellow room calming and not too overwhelming is to choose a lighter shade and anchor the look with contrasting darker mustard hues or browns.
Top tip: Yellows used inside will intensify when used on all four walls. If in doubt choose a lighter yellow, or use as an accent combined with other more neutral hues.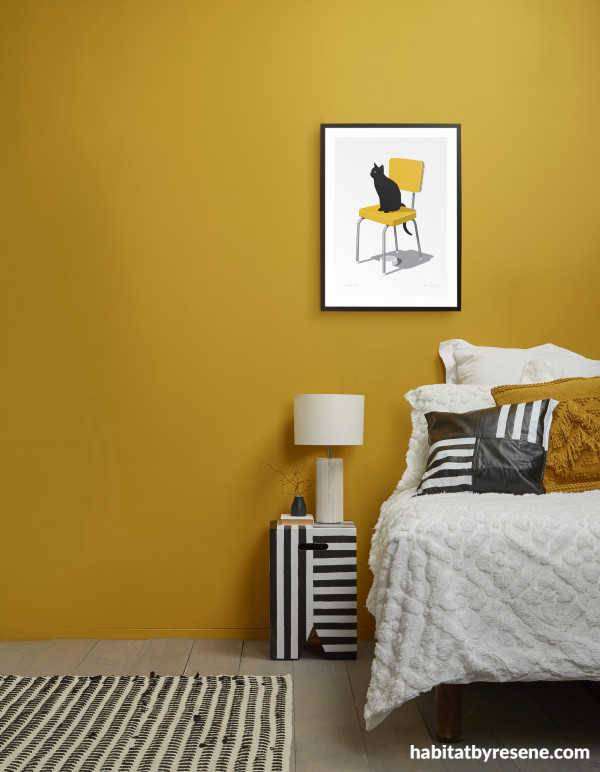 This bedroom's monochromatic accessories provide fresh contrast for the wall in Resene Cleopatra. The floor is finished in Resene Colorwood Mid Greywash. The bedside table is painted in Resene Poured Milk and Resene Charcoal and the table lamp is finished in Resene Woodsman Whitewash. Bedlinen and cushions from Wallace Cotton, rug from Kmart, artwork by Glen Johns [should this be Glenn Jones??] from endemicworld. Styling by Megan Harrison-Turner, image by Bryce Carleton
Walls like an Egyptian
Channel your inner Egyptian queen with deep gold Resene Cleopatra. Despite their dazzling hue golds and ochres are comforting colours with cocooning qualities. Pair with black and white accessories to keep the look sharp and tight.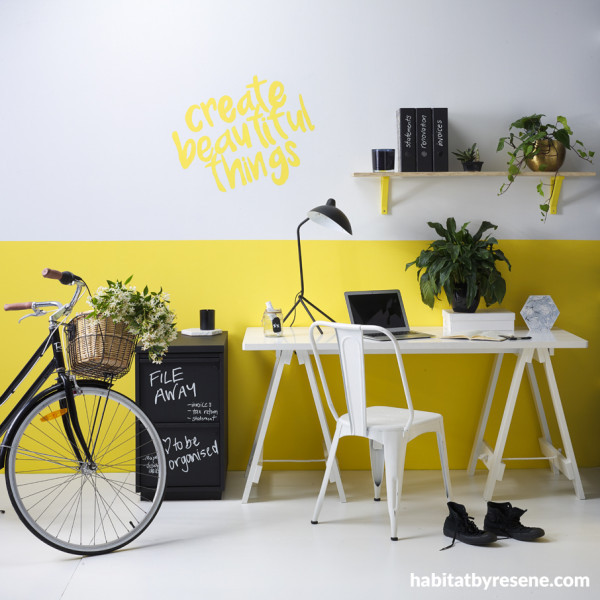 The yellow half of this study area and the 'create beautiful things' quote are painted in Resene Wild Thing. They look bold, but not too bold when painted next to Resene White and the filing cabinet which is painted in Resene FX Blackboard Paint. Styling by Amber Armitage, image by Melanie Jenkins.
Top tip: Vary the sheen level of your paint to soften or brighten your yellow. For a softer more weathered look choose a flat finish like Resene SpaceCote Flat or Resene SpaceCote Low Sheen. Or for a front door, use Resene Enamacryl for a glossier and brighter looking yellow.
Earn your stripes.
If painting the entire room is a bridge too far, try painting half the wall or a stripe in a bold yellow such as Resene Wild Thing. Lines can be used to create zones such as study areas or to highlight a room feature.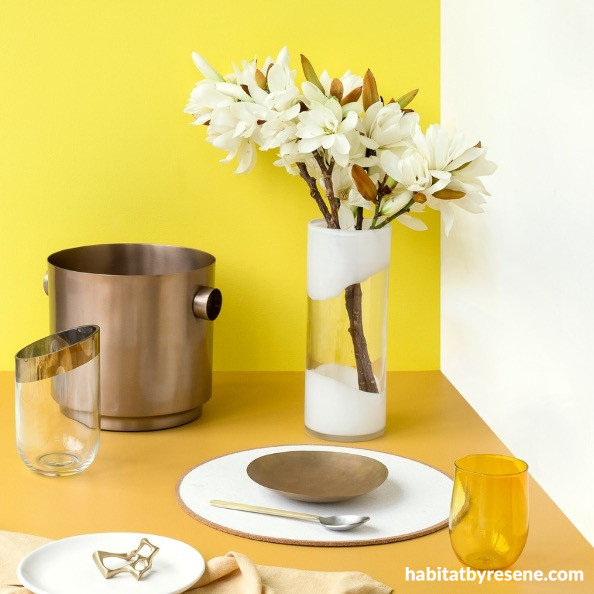 The yellow wall is Resene Gorse which pops against the Resene Black White wall. The slight black pigments in the Resene Black White paint contrasts well with the yellow. Styling by Amber Armitage.
Shine on
Yellow walls draw in the eye – so if you have beautiful objects or treasured pieces you'd like to give some love why not try placing them in the spotlight with a backdrop of a bright yellow wall such as Resene Gorse.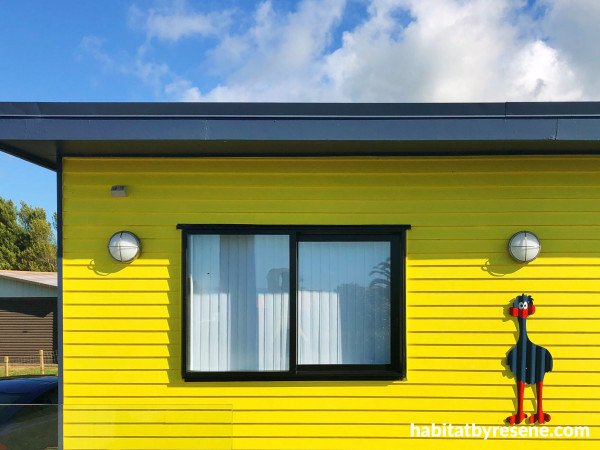 Paul Martin and Marion Walker chose the cheerful hue of Resene Happy for this home's weatherboards. The roof is painted Resene Blue Zodiac.
Because I'm Happy
If you can't go for a bold exterior paint colour at the bach, where can you? This bach in the Awhitu Peninsula was formerly a transit building for American soldiers in WWII. Its owners gave it a feel-good makeover with Resene Happy and a roof in Resene Blue Zodiac. The roof is painted in a Resene CoolColour so it doesn't get too hot in the sunshine.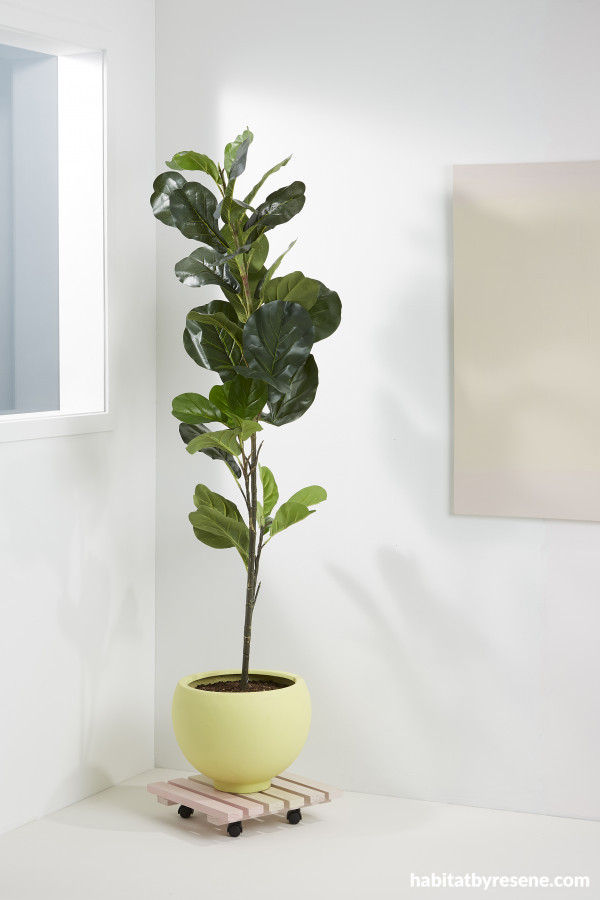 This Resene Spring Fever pot pops against the neutral walls and window frame painted in Resene Alabaster. The caddy is painted in an ombre look using Resene Paper Doll, Resene Quarter Doeskin, Resene Soothe and Resene Spring Fever. Project by Leigh Stockton image by Bryce Carleton.
Just a touch
If you're still warming up to the idea of yellow dip your toe in. Try the shade out for size with some colourful accessories. This potplant is painted in Resene Spring Fever on a handy mobile plant caddy so you can move your pretty plants from room to room to suit.
Find out how to make your own mobile plant caddy here:
Published: 28 Jan 2021
Do you have a home full of wonderful Resene paint and colour? Send us some snaps by emailing [email protected].