►
◄
latest
habitat tv
blog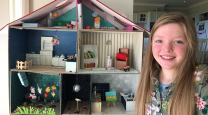 6 strategies for nailing a modern monochromatic look
What is it about interiors that are tip to toe in a single hue that makes them so striking? Sometimes you might be drawn to a single signature colour, or perhaps you just love the simplicity and beauty of a tone-on-tone colour scheme. Whatever drives you, there are more than a few ways to decorate with this trend-forward interior style to create a compelling contemporary look.
By definition, the term 'monochromatic' means to contain or use only one colour. But when we're talking about paint, remember that a single colour can come in a variety of strengths. Simply look at any Resene colour chart and you'll likely notice words like 'triple', 'double', 'half', 'quarter' and 'eighth' appearing in front of some colour names, indicating that it has more or less of the same pigment has been mixed into its base. So, when we talk about carrying out a monochromatic colour scheme, it doesn't necessarily have to mean that a single shade takes over an entire space. Rather, you should be looking to varying shades – and subtly different ones – to create layering and contrast within your colour story.
From where to start with your scheme to working in today's trending Resene fashion colours, here are our six top tips to nailing the look.
Focus on your dream theme
If you're starting from scratch with a new build or reno, working with a single hue or colour family is a great way to really get creative and tap into a colour scheme you've always dreamed about. For modern monochromatic schemes, you could go earthy with tangerines or golds, or moody with dusky blues paired with blue greys. Balance it out with accessories in lighter shades and patterns so it doesn't overwhelm the senses.
Published: 13 May 2020
Do you have a home full of wonderful Resene paint and colour? Send us some snaps by emailing [email protected].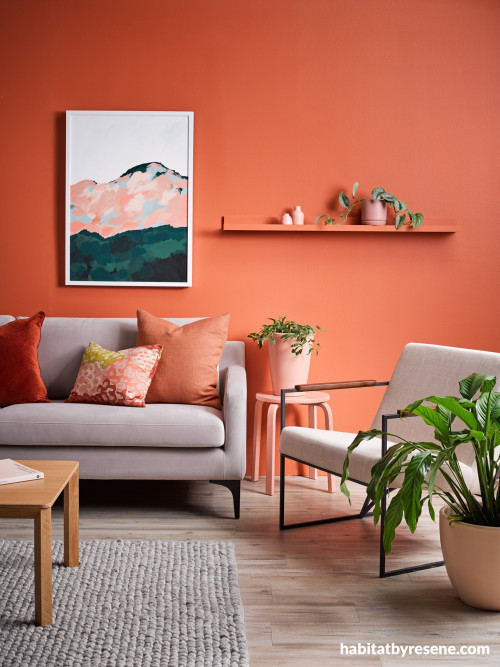 Desert pinks and earthy terracotta are a popular choice currently, and these sunset shades can make for a richly toned monochromatic scheme that carries a strong mood. Wall and shelf in Resene Sunbaked, floor in Resene Colorwood Rock Salt, stool in Resene Soulful, plant pots in Resene Shabby Chic (on floor) and Resene Soulful (on stool), vases on shelf in Resene Just Dance and painting created with Resene Poured Milk, Resene Shabby Chic, Resene Soulful, Resene Just Dance, Resene Family Tree and Resene Mother Nature.
Pick a hero
When it comes to finding the hero colour for your monochromatic palette, look to the bigger surface areas within your room to guide you – or the parts that are most eye-catching. Do you want a colour that works with the tone of your wooden floor, or perhaps one drawn from a statement piece of furniture or artwork? Start working with what you've got first, as these are pieces in your home that you might already love and will give a great foundation to your colour scheme.
If you want to take your chosen hue onto your floor, the Resene Colorwood range offers both subtle and vibrant hues that can take the base of your space to a more saturated state while still allowing the wood grain to show through, including red, orange, green, blue and purple. Or, take a solid colour across your floor by painting them a different strength of the same hue as your wall colour.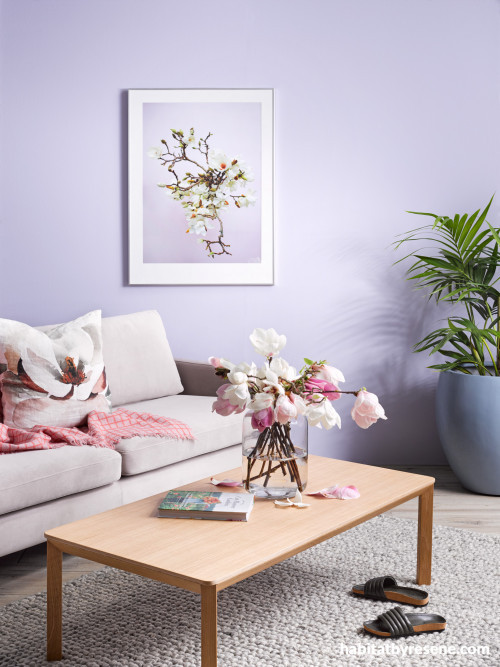 Lilac is a dreamy hue for anchoring a monochromatic scheme, especially when subtly layered with floral motifs and fresh plants. Wall in Resene Dreamtime, floor in Resene Colorwood Rock Salt and plant pot in Resene Excalibur.
Don't forget the furnishings
In a monochromatic colour scheme, the hero colour you choose tends to be used top to toe in the overall look, from the carpet to the walls to the furniture and artwork. Keep this in mind when choosing your palette, as it's one you'll need to be most comfortable living with. Some may be happier living in an all-neutral environment, while others need more colour to enjoy their surroundings.
Trust your gut, but don't be afraid to try something different either. Order a few Resene testpots in hues you're curious about but aren't completely sold on. Then, paint the entire contents of each in two coats on to a large piece of cardboard, leaving a 2cm border around the edge. Bring your painted cardboard into the room you'd like to use the colour in one at a time and lean it against the wall, ideally on top of a piece of furniture to get it closer to eye level. You'll very quickly come to a much more definitive answer of which is your favourite when you see it a much bigger swatch. Once you've found one you think you like, keep your cardboard swatch in the room for about a week and move it around to lean against different walls, and look at it at different times of the day and evening. Concentrate on how the colour makes you feel, especially if it were extrapolated to cover the entire room and you'll be left with a pretty good idea of what it will feel like to live with it.
If you're still unsure, talk to the staff at your local Resene ColorShop for suggestions, or ask a Resene Colour Expert – they're always just a phone call or email away.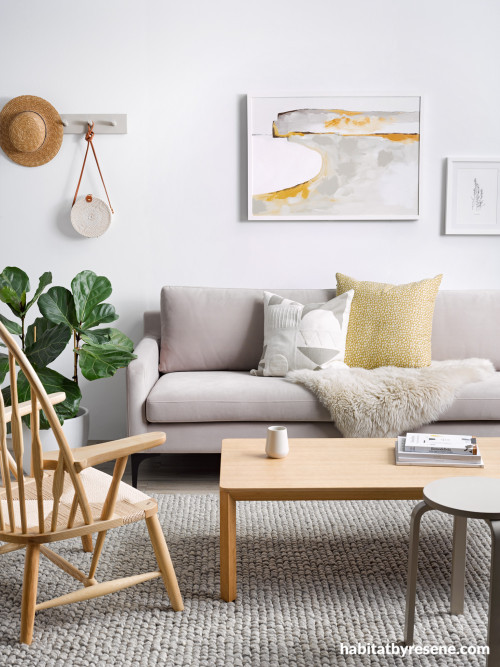 When going for a monochromatic scheme, creating a DIY painting using a selection of carefully curated Resene testpots that play to your accessories is a convincing way to bring the entire look together. Wall in Resene Poured Milk, floor in Resene Colorwood Rock Salt, hook rack and stool in Resene Napa and statement painting in Resene Poured Milk, Resene Napa, Resene Sambuca and Resene Thumbs Up.
Channel a particular vibe
Create a mood through the colours you choose. Shades of dark blues and aqua mixed with beachy accessories will create the ultimate holiday-by-the-sea feel, great for a surfie teenager. Shades of cool whites and greyed whites will bring that Scandinavian charm right into your home while earthy oranges, rusty reds and desert tones are sure to bring warmth to your space.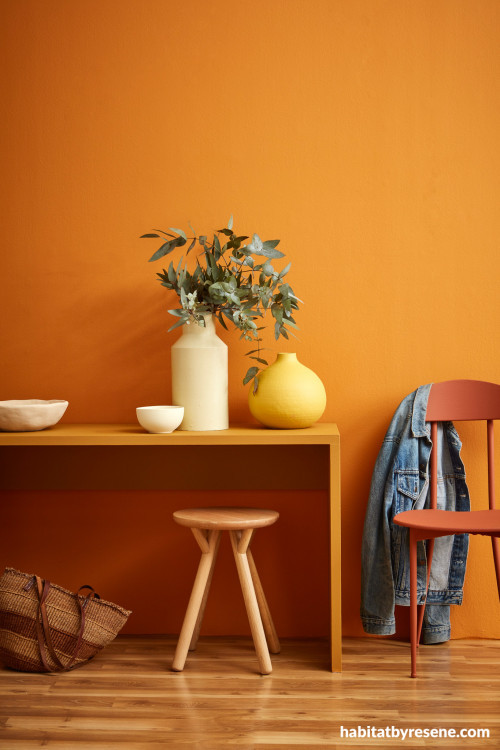 Bitter orange hues are very in vogue and carry plenty of warmth and earthiness, making them much easier to live with than you first may think. Wall in Resene Twisted Sister, floor in Resene Colorwood Natural, sideboard in Resene Swiss Caramel, chair in Resene Moccasin, vases in Resene Yuma (tall) and Resene Thumbs Up (short) and bowls in Resene Crowdpleaser (left) and Resene Moonlight (right).
Details are essential
A monochromatic scheme brings out the details in an interior and its furnishings in a subtle but beautiful way. From tongue-and-groove walls to character archways, these colour schemes allow for a home's natural beauty to truly shine through.
Keep it contemporary by choosing simple lines and shapes for furniture and accessories and add in your own blended textures within the confines of your monochromatic palette – a knobbly carpet, chunky linen and detailed artworks are obvious choices.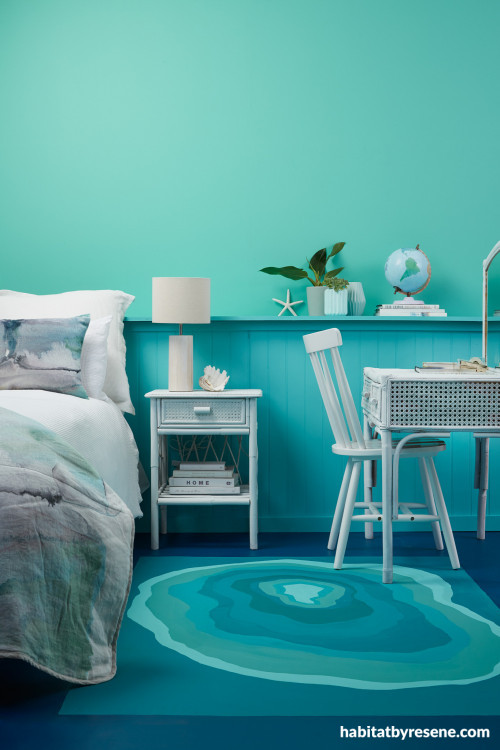 The beauty of paint is that you can use it on practically anything – making it a game changer when it comes to carrying out a monochromatic scheme. Try painting secondhand furniture all in the same neutral hue, keep bedding light and of a similar shade, then wow with colour on the walls and floor. Wall in Resene Freelance, tongue-and-groove panelling in Resene Yes Please, floor in Resene Wishing Well with painted 'agate' rug in Resene Deep Teal, Resene Maestro, Resene Hullabaloo,Resene Blue Chill, Resene Yes Please and Resene Freelance, furniture in Resene Poured Milk, plant pot in Resene Meditation and vases in Resene Kandinsky and Resene Meditation.
Break the rules
Once your monochromatic look is in place, don't be afraid to add different accent colours into the fold through accessories such as cushions or indoor plants in painted pots. These are easy to bring in and out of the room for when you're needing a bit of change, such as freshening up the room when you transition from summer to winter, and back again. Plus, items like plant pots, vases and trays are quick and easy to paint to perfectly match your scheme – and to repaint, if you get tired of their colour and want to try something new.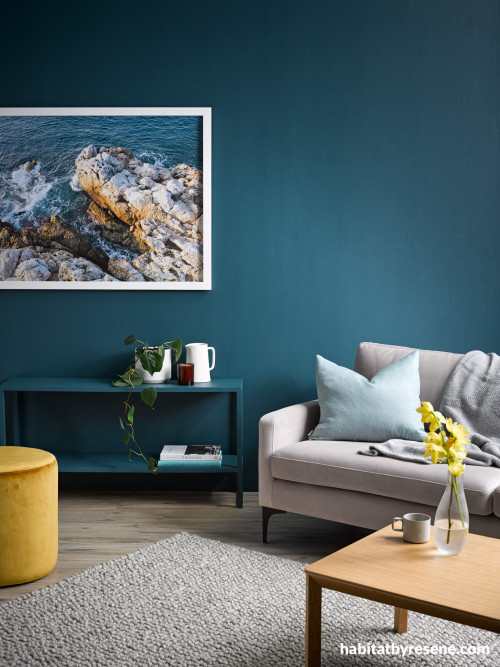 Carry your colour from your wall on to your furniture to make it feel even more engrained in your monochromatic scheme. If using a tertiary colour, such as green, bringing out both the blues and yellows in it through accessories will mix things up while still leaving the look feeling cohesive. Wall and sideboard in Resene Fast Forward and floor in Resene Colorwood Rock Salt. Try bringing in a cushion in Resene Reservoir and an ottoman in Resene Rob Roy for a similar look.
styling Gem Adams, Amber Armitage, Megan Harrison-Turner
images Bryce Carleton, Wendy Fenwick, Melanie Jenkins