►
◄
latest
habitat tv
blog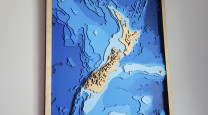 6 unexpected ways to use wallpaper
For some people, the idea of using wallpaper can carry a number of preconceived notions along with it. For those who remember the wallpapers of their childhood – those dull, dated, and overpowering styles, prone to fading and pasted on as if they were themselves part of the structural integrity of the home – might raise an eyebrow when they hear that wallpaper is making a comeback in a big way.
Contemporary wallpapers have come a long way in recent years. Not only is there a near endless array of colours, designs and patterns to choose from, today's wallpaper is high quality, durable, and easy both to hang and to remove.
Contrary to its name, wallpaper doesn't have to be exclusively used on walls, nor does it have to be used to cover an entire room. Here are six versatile ways wallpaper can be used to inject personality into your home using popular designs from the Resene Wallpaper Collection.
Step into it
Published: 11 Jul 2019
Do you have a home full of wonderful Resene paint and colour? Send us some snaps by emailing [email protected].
Often an overlooked area in the home, clever use of wallpaper has turned this once bland staircase into a point of conversation.
Five designs from the Resene Smile Wallpaper Collection were used in a repeating pattern on the fronts of the stairs: SMIL69766317 (blue), SMIL69764333 (pink), SMIL69769505 (grey), SMIL69762312 (yellow). Positioning the stripes of Resene Wallpaper Collection SMIL29889014 in different direction on the adjacent walls (at left and right) helps to visually open up the small, enclosed area. On the walls inside the staircase (seen at the back), Resene Wallpaper Collection SMIL29699203 – a plain grey design – was used, which matches the colour of the stripes in SMIL29889014 exactly.
Enliven old doors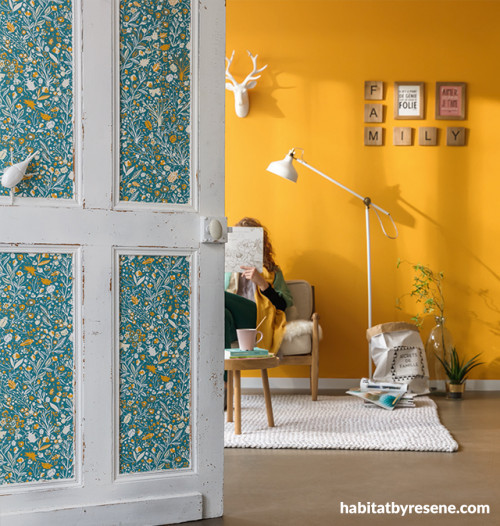 If you're new to wallpaper, dressing up a panelled door is a great project to get you started. Choose a design that takes the design of adjacent spaces into account by picking a pattern that ties into the same colours. Or, if you find a wallpaper design you really love, let it inspire the room within by matching Resene paint colours to the colours within the pattern and then use them on walls, trims, furniture and accessories for a fully coordinated space. For this design, look to colours like Resene Fast Forward, Resene Green Meets Blue, Resene I Dare You, Resene Unwind, Resene Moonlight and Resene Elderflower.
The above door has been given a makeover with Resene Wallpaper Collection SMIL69796604 pasted on to its recessed areas. On the back wall is Resene Wallpaper Collection SMIL69862734, which coordinates perfectly the yellows in the pattern on the door. To give your door a hint of a weathered or vintage look, use fine grit sandpaper to remove paint from the edges of the moulding details and let some of the bare wood underneath show through.
Enhance a work space
Enlist the help of your kids and make schoolwork fun by jazzing up their desk. Opt for a fun design that will both complement your space and enhance creativity. The pinboard is covered in Resene Wallpaper Collection SMIL69726809 while the wall behind it is in Resene Wallpaper Collection SMIL69727212. For Resene fashion colours that would look great with these designs, look to Resene Yowza, Resene Kandinsky, Resene BFF, Resene Soulful and Resene Alabaster.
But you don't have to stop at the pinboard! Use wallpaper to recover books, boxes, pencil holders, clipboards for a unique set of personalised desk accessories. As an extra surprise, use it to line the inside of the desk drawer.
Segment your wall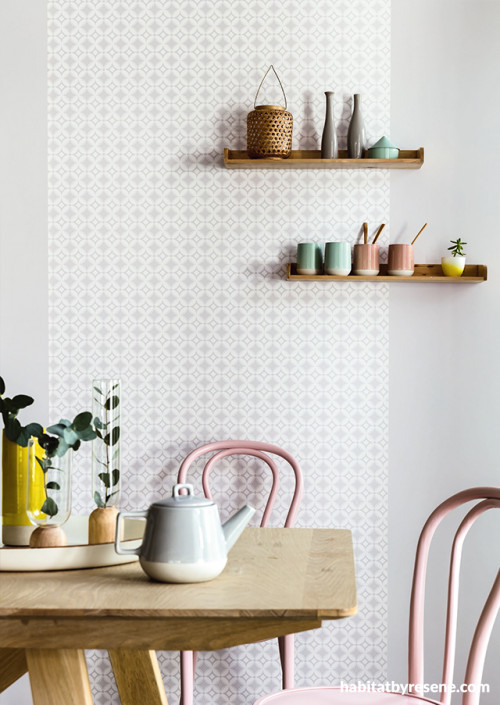 If a fully papered wall seems intimidating, start small and focus on accenting and enhancing a section of the room. Hanging wallpaper in a section of the room can also work as a partition, ideal for an open plan layout.
Even an area just one or two strips wide can completely change the feel of a space and bring attention to an area you'd like to highlight. Resene Wallpaper Collection SMIL69809010 defines this kitchen, creating an interesting focal point and makes the displays on the floating shelves really stand out.
For a candy-coloured scheme like this one, try painting chairs in Resene Princess, a large vase in Resene Cleopatra, go for walls in a soft grey like Resene Half Truffle, and add in a handful of small accessories in Resene Just Dance, Resene Sorbet, Resene Nourish, Resene Yes Please and Resene Silver Chalice.
Enhance a child's bedroom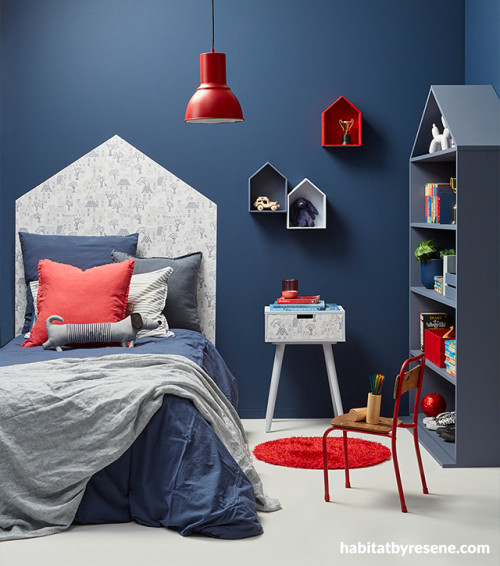 Why purchase a headboard when you can make one? This innovative idea is a quick and easy way to add personality and further themed detail to a children's bedroom. The house pattern in Resene Wallpaper Collection LL-05-07-4 is perfect for carrying on the house motif that's been used throughout the room, especially by trimming it at the same angle as the shelves on the wall. A small piece was even used on the front of the bedside table drawer to tie it in with the theme.
The walls are painted Resene Bunting, the bookshelf is in Resene Hammerhead, the pendant lamp is painted Resene Jalapeno, the bedside table is in Resene Breathless, the floor is painted Resene Sea Fog, and the wall shelves are in Resene Hammerhead, Resene Breathless and Resene Jalapeno.
Experiment with stripes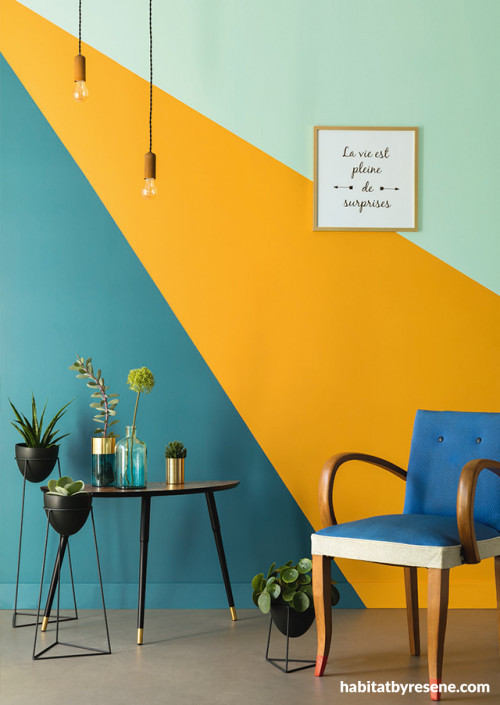 If you're more experienced with hanging wallpaper, you can create an eye-catching mural like this one simply by the way you trim the bottom of your sheets. This powerful statement wall is created using three designs from the Resene Wallpaper Collection: SMIL69866616, SMIL69862734 and SMIL69867910. This stripe effect makes for a punchy feature, and one that works well in a simply decorated space with carefully chosen furniture, accessories and lighting.
A similar look can also be achieved with paint with a bit of planning and masking. Draw out your design first on paper before you mask out your lines on the wall. Be sure to wait until your first colour is completely dry before removing the tape and reapply a new strip over the freshly painted area so that the next colour will butt up immediately against it. Try Resene Yowza, Resene I Dare You and Resene Aura together for a daring design like this one.
---
kids bedroom styling Vanessa Nouwens
kids bedroom image Bryce Carlton