►
◄
latest
habitat tv
blog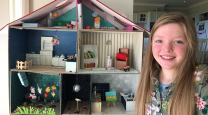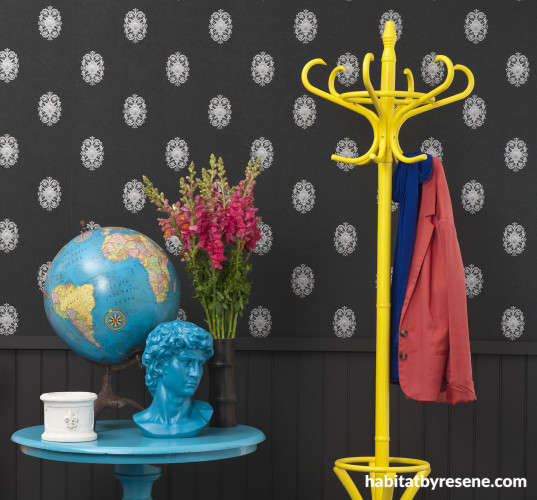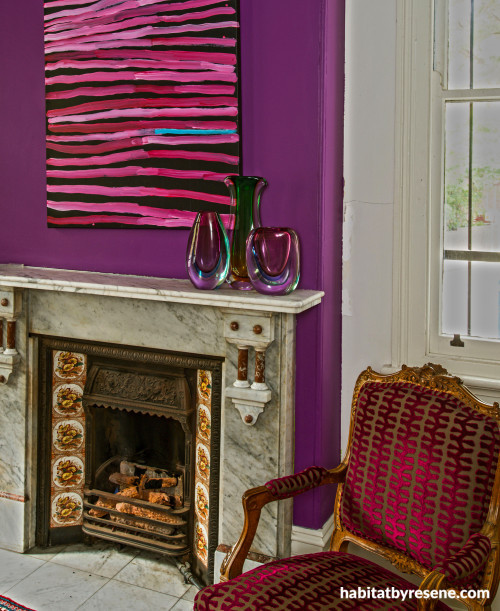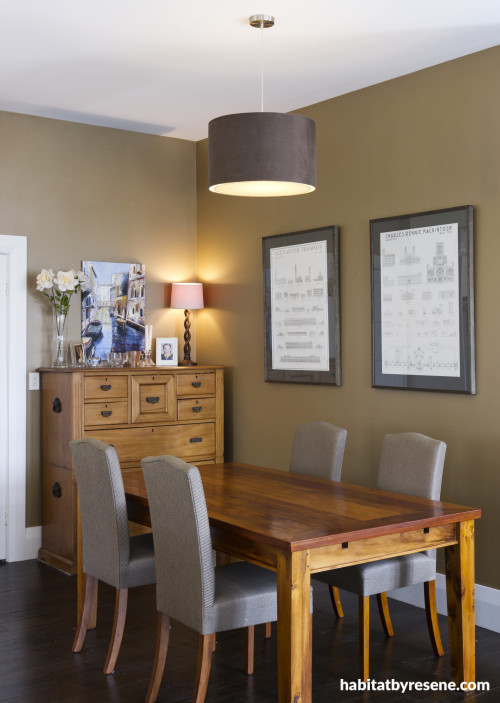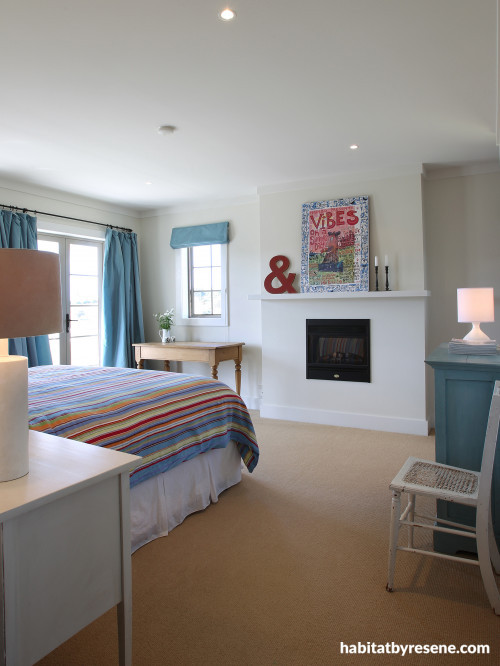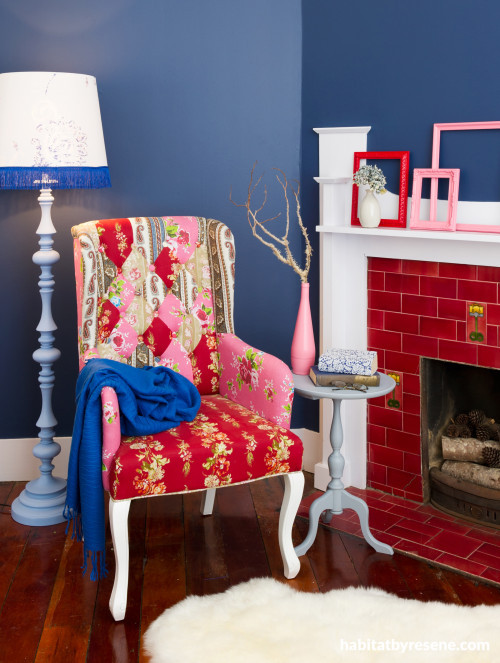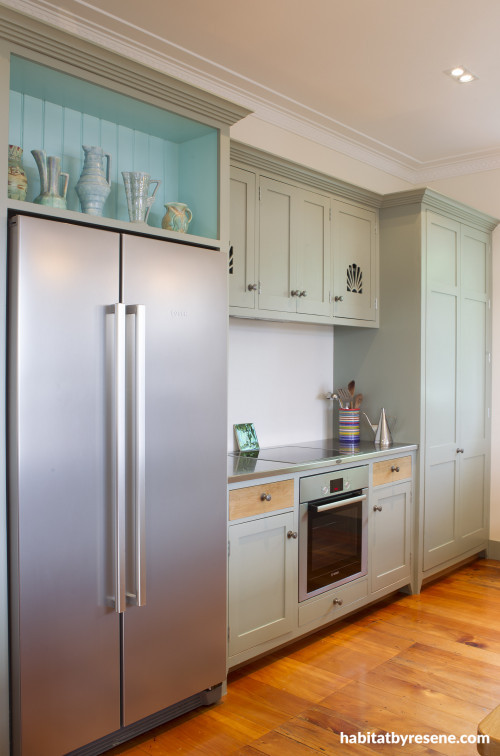 7 colour stars of 2014
Published: 13 Feb 2014
Do you have a home full of wonderful Resene paint and colour? Send us some snaps by emailing [email protected].
From yellow through grey to inky blue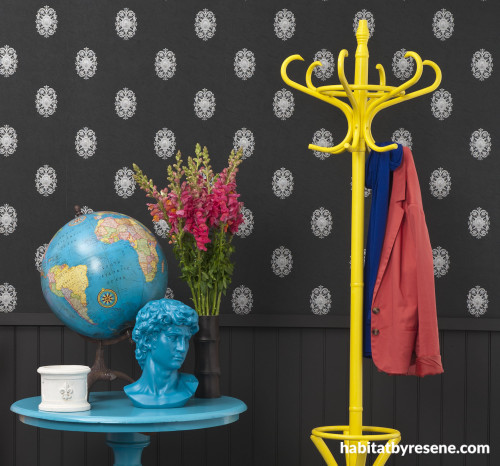 With a new year comes new possibilities, and if you've been planning changes at home, now is a perfect time to get going and make it happen. When it comes to colour, the choices are practically endless, but some potential superstars for 2014 have already stepped firmly into the limelight at Resene. Here, we've profiled a few of our current favourites and we hope that they'll inspire you.
Sunny daze
Yellow is without a doubt one of the hottest colours right now, casting sunshine and light wherever it goes. If you're feeling daring, paint your walls yellow for an effect that will never fail to surprise and delight. If that feels overwhelming, try introducing it in your furniture and accessories; a cushion, a vase, a painting or a blind. An op-shop bargain chair or chest will come back to life and create a unique talking point, with a zingy yellow paint job! Yellow is the new accent colour, following hard on the heels of orange and red. It works whether its mellow yellow (Resene La Luna), or acid gold (Resene Hive).
No doubts about where to hang your hat in this setting – on the bright yellow Resene Southern Cross coat stand. It's used as a punchy accent in this quirky Alice in Wonderland scheme with a tongue-and-groove wall in Resene Blackjack, topped with The Gardens of Amsterdam 46150 wallpaper from Resene. Resene Seeker is used for the table.
Shades of grey
Grey is the new black. Robust and grounded it has a distinctly urban edge which makes it ideal for city living. Used mid-tone and clear rather than warmed with brown – think Resene Half Grey Chateau - grey provides a clean neutral background for other, warmer shades and it looks especially classic and timeless when teamed with creamy aged white trims. What's more, you'll be amazed how lively grey becomes when you add a pop of vivid colour such as yellow or hot pink. Try deeper grey with brown for a more masculine, moody scheme (Resene Double Stack with Resene Double Mondo) or for a lighter alternative think silver and sand (Resene Concrete with Resene Wheatfield).
Majestic metallic
Metallics can make any interior feel positively regal, creating shimmer and shine, and adding depth and interest. In 2014, traditional silver tones are giving way to warm shades, with bronze, brass and gold leading the charge – try Resene Spark or Resene Gold Dust. Heavy use of metallics can give large, light living spaces an edgy, industrial feel. In more intimate surroundings these colours are often surprisingly soft and gentle, imbuing the room with a welcoming glow.
Antique white
Where there's light, there's white, but no one white will ever fulfil every decorating need. Cool whites contrast with bright colours to create a crisp clean finish. Aged or antiqued whites like Resene Rice Cake or Resene Quarter Thorndon Cream, are right at home in settings whose base is inspired by nature; try them with taupe or with grey for a gentle neutral scheme. The new warm whites are soft yet sophisticated with an enduring quality that makes them ideal for vintage-inspired surroundings.
The colour purple
Bold, but definitely not brassy, rich, deep purple-pink tones are proving popular with decorators right now and Resene Centre Stage is a perfect example. As a match to the Pantone colour of the year Radiant Orchid, it's a sophisticated shade with a distinctly majestic flavour. This cross-over colour lends itself to any number of possible colour combos and looks especially striking when partnered with that other star of the season, bright yellow. Or try it with orange, and lime green, for a funky retro vibe!
Sing the blues
Inky and navy blues are another interpretation of this year's new black, plumbing the depths of colour for a decorating outcome that's elegant and restrained, yet hugely appealing. Try Resene Avalanche or Resene Indian Ink for something deep and broody, or Resene True Blue for a more traditional old school navy. It goes without saying that white goes beautifully with inky blues; the contrast between them is clean and clear. Red is another shade that can set this fast-growing favourite off perfectly, as of course can those punchy, fun brights we've come to love so much.
Ocean waves
These cross-over sea shades are tones that sit between blue and green, and as our nation is surrounded by sea it's no surprise that these sorts of colours remain perennially popular with local homeowners. It's also no surprise that they are well represented in the latest Resene fandeck, The Range fashion colours with the likes of Resene Reservoir and Resene Half Escape. A true sea green is mild mannered and mysterious, lending itself perfectly to a marriage with white, or even with neutral wood-toned shades. The myriad colours in a paua shell suggest other combinations that work well with sea tones. Try a gentle amethyst for contrast, or team sea green with a soft pretty turquoise.
See more of the latest colour trends on the Resene website. http://www.resene.co.nz/comn/whtsnew/2014_paint_colours.htm
pictures
Photograph by Tony Brownjohn
Shades of grey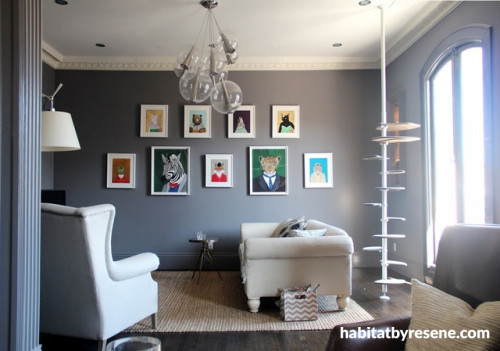 Grey has gone from 'greige' to truer tones. Think concrete, true mid grey, clean charcoals. It's a look that works wonderfully with traditional schemes, providing a reticent yet sophisticated backdrop for ornate white fire surrounds, decorative ceilings and heritage trims. To get this look (from Apartment Therapy), try Resene Regent Grey.
The colour purple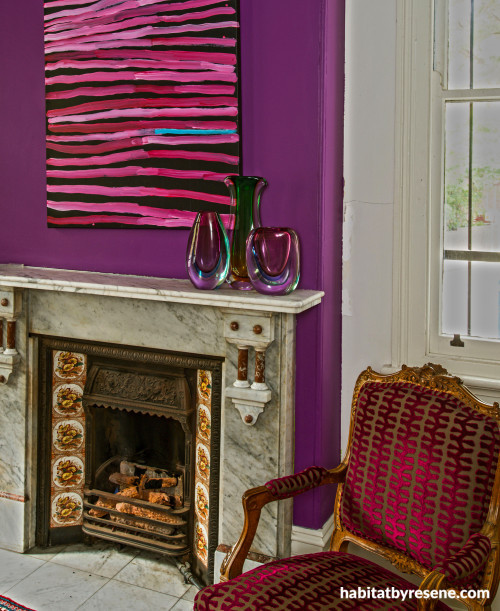 A shot of this pink-tinged purple is probably enough. Australia designer Terry Hogg showed restraint and taste when he used it sparingly on this chimney breast as Resene Troubadour. It's a deeper, more violet interpretation of this year's Pantone's colour of the year Radiant Orchid, so have a bit of fun and try its playful tones. Try Resene Centre Stage as a lighter current alternative off the Resene The Range fashion colours.
pictures
Photograph by Ashley Mackevicius
Add some sparkle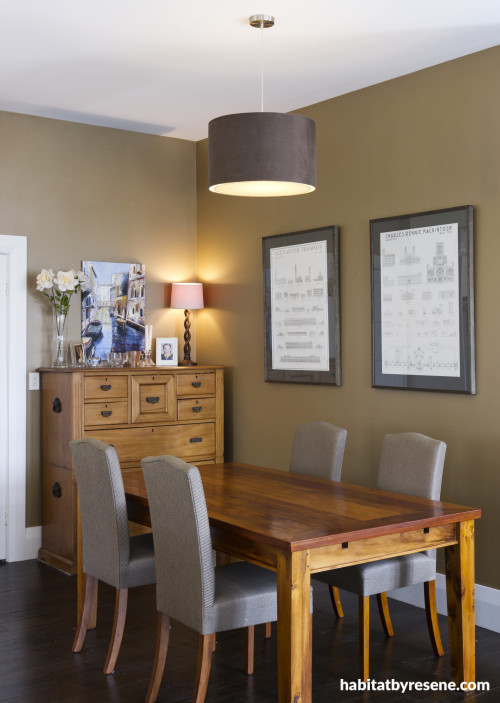 Forget the hard cold tones of chrome (so 80s!) and head into the mellow, glowing territory of bronze, brass and gold. That's where metallics are taking us in 2014. This feature wall in Fleur Ford's dining room (she calls it her 'disco wall') is Resene Lodestar, a colour that's a bronzy twist on the standard gold. Metallics add subtle depth and interest to a scheme - try them yourself with the Resene Metallics & special effects collection.
pictures
Photograph by Mark Heaslip
Antique whites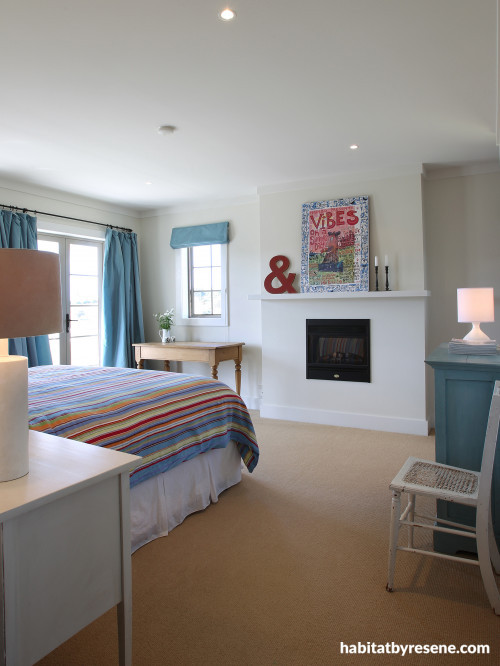 Antique whites are mysterious, subtle colours – the type of colours Resene do so well. Look at any Resene Whites & Neutrals collection for an array of these subtle whites. They carry a hint of cream, a smidge of green, and maybe an edge of grey – try Resene Ecru White as seen in this restful bedroom. Maleable, versatile and here to stay.
pictures
Photograph by Frances Oliver
Sing the blues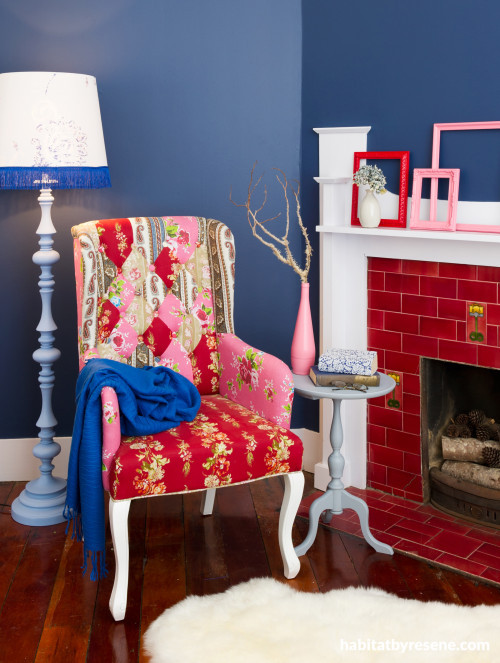 Navy or ink blues are a softer take on black. Just as striking yet often easier to live with, they are just as versatile and buddy up to the same number of accent colours as black – try red, pink, orange, yellow, gold, cream, white… you name it. This chic yet slightly hippy setting uses Resene True Blue walls with accents in Resene Smashing (red) and Resene Glamour Puss (pink), along with a blue (Resene Zephyr) lamp base and Resene El Nino side table.
pictures
Photograph by Mark Heaslip
Ocean waves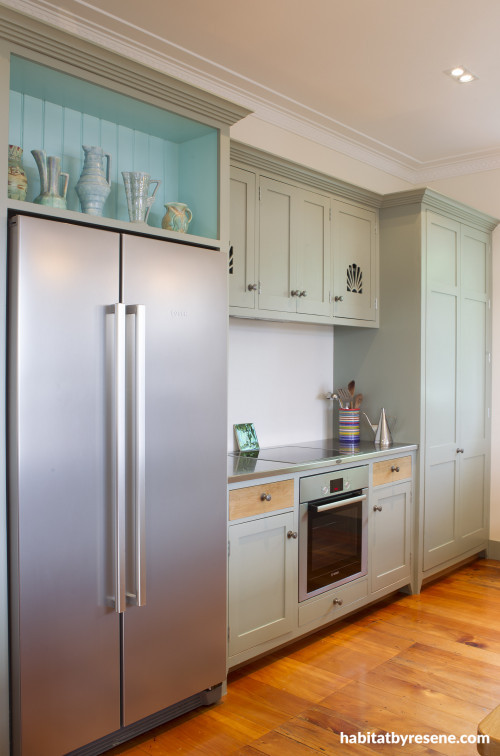 They've been around for a while but these classic blends of blue and green are proving hard to replace. Echoing with sea and moody skies, they are restful and beachy, cooling and vintage. This kitchen cleverly uses not one but two – the muddier Resene Neutral Green and the clearer turquoise of Resene Scandal.
pictures
Photograph Frances Oliver
the look
If you're stuck on what
colour to use or need colour
advice, try out the Resene
Ask a Colour Expert service.