►
◄
latest
habitat tv
blog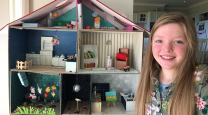 7 quick ways to perk up your place with paint and wallpaper
While you're stuck inside waiting out the last of winter, now is the perfect time to tackle some interior projects that got pushed onto the back burner while the beach days were in full swing.
Here are seven quick and easy changes that you can do quickly and without breaking the bank for instant impact on your space that take little more than a lick of paint or a few metres of wallpaper.
1. Paint the legs or feet of your furniture
Give a chair, sofa, or table a mini makeover by coating its feet or legs in a bold paint colour. This works especially well on wood legs and feet you can unscrew from the base. Or, for a 'dipped' look, measure up the same distance from the bottom of each leg and mask it off with good quality masking tape then paint.
Not only will this idea add a pop of colour to your space, it's also a smart way to hide scuffs. While you're at it, you can replace the glides or furniture pads at the bottom of the legs/feet, which will help protect your floors.
Published: 22 Aug 2019
Do you have a home full of wonderful Resene paint and colour? Send us some snaps by emailing [email protected].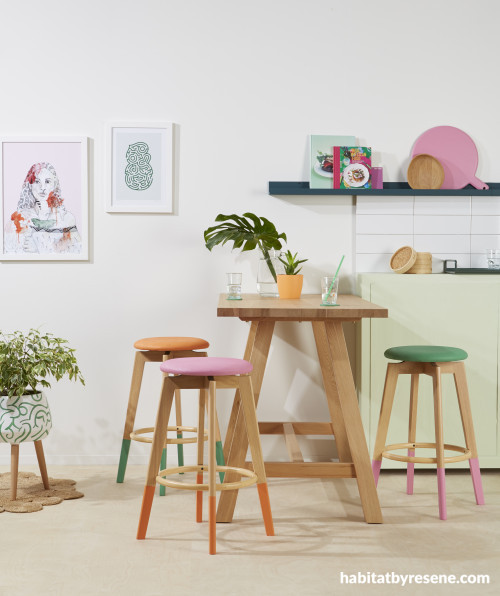 The legs of these bar stools are in (from left to right) Resene Away We Go, Resene Party Zone and Resene XOXO while the stool cushions are in (from left to right) Resene Party Zone, Resene XOXO and Resene Away We Go. The wall is in Resene Rice Cake, the cabinet is in Resene Aura, the lipped shelf is in Resene Atlas, the decorative serving board is in Resene XOXO and the small plant pot is in Resene Party Zone. The large plant pot is painted Resene Rice Cake with a maze-like pattern in Resene Away We Go to match the artwork on the wall. The plywood floor has been protected with Resene Aquaclear waterborne urethane.
2. Paint or paper a bookcase, dresser or desk
Remove the shelves of an old bookcase and coat the back panel with a surprising paint colour or cover it with a patterned wallpaper. Lighter, brighter colours like Resene Away We Go or Resene Yes Please can cheer things up while darker shades like Resene Noir,Resene Suits or Resene Twilight Zone will make everything on your shelves really stand out. If you're afraid to commit or if your furniture is an heirloom piece, cut a piece of heavy cardstock the same size as your cabinet back and paint it instead, then stick it to your cabinet with double-sided tape and slide the shelves back into place.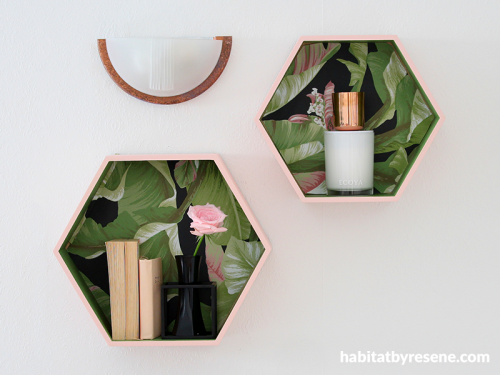 Dress up some geometric wooden shelves using a couple of Resene testpots in Resene Sakura and Resene Dingley and a few offcuts of Resene Wallpaper Collection AT7071. Find the full instructions here.
Wallpaper can also be applied to the front of a chest of drawers to add some pattern into your space. Take out the drawers and remove their handles first. Then, measure or trace the front face of the drawer and cut pieces of wallpaper to size. Paint any part of your drawer that will still be left showing before gluing your paper down. Then, paint your handles and outside frame to match.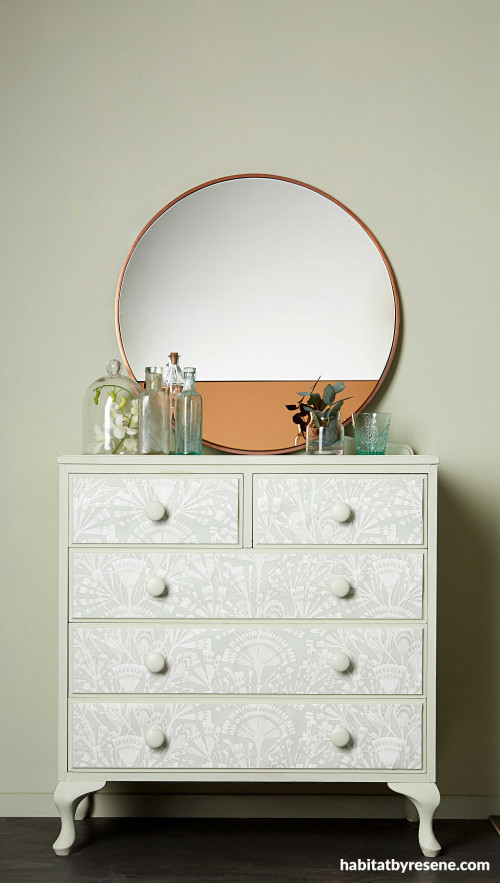 Apply a wallpaper design to the back of a bookcase or the fronts of dresser drawers. The one on the right features Resene Wallpaper Collection 366011. The rest of the dresser is painted in Resene Half Coriander. Read the full instructions here.
You can even paint or apply wallpaper to the sides of your drawers or the insides as a cheerful surprise to anyone who opens them.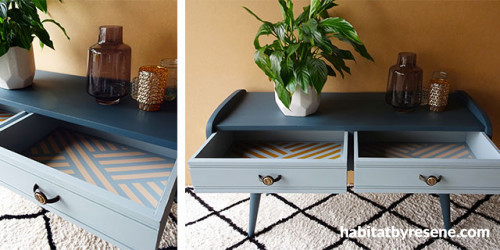 This desk was given a makeover with a fresh coat of Resene Big Stone on the outside, Resene Bounty on the drawers, with stripes inside painted Resene Shabby Chic and Resene FX Gold metallic. Read the full instructions here.
3. Add a coloured edge to your shelving
Add a hit of colour by decorating just the front edge of your shelves. Pick a colour that contrasts well with your walls or paint them a metallic colour, like Resene FX Rose Gold.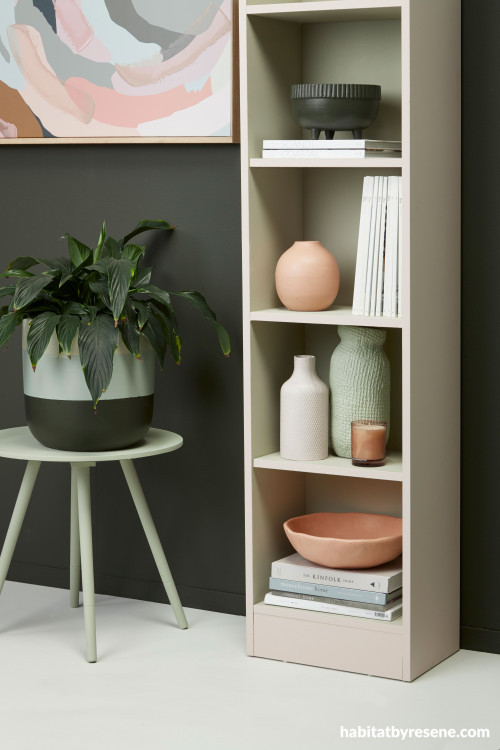 Instead of painting a bookshelf all one colour, try using a different colours inside and outside for more interest. The outside of this bookcase is in Resene Soothe, the inside is in Resene Eagle, the wall is in Resene Karaka, the floor is in Resene White Pointer, the side table is in Resene Bud, the large plant pot is in Resene Bud, Resene Pewter and Resene Karaka while the pots and vases on the shelves are in (from top to bottom) Resene Karaka, Resene Just Dance, Resene Soothe, Resene Bud and Resene Just Dance.
For a different look, try painting the inside and edges of just one shelf in your bookcase with a contrasting colour.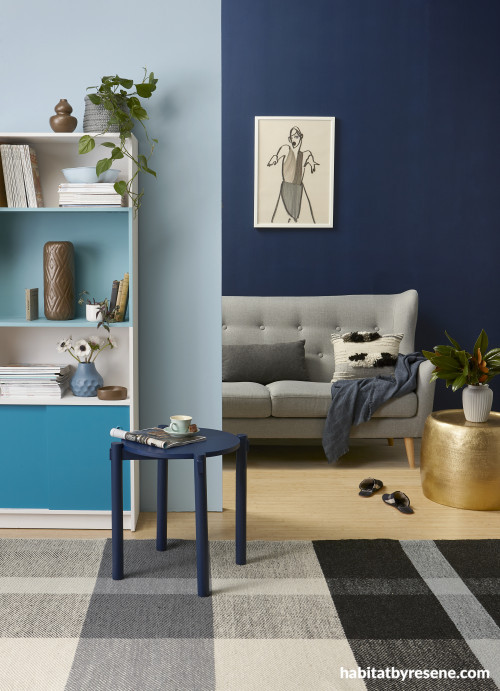 This basic bookshelf has become a room defining piece now that it's been painted in a variety of blues and whites. The outside, top and bottom shelves are in Resene Soapstone, the middle shelf is in Resene Hope and the sliding doors at the bottom are in Resene She'll Be Right. The back wall and side table are painted Resene Zinzan, the front wall is in Resene Escape, the vases and pots are in Resene Double Stack, Resene Escape, Resene Seachange and Resene FX Spark metallic paint. The timber floor is stained with Resene Colorwood Rock Salt waterborne wood stain.
4. Resurface a table
There are no shortage of design ideas that you can use to transform a side or coffee table with a lick of paint. However, our favourites are the ones that have a bit of ingenuity.
Artist Hana Carpenter took it upon herself to refinish a mid-century modern coffee table only to find that even a total sand down wasn't enough to remove the stains that were on it. Out came the masking tape and a testpot in Resene Tapa, and in no time at all, the stains had been covered up with an artful triangle design.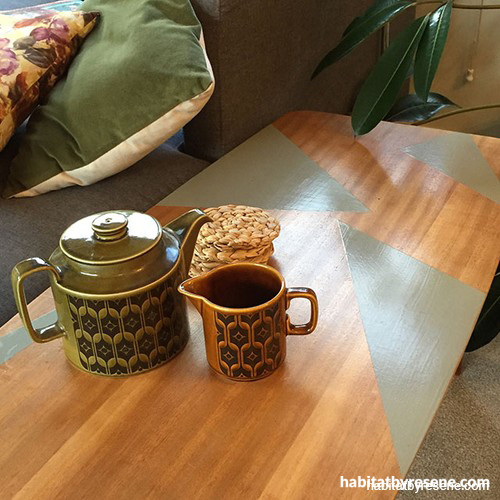 Artist Hana Carpenter sanded down this mid-century modern coffee table but discovered it had stains that couldn't be removed. As a clever solution, she masked out triangle shapes over the stains and painted them with Resene Tapa.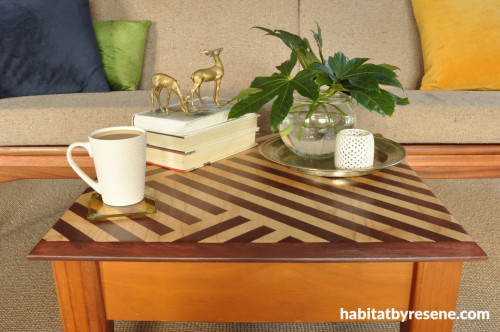 Fleur Thorpe gave the surface of this side table a thorough sanding before masking off this creative pattern and staining it with Resene Colorwood Mahogany. After it dried, she sealed the whole surface with Resene Aquaclear in a satin finish.
5. Rearrange your artwork – or make something new
You don't always need to buy something new to refresh a space—sometimes tweaking the layout is all it takes.
While rearranging your furniture itself can drastically change the look of your lounge, so can moving around your art. Have a gallery wall over your sofa? Use the existing hooks to hang one big canvas or framed print instead. Or, switch out a single framed picture for a mirror or wall hanging.
If you do think your space could use something new there are dozens of artwork DIYs on our website that are easy to replicate. Try making one yourself using your favourite colours.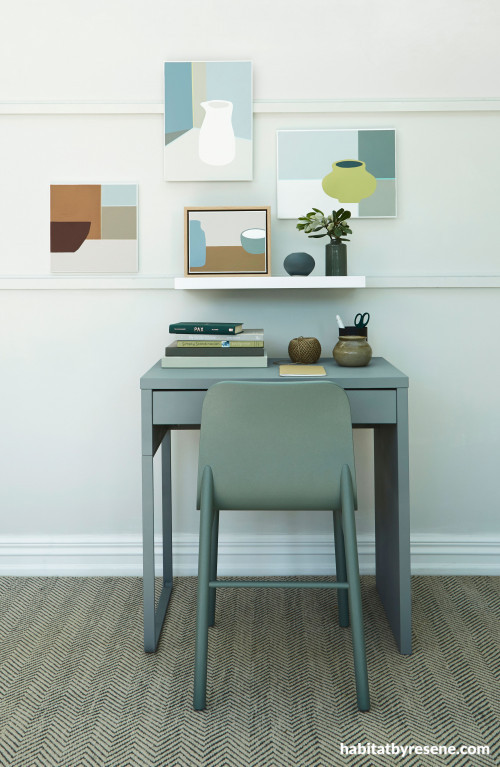 Try making one of these easy-to-create canvas artworks, which were featured in issue 30 (Autumn/Winter 2019) of habitat magazine. Read the full instructions here. The wall is painted Resene Sea Fog, the chair is in Resene Rivergum, the shelf is in Resene Alabaster, the desk is in Resene Artemis and the vase is in Resene Quarter Baltic Sea.
6. Fancy up some throw cushions
Basic cotton or linen cushion covers can be purchased for relatively cheap. Find some in a colour you like and try decorating them with a few Resene testpots that coordinate with your design scheme.
If you can't find any cushion covers in a colour you like, you don't need to be an expert seamstress to make some yourself. The easiest way to do this is to find pieces of fabric that already have finished seams – think vintage scarves, fabric napkins or handkerchiefs – because most of the hard work is already done for you. If you don't have a sewing machine, you could use heavy-duty fabric glue to stick three of the sides together, then fit one of your old pillows into the open side before gluing the fourth side shut. Just be sure to do all your decorating before you seal it up!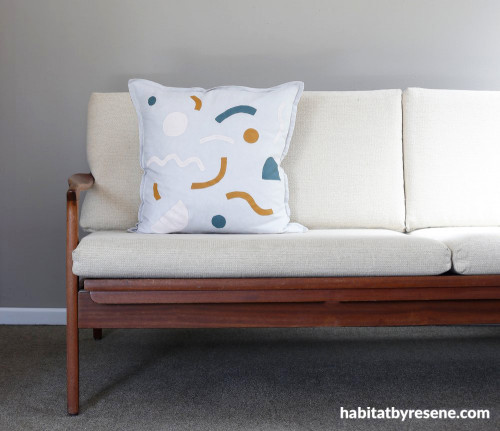 Designer Kate Alexander painted this cushion cover using testpots of Resene Green Meets Blue, Resene Swiss Caramel and Resene White.
To decorate your cushion, first, cut a large square of cardboard to fit inside your cushion. Lay your cushion cover on a flat surface then place the cardboard inside to stop the paint from seeping through to the other side. Plan your design out on paper first then redraw it on to your cushion cover with fabric chalk. You can use good quality masking tape to block off the edges of your design before you paint or try it freehand using a small, flat angled artist's brush.
Since Resene testpots aren't specifically designed for fabric, your design may fade over time with some washing – though it's quick and easy to touch them up with a fresh coat of paint later on. For best results, try this technique on cushions meant for outdoor use to pretty up your patio.
7. Paint the edges of your doors
While painting your doors or architraves in a contrasting colour can definitely make an impact on the look of your space, painting just the inside edges of your door can add an interesting and surprising pop of colour in a much more subtle way. Always use a waterborne enamel for this, such as Resene Lustacryl or Resene Enamacryl, to make sure your door doesn't stick to your joinery.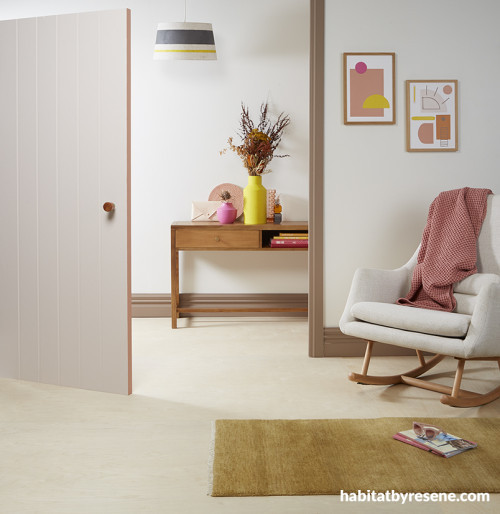 The edges of this front door are painted Resene Just Dance to delight visitors. The door is painted Resene Ethereal, the walls are in Resene Rice Cake, the architraves are in Resene Tablelands, the lampshade is in Resene Quarter Bokara Grey and Resene Hive, the vases are in Resene Smitten and Resene Hive, the plywood floor is finished in Resene Aquaclear waterborne urethane and the DIY artwork was created using testpots of Resene Just Dance, Resene Smitten, Resene Hive, Resene Twisted Sister and Resene Ethereal.
Styling Gem Adams, Kate Alexander, Nikki Astwood, Hana Carpenter, Greer Clayton, Sarah Heeringa, Fleur Thorpe
Images Bryce Carleton, Wendy Fenwick, Kate Alexander, Nikki Astwood, Hana Carpenter, Sarah Heeringa, Fleur Thorpe