►
◄
latest
habitat tv
blog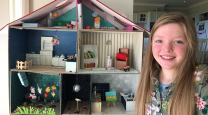 8 colours to cosy up to this winter
Starting to feel the winter blues? The mercury may be dropping, but there is a silver living: now's the perfect time to fluff up your interiors and introduce beautiful Resene colours that will warm your home for the colder months that are just around the corner.
Adjusting your home to brighten up grey days doesn't require you to paint the whole house a different colour. Subtle additions, from upcycling a few pieces of furniture with fresh Resene colours – think dusky peaches and earthy greens – and building a mood with toasty-hued home accessories painted with Resene testpots will go a long way.
Here are a few of our favourite warming colour picks for winter 2020.
Dusty desert pinks
Call it blush, peach or salmon, you'll see duskier iterations of this colour popping up in many top interior design shops and catalogues this season. This colour is a lovely transition from summer to winter, cheerful but understated. Plus, its easy on the eyes.
Our picks: Resene Wax Flower, Resene New York Pink, Resene Crail

Use them to warm up crisp whites like Resene Alabaster or icy blues such as Resene Cut Glass. Or, try layering them together with paler dusty pinks like Resene Cashmere and Resene Bone for an on-trend tonal look.
Did you know… that you can order Resene paints, wood stains, testpots and more from the online store? Head to shop.resene.com for delivery and click-and-collect options.
Mushroom beiges
Bring instant warmth and moodiness to your space with a mushroom beige. More interesting than your average neutral, it's the perfect colour for updating your flooring or key pieces of furniture like a coffee or dining room table. When selecting your shade, look for beiges with a warm brown or purple undertone.
Our picks: Resene Tonto, Resene Tom Tom, Resene Rocky Mountain

Try any of these three mushroom hues with a steeped beige like Resene Half Tea or use them to soften rich jewel tones like Resene Teal Blue, Resene Blue Night or Resene Spitfire for a contemporary look.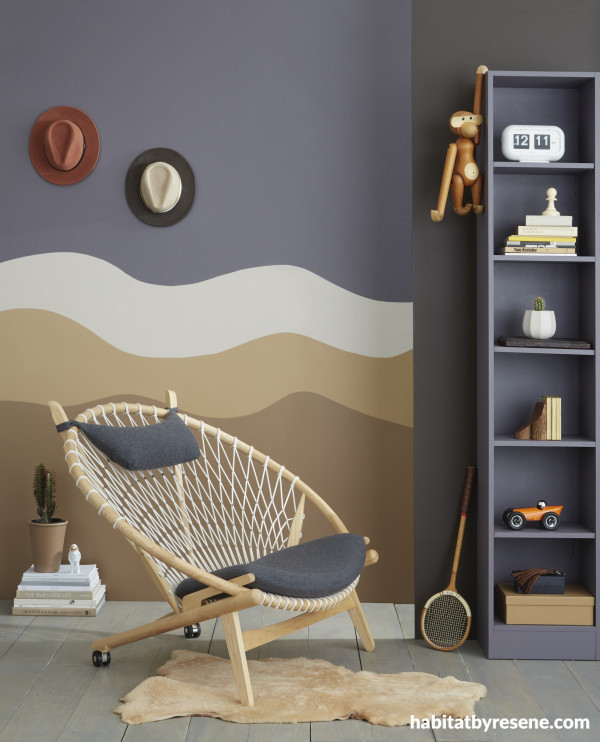 Back wall (from top to bottom) in Resene Zulu, Resene Antidote, Resene Sorrell Brown and Resene Lone Ranger, wall at right in Resene Half Wood Bark, floor in Resene Colorwood Mid Greywash, bookshelf in Resene Zulu, plant pots in Resene Sorrell Brown (on books) and Resene Antidote (on shelf). Chair and clock from Homage, sheepskin from Lapco, hats from H&M.
Wafer pinks
If ever there was a colour to envelop your bedroom and turn it into a modern, cosy nook, biscuit pink is the way to go. Despite its pink undertones, these colours are grown up, soothing and wonderful to wake up to. But don't just reserve it for the bedroom, either. This is a hue that's perfect for any area of the home that needs warming up.
Our picks: Resene Alpaca, Resene Soothe, Resene Wafer

Bring in these colours through cushions, throw blankets, coloured candles and flower bouquets to bring softness to any space. Or, incorporate plenty of touchable textures and layer up all three of the above with coffee browns like Resene Barista and Resene Sambuca for a rich winter 'latte' look.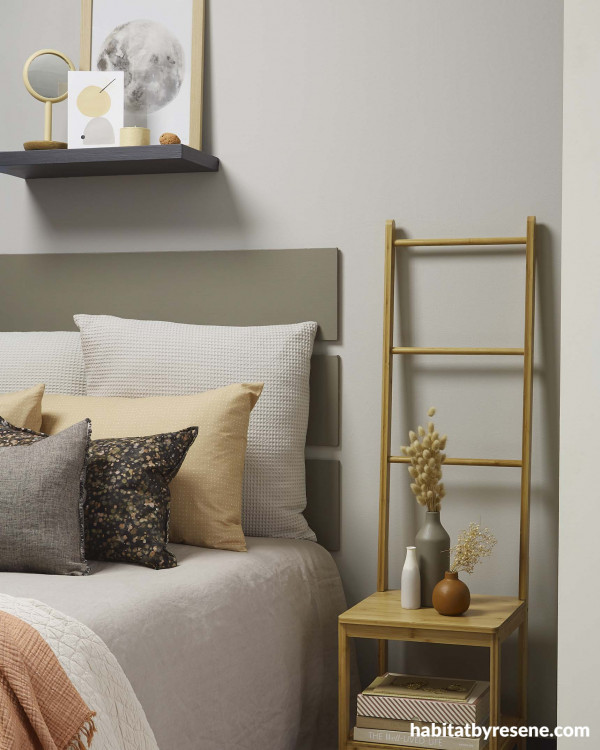 Try wafer pinks with a mix of stone greys for a bedroom with a soft and natural vibe. Main wall in Resene Eighth Stonehenge, wall at right in Resene Half Gin Fizz, floor in Resene Colorwood Mid Greywash, slatted headboard in Resene Double Stonehenge, skirting board and shelf in Resene Ebony Clay, mirror and tea light holder in Resene Corvette, vases on chair in Resene Double Stonehenge (tall), Resene Half Barely There and Resene Rakaia (medium) and Resene Cinnamon (small) and DIY artwork in Resene Corvette and Resene Rakaia.
Deep wine reds
Slightly bohemian, warm to their core and classically beautiful, deep wine reds are a sure-fire way to bring a snug feeling to your living room and bedroom – think burgundy velvet cushions lined up on the couch, painted candlesticks on the fireplace mantle, or a cosy throw ready to curl up in.
Our picks: Resene Dynamite, Resene Merlot, Resene Persian Red

When it comes to using these hues, don't overlook your flooring – a large exotic-looking area rug or floors painted in wine red will visually bring cosiness to any room.
Earthy terracotta
Colours that evoke the look of fired clay – think orangey-reds with brown undertones – have been a red-hot addition to homes of late, and the popularity of these colours will be staying the course throughout winter. Don't be afraid to create a feature wall with one of Resene's contemporary shades of terracotta. You'll be surprised at how welcoming it looks, and your home will love the cosiness it exudes.
Our picks: Resene Prairie Sand, Resene Hot August, Resene Apple Blossom

If you are worried about these hues overwhelming your space, pick up some Resene testpots and paint a piece of artwork such as a rolling landscape, geometric shapes or something abstract.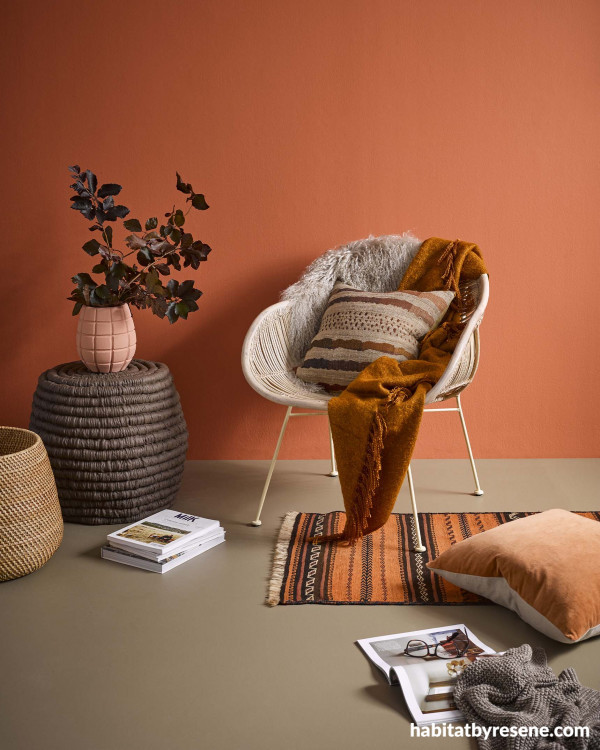 Toasty warm terracotta is a surefire way to visually heat up your space. Wall in Resene Sunbaked, floor in Resene Earthen, side table in Resene Thunder Road, vase in Resene Just Dance. Chair from Kilim rug from Republic, cushions and throws from Furtex.
Golds and ochres
If you like a sunnier approach to your interiors, bring in the richness of spices and golds. This gives your home a colour burst without looking too summery and is a delicious colour combo to introduce into your kitchen, living and dining room. Go for duskier shades, such as mustard golds and brown-tinged ochres.
Our picks: Resene Mai Tai, Resene Pirate Gold, Resene Noosa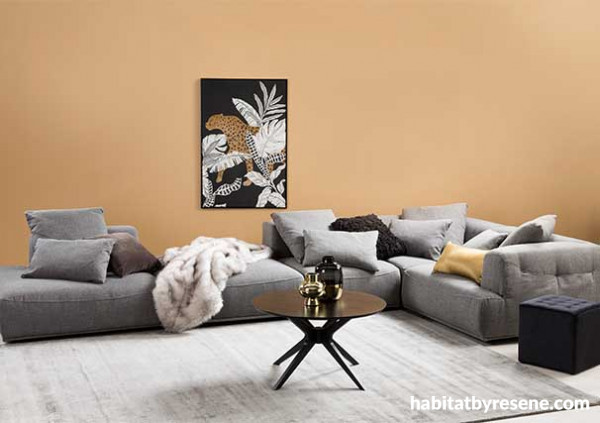 Golds are great both as an accent colour and as a main wall colour to anchor your look. Wall in Resene Gold Coast, all furniture and accessories from Nood.
Olive greens
You may not be spending as much time outdoors, so it's natural to want to bring some greenery into your home. This season calls for olive-toned and deep slate-grey greens, mysterious and moody, perfect for bigger areas needing a paint update – think cupboard fronts, a TV cabinet or a chest of drawers.
Our picks: Resene Woodland, Resene Saratoga, Resene Waiouru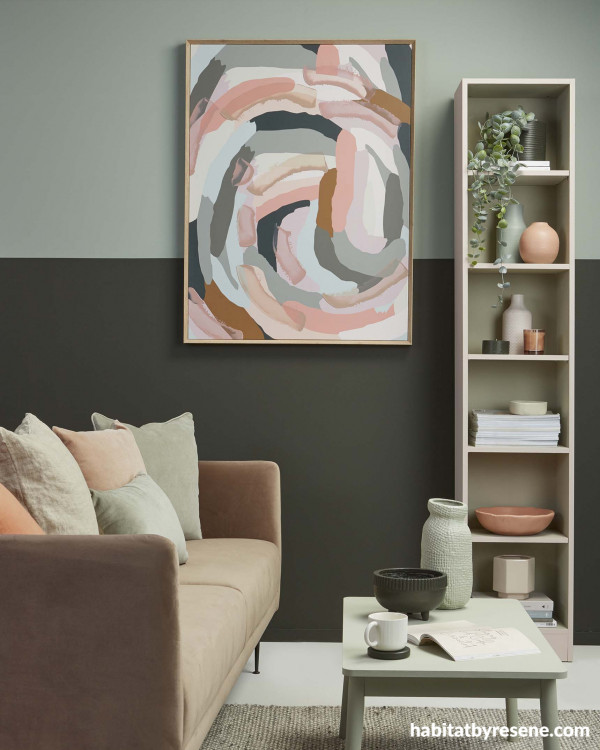 Olive greens blend beautifully with other winter warmers like wafer pinks and terracotta. Upper wall in Resene Pewter, lower wall in Resene Karaka, floor in Resene White Pointer, coffee table in Resene Bud with vase in Resene Bud and bowl and coaster in Resene Karaka, bookshelf in Resene Eagle (inside) and Resene Soothe (outside) and small accessories (on bookshelf) in Resene Just Dance, Resene Karaka, Resene Soothe, Resene Pewter, Resene White Pointer. Sofa from Me & My Trend and artwork from Shut the Front Door.
Smoked browns
Elegant and traditional, smoky browns are having a resurgence. Perfect for a second living room to create a sanctuary full of character, go for deep browns with a hint of grey or olive green. Balance with shades of lighter, blonde-browns and black accessories, and play with colour contrasts – introducing brighter shades in artwork, for instance.
Our picks: Resene Mondo, Resene Felix, Resene Rebel

Look to secondhand stores and bits and bobs around the house for household items you can paint up. Small items like wooden candlesticks, indoor plant pots and picture frames are a few great options and are easy to swap in and out of a scheme if you want to change the look of your space between winter and summer.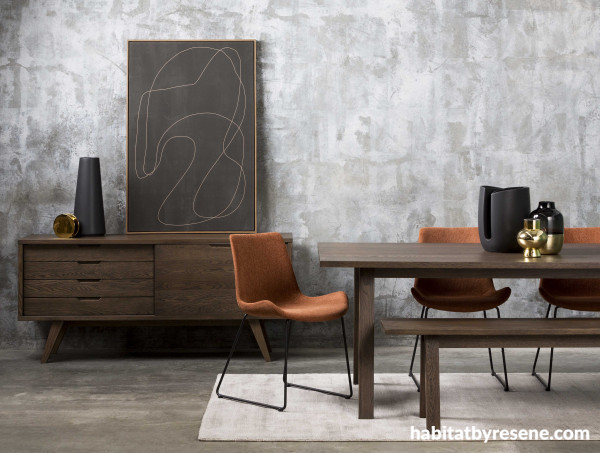 Try blending smoked browns with charcoal and terracotta for a sophisticated dining space. Textured wall created with Resene Half Fuscous Grey and Resene FX Paint Effects Medium. All furniture and accessories from Nood.
Styling Kate Alexander, Claudia Kozub, Vanessa Nouwens
Images Bryce Carleton, Melanie Jenkins
Published: 28 May 2020
Do you have a home full of wonderful Resene paint and colour? Send us some snaps by emailing [email protected].