►
◄
latest
habitat tv
blog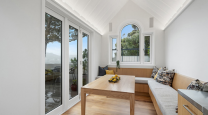 Master Builders' Chief Executive David Kelly shares his tips for building in the challenging climate.

Planning... more
9 steps to devising a colour scheme the way professional designers do
A cohesive colour scheme is a sure-fire way to ensure your space feels well-considered and carries a unified look. But if you've never attempted it before, how do you actually put a proper palette together? With so many colour choices and variable elements to account for, it can be a moment of excitement, swiftly followed by a foreboding sense of doom.
Luckily, there is a tried-and-true method for planning and putting into place a colour palette – and it's one that practically every expert relies upon. Whether you're looking to implement a scheme that sets the scene for a single space or you want to take it through your whole home from tip to toe, follow these nine steps for a crash course in picking the perfect hues to perk up your place the way designers do.
Step 1: Gather your inspiration
Like with many things in life, often the hardest part of a colour scheme is simply getting started.
"First things first: take a trip to your Resene ColorShop to pick up a collection of swatches that you're drawn to," suggests designer Kate Alexander of Places & Graces, "and compile some colour inspiration – be it photos cut from a magazine, Pinterest images you like or even a piece of clothing or artwork you own. Compile everything that resonates with you."
"From there, you'll be in a great position to start building a mood board for your design."
Published: 20 May 2020
Do you have a home full of wonderful Resene paint and colour? Send us some snaps by emailing [email protected].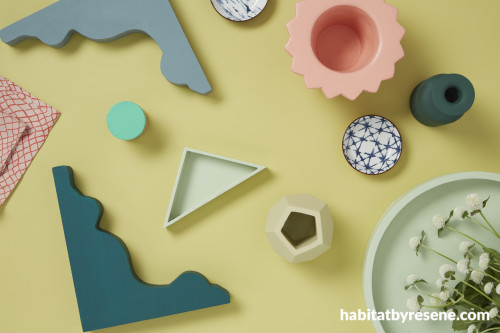 Colour inspiration can come from anywhere – a pretty patterned tea towel, a favourite blouse, a souvenir from a special trip, nature, magazines, books, blogs and more. And just about anything can be colour matched at your local Resene ColorShop. Plus, the staff there can help make suggestions of other hues that would go great with it. Background in Resene Gimblet and painted objects in (clockwise from top left) in Resene Blue Bayoux, Resene New York Pink, Resene Palm Green, Resene Norway, Resene Fawn Green, Resene Norway and Resene Deep Teal.
Step 2: Narrow it down
Once you've compiled your collection of Resene paint swatches and inspirational images together, you may find that you are attracted to a number of different colours and decorating styles – and that's perfectly normal. But since your space can only have one defining scheme if you're going for a cohesive look, you'll have to whittle your ideas down.
If you find you have a lot of inspirational images, start grouping them together into categories that 'feel' the same, or as though they naturally go together. Eventually, you may find yourself with one pile or pinboard that is much bigger than the others. That's the one you're going to want to run with, as it will give you the most insight into what your signature style is.
Step 3: Identify your style
"Colour schemes play an integral role in giving a room its 'feel'," explains Kate. "So next you'll need to decide what sort of vibe you're wanting to achieve."
"If you're not sure what your style is, get down to the nitty-gritty about it. In my decorating courses, we call this the 'tear-sheet challenge'. Ask yourself what exactly is it that you like about your inspiration images? In the context of a colour scheme, what colours do you notice are re-occurring? Do you tend to prefer spaces that have a cooler feel or that are warmer? Are they subtle and monochromatic or bold with lots of contrast? If you like blue – what type of blue, and how much?"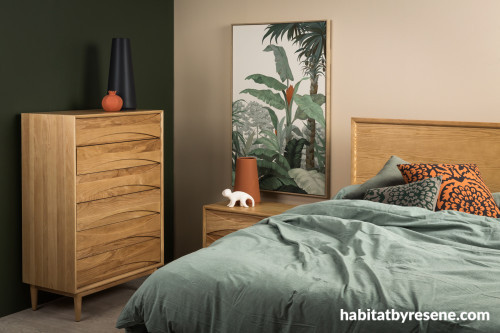 What is it that you're drawn to in a particular inspirational image? Do you prefer subtle colours or saturated ones? A space that's minimalist and pared back or a well-travelled look full of worldly possessions? The answers to these questions will help determine how you should decorate. Left wall in Resene Olive Green, right wall in Resene Double Biscotti, all furniture and décor from Nood.
Step 4: Hone in on your 'givens'
The first step of any creative project is to set the parameters. In the world of interior design, Kate says this is what's commonly known as 'the brief'.
"Your brief should incorporate your absolutes or 'givens'. This might be something existing in your space that can't – or is too costly to – change. Maybe it's coloured joinery or built-in cabinetry. Or, it could be an item you love that you'd like to accommodate such as a piece of furniture or art."
"Identify the colours of each of your givens and find Resene swatches to match them. If you need help, use Resene Colour Match online, www.resene.com/colourmatchonline, to narrow down options or bring a physical sample it to your local Resene ColorShop – they'll be happy to help you find one."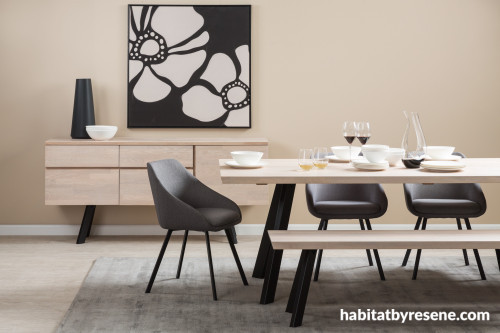 Sometimes, a tip-to-toe renovation just isn't in the cards and you just have to work with what you've got. Instead of fighting with the elements you have to keep around, play to them as if they were a strength. For example, instead of wishing away your black light switches, draw inspiration from them and paint a Resene hue that matches them on to small accessories punctuated throughout the rest of the space for a chic look. Or, maybe your old-fashioned window trims just need to be repainted in a daring high-gloss hue to make them feel modern. Wall in Resene Biscotti, trims in Resene Alabaster and all furniture and décor from Nood.
Step 5: Tie it together
Remember your tear-sheet discoveries from Step 3? Now's the time to add those to your brief, says Kate.
"During this process, you might, for example, have learned that you want a warm space that is mostly white, with small amounts of terracotta and mustard – but you have to incorporate black light-switches that won't be changing."
When you get your terracotta and mustard paint swatches together with the black one that's been matched to your light switches, you may find that they clash. That doesn't mean that you have to throw your scheme out completely, it may just need some tweaking.
Step 6: Make some tweaks
There is some science and language behind what creates variety within a colour scheme that can be helpful to get a grasp of, says Kate.
"By referring to a colour wheel, which is a very handy tool to have around, you'll see that a colour can be described by three characteristics – hue, value and intensity."
Hue, explains Kate, is the name of a particular colour – green, for example – whereas value is its relative light or darkness, and intensity refers to a colour's brightness or dullness. Adding white gives you a different 'tint' of the same colour, while adding black creates a new 'tone' and grey makes a new 'shade'.
"While all this can sound rather technical, the part to remember is that while two colour hues might work together in theory – like yellow and blue, for instance – certain tints, tones or shades may not work so well."
If your swatches are feeling not quite right alongside each other, try a different tint, tone or shade. Look to the Resene Multi-finish colour range for similar alternatives that fall within the same colour family. It may be that you need a darker or paler version that will fight less with each other or the colours of your 'givens', or that you need one that has a different undertone.
An undertone can be abstractly described as the 'spirit' of a colour. While your swatch may very obviously be a blue, it may also have some extra yellow, red, green or violet pigment mixed into it. This can help provide some insight into what direction you should take your secondary or tertiary hue. If in doubt, ask a Resene Colour Expert for help.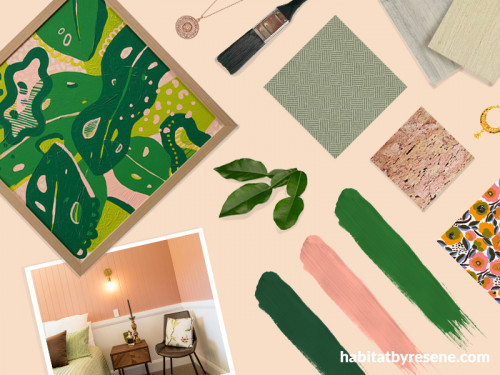 Once you find the right colours, like in this mood board, the next challenge will be deciding what you do with them. Background in Resene Tacao, brushstrokes in (from left to right) Resene Kaitoke Green, Resene Cornflower and Resene Japanese Laurel. Also pictured are Resene Wallpaper Collection LFI114, 'Breathe' original artwork by Alice Berry (painted with Resene paints, available from endemicworld), Rhea fabric from Warwick (top swatch) and Marimekko Rosarium fabric from Bolt of Cloth (middle right). Inspirational room image from Homes to Love featuring upper wall panelling in Resene Brandy Rose with lower panelling in Resene Quarter Rice Cake.
Step 7: Consider influencing factors
Before you settle on your scheme, check that you've considered all the variables of influence that exist in your space, recommends Kate.
"There might even be a colour outside your house that could provide inspiration for inside," she continues. "We built a scheme for a coastal client that incorporates a soft sea-glass green, echoing the colour of the water in their view."
"In the same way, you need to make sure your colour scheme doesn't clash with what's outside your windows either."
"The type of light that enters your home should also be taken into consideration. A large window with natural coastal light bouncing off polished concrete floors will cause a colour to present differently than small windows bringing light into a room with warm wood flooring."
Step 8: Build out your layers
"You can add depth and breadth to a room by using a variety of tints, tones, shades, values and intensities while still keeping your palette to a limited number of hues," explains Kate. "And this is an important part of what makes things interesting."
"Colour comes into our home in many ways, from permanent fixtures to the transient stuff-of-life. Your base layer is made up of the largest surfaces, such as your floors, walls and ceilings – as the colour of these surfaces are seen in significant amounts. The next layer is made up of semi-permanent larger items such as light fittings and furniture, which provide comparatively smaller amounts of colour. The top layer is comprised of objects that can be easily changed or shifted, which will appear as flourishes and snippets of colour."
Kate notes that it is possible to drown out the colours of one layer with the colours of another. "So, think about your order of importance and assign a colour to appropriate components within each layer."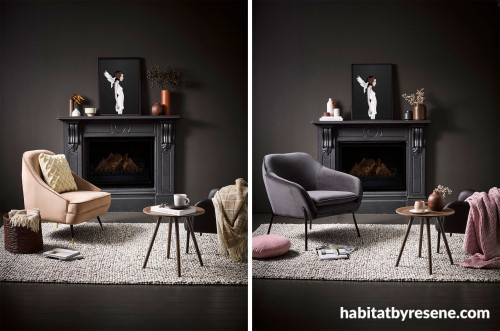 If you're a hands-on type of person, you can pick up Resene testpots in your chosen colours to play around with your palette and try each hue in larger and smaller quantities. These two images show what a difference simply swapping in different coloured small accessories and a chair can make. Walls and floor in Resene Suits, fireplace in Resene Noir, side table in Resene Thunder Road, basket in Resene Rebel and vases in Resene Poured Milk, Resene Route 66, Resene Barnstorm, Resene Ethereal, Resene Rebel and Resene Moccasin.
Step 9: Weave and repeat
We human beings find consistency to be relaxing. It's the repetition of the same palette of colours throughout your home that will lead to the sense of cohesion you see in home decorating magazines or show homes.
"That doesn't mean every room has to use all the colours of your scheme," says Kate, "nor does the order of importance have to be the same in each space. Your palette should be broad enough that you can repeat one or two colours throughout the house while reserving others for individual areas that are sensitive to their use."
For best results, rely on the 'rule of three' and use accent colours in at least three places within a space. As your eyes pick them up visually, your brain will link them together into a story that makes sense.
"And don't forget that there isn't a single thing in your space that doesn't communicate a colour," reminds Kate.
Luckily, when it comes to home décor, there are very few things that cannot be painted. So if you notice something clashes, picking up a Resene testpot in one or more of your accent colours and adding a lick of paint could make much quicker work out of it than trying to find something new in the right hue to replace it.
Step 10: The most important tip of all
Of all the things to remember when it comes to creating a colour scheme, Kate says to build a palette around the hues, tints, tones and shades you love, and will love living with.
At the end of the day, if you love the colours you've chosen, there is always a way to make them work within your home. If a hue makes you happy, go for it. Making it look great comes down to confidence. Trust your gut, and if it feels like you've used too much of a single colour or not enough, simply add, remove or rearrange until you find the right balance within the space.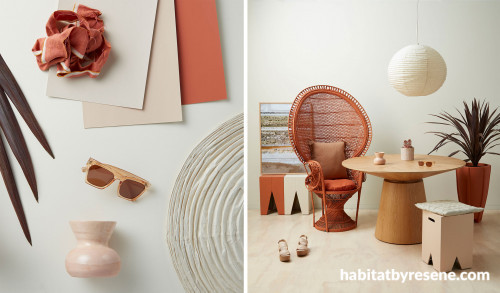 It may go without saying, but the most important person to please with your colour palette is yourself. Choose what you love rather than simply what's popular to get a look that'll last and be easy to live with. If you have a passion for pink or an affinity with aqua, find ways to work those hues into your home. Above, you can see how a favourite scarf can be spun off as an entire colour scheme. Wall in Resene Half Spanish White, floor in Resene Colorwood Whitewash, peacock chair and plant pot in Resene Sunbaked and peg stools in (from left to right) Resene Sunbaked, Resene Despacito and Resene Shabby Chic.
styling Kate Alexander, Laura Lynn Johnston, Vanessa Nouwens
images Bryce Carleton, Melanie Jenkins, Nood