►
◄
latest
habitat tv
blog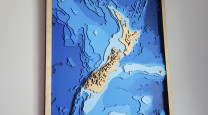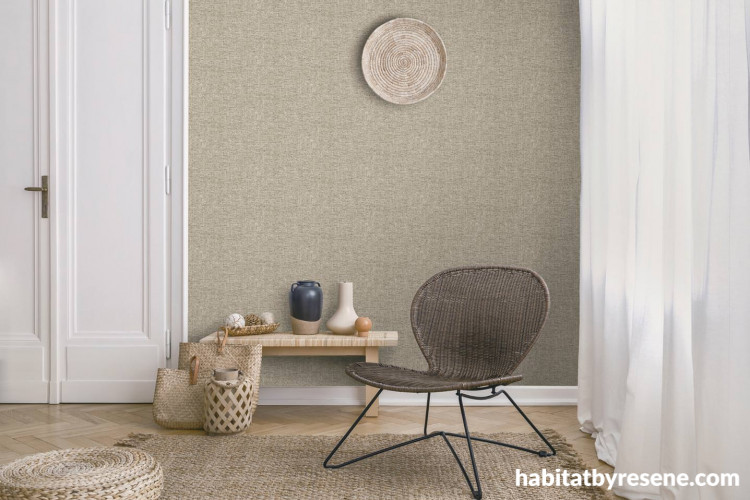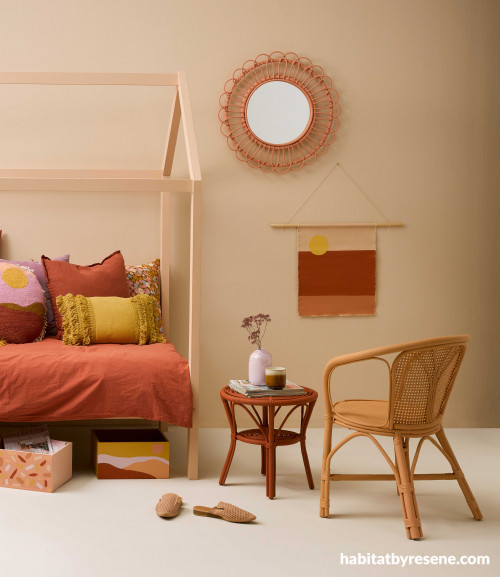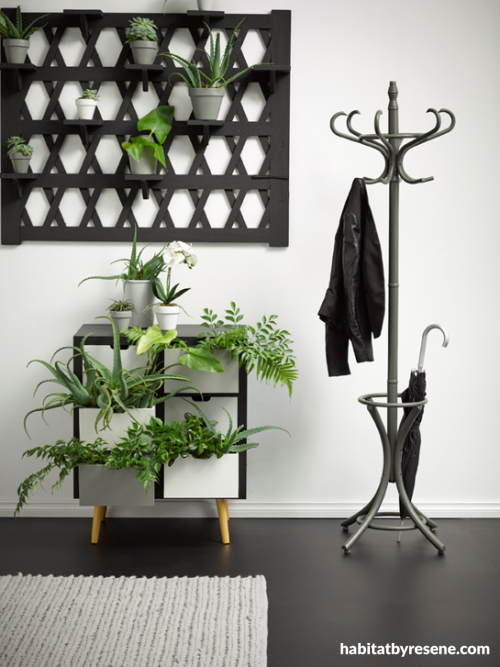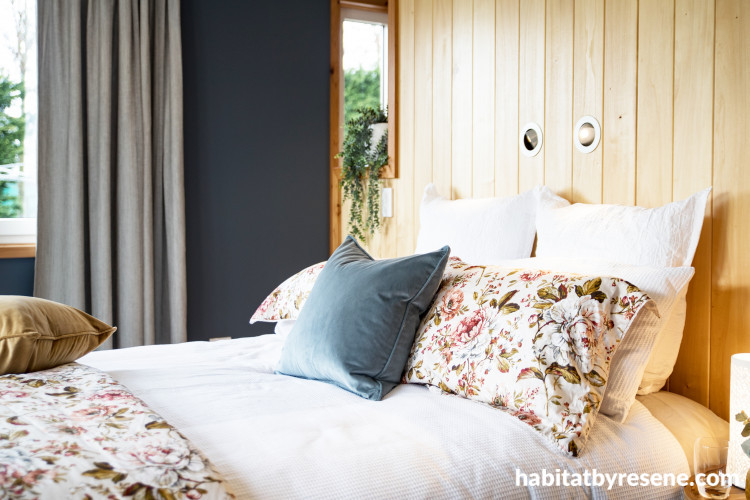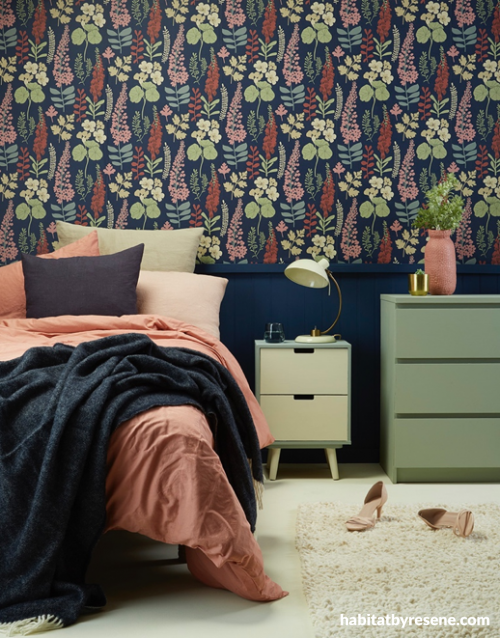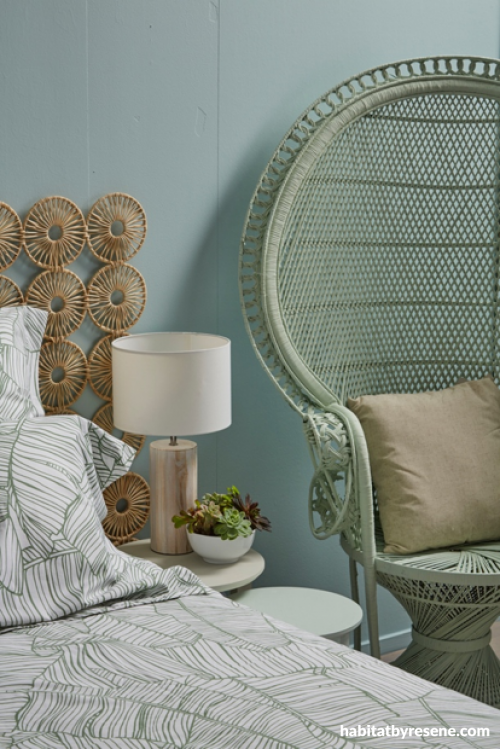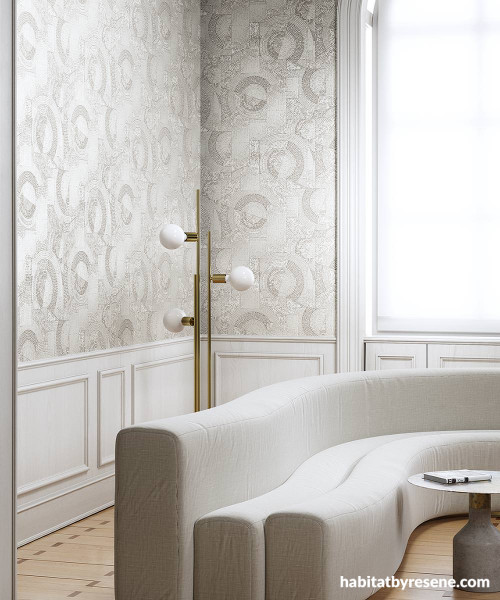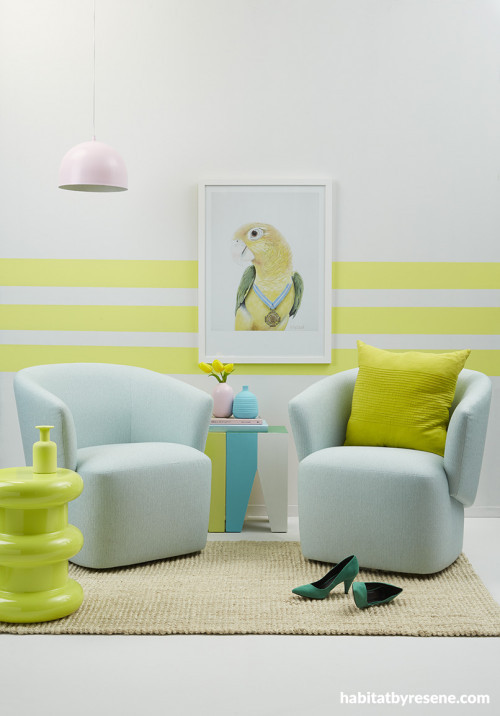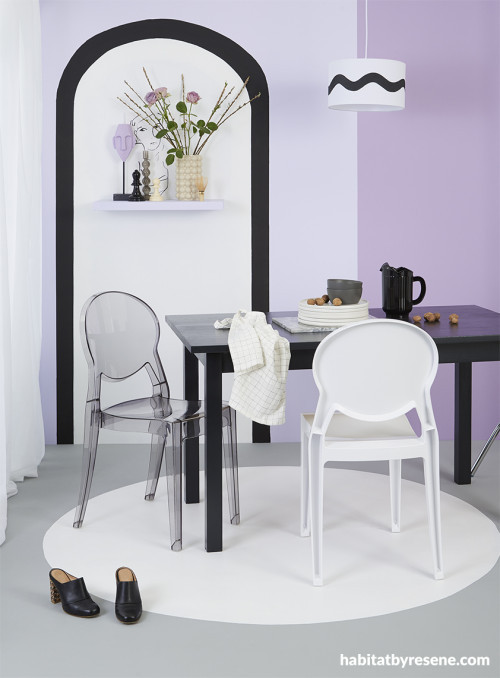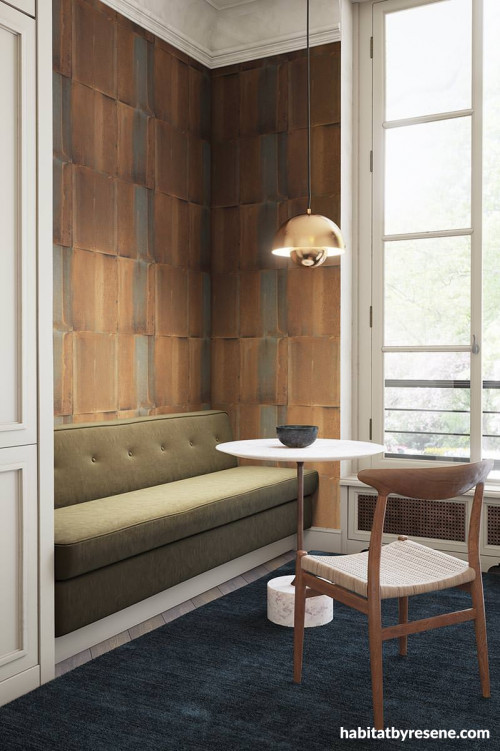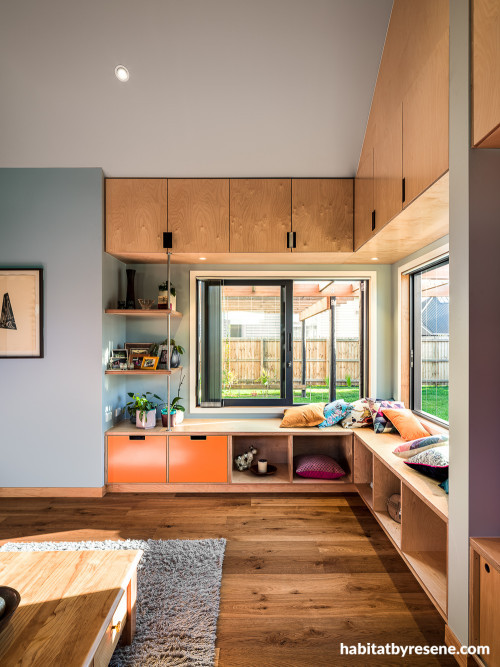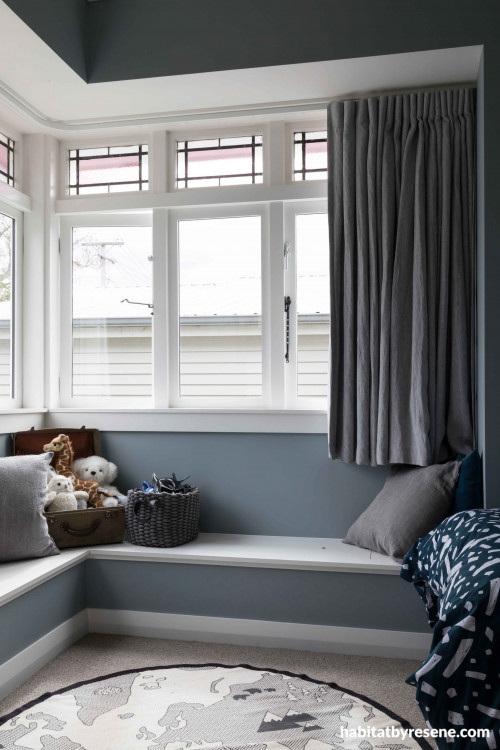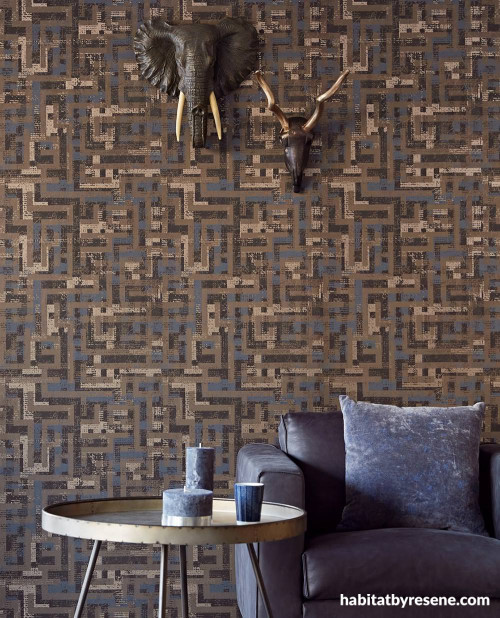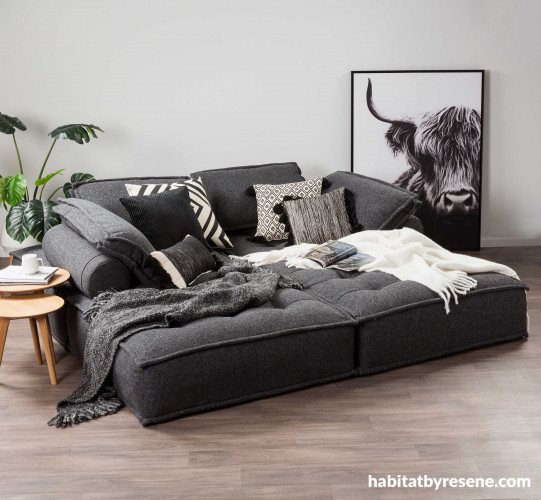 9 trends that will be turning heads in 2020
A new decade is finally upon us, ushering in an exciting selection of refreshing trends to inspire and provide a jumping off point for anyone about to embark on a new decorating journey.
For those keen to stay on the cutting edge of trends, here are nine you need to know about and ideas for how to weave them into your home.
Cane
For some, rattan may recall an era of design you'd rather forget, but this look has taken over the interior landscape in a major way – which is sure to continue well into 2020 and beyond. And, it's not hard to find; woven cane can be spotted in shops in the form of seating, tables, foot stools, benches, headboards, shelving – you name it.
Why is it so popular? Likely because it fits well within a natural and relaxing aesthetic. However, it's coloured cane in particular that's picking up pace. The beauty of painting your cane furnishings is that no matter how bold or neutral you go, a fresh coat does wonders in bringing out its incredible texture and tying it seamlessly into your interior scheme.
Published: 22 Jan 2020
Do you have a home full of wonderful Resene paint and colour? Send us some snaps by emailing [email protected].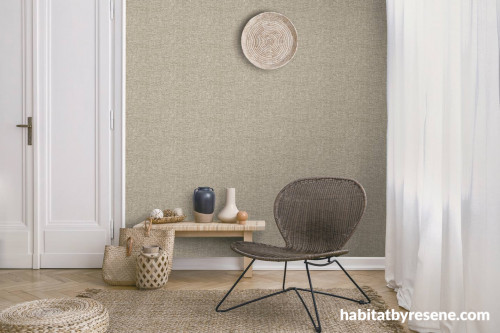 Resene Wallpaper Collection 69318 blends beautifully into this woven-themed room, which shows off the trend in the chicest way. For a similar look, go with a cane chair painted in Resene Thunder Road, walls and trims in Resene Alabaster and a timber floor stained in Resene Colorwood Rock Salt. For a pop of colour, finish it off with some painted accessories like vases and bowls in Resene Indian Ink and Resene Shilo and add a touch of Resene Twisted Sister.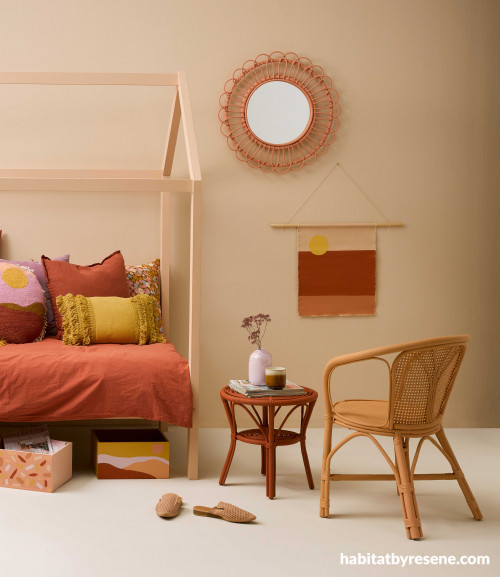 The painted cane trend looks effortless in this desert-inspired bedroom. The wall is painted Resene Bone, the floor is in Resene Blanc, the bedframe is in Resene Cashmere, the cane chair is in Resene Kalgoorie Sands, the stool is in Resene Moccasin and the mirror is in Resene Just Dance. Testpots in Resene Moccasin, Resene Just Dance, Resene Twilight, Resene Santa Fe, Resene Apache, Resene Sorbet and Resene Kalgoorie Sands were used to paint the round artwork and banner to match the rest of the scheme.
Fibre art
With the skyrocketing popularity of cane, it's not surprising that other fibrous textures have woven their way into our interiors. 2020 will be the year fibre art takes our walls by storm. Everything from delicately woven tapestries to macramé pieces will be taking pride of place in bedrooms and living rooms, offering an earthy, grounded appeal with hints of colour.
Whether you weave something yourself or purchase a piece someone else made, even a single Resene testpot can do the trick to tie your stringy masterpiece into your space.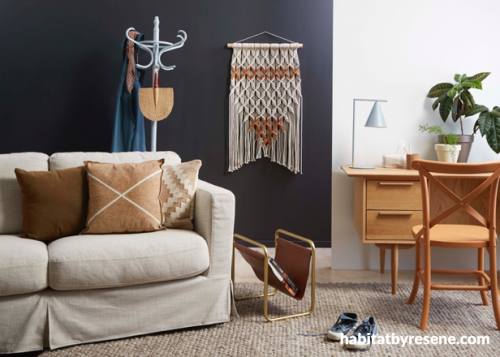 Texture is a key element with this macramé wall hanging with selected rows of pattern picked out with a testpot of Resene Moroccan Spice. Adding just a hint of colour helps the piece to play off the colour of the desk and chair, which are also painted in Resene Moroccan Spice. The coat stand is in Resene Bounty, the plant pots are in Resene Felix and Resene Miso, the back wall is in Resene Nocturnal and the return wall (right) is in Resene Double Alabaster.
Indoor gardens
While the mass adoption of 'plant babies' is a trend that's been taking off recently, introducing entire indoor gardens are the next step up, with small plants, pots and walls being given their own dedicated areas to thrive and stand out. This trend ties in with a societal shift towards wellness in general, allowing those with green thumbs – or the help of an expert caregiver – to welcome the harmony of nature into their lives.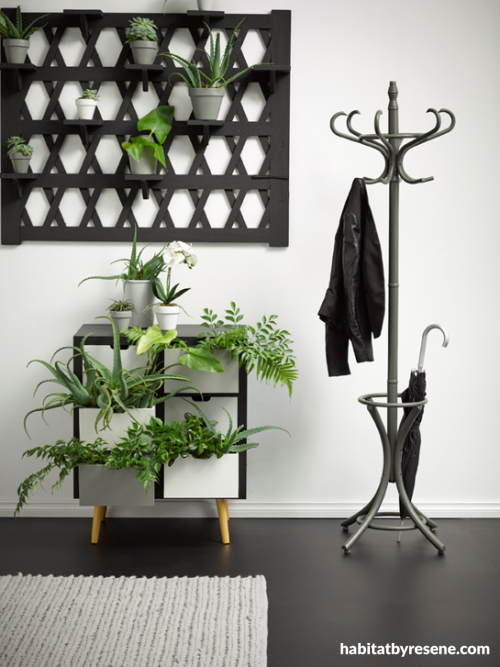 Wall in Resene Black White, floor in Resene Nero, coat stand in Resene Bounty, drawer frame in Resene Nero, drawer fronts and plant pots in Resene Double Merino, Resene Atmosphere and Resene Quarter Gravel.
Wood panelling
While it may not feel very modern, wood panelling is making waves in contemporary living spaces. Mastering the look is all about getting your angles right, going against the grain to create more interesting effects. Add warmth with a splash of paint or wood stain and your room will be flooded with warmth.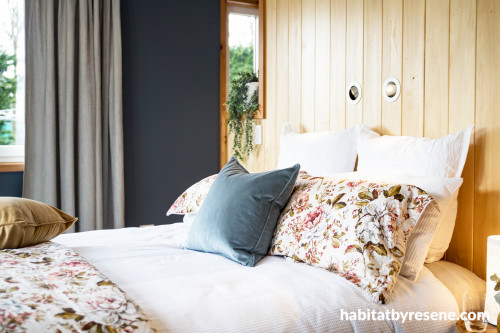 One of the wood panelling trend's greatest features is how well it marries outdoor greenery with the indoors. Vertical timber panelling wraps this idyllic master bedroom in a warm glow, and pops against the darker Resene Half New Denim Blue wall beyond. Use Resene Colorwood Whitewash on tongue-and-groove panelling to get a similar look at home.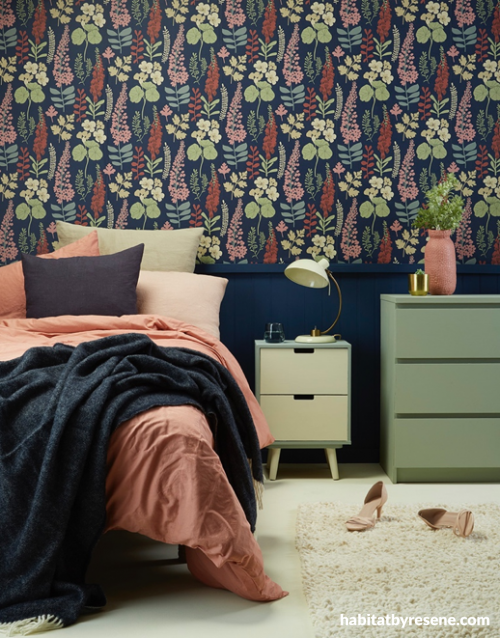 Two major trends meet in this charming bedroom: tongue-and-groove panelling and dusty green. The paint palette in this space was inspired by the hues of Resene Wallpaper Collection E384534 on the upper walls, to bring the colours out into the room and tie the whole scheme together. Lower wall panelling in Resene Bunting, chest of drawers and outside frame of bedside table in Resene Pewter, floor, bedside table drawers and legs in Resene Coconut Cream and textured vase (on chest of drawers) in Resene Coral Tree.
Oxidised green
Dusty, muted green tones are set to take centre stage in 2020, becoming a new go-to hue – one that acts much like a neutral, yet with just the right amount of colour to keep things interesting. Look for shades that are similar to those that develop when uncoated metals like copper get exposed to oxygen – hence the term 'oxidised'. Resene Pewter, Resene Norway, Resene Spring Rain and Resene Sage Green are spot on examples of how soft and soothing muted greens can be in living spaces and bedrooms. Pair them with pretty pink like Resene Sorbet, deep dark navy like Resene Elephant or build a tonal look offset with an olive green like Resene Olive Green.
Resene Pewter, seen on the upper part of the wall, is the star of this living room set up, showcasing the oxidised green trend with ease. Bottom wall in Resene Karaka, floor in Resene White Pointer, coffee table in Resene Bud, tall bookshelf in Resene Soothe (outside) and Resene Eagle (inside), striped plant pot in (from top to bottom) Resene Bud, Resene Pewter and Resene Karaka, bowl on table in Resene Just Dance, coasters in Resene Soothe, Resene Bud, Resene Pewter and Resene Karaka, vases (on shelf) in Resene Just Dance, Resene Soothe and Resene Bud and footed dish (on shelf) in Resene Karaka.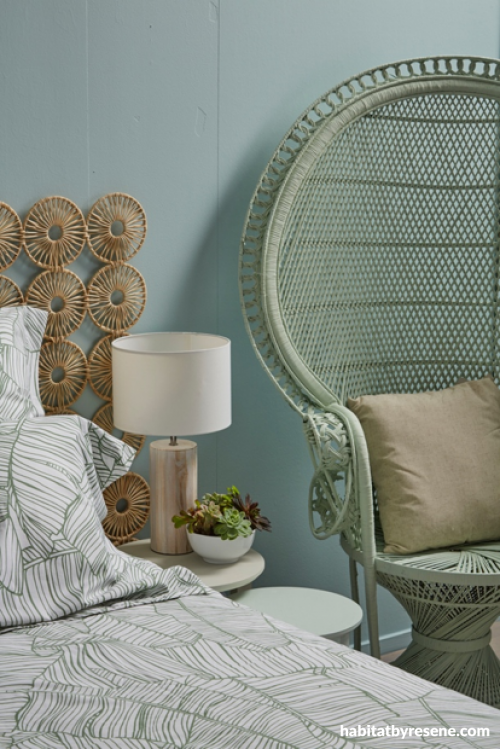 Dusty greens like Resene Surf Crest, seen here on the peacock chair, and Resene Kandinsky, seen on the small nesting table, can create a sense of wellness in any room and work seamlessly with other true neutral colours. Walls and trim in Resene Half Opal, larger nesting table in Resene Secrets and floor in Resene Colorwood Mid Greywash.
Organic shapes
Move over geometric shapes. Curves of all kinds have been catching our eye for a while, but 2020 is when this chic trend will fully take shape in everything from wallpaper to sofas, chairs, tables, lamps – you name it. Inspired by nature and the way shapes take form without rules, this trend makes way for a softer and more fluid way of thinking and blends beautifully with art deco, 80s revival and eco-chic looks.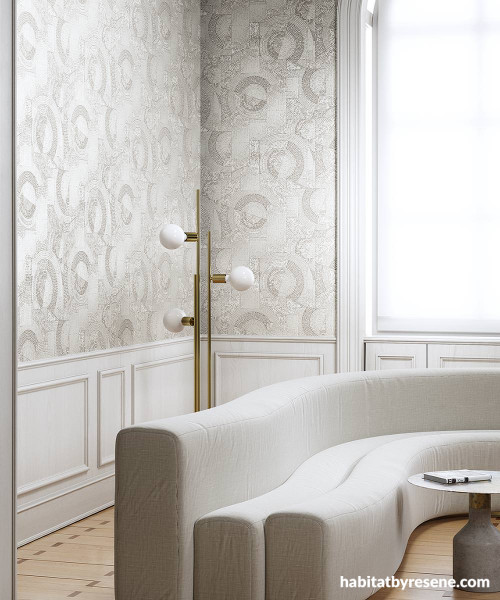 Resene Wallpaper Collection IUM203 shows off the relaxing nature of the curved trend, while maintaining a sense of modernity and being 'put together'. Get this look in your home with trims in Resene Merino, a curved sofa in Resene Eighth Stonewashed and a timber floor stained in Resene Rock Salt.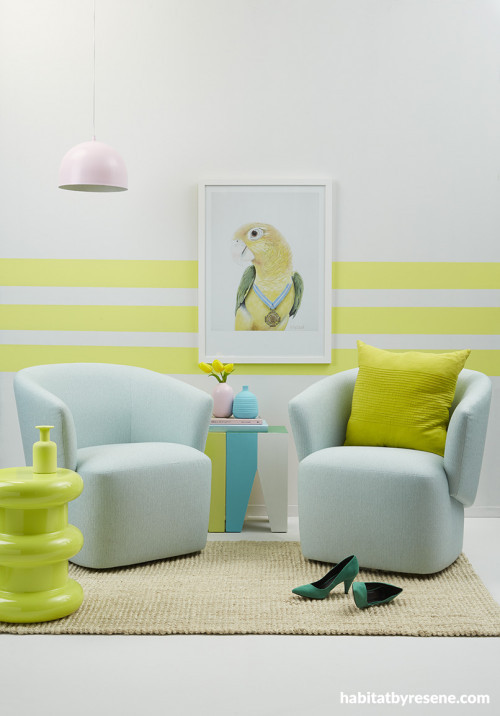 Curved seating makes this 80s revival room look ultra-relaxing and plush, as well as the pretty in pink pendant lamp in Resene Princess. Walls in Resene Sea Fog with stripes in Resene Honeysuckle, floor in Resene Sea Fog, peg stool in Resene Honeysuckle, Resene Alabaster and Resene Yes Please, vases in Resene Princess and Resene Yes Please, and picture frame in Resene Alabaster.
Arches
The latest architectural trend points towards arches in the form of curved doorways and windows. Adding a touch of sophistication and point of difference, arches can be easily incorporated into new builds, or introduced into existing homes in the form of mirrors or painted illusions. Arches really capture the eye and can help draw attention to grand doorways and to accent smaller details like makeup tables complete with arched mirrors.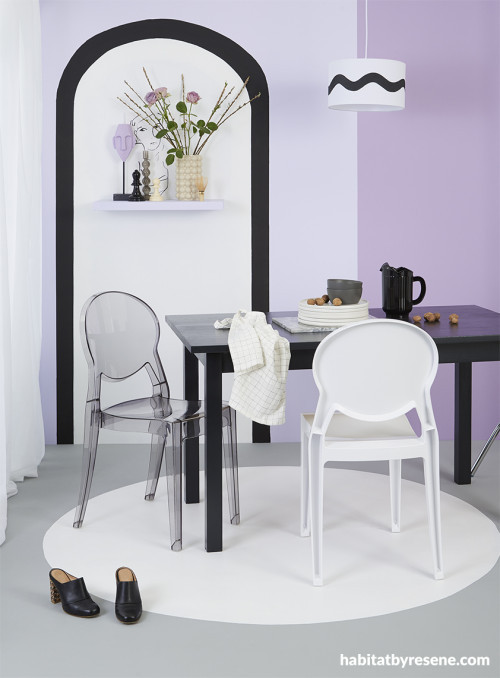 The painted arch in this colourful, modern and fun dining room immediately draws the eye. Wall in Resene Dreamtime (left), Resene Mozart (right), Resene Black (arch outline) and Resene Alabaster (inside of arch). Floor in Resene Half Stack with circular painted rug in Resene Alabaster, lampshade in Resene Black, table in Resene Blackjack, shelf in Resene Dreamtime and face statue in Resene Mozart.
Built-in seating
Whether it be a window seat for reading with a view, or a cosy dining room sofa, built-in seating is becoming the latest trend to take over the interior landscape. Space-saving and incredibly inviting, built-in seats can be worked into any room and upholstered to match your décor. If your tastes change like the wind, you could also opt for wooden seating, then add cushions with removable covers to accommodate new looks.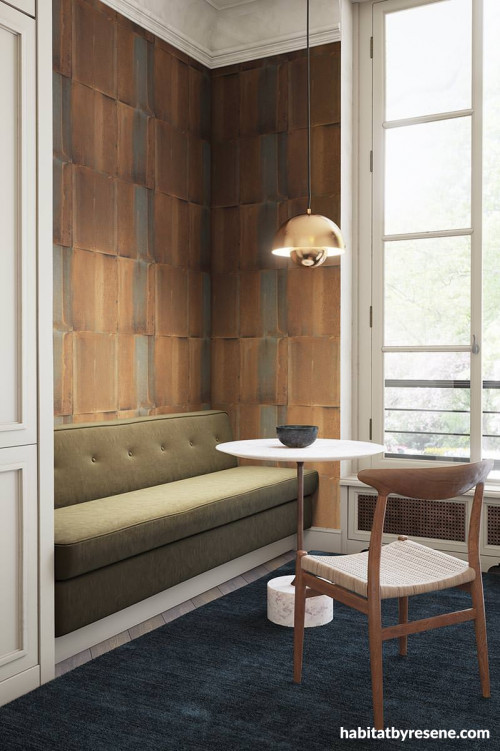 Resene Wallpaper Collection EAR406, from Resene ColorShops, offers an industrial flair that would look fabulous in your dining room. Try a similar look with surrounding walls in Resene Alabaster, a built-in sofa in Resene New Leaf, a round marble table in Resene Sea Fog, a rug in Resene Indian Ink plus extra chairs in Resene Moccasin.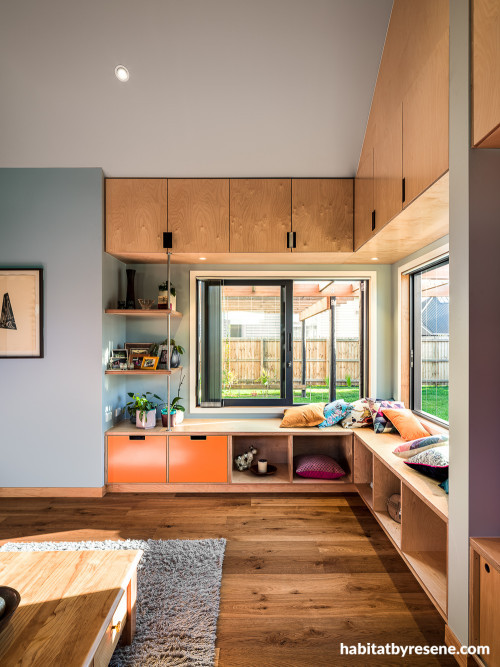 For a pop of colour, some of the door and drawer fronts of this impressive built-in window seating have been painted Resene Energise. The walls are in Resene Longitude while the ceilings and trims are in Resene Eighth Spanish White.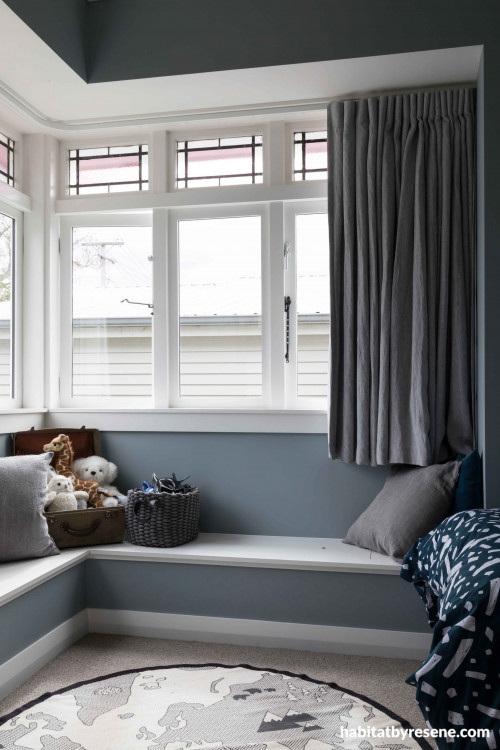 This beautiful window seat is painted in Resene Powder Blue with Resene Half Bianca trim, and provides extra storage for this boy's bedroom.
Animalia
Give into your animal instincts in 2020 and you'll be oh-so on trend. Animals are making their way back into homes – though, thankfully, without the overwhelming and tackier looks of the mid-90s. Bringing in animal patterns and shapes can liven up an otherwise tame room through paintings, wall hanging décor and small statues. This look works particularly well in open plan living spaces that see plenty of foot traffic.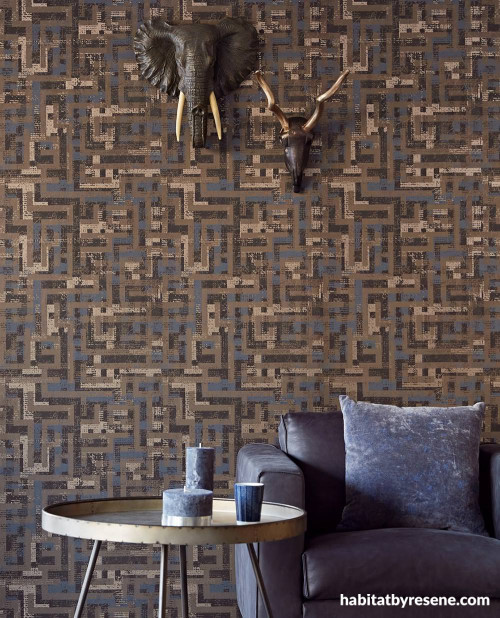 Resene Wallpaper Collection 376013 is a funky geo-print that utilises tranquil toned-down colours so as not to overwhelm the senses. Pair this look with a velvet occasional chair in Resene King Tide, a round metal table in Resene Napa, candle holders in Resene Submerge and animal mask wall hangings in Resene Rebel.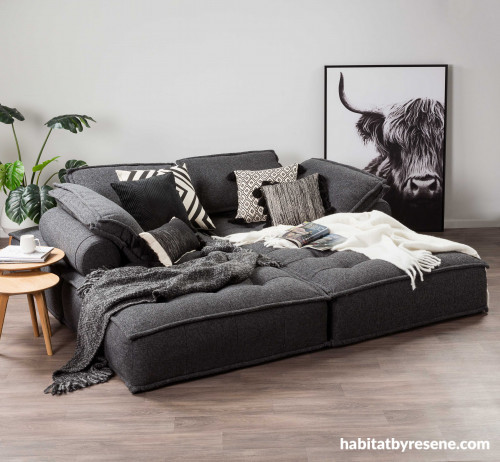 Wall in Resene Triple Merino with Flock Lounger, Perk Side Tables, Marco Weave and Siren Throws, Karoo, Velo Stitch, Kaza and Jira Cushions and Highland Cow Printed Artwork all from Nood. The print subtly weaves in the animalia trend to keep this room looking minimalistic and modern.
styling Kate Alexander, Vanessa Nouwens, Megan Harrison-Turner
images Bryce Carleton, Melanie Jenkins, Dennis Radermacher, Michael Cooper, Nood