►
◄
latest
habitat tv
blog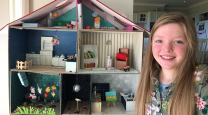 A 50s brick and tile is thoughtfully revamped for modern living
When Alastair and Demelza bought their 1950s home, a brick-and-tile nestled in Dunedin's Anderson's Bay, it was a shell of its former self. For many years, the home had lived its life as a rental, becoming tired and bashed, fluent only in its former occupants' misuse. Yet, amongst these flaws, the new owners also saw compelling charm – and would use it, with a sundry of Resene paints, to create something truly special.
To begin with, the kitchen was small and impractical, with a metal sink whose reflective finish blinded them as the sun came up each morning, and the main bathroom was blanketed in floor-to-ceiling lino. As for the layout, Demelza recalls, "the laundry had the best view."
So they teamed up with interior designer Alex Rinaldi to embark on recasting the central layout, merging the kitchen, laundry and living room, while still paying homage to the original bones of the house. The result is a voluminous space, moody but light, with a spatial flow that works hard to accommodate 270-degree views of the surrounding city, from the Octagon to Lawyers Head.
For Demelza, the kitchen's new "bright and airy feeling" is owed to the crisp white walls in Resene Half Sea Fog and the shaker-style cabinetry in Resene Sea Fog. There is, it seems, a continuity at play, which keeps the entirity of the space well illuminated and open, and which brings out the elegant veins of the kitchen's marbled benchtop and splashback.
With all of this balanced in such careful harmony, it might seem sudden to then include a feature wall in marine blue Resene Tangaroa. What it adds, though, is clarity and coherence by highlighting the living room's lighter features through its sheer depth of colour and complementing the richness of the exposed wooden floor and the beams overhead. It also makes "the leadlight windows pop," says Demelza.
A nod to the living area's colour story can be found in the updated bathroom, where the somewhat dated has been overhauled by the undeniably contemporary – a tiled shower, a freestanding bath, a pedestal sink and a series of small, ornamental feature tiles built into a thoughtful recess. Calculated in their approach, Demelza and Alex chose to refresh the walls in pastel green Resene Spring Rain to set the tone for a tranquil experience.
From there, "the hallway renewal was based on simplicity," says Demelza. The old carpet was pulled out to showcase the exposed wooden floor, and Resene Half Sea Fog was used to make the connecting space feel clean and warm.
In many ways, the project culminated in the guest bedroom. It required a simple cosmetic makeover – a stripping of old-fashioned wallpaper and a few fresh coats of paint – yet it boasts the most detailed and artistically complex feature in the home. Surrounded by a new palette of Resene Half Sea Fog, a hand-painted mural, courtesy of Alex, sweeps over the back wall. It's the product of hours spent using a soft sponge, a couple of brushes and a base of Resene Grapevine, and the constant inspiration of the room's antique lampshade. Punctuated by pink billowy clouds and bookended by roses, the labour of love is dreamy and floral, and envelops the room like a fresco in a chapel.
While ultimately being conscious of the character of the house, Alastair and Demelza have imbued their home with pieces of themselves, encouraging a creative spirit to thread itself through the home's stunning transformation.
Top tip Stain wooden flooring in Resene Colorwood to rejuvenate and enhance the timber grain, then finish with Resene Qristal ClearFloor.
images Alastair and Demelza
Published: 14 Oct 2020
Do you have a home full of wonderful Resene paint and colour? Send us some snaps by emailing [email protected].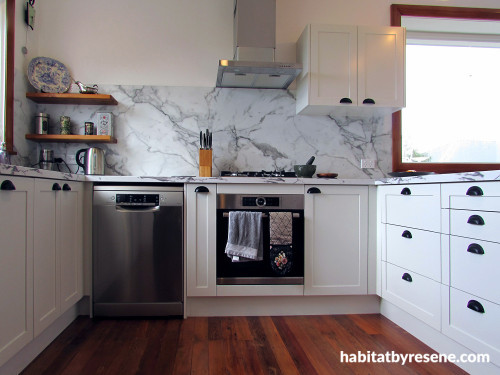 The home's updated kitchen features a new marbled benchtop and splashback, practical shelving, modern appliances and shaker-style cabinetry in Resene Sea Fog. Homeowner Demelza is thrilled with the result. "This house was made a wonderful home again." The walls are Resene Half Sea Fog.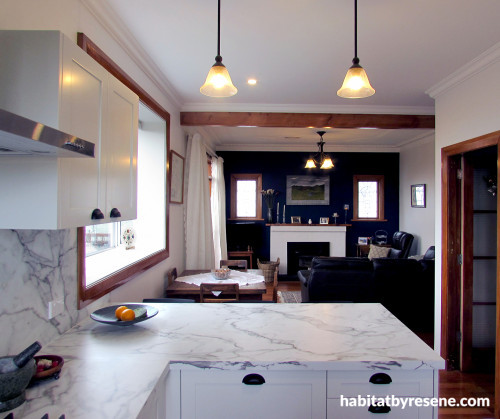 The kitchen, dining and living room is bright and open thanks to its white walls in Resene Half Sea Fog. The richness of the home's exposed beams, wooden window frames and wooden flooring is complemented by the deep marine blue of the living room's feature wall in Resene Tangaroa. Ceiling in Resene White.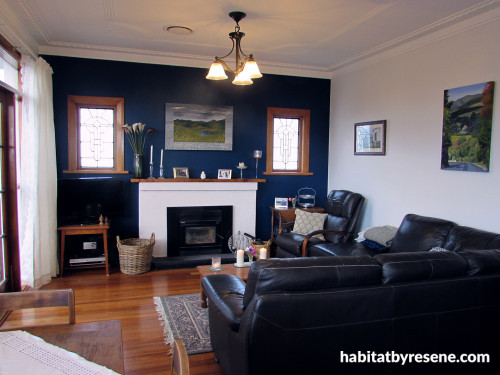 The living room's feature wall in Resene Tangaroa fits beautifully with the central area's colour palette, a combination of crisp whites, rich browns and soft greys. Existing details, including stained glass windows and an ornate pale blue ceiling, nod to the home's former life. Adjacent walls are in Resene Half Sea Fog. Ceiling in Resene White.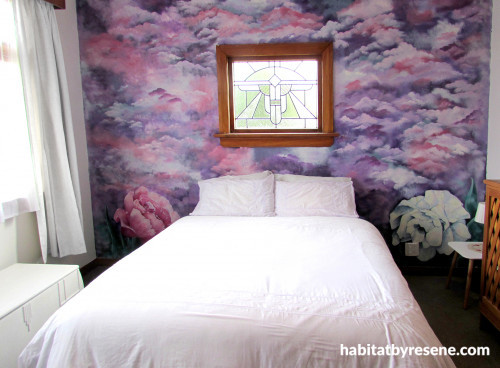 A hand-painted mural by interior designer Alex stuns in the guest bedroom. For such a romantic work of art, the names of its Resene paints feel fitting: Resene Grapevine, Resene Blackcurrant, Resene Rouge, Resene Vanilla Ice, Resene Lip Service, Resene Aquamarine, Resene Deep Teal, Resene Midnight Moss, Resene Sea Nymph, Resene Breathless, Resene Half Scotch Mist and Resene Pale Leaf.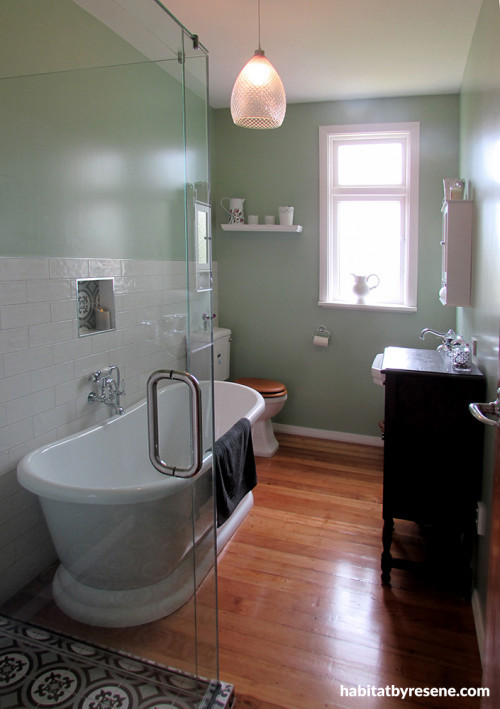 Dated walls in linoleum, a popular décor choice in the 1950s, have been updated with calming pastel green Resene Spring Rain. For the full look, the homeowners included a tiled shower, a freestanding bath, a pedestal sink and wooden flooring. Ceiling in Resene White.