►
◄
latest
habitat tv
blog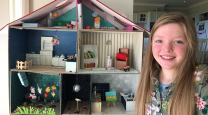 A 70s home gets a clean makeover that preserves its character
When asked to think of colours of the 1970s, your mind probably goes to saturated disco inspired hues, intense yellows and warm oranges. It's unlikely you immediately think of the shade that covered almost every surface in the 70s built home Kirsty and her husband Tory purchased four years ago to be their first family home, beige. It was clear the home was in dire need of a makeover with modern Resene colours.
"Everything was beige - walls, wallpaper, carpet, kitchen, cupboards" laments Kirsty. But drab colours aside the colonial style home had character in bags and they were especially fond of the large feature windows that allow masses of light into the living areas. The couple could tell that a few simple updates and a makeover in a restrained palette of serene Resene whites would prepare this relic of the past for a new life in the 21st century.
To ensure every space in their new home was fit for purpose, the couple devised a family-friendly aesthetic they could carry throughout the whole house. While they didn't abide by any strict themes design wise Kirsty and Tory set out to create a look that was clean and modern without sacrificing any of their new home's character.
Kirsty, a registered nurse and Tory, a parts technician, bought their vision to life by liberally using crisp Resene Alabaster on the walls of the hallway, kitchen, dining room, lounge and in the nursery. "After spending a tonne of time stripping wallpaper it's so easy to paint everything white," explains Kirsty. "I like how fresh and bright Resene Alabaster is, it's great for making the spaces appear larger."
By using the muted cloud greys of Resene Silver Chalice to complement the white Resene Alabaster that forms the basis of their colour palette Kirsty and Tory have maintained balance and a harmony of colour throughout their home. "I love Resene Silver Chalice, it's the perfect grey in my eyes and I have just dulled it down or kept it full depending on the spaces I've used it in." Kirsty shares.
Kirsty continued the soft and contemporary grey colour palette into the nursery of daughter Lara's room with a feature wall that features Resene Silver Chalice and Resene Pale Rose with a background of Resene Alabaster. "I wanted to create something different and fun that was inexpensive. So, with the use of masking tape and patience I went ahead with creating a feature wall that would be able to last our girl for many years to come," says Kirsty.
Top tip: Use Resene Solid Gold metallic paint for a polka-dot effect.
Another of the couple's DIY successes took place in the kitchen where Tory turned his hand to tiling an intricate geometric backsplash. A new benchtop paired with light walls in Resene Alabaster and Resene Double Black White on the cupboards lend a clean contemporary feel to the busy open-plan area.
The exterior was treated a fresh update too. The main colour used for the home's facelift was Resene Friar Grey on the weatherboards to hint at the cloudy greys used inside. Resene Alabaster on the windows and Resene Shark coating the base and trims are a striking contrast to the stony grey weatherboards.
Kirsty's best piece of design advice for future renovators is to keep things simple: "Choose a statement feature, whether it be feature wall or tile and design around the feature keeping it pretty basic trying not to overshadow the statement."
Top tip: For a seamless low sheen finish from living areas to wet areas such as kitchens and bathrooms, use Resene SpaceCote Low Sheen, then finish trims in Resene Lustacryl semi-gloss waterborne enamel and ceilings in Resene SpaceCote Flat.
images: Kirsty Parr
Published: 16 Sep 2020
Do you have a home full of wonderful Resene paint and colour? Send us some snaps by emailing [email protected].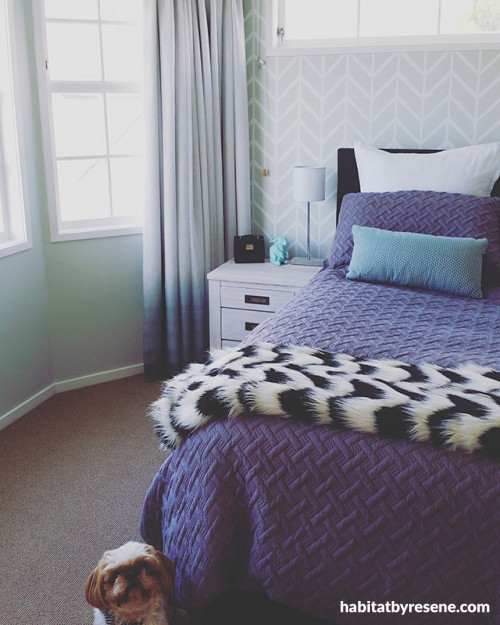 Resene Periglacial Blue, an icy river blue with a hint of green casts a serene wash over the master bedroom. Recreate the herringbone feature wall with a stencil or masking tape and Resene Wan White.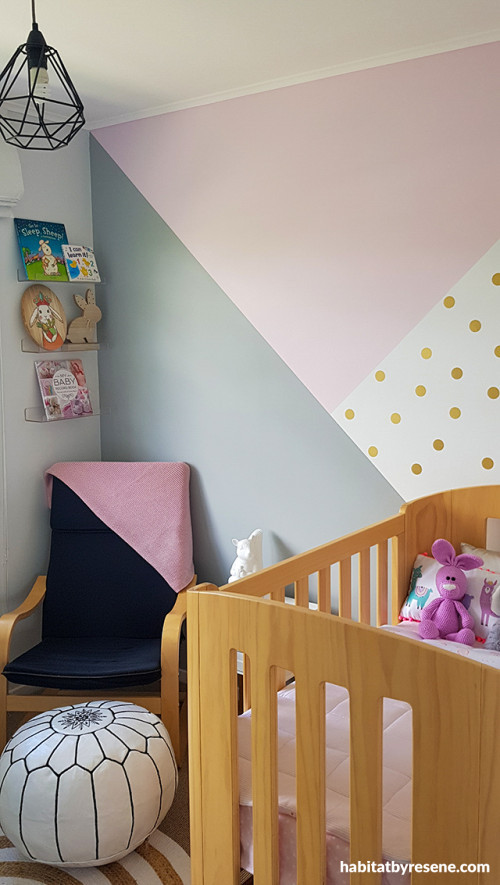 In the nursery Kirsty wanted a space that would be able to last her baby girl for many years to come. She created this adorable feature wall using Resene Silver Chalice and Resene Pale Rose with a background of Resene Alabaster. Recreate the metallic polka effect by using Resene Solid Gold metallic paint.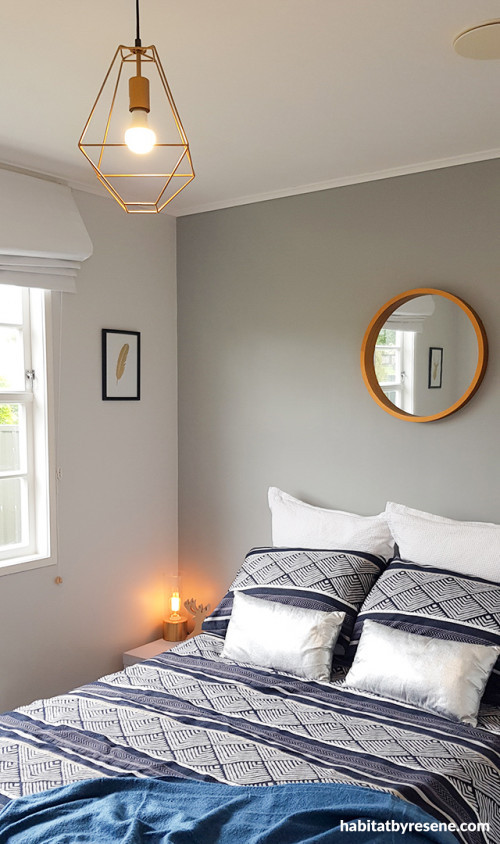 Resene Quarter Iron brightens up the guest bedrooms with a feature wall in Resene Silver Chalice and Resene Alabaster on the ceiling and trims. The blue accents in the rest of the house are brought into this room through bedding.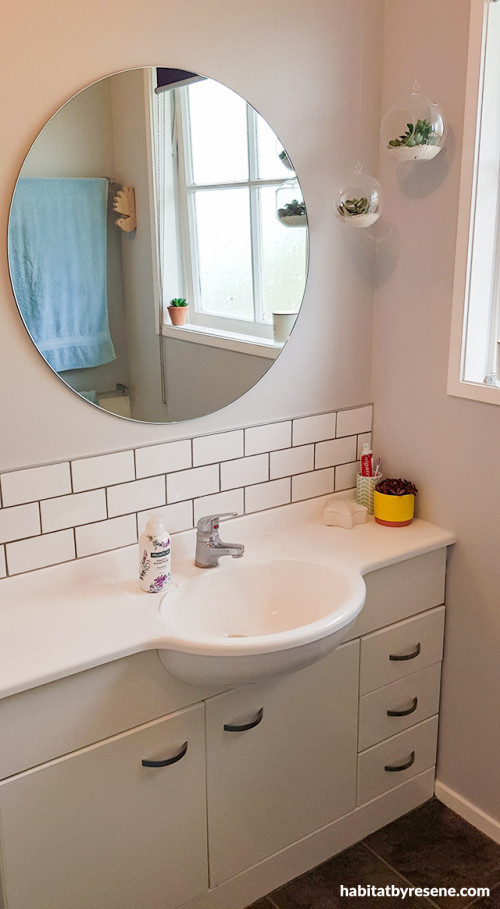 Resene Quarter Silver Chalice, a silky sheen of silvery grey features in the bathroom alongside classic white subway tiles and a large mirror to reflect light into the room.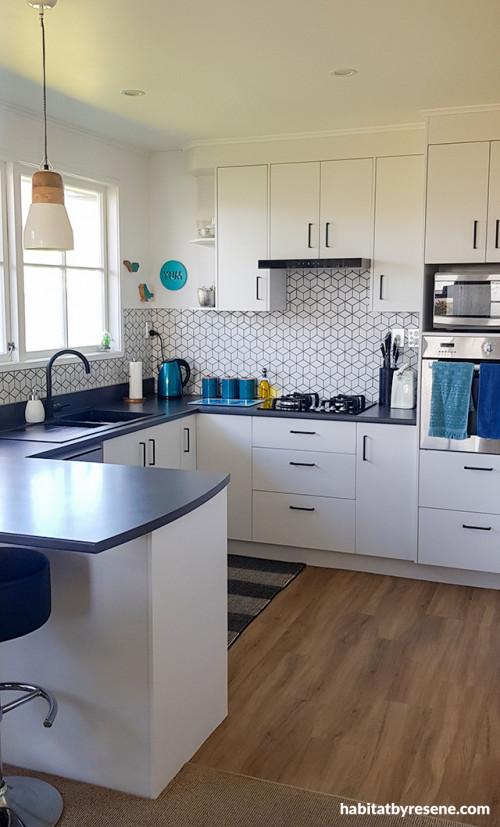 The open plan kitchen needed to have consistency to allow the eye to move through seamlessly so Kirsty and Tory painted the walls in Resene Alabaster and the cupboards in Resene Double Black White. Kirsty hand painted the 'yum' sign in Resene Java and added bright pops with coloured accessories throughout the kitchen.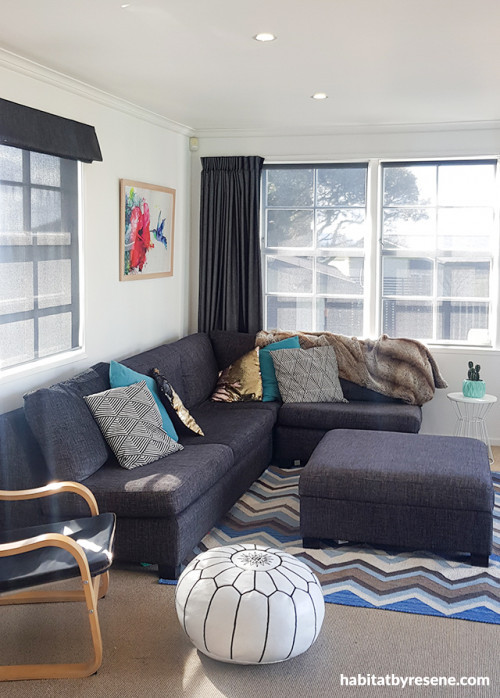 Resene Alabaster is continued in the living room which gets bathed in light through the beautiful character windows. The colour of the sofa adds a contemporary edge to the soft, light-filled space.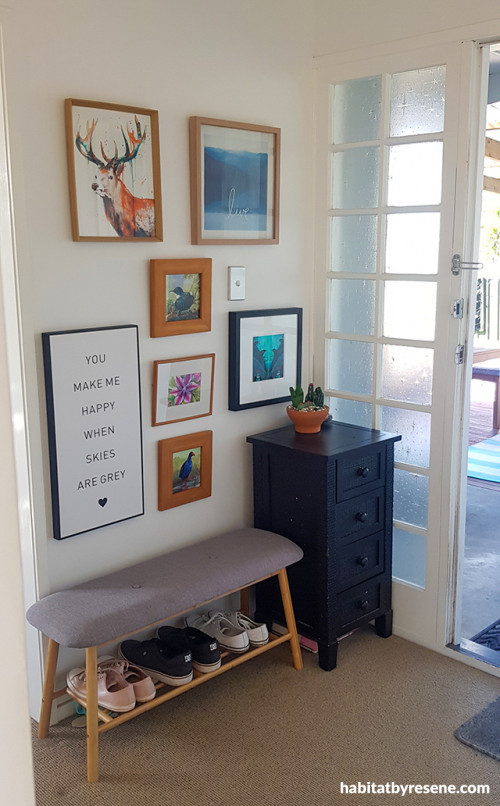 Kirsty and Tory's inviting entryway sets the calm and clean tone for the house. The entryway, and main living area, walls are in Resene Alabaster. The bench cushions give a taste of the subtle greys used throughout the house.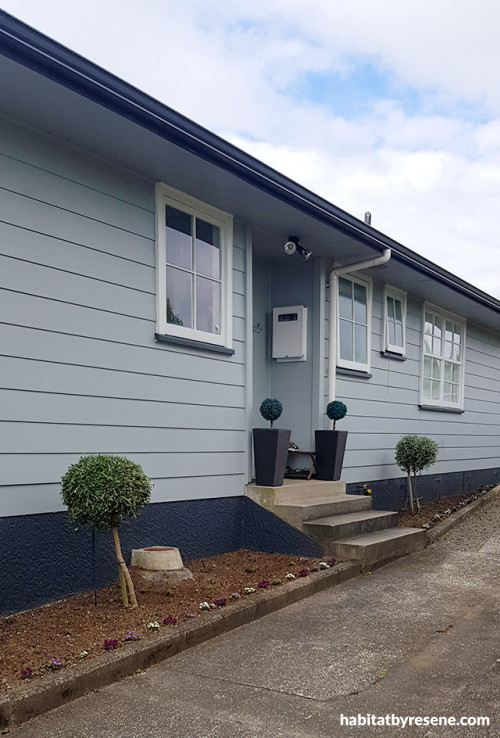 Resene Friar Grey on the weatherboards perfectly sets the mood for the cloudy hues inside Tory and Kirsty's renovated house. The windows are painted in Resene Alabaster the trims in Resene Shark.
Resene Double Black White
the look
If you're stuck on what
colour to use or need colour
advice, try out the Resene
Ask a Colour Expert service.