►
◄
latest
habitat tv
blog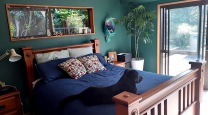 A clever renovation has infused this Auckland home with pep and personality
There's much to be said for decorating's domino effect, where one alteration leads onto the next, and the next after that, in a long and beautiful chain reaction. Just ask Jasmin and Matthew, who started updating their 1950s former state home, nestled in Auckland's Point England, earlier this year. What began as upcycling vases and redoing drawers escalated to a feature wall in Resene paint, then another. They haven't stopped since.
The couple's motivation for renovating was a simple combination of discontent for what they deemed lacklustre white walls, which they had lived with since they purchased their home in 2018, and a restlessness spurred on by the country's first lockdown, beginning in March. "We got inspired to start putting more time and effort into our home and its interior design," says Jasmin. "I felt like we needed a change."
She was initially set on painting a black arch similar to one she'd seen on social media in their hallway, so a short trip to the store for Resene Black was a no-brainer – at least for Jasmin. "There was a big deep breath from my partner before I took the plunge and started painting the arch," she says, amused, noting how, as an event manager by trade, she quickly tapped into her styling deftness.
From there, their investment in colour only ballooned. "The dark wall inspired me to push the envelope and paint a green wall in our lounge," says Jasmin of the swathes of Resene Flax. "The warm, earthy tones have really grounded me and helped guide me when it came to styling my spaces."
Circular colour blocks followed, too. There's a soft pink dot in Resene Dust Storm – "a simple but effective statement," Jasmin describes – that partially covers their wardrobe door, a blush half-moon of Resene Dust Storm that offers a subtle point of difference in the kitchen, and a terracotta-coloured circle in Resene Moccasin that holds court as a headboard in their spare bedroom. "I wanted something that would change and grow with the space depending on its purpose," she says of the latter shade, a gender-neutral personality point in a room they hope to one day turn into a nursery.
The creativity that wends through this home isn't restricted to just palette choices. At every turn, rattan furnishings, wood accents and chic ephemera are loosely layered, infusing the home with a casual air that still feels deliberate, as though each object happened upon the place it was meant to be. "My dream is to create an indoor plant jungle meets boho meets mid-century mash up," says Jasmin, recalling the bounty of verdure, neutral tones and pops of red and pink.
It's a miscellany that brings subtlety and richness, and makes their home undoubtedly true to their tastes – and to how distinct those may be. "My favourite thing to hear," sums Jasmin, "is 'Wow. That's so different. I never would have thought of that'."
images Jasmin and Matthew
Published: 11 Nov 2020
Do you have a home full of wonderful Resene paint and colour? Send us some snaps by emailing [email protected].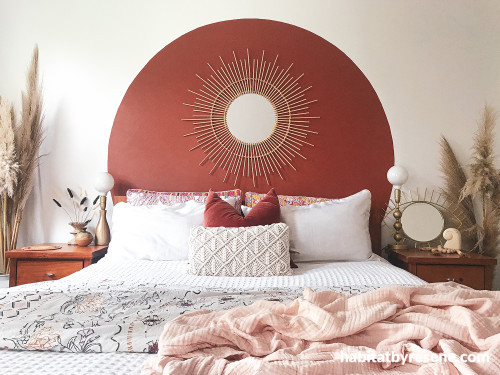 In the spare room, Jasmin and Matthew have created a headboard effect by painting a large circle in Resene Moccasin. A sun-like mirror hovers inside it, as if it emits terracotta-coloured rays. Complement with Resene Quarter Blanc on walls and bring in an assortment of blush, red and neutral furnishings and accessories.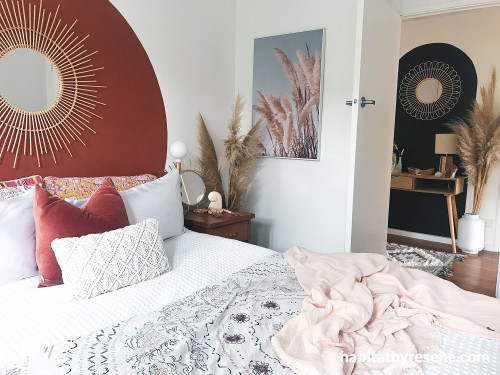 An assortment of red, blush and neutral hues complement the spare room's feature circle in Resene Moccasin. "My favourite room in our house is the spare room," says Jasmin. "This is when the afternoon light streams into the room and hits the giant colour block it brings out the richness of the colour and gives off such a warm and happy vibe." Complement with Resene Quarter Blanc on walls. A black arch in Resene Black can be spied in the hallway.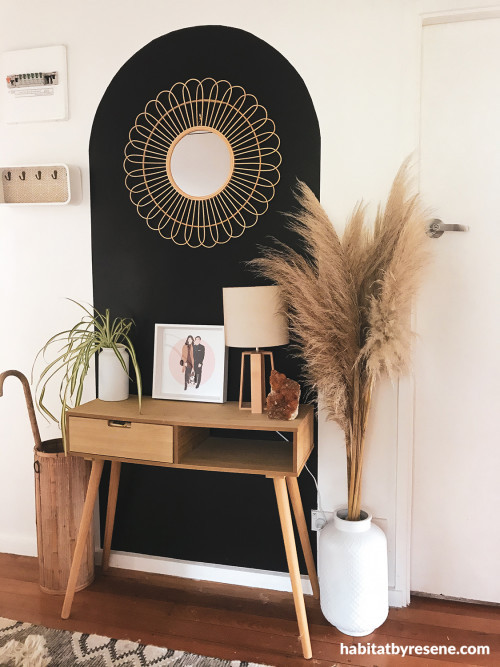 To contrast against their home's white walls, which were already white when they moved in, Jasmin and Matthew created a striking arch in Resene Black in the hallway. "Matthew and I drew up the arch and taped it up to ensure we didn't have any paint bleed," says Jasmin. "We decided not to take the arch all the way down to the floor. Instead, we finished at the skirting board."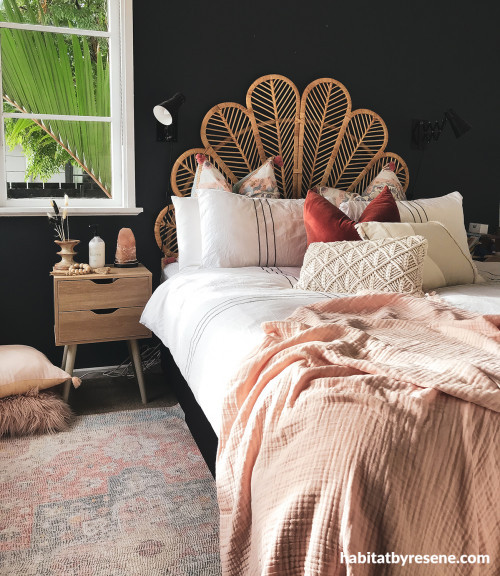 When Jasmin and Matthew bought this, their first home, the master bedroom was already a deep charcoal. Recreate this look with walls in Resene Fuscous Grey and trims in Resene Quarter Blanc. "I knew that the pop of pink/blush would complement the charcoal and add a more feminine side to the room," says Jasmin of the soft furnishings.
After initially painting a coral pink spot in Resene Just Dance across part of their wardrobe, Jasmin decided she wanted something more subtle. So, she bought a testpot of Resene Dust Storm and painted over it. Complement with Resene Quarter Blanc on walls.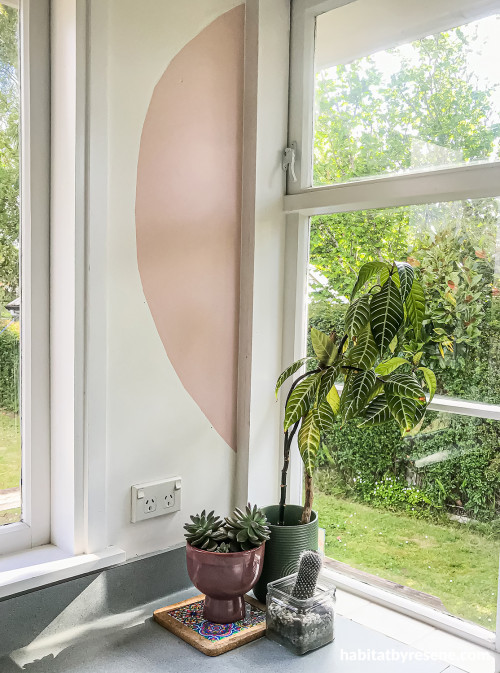 Spurred on by her colour block in the master bedroom, Jasmin painted a semi-circle in Resene Dust Storm in the kitchen. "It was subtle for the space but not overbearing," she says. Complement with Resene Quarter Blanc on walls and incorporate a few indoor plants.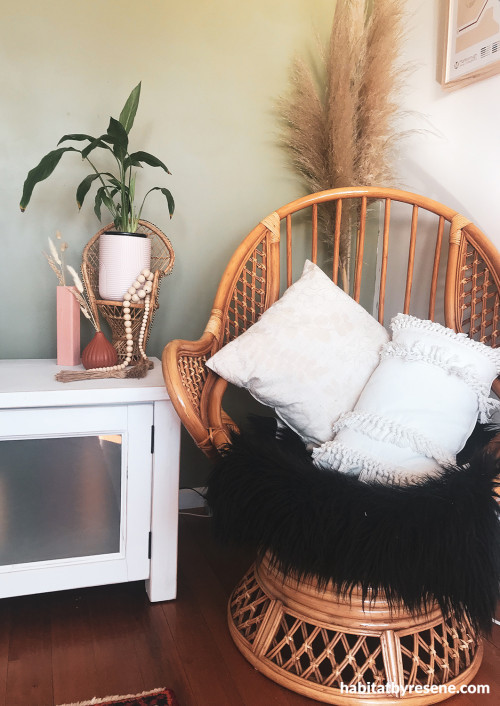 "I initially had seven colours that I was tossing up with before settling on Resene Flax," says Jasmin of the green feature wall in their lounge. "This colour was the perfect green that I was after; not too dark, not too light, not too blue and didn't suck too much light." Pair with a rattan chair and walls in Resene Quarter Blanc.
the look
If you're stuck on what
colour to use or need colour
advice, try out the Resene
Ask a Colour Expert service.