►
◄
latest
habitat tv
blog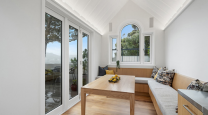 Master Builders' Chief Executive David Kelly shares his tips for building in the challenging climate.

Planning... more
A decade in the making: This 70s A-frame home's Hamptons renovation was well worth the wait
After a decade of living in her 70s Auckland home, Nicky Werder said bon voyage to boring and bought a ticket to happiness with fresh Resene paint. Nicky can travel the world by walking through the rooms of her newly decorated home: the living room and kitchen are a Hamptons haven, the brightly coloured beanbags in the family room channel Cape Town's waterfront markets, the colourful Resene Pink Lace door is reminiscent of Dublin's famous colourful entryways and the Resene Sauvignon bedroom is pure Marlborough.
"We had always intended to renovate, but it always got put on the backburner until now, so as you can imagine a fresh coat of paint was much needed," says Nicky, who lives with her partner Dean and daughter Summer.
The Auckland coastline where the family's home is located inspired Nicky and Dean to create a classic coastal aesthetic using Resene Indian Ink, a rich and sophisticated midnight blue. "We felt the barn-like structure of our house could carry a classic navy and white palette," says Nicky. She paired the dark Resene Indian Ink exterior walls with clean Resene Alabaster on the carport and trim.
If Nicky's Resene Pink Lace front door looks familiar it's because she often uses it as a backdrop for her work as a fashion and lifestyle influencer on her Instagram account @thestylehighclub_nz. Through the pretty pink door Nicky's love of colour extends into the kitchen where she also used Resene Indian Ink.
"I love the kitchen because I love to cook and it looks so beautiful now with the navy cabinetry," says Nicky. "When we renovated, we also included a little coffee and wine bar with cabinetry in Resene Indian Ink and it is my joy."
Nicky carried pops of blue through the kitchen and into the lounge, where a feature wall in Resene Indian Ink brings the space to life with surrounding walls in Resene Alabaster. The A-frame nature of the home meant that the high ceilings reached cathedral-like proportions with the use of bright Resene Alabaster.
"The living areas in our home are upstairs and are flooded with a lot of natural light, so the darker tone of Resene Indian Ink adds a great contrast," says Nicky.
Nicky's own interior style is influenced by her South African heritage. Over the years the couple have visited Cape Town several times, each time bringing home a piece of décor to add to their 'safari chic' collection of cane furniture, baskets, tan leather and brightly coloured bean bags.
"Dean and I are attracted to a myriad of interior styles," says Nicky. "But we both enjoy a classic look and ultimately we felt the house lent itself to a coastal feel.
"Every detail of this renovation mattered. One of the biggest challenges was trying to find fittings and accents that created a point of interest, we had to combat some real logistical challenges to source items overseas."
In the master bedroom, Nicky created a soft sunset glow with Resene Alabaster walls and a Resene Sauvignon feature wall. Resene Sauvignon is a sweet, delightful sip of pink peach and was just the colour Nicky was looking for. "Resene Sauvignon is my favourite colour," says Nicky. "It is a beautifully soft, warm pink and in certain lights you might not even notice it is pink.
"We have always used Resene over the years. Years ago, Dean had a part time job in his Uni holidays working as a painter and they swore by Resene particularly due to the excellent coverage of Resene paints. We've never forgotten that."
The interiors of the dining room and relaxing family area are painted in Resene Alabaster, a near white with a lightly blackened edge. Large bifold doors in the family area open out to the family's new deck with crisp Resene Alabaster railings. Opening up the end of the house allowed the family to create an outdoor area that provides a seamless transition between the garden and interior spaces. "The new deck has had the biggest impact on the way we live in the house," says Nicky. "We really made the most of it over the summertime, with lots of barbecues and alfresco dinners.
"What we've learnt throughout this project is to trust your instincts. Of course, get professional advice so you make a balanced decision, but as it is your home you will have an innate sense of what you need and, more importantly, what you love."
Top tip: If you have hardwood floors in your home and want to give them a hardy finish while still retaining the natural beauty of the grain, try Resene Qristal Clear Floor. Resene Qristal Clear Floor is a waterborne urethane durable satin flooring finish which can be tinted with Resene Colorwood Enhance to colour the timber further.
Nicky and Dean worked with Saleem from Transform Projects to make their renovation dreams a reality.
Follow Nicky on Instagram at The Style High Club - Nicky (@thestylehighclub_nz) • Instagram photos and videos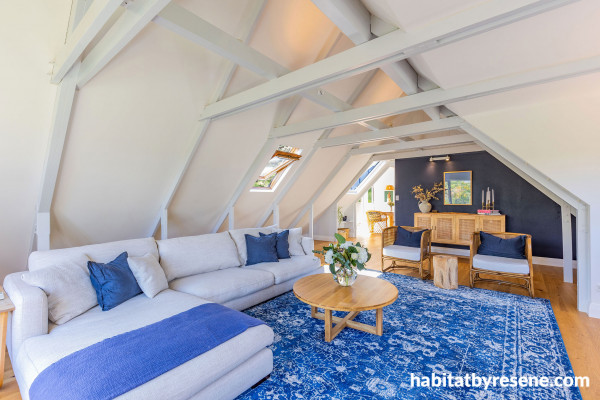 Fully embracing the Hamptons style, Nicky incorporated her South African wicker furniture in the living room, creating a warm atmosphere and highlighting the feature wall in Resene Indian Ink. The Resene Alabaster walls and A-frame ceiling give an even greater sense of space and height to the room.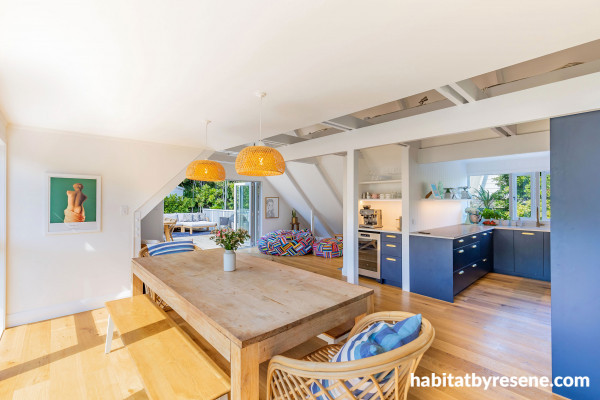 The open plan kitchen and dining room flow seamlessly with walls in Resene Alabaster. Blue pops of colour are scattered throughout with the coffee bar and kitchen cabinetry creating a striking contrast in Resene Indian Ink.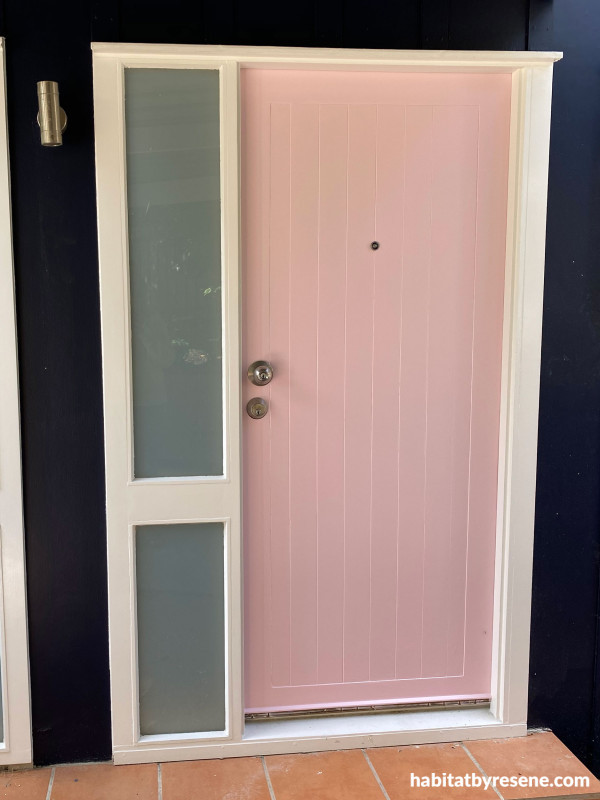 When inspiration came knocking, Nicky painted her front door in pastel Resene Pink Lace with a trim in Resene Alabaster.



Before and after: Nicky's favourite room of the house got a major revamp not just in style but in colour too. The ceiling in Resene Alabaster reflects the blue hue from the Resene Indian Ink cabinetry.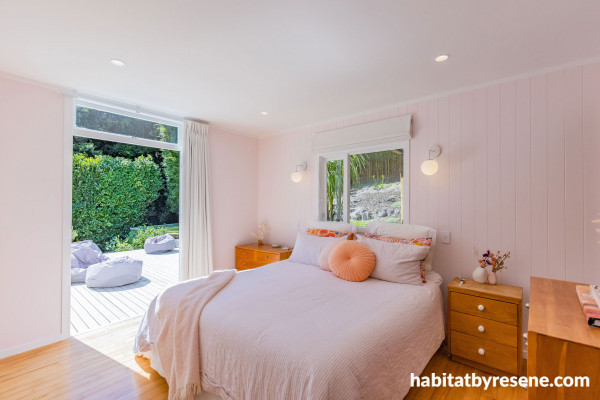 The master bedroom's pink hue is thanks to Resene Sauvignon, which is teamed with trims and ceiling in Resene Alabaster.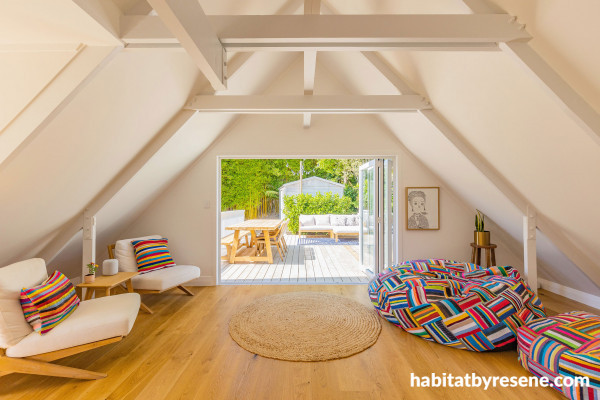 Nicky's colourful décor pops in the family area painted in Resene Alabaster. The large bifold doors lead out onto the home's newest addition - the magnificent timber deck.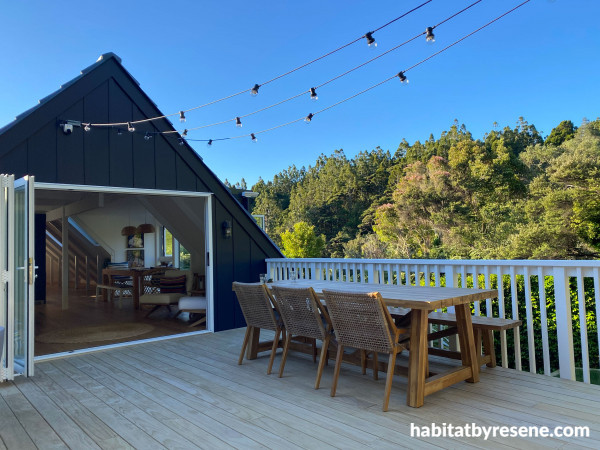 The deck is the perfect place for the family's many barbecues and alfresco dinners. The railing is painted in bright Resene Alabaster and creates a great contrast with the Resene Indian Ink exterior.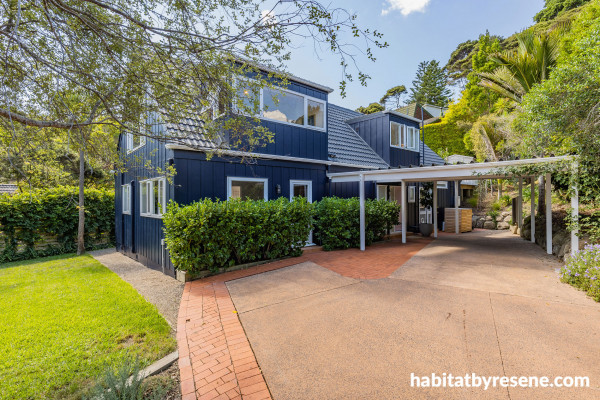 Hamptons-inspired homeowners Nicky and Dean renovated their coastal home with a theme to match. They embraced the simple elegance of a blue and white colour palette with Resene Indian Ink on the exterior with Resene Alabaster trim.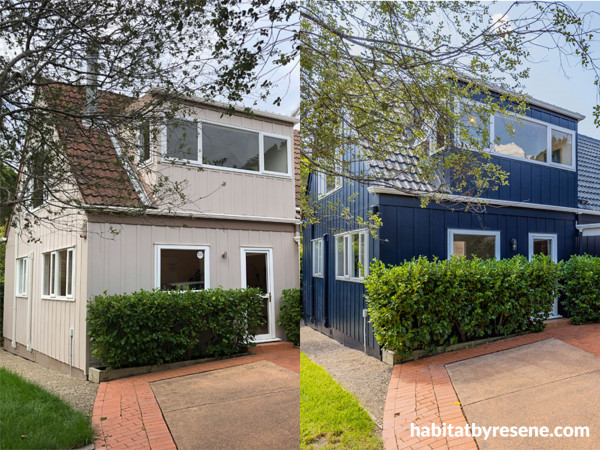 Before and after: Nicky and Dean said bye-bye to beige and painted their home in striking Resene Indian Ink with crisp Resene Alabaster trim.
Published: 07 Jul 2021
Do you have a home full of wonderful Resene paint and colour? Send us some snaps by emailing [email protected].
the look
If you're stuck on what
colour to use or need colour
advice, try out the Resene
Ask a Colour Expert service.