►
◄
latest
habitat tv
blog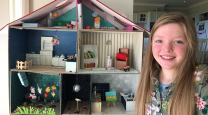 A derelict century-old Carterton villa is restored to its original glory (you won't believe what it used to look like)
Chessa Stevens realised her childhood dream when she restored this century-old villa. As a young girl, Chessa remembers driving past the dilapidated house in her hometown of Carterton and wishing she could one day do it up. She finally got her chance when she and partner Rob bought the property. With a goal to restore the villa to its original glory, Chessa tackled the decades of deterioration armed with tins of Resene paint and a good dose of courage.
The project was right up the couple's alley: Chessa is a conservation architect and she and Rob run Rare Buildings; a company that specialises in designing and restoring historic homes. Built in c.1860-1905, their own home restoration has been their biggest project by far. "The house has undergone many transformations in its life," says Chessa. The villa had also been home to W.H. Booth, who was the mayor of Carterton in 1919 when the home suffered a fire that resulted in the interior being gutted and the roof rebuilt.
When Chessa and Rob first began the project, they were greeted with a corroded roof, broken windows and rotten weatherboards. "Part of the floor was sitting directly on the ground and the bathroom was almost inoperable," says Chessa. "The chimneys were crumbling and were a safety risk. The section was completely overgrown.
"But, despite all of this, we saw what we knew could be restored into a stunning home."
The couple stripped back the villa to its bare bones and started from scratch, choosing a neutral colour palette. "A key driver in all decision making was understanding the significance of the fabric of the house and retaining this fabric to the greatest extent possible, selecting colours that were appropriate for the age of the house," says Chessa. "We chose colours for their temperature and flexibility; warm colours that would effectively go with anything.
"I suppose I would describe our style as period classical for modern living."
Chessa chose her favourite colour, Resene Lemon Grass, for the informal living area, kitchen and laundry. "Resene Lemon Grass is a warm colour that is period-appropriate and can be paired with a variety of different accent colours and bold patterns, but just as comfortably with white and cream," says Chessa, who used Resene White on the trims, windows, and doors to lighten the space and complement the muted walls.
In the master bedroom and second bedroom, Chessa used Resene Tea, a river boulder beige, on the walls to create a calming atmosphere. "Resene Tea provided a pleasant neutral colour for the bedrooms that kept them light and airy, allowing us to use period patterned fabrics for the drapery, bedding and soft furnishings," says Chessa. She continued the use of Resene Tea in the ensuite and bathroom to retain a relaxed flow.
The one exception to Chessa and Rob's neutral colour palette was the use of deep marine Resene Tarawera on the walls in the formal living area.
"We wanted to make a statement," says Chessa. "Our inspiration was drawn from the colour of the tiles in the historic fireplace we restored."
Chessa and Rob cleared the 1106 square metre section to create a fully landscaped garden, complete with a large deck, standalone studio and garage. The couple recycled windows and doors from the house to create the studio, which was then fitted with an ensuite, kitchenette and laundry space and finished with a coat of Resene Quarter Silver Chalice.
"Resene Quarter Silver Chalice was used to offset the white of the ceiling and timber trims," says Chessa.
"We chose to use Resene Tarawera in the studio ensuite to provide a contrast with the Resene Quarter Silver Chalice and draw a hint of the house through the studio."
Taking on a massive restoration project was never going to be without its trials. "Restoration of historic fabric is always challenging, and we like to do the job properly," says Chessa, who took apart every double hung sash window and restored them. She rehung the weights with new sash cord and painted them crisp Resene White before reinstalling them. The couple also repurposed the chimney bricks for the property's fences.
"We then stripped the exterior weatherboards back before sanding, filling and replacing rotten areas." Chessa painted the exterior weatherboards in Resene Half Delta; a stone-grey hue that she paired with a crisp Resene White for the exterior facings, fascia and corner boards. Details were added with Resene Grey Friars.
"Our biggest learning was how much a residential restoration can impact the local community," says Chessa, who had people from all over the Wairarapa popping in to see the restoration in process. "They were wanting to have a look at the progress, sharing their opinions and memories and supporting our labours, which was humbling and gratifying for us.
"For me, as a heritage practitioner, it was a valuable reminder of the social values that a building can hold."
"I think we're happiest that we have saved the house from demolition by neglect, and we have hopefully given it another 100 years of life."
Read more about Rare Buildings here or visit Chessa's website
Images by Jason Ireland
top tips: If you're renovating an older home with a neutral colour palette, use warmer whites and neutrals to colour your walls. Creamy whites, such as Resene Spanish White and Resene Villa White will warm up your living areas and won't need as much natural light to brighten the space as cooler whites would. For period appropriate colours check out the Resene Heritage Chart here.
Check for lead: Until 1965, many paints had high lead levels. This was particularly true of pre-1945 paints. Even if a building has been recently painted, it may have been painted with lead based paints or have layers of old paint covered by modern paint. Today only special purpose paints contain lead and these are clearly labelled. It's not possible to tell lead-based paints by their appearance, but there is a simple test that can detect whether the paint is a health risk. You can purchase a lead based paint test kit from your local Resene ColorShop. If a building was built and painted prior to 1970 it is best to presume that it has been painted with lead-based paint. Learn more about dealing with lead based paint here.
Older homes often have less than perfect surfaces. Choose lower sheen finishes, such as Resene Lumbersider low sheen waterborne paint for weatherboards and Resene SpaceCote Low Sheen for interior surfaces, which are more sympathetic and help hide surface imperfections compared to glossier paints.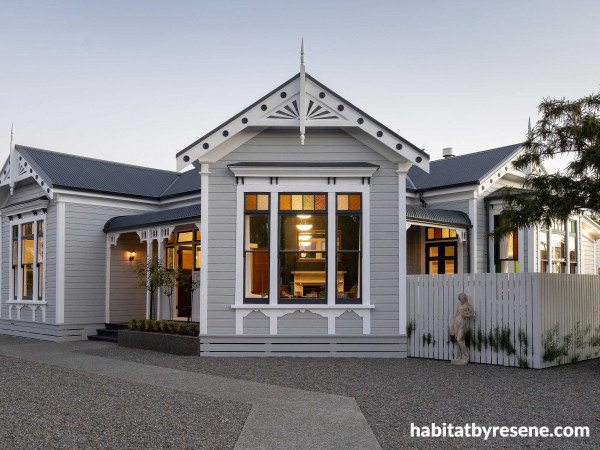 The exterior of the villa glows with a polished finish in Resene Half Delta. The window trim, doors and details are in Resene Grey Friars, while Resene White makes a splash on the facings, fascias and corner boards.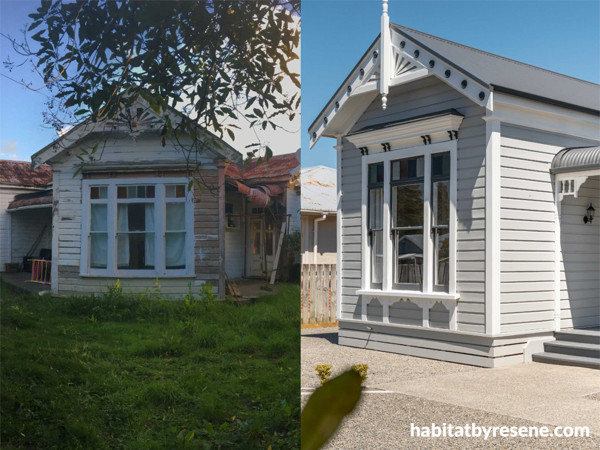 Before and after: The house, visible from State Highway 2, had no posts on the veranda, poorly relined walls and its lean-to was falling to pieces. Chessa and Rob transformed the villa using Resene Half Delta for the weatherboards, Resene Grey Friars for the window trim and detailing, and Resene White for the facings and corner boards.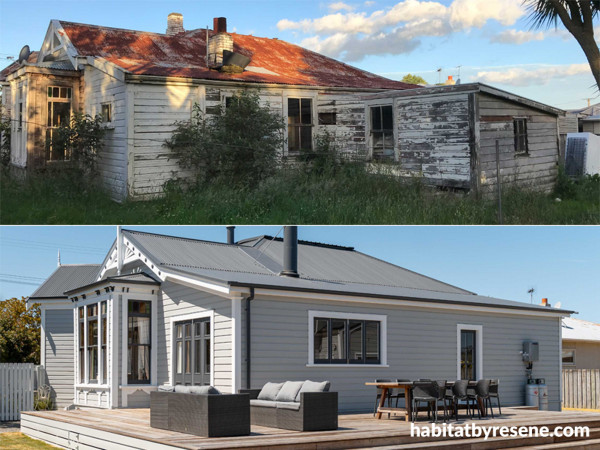 Before and after: The backyard was completely overgrown, and the home was riddled with rot and broken windows. Now, the house stands proud with clean weatherboards in Resene Half Delta, window trim in Resene Grey Friars and facings and corner boards in Resene White. The new wooden deck enhances the flow between the house and the studio.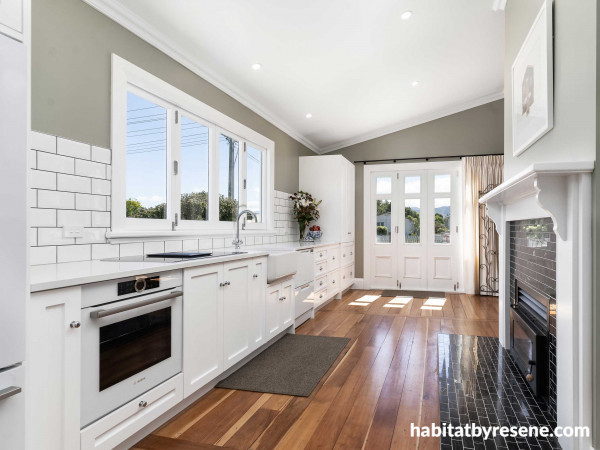 Before the renovation, the kitchen consisted of a single small bench unit. Now, its vintage interior has been modernised using Resene White on the trim and a smoky grey green Resene Lemon Grass on the walls.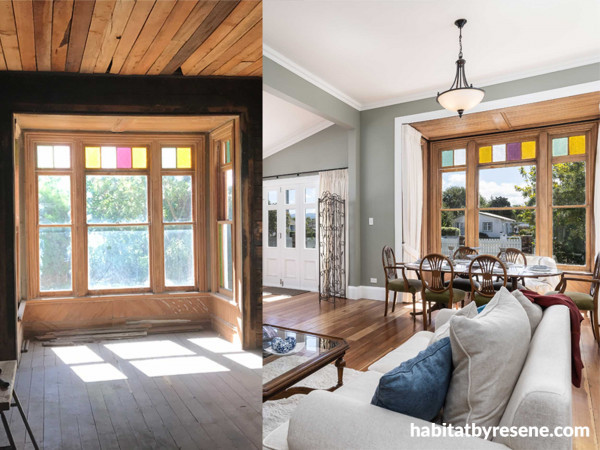 Before and after: Chessa and Rob removed layers upon layers of paint from the timber doors, which they then left natural. Use Resene Aquaclear for a similar look on your wooden accents. The informal living area and dining room are coloured in Resene Lemon Grass which perfectly complements these timber features, highlighted with trim in Resene White.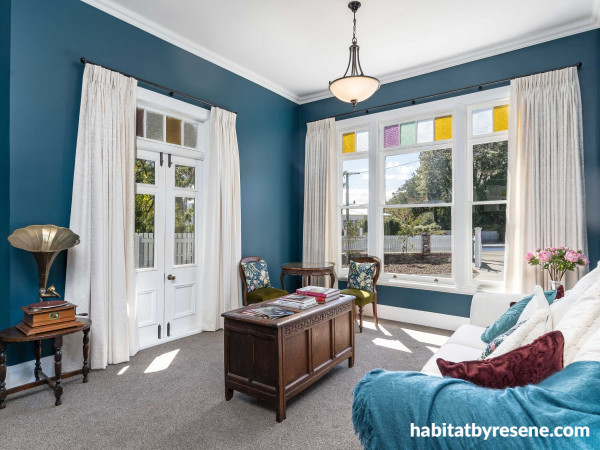 The couple broke away from their neutral colour palette in the formal living area and painted the walls in Resene Tarawera with a trim in Resene White. The formal living area is Chessa's favourite room of her home and she made sure that while she added a touch of personality to the room, she retained the original foundation of the room's design.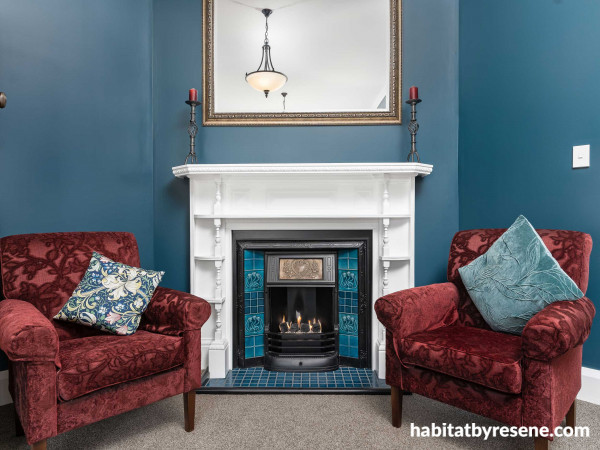 Chessa found that one of the biggest challenges was restoring the surroundings of the historic fireplace in the formal living area, which was very time consuming to repair, prep and repaint in Resene White and Resene Black. The striking finish contrasts against the wall in Resene Tarawera.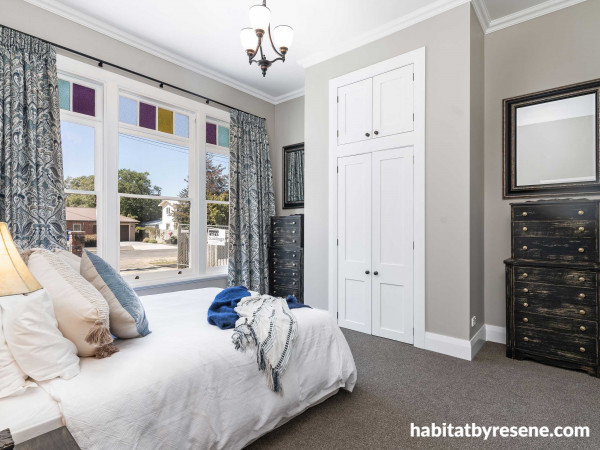 The master bedroom's cupboard doors and trim were given a clean finish in Resene White. Walls in Resene Tea create a soft glow that perfectly complements the couple's darker upcycled furniture in Resene Black.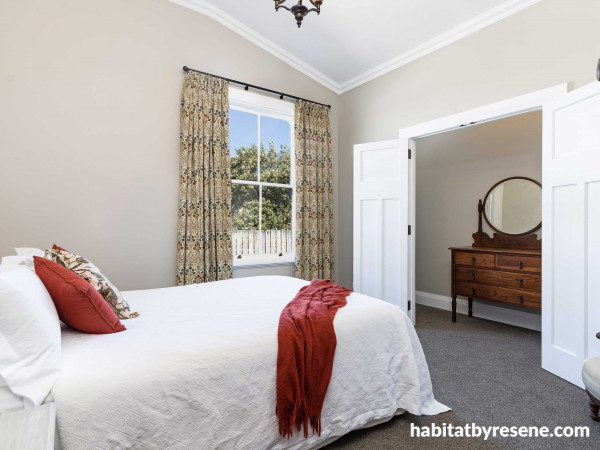 The second bedroom has a calm atmosphere and is painted in Resene Tea. The trim and doors lighten the room and are painted in Resene White. Chessa also used Resene Lemon Grass to upcycle selected furniture in the second bedroom.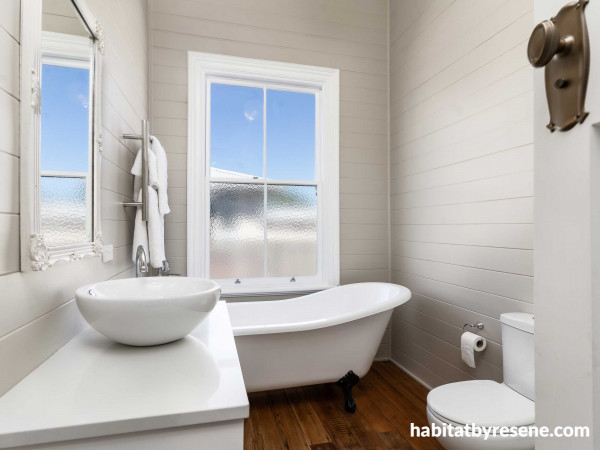 The bathroom has retained its vintage-feel with a gorgeous claw-foot bath complemented by walls in Resene Tea and trim in Resene White.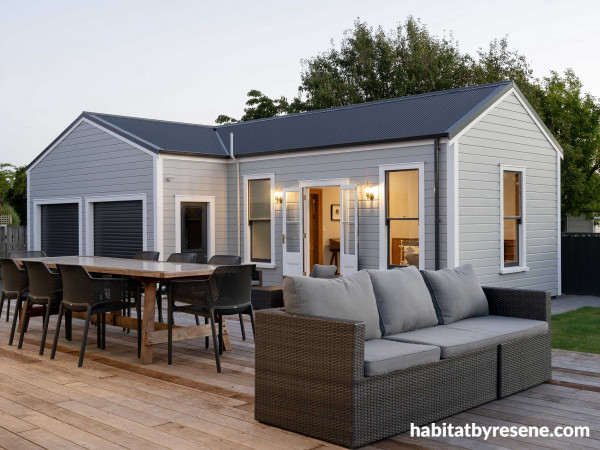 The new studio and garage sport recycled windows and doors with the same colour palette as the main house; soft Resene Half Delta on the weatherboards, Resene Grey Friars on the garage doors and Resene White on the trim.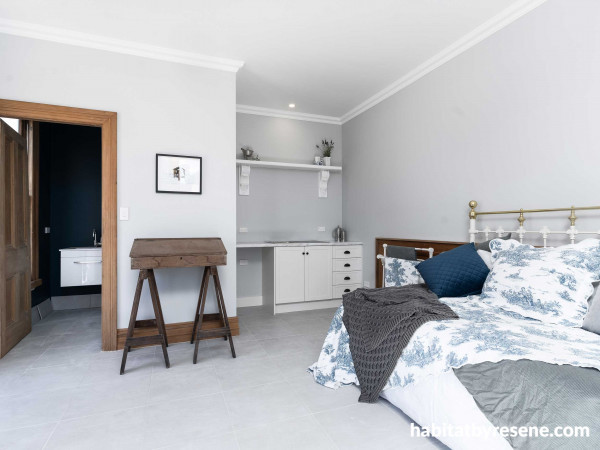 The studio has a light and breezy interior with walls painted in Resene Quarter Silver Chalice and trim in Resene White. The ensuite is painted in deep Resene Tarawera; a subtle nod to the use of Resene Tarawera in the formal living space of the main house.
Published: 13 May 2021
Do you have a home full of wonderful Resene paint and colour? Send us some snaps by emailing [email protected].
the look
If you're stuck on what
colour to use or need colour
advice, try out the Resene
Ask a Colour Expert service.