►
◄
latest
habitat tv
blog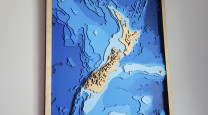 A dreamy makeover for an Invercargill villa
The charming city of Invercargill, at the southern tip of New Zealand, boasts a rich history filled with elegant villas that have stood the test of time. One such villa has recently undergone a stunning transformation through the creative vision of interior designer Candace Schrader. Despite the geographical distance from her project, Candace's keen eye for design and her clever use of Resene paint colours brought homeowners Josh and Micaela's dream home to life.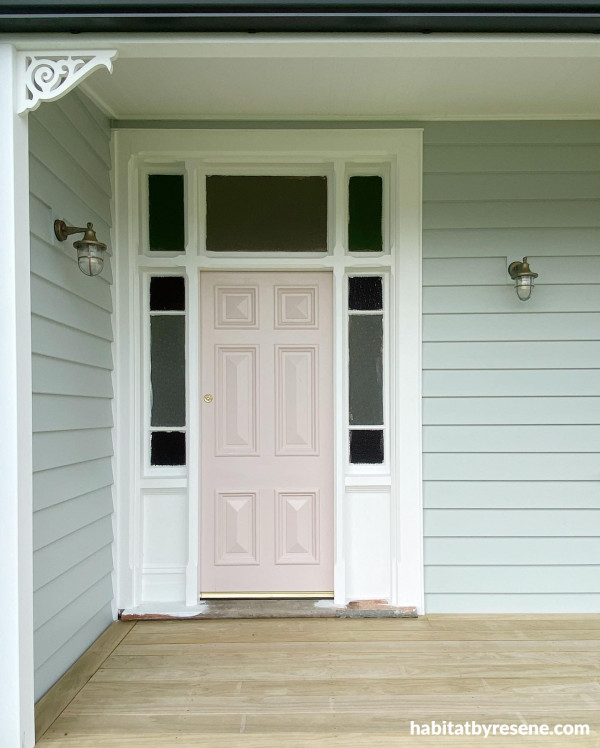 This enchanting villa is painted in Resene Half Periglacial Blue, with the front door painted in Resene Blanched Pink. Trims are painted in Resene Black White.
Originally, the villa had been relocated to its present site by Micaela's parents. Micaela, who grew up in this cherished family home, had always harboured dreams of renovating it. When the opportunity finally arose, she and her family seized it with enthusiasm. "My teacher from when I was five reminded me recently that I told her I would live in that house one day, so I guess it was meant to be," Micaela says.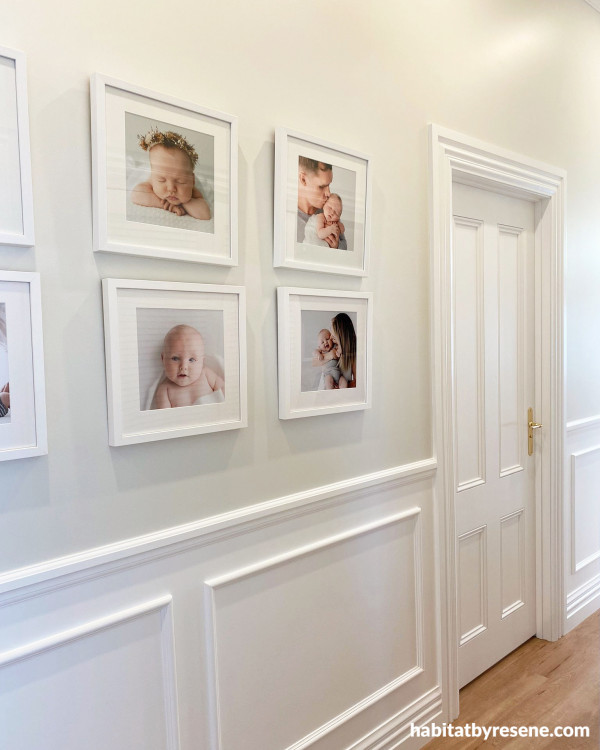 The hallway is painted in Resene Merino, with lower panelling and doors in Resene Alabaster, now showcasing pictures of her own children, just as it once did of her as a child.
Candace, from Home Candy Interiors based in New Plymouth, was up for the challenge of working remotely on this project, providing her expertise to Josh and Micaela, who were living overseas in Japan at the time. "Micaela reached out to me with a lot of great ideas and an idea of what she liked, but wasn't sure on how to pull everything together," Candace says. "I took the colour palette she was drawn to and guided her down a path suited to this old home, blending her modern aesthetic with the bones of the old girl."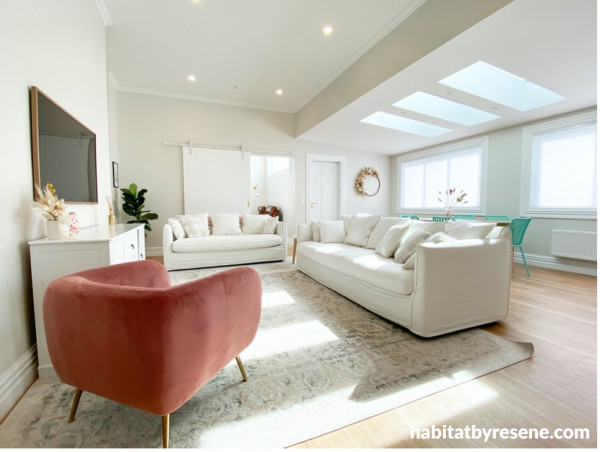 Inside, the kitchen, dining, living and hallway were painted in the soothing neutral of Resene Merino with trims in Resene Alabaster. "We wanted warm inviting tones with pops of greens and pinks enhancing this to create a welcoming family home," Candace says.
The colour palette chosen for this renovation was nothing short of spectacular. The exterior of the villa was painted in the tranquil shade of Resene Half Periglacial Blue, creating an inviting atmosphere from the moment you arrive. The front door was adorned in the charming Resene Blanched Pink, adding a whimsical touch to the home's entrance.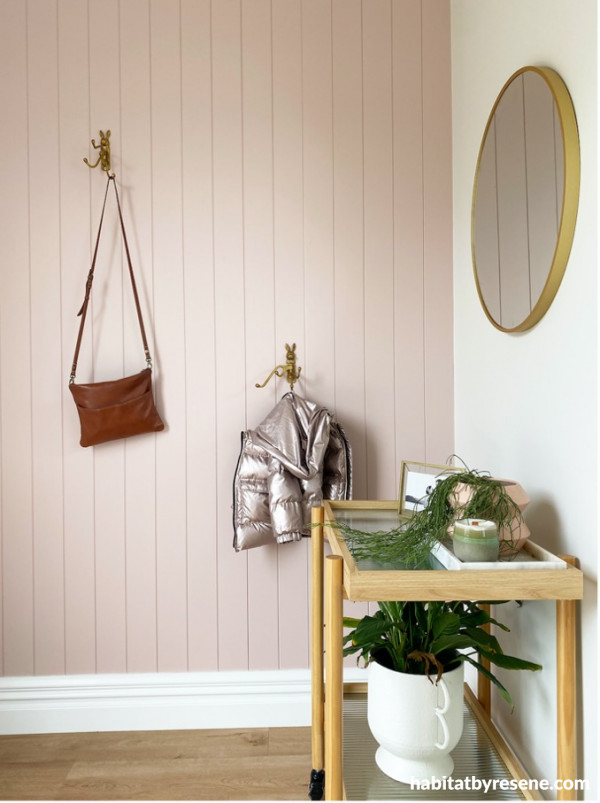 The back entrance tongue-and-groove wall is also painted in the delightful Resene Blanched Pink, creating a sense of continuity from the exterior and the front door.
The master bedroom was painted in the elegant grey green hue of Resene Yucca, while the children's bedrooms showcase feature walls using Resene Soothe, a dusty umber pink, and Resene Gothic, an icy blue. These touches of colour in personal spaces adds a dash of individuality and expression to each space.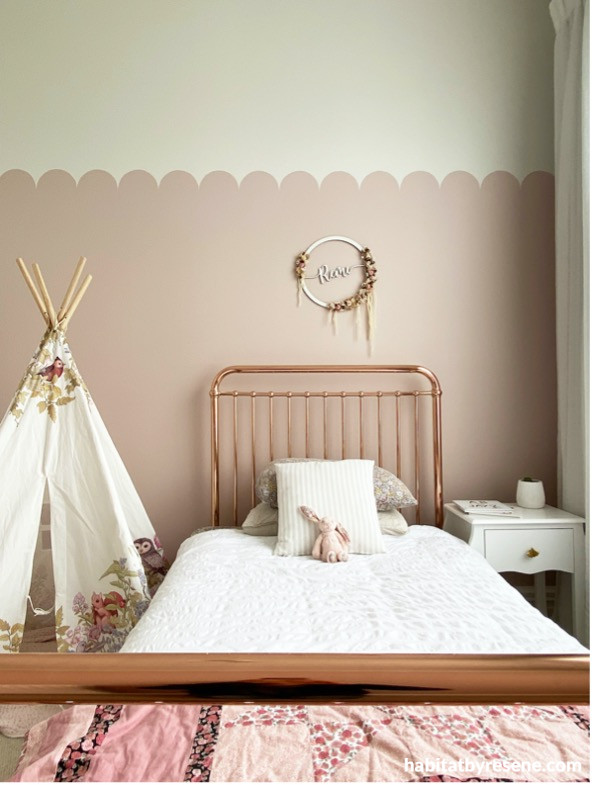 Remi's room features Resene Soothe on the lower half of the wall, and Resene Merino on the top. "I love the colour and the scalloped look, it feels bright, fresh and welcoming," Micaela says.
Micaela and Candace were very much on the same page when it came to a love of colour and their shared vision celebrates the villa's inherent beauty while infusing it with modern elements. "I wanted a modern vibrant feel," Micaela says. "I had always envisaged the exterior to be blue. I also knew I wanted a green bedroom, my son wanted blue and my daughter pink, so with that guidance we were able to really pin down what worked well together."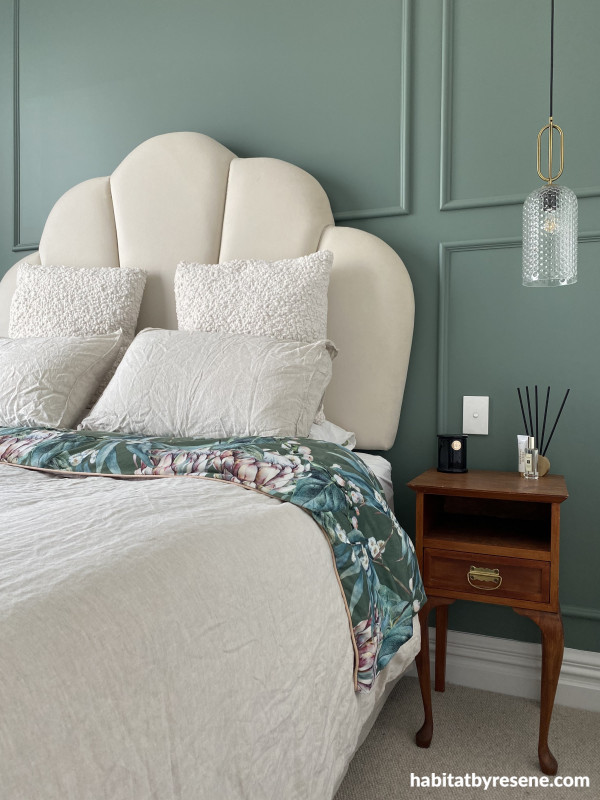 Among the Resene colours used in this project, Candace holds a special affinity for Resene Yucca, which graces the master bedroom. She appreciates its balance of warmth and cosiness, making it the perfect choice for a room that doesn't receive abundant natural light.
One standout space in the villa is the bathroom, which Candace describes as one of her favourite spaces she's ever created. "Micaela was so brave and trusting," she explains, referring to the bold choice of using patterned tiles on the floor and part of the back wall. It's a room where every element came together seamlessly, reflecting the essence of the entire home.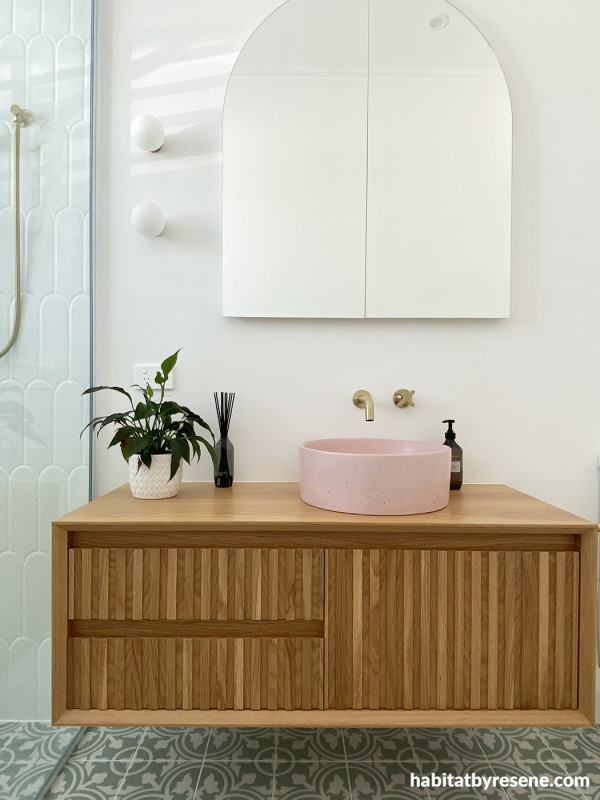 The green tiles and blushing pink sink mimic the colourful theme throughout the home, working well with the walls painted in Resene Quarter Merino.
Working remotely on this project presented its unique set of challenges. "Not being able to pop to site and chat through any issue with tradies while they were there was something we had to work around." However, effective communication and the dedication of everyone involved ensured that the design aspects were executed according to Candace and Micaela's vision.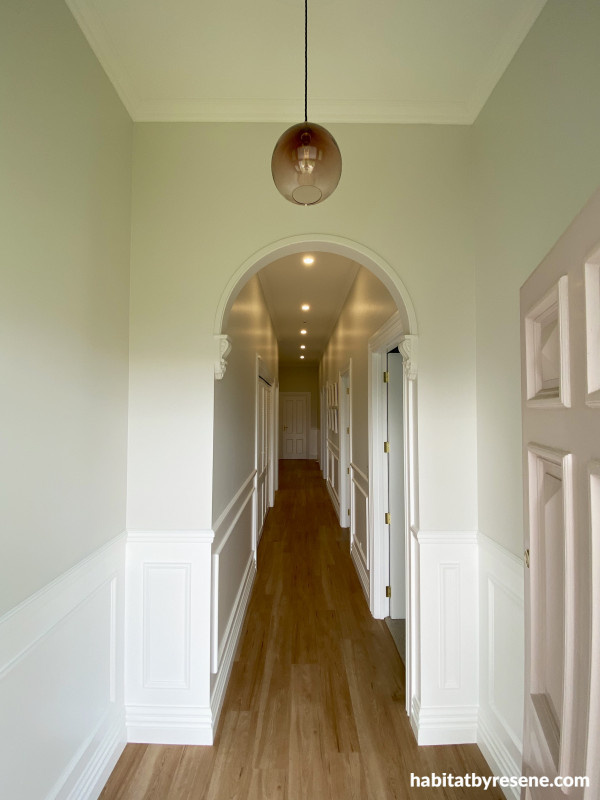 The hallway walls are painted in Resene Merino, with lower panelling and ceiling in Resene Alabaster. The front door is in Resene Blanched Pink.
"Reinstating the arch in the hallway was really the starting point for the whole design plan," Candace says. This arch served as a central theme, echoed throughout the home, from accent tiles in the bathroom to the curved cabinet entering the kitchen.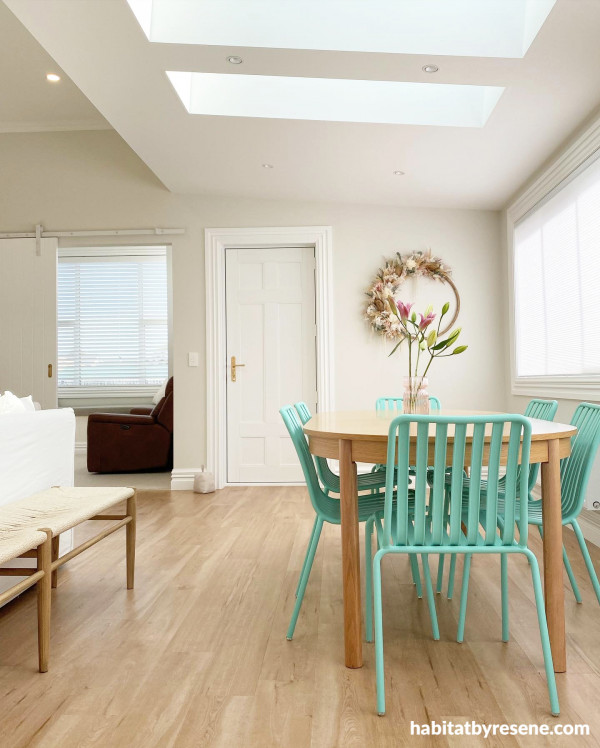 Pops of greens and pinks flow through the open plan living and dining in décor. The walls are painted in Resene Merino.
Candace's personal interior style leans towards rustic and farmhouse aesthetics. Yet, her versatility as a designer shines through as she adapts her creativity to her clients' visions. She believes in bringing her clients' styles to life, ensuring that their homes reflect their personalities and provide a space to relax and unwind.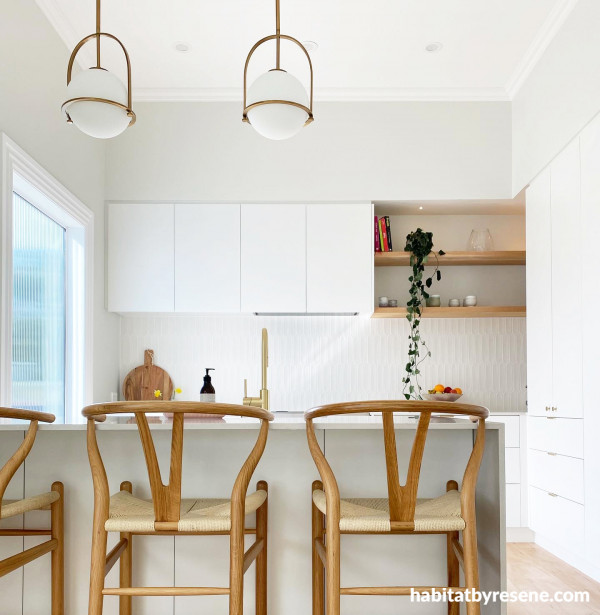 This modern and bright kitchen is painted in Resene Merino, with ceiling and trims in Resene Alabaster.
The family's villa, once a cherished memory, has been lovingly revitalised into a vibrant and inviting home. With the guidance of interior designer Candace and the use of Resene colours, this renovation is a testament to the beauty of blending the old with the new, creating a harmonious space that captures the essence of both past and present. Micaela's advice if you're thinking of renovating or decorating… "Get an interior designer, preferably Candace!"
design and images Candace Schrader, Home Candy Interiors
Top tip: Always check your paint colour choices with a Resene testpot. Paint an A2 size card, leaving an unpainted border. Move the colour around the room at different times of the day and night to see how it looks in different light. Visit your local Resene ColorShop.
Published: 04 Oct 2023
Do you have a home full of wonderful Resene paint and colour? Send us some snaps by emailing [email protected].




Resene Half Periglacial Blue










the look
If you're stuck on what
colour to use or need colour
advice, try out the Resene
Ask a Colour Expert service.