►
◄
latest
habitat tv
blog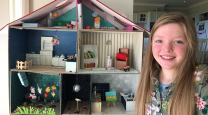 A historic Mount Eden villa gets the loving touch from an interior designer who calls her mother a client.
When interior designer Clare Kitching set about creating a new Resene colour scheme for her mother Raewyn's late-1800s villa, she started by reviewing her own taste.
"My mum is more of a maximalist than I am," she says. "My style is influenced by the simplicity and functionality of mid-century modern. Mum loves pouring through The World of Interiors magazine, with its homes filled with colour, lots of art of various styles and periods and different patterns and textures all mixed together.
"We have different tastes, but it was really fun working with her and opening up my own mind to a new style."
Understanding that every interior design project needs to be personalised for the user, Clare tackled colour head-on. Out went the villa's pale walls, to be replaced by a sophisticated scheme that includes paint shades such as Resene Beethoven, Resene Robin Egg Blue, and Resene Smalt Blue from the Karen Walker Paints collection.
"I'd consider my mum's interior to be a mix of historical and modern aesthetic, like that of an interesting English home," she says.
"We wanted to give each room a sense of warmth and character while staying true to the home's heritage nature. So we mixed bold, moody colours in some rooms and beautiful, calm neutrals in others. Tonally, the colours all work together."
Resene Quarter Robin Egg Blue from the Karen Walker Paints collection was chosen for Raewyn's favourite room in the house, the lounge. "I get the most enjoyment from walking into the main living room, especially in the afternoon when the sun shines in," she says. "There's nowhere better to lie on the sofa and read a book after a busy day in the garden. It's very tranquil."
A small south-facing bedroom was painted in Resene Beethoven, a gentle terracotta shade that Clare says brings the room to life. The moody green/blue Resene Smalt Blue, a colour particularly suited to heritage-style homes, was chosen for Raewyn's bedroom. "The master bedroom is next door to the lounge," says Clare. "So Resene Smalt Blue is viewed side by side with Resene Quarter Robin Egg Blue. The blue/green of both work harmoniously with each other, while creating two very different feelings within each room.
"The colour palette for the entire house was chosen to be in symmetry with my mother's art and objects, which have been collected over a lifetime of travel. Some of her art is large, modern and bold, while other works are delicate, small and historic.
"Through the use of colour, her art has come alive, as has the home."
One room that Raewyn didn't want to change – much – was the kitchen. "Mum wanted to retain the original kitchen but to update the cabinetry and benchtops," says Clare. "The cabinets were repainted in Resene Blackjack to create a moody kitchen, offset against the kauri panelling and modernised with stainless steel benchtops."
Despite understanding that having her mother as a client might be challenging, Clare says that the actual process was a lot easier than she expected. "That's mainly because Mum knows what she likes and doesn't like and is very decisive."
The project also provided Clare, who runs Auckland company PeachHaus Design & Development, with a valuable lesson. "It taught me to be braver with colour as it adds so much personality to a home," she says.
The main living area, Raewyn's favourite room, is restful but still uplifting, painted in the delicate blue/green tones of Resene Quarter Robin Egg Blue. The ceiling and skirtings are in Resene Alabaster.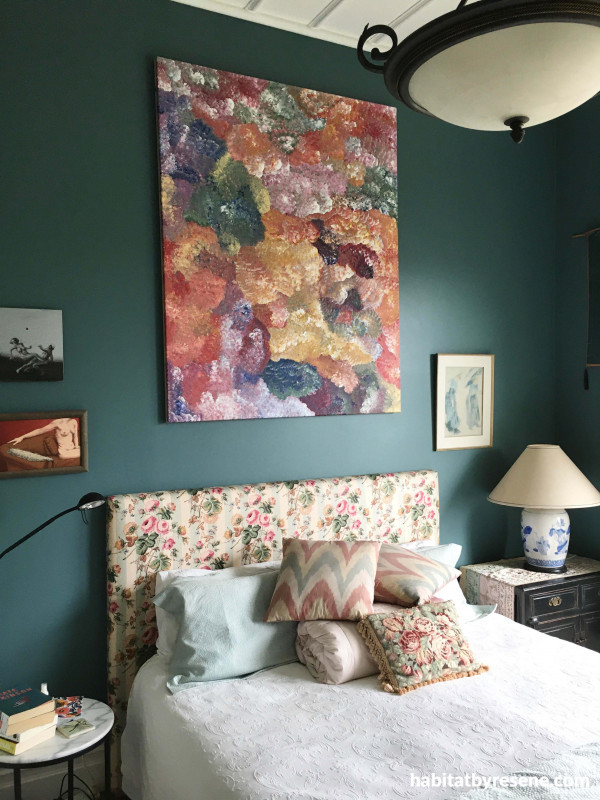 The walls of the master bedroom, painted in Resene Smalt Blue from the Karen Walker Paints collection, create a fantastic backdrop for a sizeable Aboriginal painting, which has blue and green within it.
The home's smallest bedroom is painted in Resene Beethoven, a colour Clare loves. "That's probably because you don't walk into anyone else's house and see that colour at the moment. I also think it looks great with the black-and-white art and bedding. It's simple yet exciting. It's also turned a room that was overlooked into more of a statement piece." The skirting is in Resene Alabaster.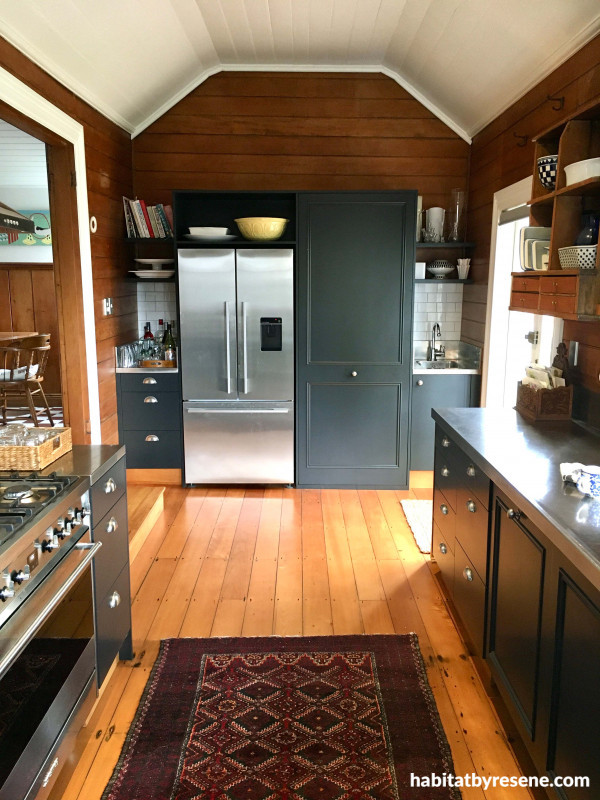 The kitchen, with cabinetry in Resene Blackjack, proved the project's biggest challenge. "The floor was uneven, and we had to get builders to re-pile under that section of the house, raise one end of the kitchen floor and then get the kitchen cabinetry to work still," says Clare. The ceiling and trims are in Resene Alabaster.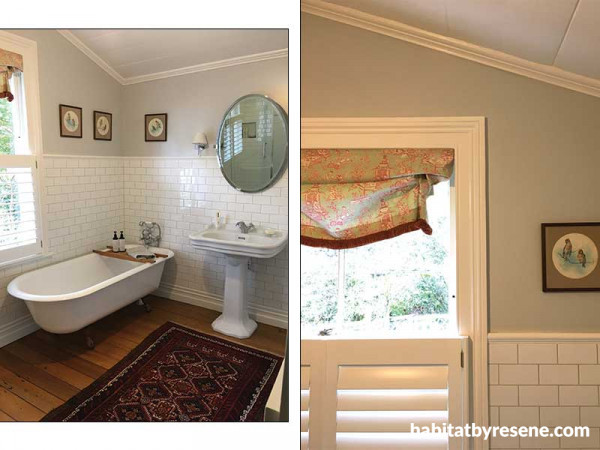 By deciding on a colour – Resene Alabaster – known for its reflective, silvery grey sheen, Clare and Raewyn were able to create a timeless, chic look for the bathroom in keeping with the late-1800s villa. The ceiling, skirtings and trims are in Resene Alabaster.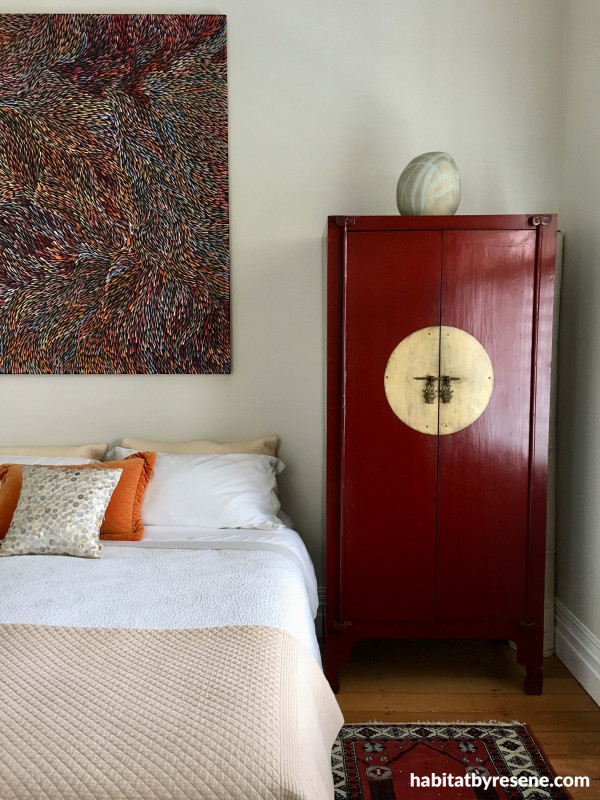 The spare bedroom is in Resene Albescent White. "This room is south-facing, so we wanted to keep it light and bright as it's the first room that comes off the dark, kauri-panelled hall," says Clare. "The pale linen colour reflects light around the room beautifully."
Images Clare Kitching
Follow Claire on Instagram @peachhausdesign
Published: 15 Dec 2020
Do you have a home full of wonderful Resene paint and colour? Send us some snaps by emailing [email protected].
the look
If you're stuck on what
colour to use or need colour
advice, try out the Resene
Ask a Colour Expert service.