►
◄
latest
habitat tv
blog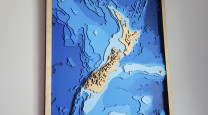 A modern twist on a traditional villa
If you've ever wondered what it takes to turn a small three bedroom, one bathroom villa into a modernised four bedroom, three bathroom family haven, then this incredible home transformation is sure to give you some inspiration. Hayley O'Conner, principal designer at Colab Industry, not only revamped her living space using Resene paint and her expert skills, but also gave it a contemporary twist while preserving the villa's traditional charm.
The brief for this Remuera home was to create a family-friendly, open-plan space that seamlessly marries contemporary design with the villa's traditional aesthetic. The inside of this transformed villa exudes elegance and luxury and Hayley's dedication to quality materials and fixtures shines through in the finished result.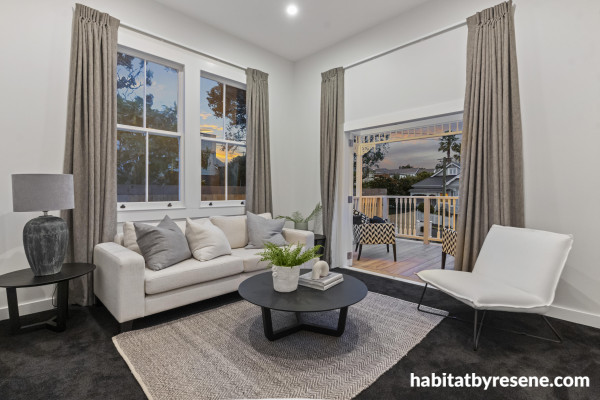 This charming living room is adorned in classic neutral décor creating a cosy, inviting feel. The walls are painted in Resene Wan White, with trims and ceiling in Resene Eighth Black White.
One of the standout features of the renovation was the restoration of the original sash windows, highlighting the commitment to preserving the villa's character. Soft and subtle floating linen-look sheer window dressings allow for diffused light, creating a serene atmosphere, and hardwood engineered timber floors and natural elements seamlessly blend with the contemporary interior.
When it comes to home makeovers, one of the most critical choices is the colour palette. From the exterior weatherboards in Resene Eighth Black White to the dramatic front door in Resene Black, the charming exterior choices set the stage for what's to come.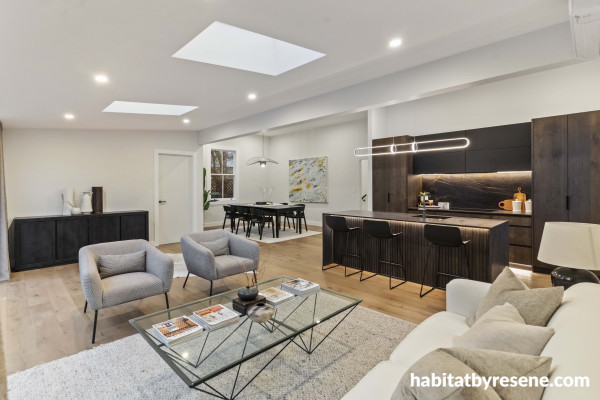 Skylights work to brighten this space naturally and show off the beauty of the oak cabinetry stained in Resene Treehouse. The walls are painted in a gentle neutral, Resene Wan White, doors in Resene Double Wan White and ceiling and trims in Resene Eighth Black White.
The interior walls are painted in warm and welcoming Resene Wan White, while internal doors stand out in Resene Double Wan White while still maintaining a cohesive feel.
"Resene Wan White from the Karen Walker Paints range was chosen to be used throughout the home as it is a warm grey neutral that is easy to work with and complements a broad variety of other colours, materials and finishes," Hayley says. "All trims were painted in Resene Eighth Black White to offer continuity from the outside and define the Resene Wan White walls from the ceiling, windows, door frames and skirting boards."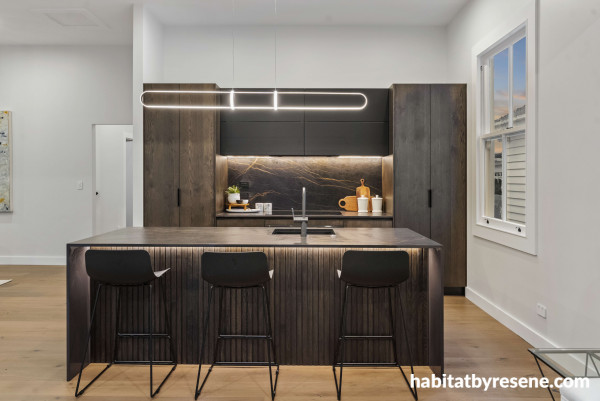 The natural grain of the oak cabinetry is shown off through the stunning dark wood stain, Resene Treehouse. Walls are painted in Resene Wan White and trims and ceiling in Resene Eighth Black White.
Let's not forget the heart of the home, the kitchen. With two coats of Resene Treehouse on the oak cabinetry, it's no wonder Hayley describes it as "amazing." The subtle green and brown undertones in this dark shade beautifully complement the kitchen's charcoal base and rust-coloured veins on the Dekton Laurent benchtop.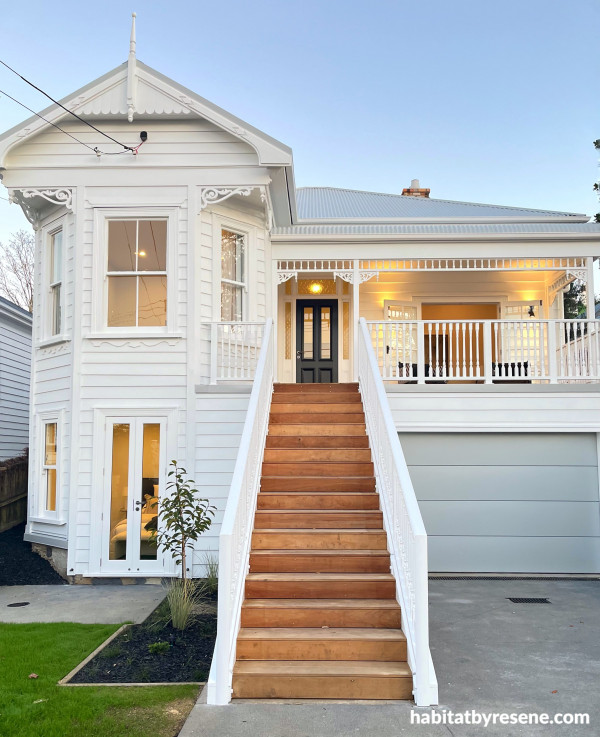 An exterior to make you stop and marvel in its beauty. This home is a stunning sight, painted in Resene Eighth Black White, with a dramatic and bold front door in Resene Black.
While Hayley appreciates every aspect of her home renovation, the open-plan kitchen, living and dining area is her favourite. Walls were removed, and expansive windows were installed to open up the living spaces, allowing them to flow effortlessly onto the deck and landscaped garden — an ideal spot for entertaining friends and family.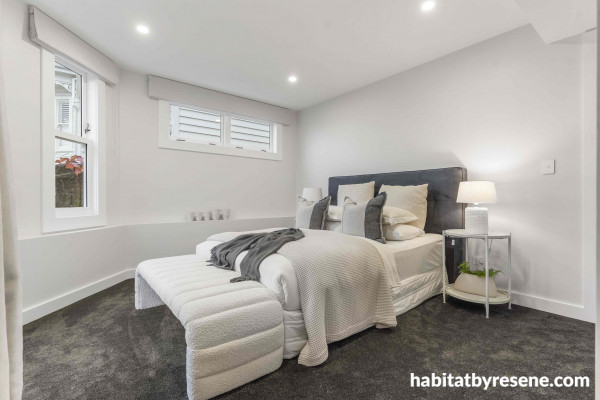 The gentle grey of Resene Wan White on the walls creates a charming and timeless feel in this bedroom, while the skirting and trims in Resene Eighth Black White provide a seamless transition from outside to in.
When it comes to Resene colours, Hayley has a clear favourite. "Resene Eighth Black White is my all-time favourite as it can be used in any setting from an ultra-modern home where white plays an important role as an understated backdrop allowing tactile natural elements of a home to feature," Hayley says. "Or it can be used in the case of our villa renovation where it has been used to frame and accentuate the soft grey wall colour in Resene Wan White."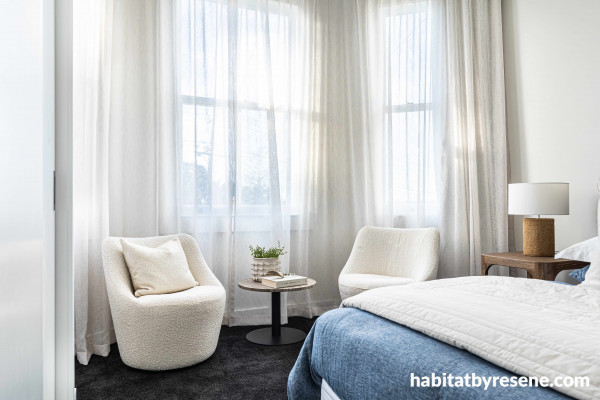 Inviting and comfortable furniture adorns this bedroom, and subtle floating sheer window dressings allow for diffused light, creating a serene atmosphere. Walls painted in Resene Wan White and trims in Resene Eighth Black White.
In describing her own interior style, Hayley embraces the modern aesthetic, characterised by clean lines, and natural textures and elements. She enjoys adding mid-century furniture and geometric wall finishes to create a well-balanced and harmonised living space.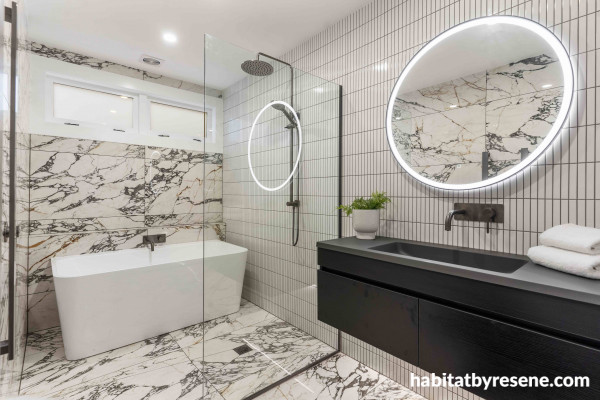 Any bathroom style seamlessly blends with Resene Eighth Black White, used in this bathroom on the ceiling and trims to complement the neutral shaded marble and finger tiles.
As with most projects, there can be challenges along the way. For Hayley, the biggest hurdle was completing the outdoor landscaping, pouring the driveway and laying hydro seed amid the severe flooding in Auckland. Despite the challenges, the end result is a testament to her dedication and resilience.
Hayley's home transformation truly shows us the power of vision, dedication and the right colour palette. It's proof that you can marry the old with the new, creating a home that's not only functional but also a true work of art.
design Hayley O'Connor www.colabindustry.co.nz
images Mitch Brown www.fabit.co.nz
Top tip: Older homes can often have uneven walls. If you have a lot of imperfections you are trying to cover, try using a lower sheen paint, such as Resene SpaceCote Flat or Resene SpaceCote Low Sheen. They will help to hide surface imperfections compared to higher sheen paints. Another way to make an imperfection or awkward portion of an area less obvious is to paint it the same colour as the surrounding area. This will help it to blend in, and you can then use a feature colour elsewhere if you want to redirect attention.
Published: 27 Sep 2023
Do you have a home full of wonderful Resene paint and colour? Send us some snaps by emailing [email protected].


Resene Eighth Black White








the look
If you're stuck on what
colour to use or need colour
advice, try out the Resene
Ask a Colour Expert service.