►
◄
latest
habitat tv
blog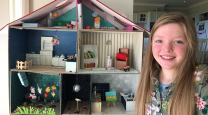 A modern Waikato home is given an old world sensibility
After living in a bungalow alongside their ever-growing collection of antiques, Jo and Sean began their property search five years ago wanting the scope to blend their love of history – and their vintage trove – with a home's more contemporary spirit.
Enter their new Waikato home, refreshed in Resene paints, with this sentiment carried into every room. It can be found in the smallest of details – an old train poster there, a handheld lantern there – and yet their storied pieces are anything but understated. "It's nice to have that blend of craftsmanship and history within a new space to give it depth," says Jo. There is, she explains, a constant balancing of old and new, and what emerges is a beautiful, harmonised découpage of the couple's personal tastes.
This all begins in their entryway, where mortar grey Resene Quarter Stack is paired with wallpaper bursting with uneven black semicircles, at once striking and artistic. "Their repetition made a modern statement against the antique hall stand," explains Jo. "Once hung on the wall, Sean likened the shapes to train tunnels." For a couple with twin careers in the rail industry, it is an entirely fitting starting point for a motif that can be found in almost every room.
Resene Quarter Stack continues into the dining-meets-family room. "The paint choice was subtle to accommodate the room's teal couches and lighten the room," says Jo.
"As the kitchen is the main hub of the house, we chose to continue the same colour through from the dining/family room," Jo says of their choice to repeat Resene Quarter Stack. "As a vantage point to view the various wallpapers and paint colours, it was important for us to have a cohesive colour that didn't take away from the patterns in the various rooms."
What follows is a series of rooms that carry their own but make sense as part of the home's larger, character-rich narrative. There's a master bedroom, where a commanding flower-print wall in Resene Wallpaper Collection FD23833, available from Resene ColorShops, appears as if drawn by hand, and spare bedrooms where the cool hues of Resene Concrete are rounded off by the vibrant pops of pillows and throws.
Neither drab nor aggressively furnished, Jo's decorating secret is simple: "If you keep your décor classic or eclectic, a change of wallpaper or paint can be all the difference you need to update your space. Mix up quality soft furnishings with things from large department stores, spend on things you can't live without and less on the things that are driven by fashion." In each case, she points out, a renovation is "a good opportunity to rearrange, redesign and repurpose" what you already have.
Beginning their renovations after the birth of their daughter, Keeva, the couple have been taking their renovation process one step at a time, but it's precisely what they needed for their growing family. "It's still a work in progress and ever-changing but it's getting there slowly," says Jo. "Our design is always evolving."
decorator Waikato Property Improvements Services
images Jessica Judge
Published: 30 Sep 2020
Do you have a home full of wonderful Resene paint and colour? Send us some snaps by emailing [email protected].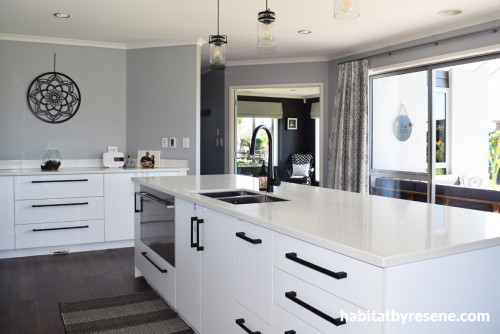 So as not to take away anything from the home's various rooms, the homeowners painted their kitchen in Resene Quarter Stack – a simple but important choice for a room that functions as a vantage point to other rooms. The ceilings are in Resene Black White and the trims are in Resene Alabaster.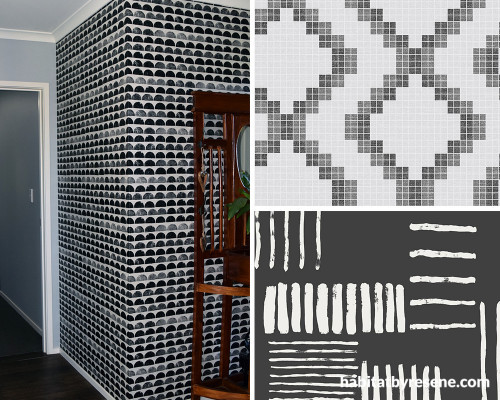 The entryway makes for a bold, artistic welcome to this home, a hint of what's to come throughout the rest of their home. For this look, they teamed Resene Quarter Stack with Resene Wallpaper Collection 34244-2, a striking design complete with black, brushed semicircles from an older Resene Wallpaper Collection. For a current alternative, try Resene Wallpaper Collection FD23864 or Resene Wallpaper Collection E377133, available from Resene ColorShops. Their antique hall stand, just one of their many found furnishings, gives the entrance its vintage charm.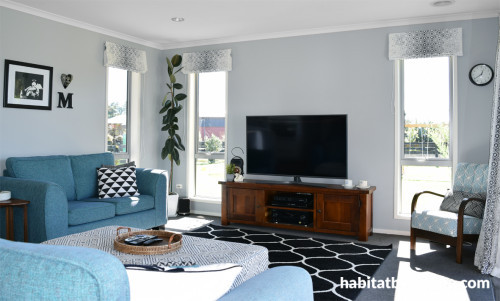 To balance their teal couches and ensure that their family room became light and bright, the homeowners chose Resene Quarter Stack. The ceiling is in Resene Black White and the trims are in Resene Alabaster to elevate the room's scale. Complete with a medley of pattern-rich soft furnishings in hues similar to Resene Comfort Zone, Resene Oxygen and Resene Toorak.
In the master bedroom, the couple combined Resene Fuscous Grey with Resene Wallpaper Collection FD23833, a stunning flower print available from Resene ColorShops."The dark charcoal walls give the room an intense feel, which is balanced by the monochrome scheme," says Jo. The ceiling is in Resene Black White and the trims are in Resene Alabaster.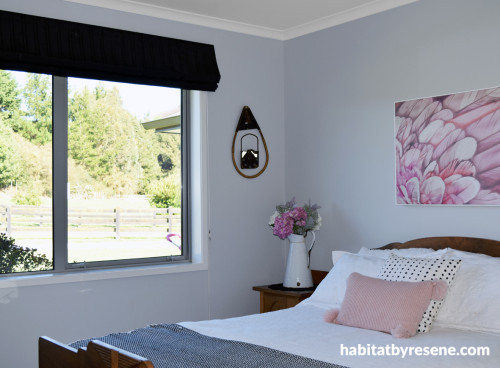 For their spare bedrooms, Jo and Sean chose frosted silver-grey Resene Concrete. "The light grey has a cool tone which is warmed up by the colours in the accent pillows and throws, an easy colour to use which is adaptable to décor changes, which can be quite frequent!" says Jo. Get the look by bringing in coral or cherry pinks like Resene Paper Doll or Resene Gelato.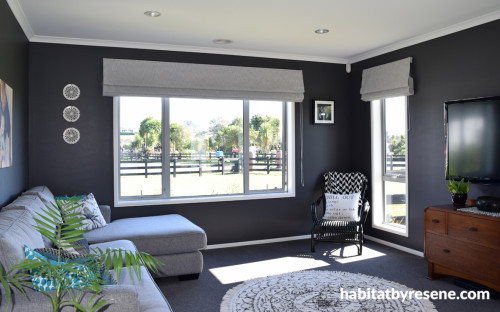 After seeing the deep, charcoal hue of Resene Fuscous Grey in their master bedroom, Jo knew they had to paint their TV room the same colour. Doubling as a playroom for their daughter, Keeva, Jo loves how it disguises "grubby fingermarks" while providing "an easy backdrop to the bright toys that get scattered about". The ceiling is in Resene Black White and the trims are in Resene Alabaster.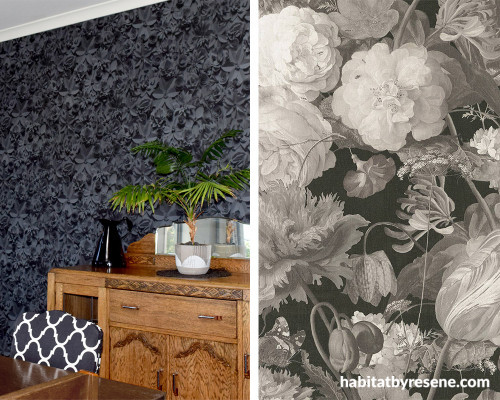 An expansive floor-to-ceiling flower wallpaper in Resene Wallpaper Collection 450402, a bold print from an older Resene Wallpaper Collection, takes centre stage in the dining room. For a current alternative, try Resene Wallpaper Collection E358001, available from Resene ColorShops. To balance this design and temper the statement piece, the couple painted the room's remaining walls in Resene Quarter Stack. The versatility of this colour means that their vintage pieces effortlessly meld with this combination.
the look
If you're stuck on what
colour to use or need colour
advice, try out the Resene
Ask a Colour Expert service.