►
◄
latest
habitat tv
blog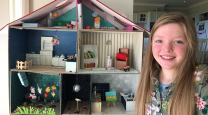 A renovated Te Awamutu home that's full of colourful surprises
For several years Amy and Mark looked for a new home. What they wanted was clear: a new chapter that their young children, aged two and four, could grow into. But two factors – namely, their street's charm and their property's beautiful, towering plum tree – proved impossibly hard to beat. So, the couple embarked on a four-month renovation that would leverage the bones of their existing 1960s weatherboard house while imbuing it with a glorious mélange of colours from Resene.
To adapt their home to their most pressing need – more space – Mark and Amy reconfigured their kitchen and living room, removing a wall to craft an open, flexible area. "It's been a total game changer for the way our house functions," says Amy. Nearby, the addition of a big, covered deck only amplifies the flow of the space.
Beyond this structural reboot, though, Amy was uncertain. "I struggled to find a starting point because I felt like I couldn't choose the paint before I chose the benchtops," she says of her decorating dilemma, "which I couldn't choose before I'd chosen the tiles, which I couldn't choose before I'd confirmed the colour for the tongue-and-groove panelling, which I couldn't choose before the upholstery and the curtains. I was going around in circles thinking that I'd just do everything white."
Her inspiration came in the form of Lambourne Quincey by Blendworth, a kaleidoscopic, bird-patterned fabric washed in greens, oranges, blues and yellows, which she had used to reupholster two armchairs her parents had bought when they got married, almost 50 years ago.
Amy describes it as her red thread, "the thing – colour, texture, fabric type, whatever – that ties everything together," she explains. "You might choose a fabric sample or a cushion that doesn't necessarily go into the finished design but helps you to make decisions about the overall look. It gives you the freedom, guidance and confidence to choose different things but keep the look cohesive without being too matchy-matchy."
Throughout, a palette of warm neutrals and pops of bold colour is a true assertion of their thread. In the kitchen, drawers in Resene Rock Spray, a deep orange, are a mostly hidden surprise, and complement a mixture of open wooden shelves, cabinets in Resene Sea Fog, leather handles, smooth laminate benchtops and ceramic tiles. "I love the feel of texture and warmth, so I definitely knew rattan and cane were going to feature," adds Amy, referencing their kitchen's lampshades made of rooster cages.
Elsewhere, panelling in burnt lime green Resene Saratoga, found beneath the breakfast bar, contrasts against hot pink dining table legs and a hallway and fireplace bathed in Resene Pizza. "It's warm, rich and luxurious, and contrasts so nicely with the stark Resene Alabaster trimmings and ceiling," says Amy of the latter mustard, which gives the pass-through space a slight 70s' vibe.
What is most striking about their home is the synergy of its many, often dramatically different parts. It is because, despite their renovation's relatively quick turnaround period, there's a sense that every decision has been thoroughly considered, as if they've been pulled apart and looked at through all possible angles. Her advice, then, is perhaps also their secret to design: "Take your time to make decisions. When you find pictures that you like, really try to dissect why you like them and what it is exactly that you like."
images supplied by Amy and Mark
Published: 28 Oct 2020
Do you have a home full of wonderful Resene paint and colour? Send us some snaps by emailing [email protected].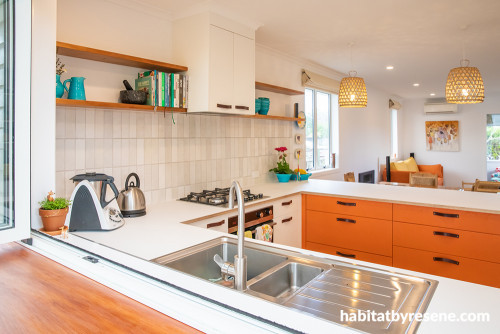 Unseen from the lounge, drawers in Resene Rock Spray offer a bright pop of colour against cabinetry in Resene Sea Fog and walls, ceiling and trims in Resene Alabaster. The kitchen is full of unique details, including leather handles, open shelving, ceramic tiles and rooster cages that have been turned into lampshades.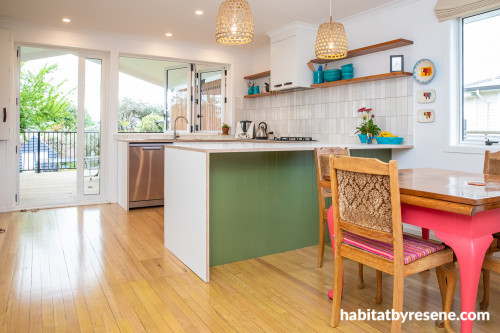 Resene Saratoga can be spied beneath the breakfast bar, which acts as a gorgeous contrast to their dining table's hot pink legs in Resene Cabaret. The kitchen cabinetry is in Resene Sea Fog and the ceiling, walls and trims are in Resene Alabaster.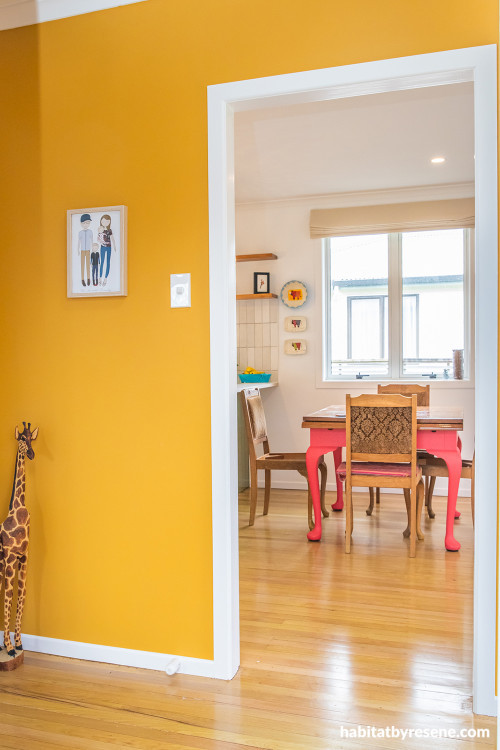 For the hallway, Amy trialled roughly seven different mustard-like testpots before choosing Resene Pizza, which she cites as her favourite Resene colour. The ceiling, trims and walls in the dining room beyond are in Resene Alabaster.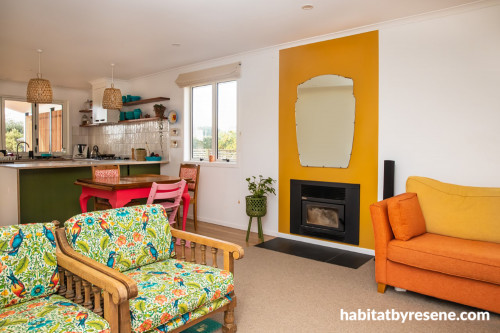 Lit up in Resene Pizza, the fireplace pairs beautifully with their orange-and-yellow sofa and walls, ceiling and trims in Resene Alabaster. "For a look similar to this, choose warm, earthy colours and be brave," suggests Amy.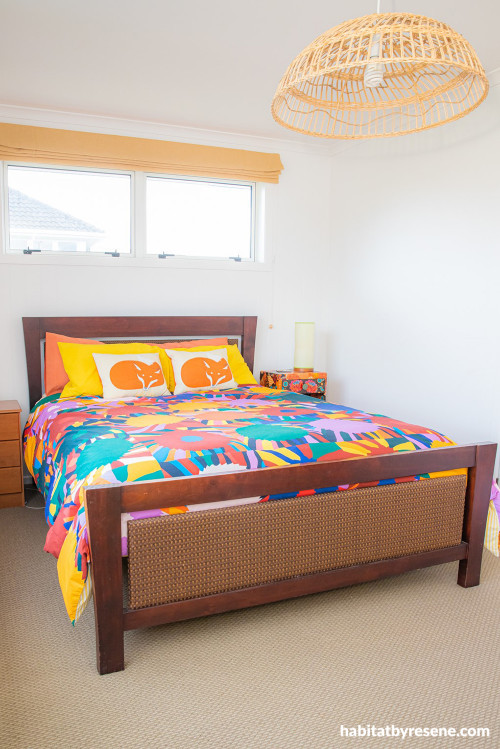 A bright bedspread continues the home's key colour story, and is striking against walls, a ceiling and trims in Resene Alabaster. The colours just make us happy," says Amy. The light shade, once a rooster cage, carries the theme of rattan.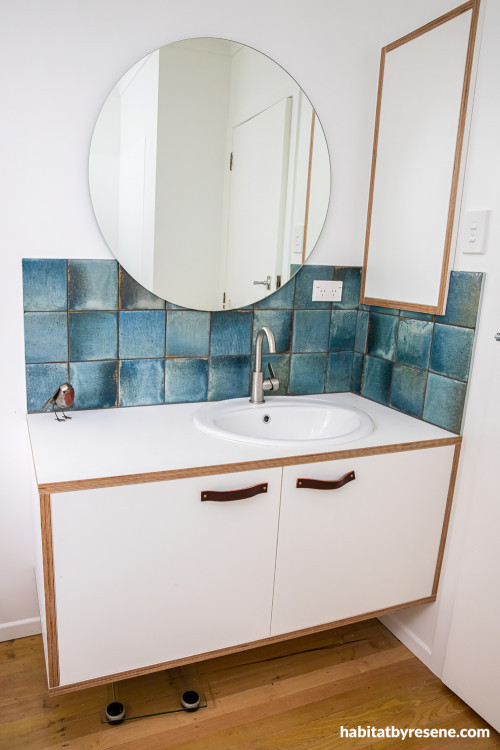 The bathroom boasts walls and trims in Resene Alabaster, and a selection of tiles in ombre blues. The leather handles on the cabinet match those found in the kitchen. "We'd seen leather handles a couple of years before and thought they were lovely (and cost effective)," says Amy, "so they were one of the first decisions made."
the look
If you're stuck on what
colour to use or need colour
advice, try out the Resene
Ask a Colour Expert service.