►
◄
latest
habitat tv
blog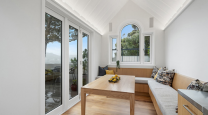 Master Builders' Chief Executive David Kelly shares his tips for building in the challenging climate.

Planning... more
A triumphant Katikati home where Mad Men and Bauhaus unite
Rachel and Shane's home on a hill may be known in local lore as The Blue House, taking its name from the arresting, effervescent Resene Half Smalt Blue that coats it, but this moniker is far from its first. Around three years ago, it had privately, endearingly been called The Napkin House. "We sat down in a hotel room in Taupo, with a glass of wine in hand, and each drew our dream home on the back of a napkin," tells Rachel of her and her partner's fateful serviette game. "The two homes were almost identical. So, we decided we'd better get on and build it."
This ultimately led them to a sprawling piece of land in Katikati. "We wanted a north-facing rural outlook with views of native bush, within easy reach of a town," says Rachel. "It took us a while to find anything, but we finally came across a section that was proving difficult to sell as the land was complicated to build on and wouldn't have suited a family."
For a freelance creative and an architectural designer equipped with one unified vision, the site was a welcomed challenge. They would craft their design, then tweak things as they went, distilling and refining everything they wanted in the process: a tribute to their love of mid-century design, something inspired by the Bauhaus School of the 1920s and a space for Shane to house his collection of cars.
The result is an uplifting style, multicoloured and undoubtedly retro, nestled into a slope that overlooks a valley of rolling hills and swept-back trees. "From the outset, we knew that colour would have to play a huge role, both inside and out," says Rachel, adding how, like their design process, their choices of Resene paints evolved organically after they discovered the beautiful breadth of the Karen Walker Paints collection.
Rather than grouping them tonally, hues such as statement Resene Clockwork Orange panels in the kitchen and soothing Resene Smoky Green for their interior's feature walls play off one another in order to tell a story. It's an emotional choice rather than a technical one, Rachel explains. "We loved the idea of building a home for life, not just resale, and this gave us the freedom to really explore a colour scheme that reflected us."
After hours of watching Mad Men and trawling through library books, Rachel and Shane chose to balance these bolder, eye-catching moments with calmer shades that still evoked a sense of personality. Resene Half Periglacial Blue bathes the connecting interior walls, such as the hallway, in gentle colour, while Resene Ecru White, a warming green-tinted beige, complete the home's skirting boards and window and door frames.
"Don't be afraid to go all out once you settle on a style or colour scheme you love," advises Rachel. "One of our favourite moments was during a meeting with the kitchen team, when they told us our design was completely impractical but exactly as it would have been done back in the day. It was then we knew we'd got the house exactly right."
The homeowners are full of affection for their new home, and the wending commute to it. "The best bit about driving down our road is seeing a peak of our little blue Napkin House through the trees and knowing we're home."
images Rachel and Shane
Published: 07 Oct 2020
Do you have a home full of wonderful Resene paint and colour? Send us some snaps by emailing [email protected].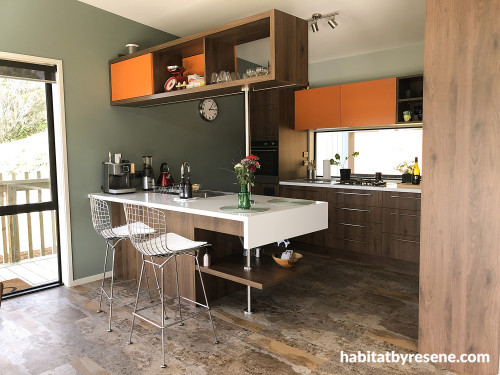 Inspired by Bauhaus, Resene Clockwork Orange gives their mid-century style kitchen cabinetry a colourful twist and is paired with a feature wall in Resene Smoky Green, trims in Resene Ecru White and a ceiling in Resene Black White. When it comes to interior styling, Rachel recommends finding "a colour scheme that suits your lifestyle and reflects your personality. And when it comes to furniture, look out for key vintage pieces and invest in those."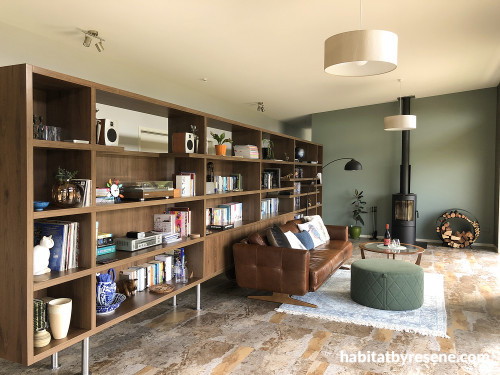 One of the biggest challenges Rachel and Shane faced was incorporating a bookshelf room divider that spanned the full expanse of their living room. With the shelf soon becoming a structural success, they paired it Resene Smoky Green to complement the wood's rich elements. Resene Black White elevates the ceiling.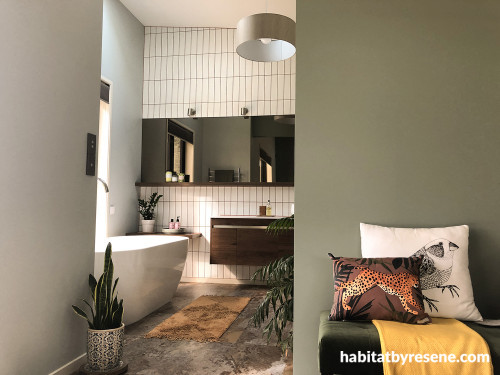 Subway tiles reminiscent of Resene Ecru White, which is used for the home's skirting boards and window and door frames, give the effect of an elegant, tapered bathroom. Resene Smoky Green offers a backdrop to a nearby, velvety seat nook, while Resene Half Periglacial Blue tempers the dark wood of the bathroom's cabinetry. Rachel and Shane placed their freestanding bath in front of a bi-fold door. "Luckily," says Rachel, "we're remote enough to be able to open it up and enjoy it, rain or shine."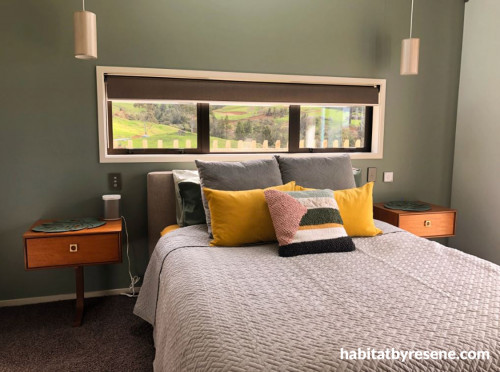 Rachel and Shane used Resene Smoky Green throughout their home as the key colour for their feature walls. In the main bedroom, it makes for a striking frame to the lush rolling hills seen through their sleek window. Mid-century side tables and pillows complete the room's chic symmetrical look. The right wall is painted in Resene Half Periglacial Blue and the room's trims are in Resene Ecru White.
Colour continues through to the home's exterior with a healthy splash of Resene Half Smalt Blue, earning the home its name The Blue House with the local community. A sprawling deck means they can enjoy their far-reaching views during mealtimes and beyond.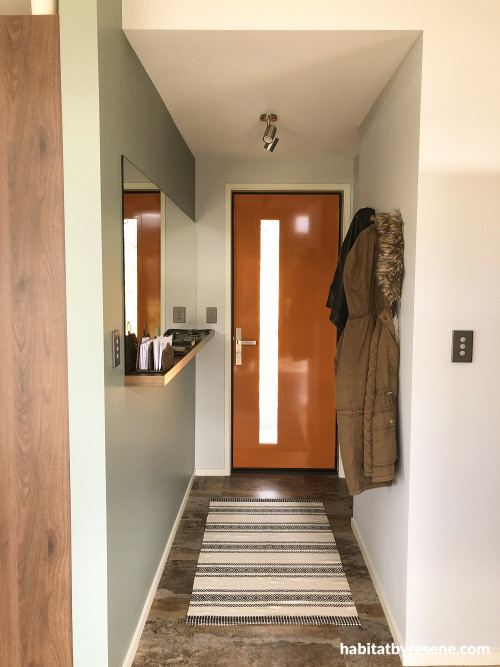 Rachel and Shane's front door in Resene Clockwork Orange greets them as they walk in. Resene Half Periglacial Blue, Resene Black White and Resene Ecru White begin here, too, and continue throughout their smart retro home.
Resene Half Periglacial Blue
the look
If you're stuck on what
colour to use or need colour
advice, try out the Resene
Ask a Colour Expert service.