►
◄
latest
habitat tv
blog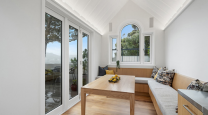 Master Builders' Chief Executive David Kelly shares his tips for building in the challenging climate.

Planning... more
Adam's modernised mid-mod in Napier lets the art speak for itself
Adam Harris, Graphic Designer and Managing Director for NZ Digital, bought this sunny 1950s brick and tile home in 2014.
Set on a completely flat section atop Napier's Bluff Hill, the house still had most of its original features. However, a renovation to update the kitchen and bathroom in the 90s was looking pretty sad.
But Adam loved the look of the place and its classic, well-constructed details including native timber, thinner-style brickwork, glazed terracotta roof, large windows and copper guttering – which, at 64 years old, is still showing no sign of problems.
Adam sheds some light on his illuminating update.
What Resene colours did you use and what inspired your choice?
The interior is painted completely in Resene Black White to create a gallery type space where the plants, artwork and furniture were made the focus.
How did you decide on the overall look of the interiors?
I wanted to maintain as much of the homes original features while creating a light and modern interior. I was careful to keep as much of the original layout as possible and choose lighting, furniture and artwork that worked with the 1950s style of the home.
What part of the renovation are you most happy with?
Refinishing the original hardwood floors was a highlight with wood stain. They were in amazing condition under the old carpet. The painted mantel in the lounge area was stripped back and I found it was a single piece of solid rimu. It was refinished with the floors, and I think it looks great.
What advice do you have for someone trying to achieve a similar look?
With this type of renovation, I worked mostly with what already existed, highlighting and reusing original features wherever I could. It not only kept the cost down but maintained and enhanced the style of the home.
What was the biggest decorating, renovating or building challenge for this project?
Putting a modern kitchen into the home that fitted the original layout but worked the way it should and included all the modern appliances you'd expect. Working with the kitchen designer to maximise the use of space was key. I'm really happy with the outcome.
Do you have a favourite Resene colour and, if so, why is it your favourite?
I love white-on-white interiors. They just make everything in the interior come to life. But 'too white' can look clinical, so Resene Black White is a perfect balance for me.
While the house is no longer a full-time residence, it is currently a popular Airbnb accommodation where Adam hosts guests when he isn't staying there.
Top tip: You can rejuvenate and protect timber floors with Resene Colorwood natural wood stain and Resene Qristal ClearFloor.
images by Adam Harris
artwork by Pense, House of Aroha, Martin Poppelwell, AJ Steel
Published: 28 Feb 2019
Do you have a home full of wonderful Resene paint and colour? Send us some snaps by emailing [email protected].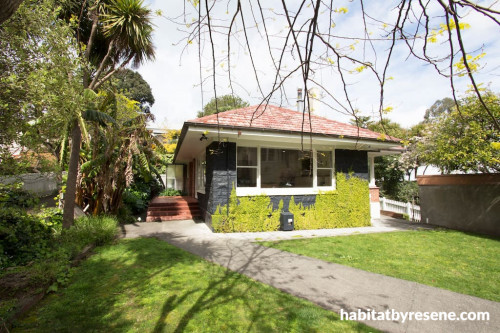 On a surprisingly level section at the top of Bluff Hill in Napier, Adam's 1950s bungalow was repainted in Resene Dark Side and trimmed in Resene Titania as part of his 2014 renovation.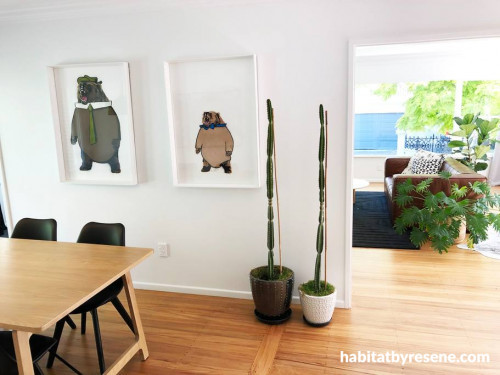 Adam's house is filled with unique, handmade prints by a number of talented New Zealand artists. By keeping the walls neutral in Resene Black White, it creates a blank canvas to showcase his collection of artwork (including these bear prints by Pense) giving them the visual space to steal the show.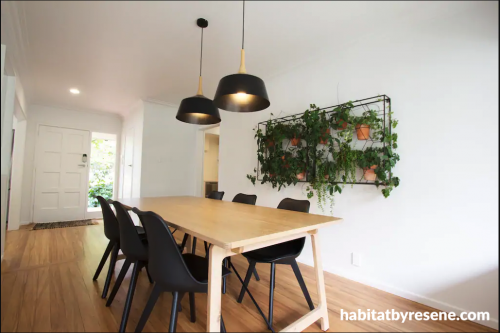 There are plenty of plants that bring warmth into Adam's living spaces, including a dozen that fill out this focal piece in the dining area. The walls have been kept simple in Resene Black White.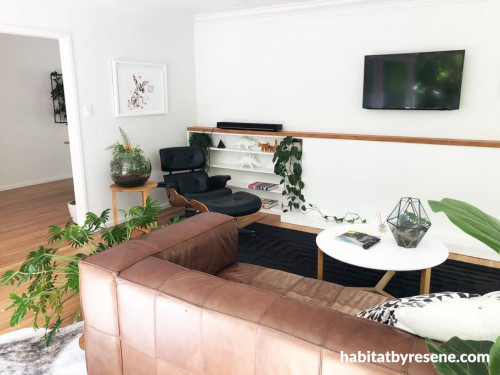 Adam uncovered the continuous piece of solid rimu on top of the mantel during his renovation of the lounge. He painted the walls and shelving in Resene Black White to frame its natural beauty.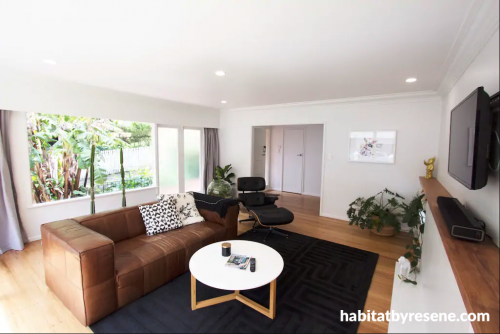 Enormous picture windows in the lounge area let in substantial natural light and views of the well-established garden. The walls, in Resene Black White, provide a neutral backdrop to frame the refurbished timber flooring and mid-century replica furniture.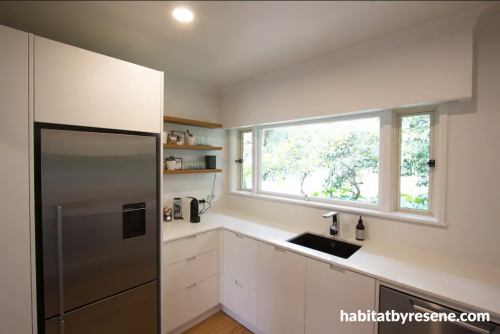 The kitchen was one of the most challenging spaces for Adam to update. He stripped down the changes that were made in the 90s and opted for simple joinery and Resene Black White to complement the house's original features.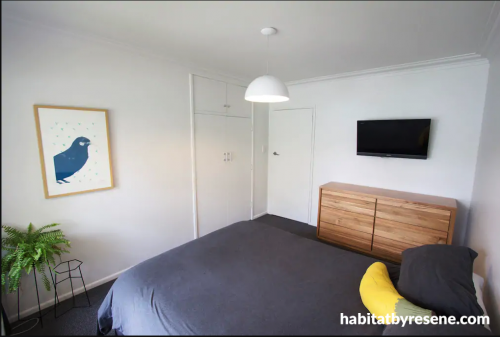 This handmade print defines Adam's master bedroom – which is painted Resene Black White – and gives playful character to an otherwise neutral space.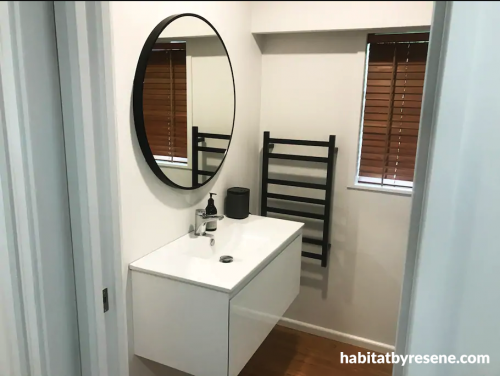 Clean and simple fixtures and features pair well with neutral Resene Black White while natural wood flooring and blinds bring warmth into the space.
the look
If you're stuck on what
colour to use or need colour
advice, try out the Resene
Ask a Colour Expert service.