►
◄
latest
habitat tv
blog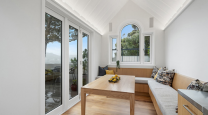 Master Builders' Chief Executive David Kelly shares his tips for building in the challenging climate.

Planning... more
An inspired home that could only be the handiwork of a fashion designer
Looking at it today, it's difficult to believe that Vaughan and Noel's vivacious and sophisticated home started its life as a cottage back in 1912. The couple purchased the house in Auckland's New Lynn neighbourhood in 2019, and while it had undergone significant additions and renovations in 1990, it had barely been touched since. With over 26 years in the fashion industry, Vaughan was well-suited to be the one to awaken its potential and rework it into a stylish and contemporary home characterised with chic Resene colour choices.
When asked about his decorating style, Vaughan describes it as eclectic. Though many have misappropriated the term, it's clear he means it in the truest sense – his is a thoughtful, deliberate and elevated approach to blending different design styles. "I love colour and am not afraid of it. Everything works with everything else though. I know when to pull back."
"When we arrived, the property had a beautifully established tropical garden, but the exterior was a pale blue," explains Vaughan. "I wanted an exterior colour that was much more organic and for the house to blend and disappear a little into the garden." He and Noel chose Resene Bokara Grey, a soft charcoal black, for the cladding with crisp white trim in Resene Alabaster and a roof in Resene Settlement – a warm and complex neutral that falls somewhere between taupe and grey. But rather than leave it to be an entirely achromatic affair, a burst of Resene Poppy on the front door brings a touch of flair and striking kerb appeal.
Inside, however, Vaughan was keen to use colour more liberally. "I was so excited to have a house with a separate dining room, I wanted to go bold with plenty of personality for entertaining. The house has had some odd additions, so it could handle going bold in the interiors." After much deliberation, they went for Resene St Kilda for the dining room walls with the trims and ceiling in Resene Alabaster. Vaughan says the deep mineral blue made the perfect backdrop for what has evolved into an impressive gallery wall and that the room quickly became his favourite. "It has fantastic attitude. I love cooking for friends and family, so it is probably the room that has seen the most fun and laughter."
Vaughan took a more subdued approach to colour in the home's other living spaces, but the results are just as chic. "I wanted to keep the communal living areas light without going white and had been harbouring thoughts of pink walls for a while. We chose Resene Soothe, which ended up being fun and sophisticated at the same time. All of the bedrooms are the same grey – Resene Surrender – which is very calm and cosy."
Vaughan said it was an easy choice to opt for Resene. "We used Resene paints when decorating our last house, and apart from the great quality and colour range, we find the staff at our local Resene ColorShop incredibly helpful and knowledgeable."
It's common to uncover unexpected challenges during home renovations. Vaughan wonders if theirs are yet to happen, as "everything has run smoothly so far.
"The extra time spent at home in 2020 helped with getting the walls painted," he admits. "We have a communal office which Noel and I share which we still need to choose a colour for."
But so long as Vaughan relies on his own advice ("testpots, testpots, testpots"), we're sure he'll come up with another elegant colour choice to wrap up what's already a spectacularly fashionable project.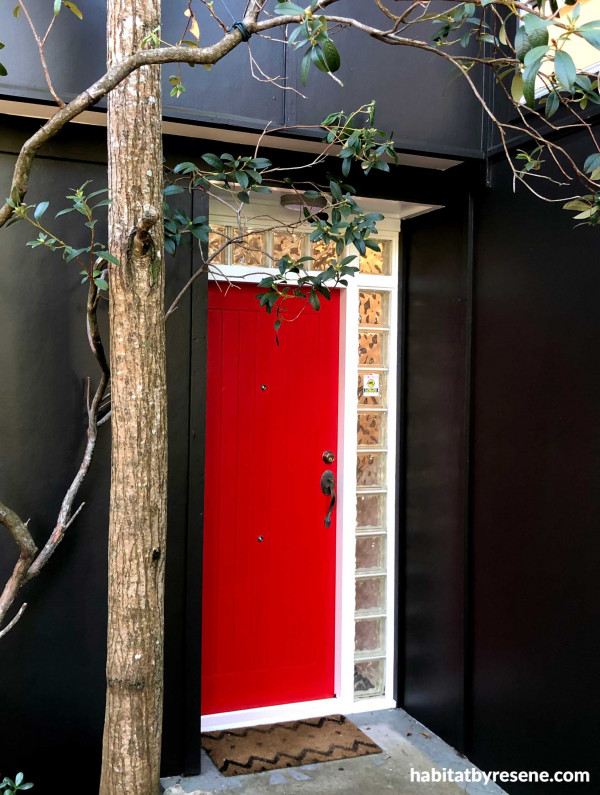 Vaughan says that Resene Poppy has become his favourite colour, which he used to paint the front door. "I love coming home to it!"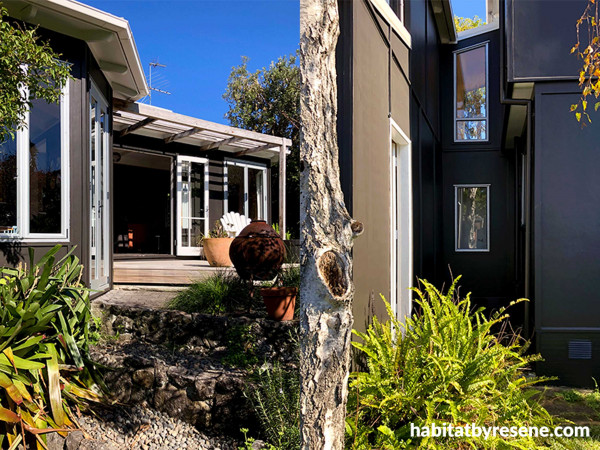 The couple are especially proud of how the exterior turned out and consider the new darker colour to be among the renovation's greatest successes. "It not only changed the house and dragged it from the 90s into the 2020s, but it transformed the entire outside space – as if the house and garden have been 'one' for a long time," says Vaughan. Cladding in Resene Bokara Grey, trim in Resene Alabaster and roof in Resene Settlement.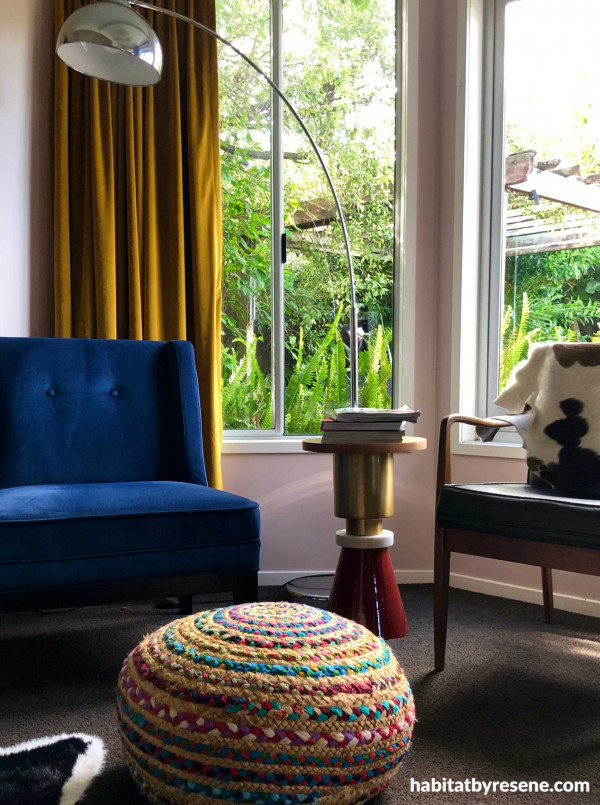 The kitchen and living space in Resene Soothe, a rosy umber, scratched Vaughan's itch to paint the walls pink. While many pinks can feel juvenile, Resene Soothe's dustiness lends it a refined maturity. Trims and ceiling in Resene Alabaster.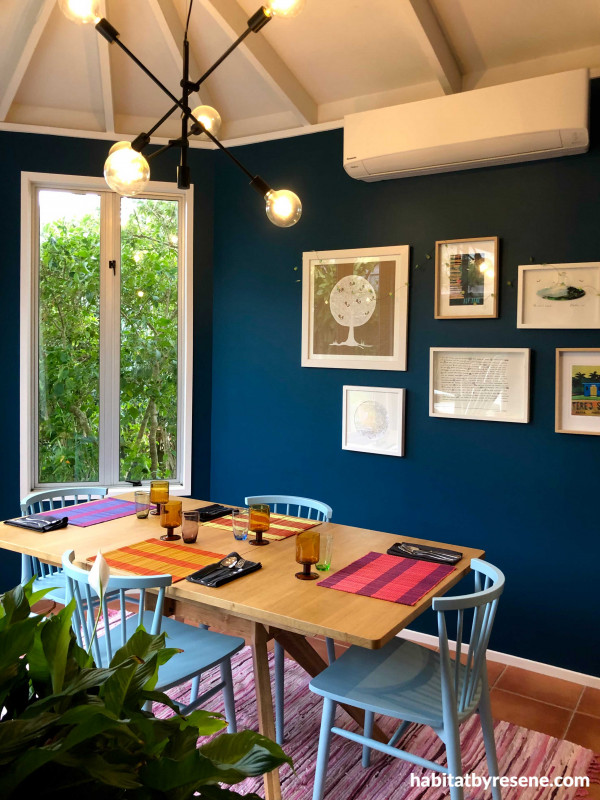 Vaughan disproves the theory that artwork should be hung on neutral walls to allow it to shine. The dining room walls in Resene St Kilda are a dramatic backdrop to the couple's enviable art collection, arranged as a gallery wall. Trims and ceiling in Resene Alabaster.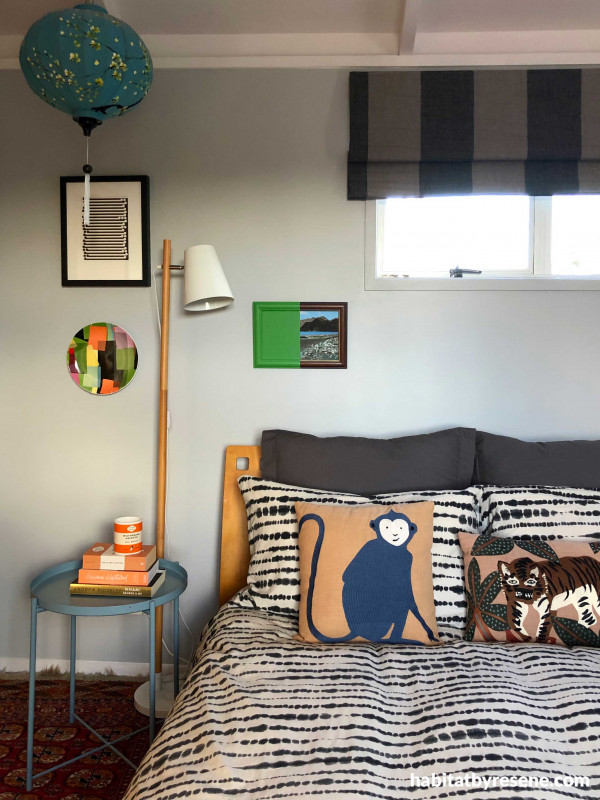 Vaughan and Noel used Resene Surrender for all of their home's bedrooms for its calming cosiness. Trims and ceiling in Resene Alabaster.
design and images Vaughan Geeson
Published: 19 Aug 2021
Do you have a home full of wonderful Resene paint and colour? Send us some snaps by emailing [email protected].
the look
If you're stuck on what
colour to use or need colour
advice, try out the Resene
Ask a Colour Expert service.