►
◄
latest
habitat tv
blog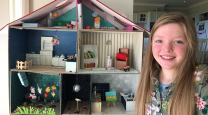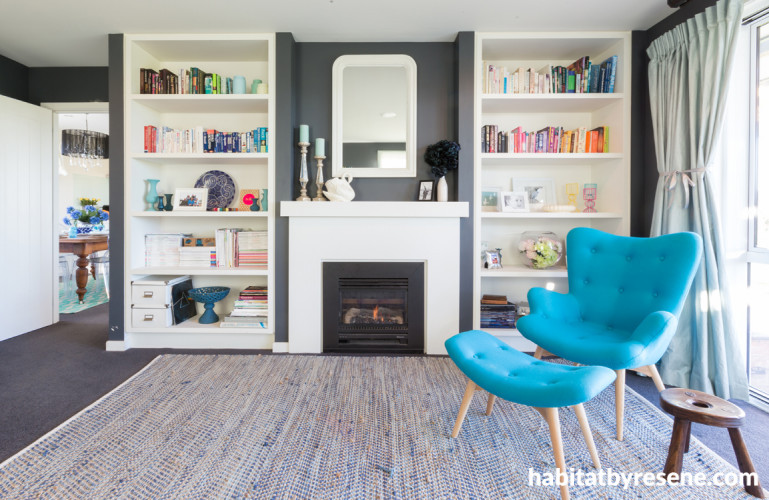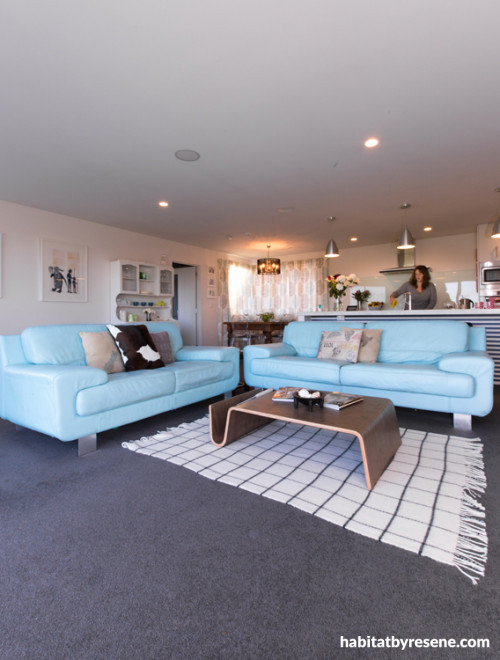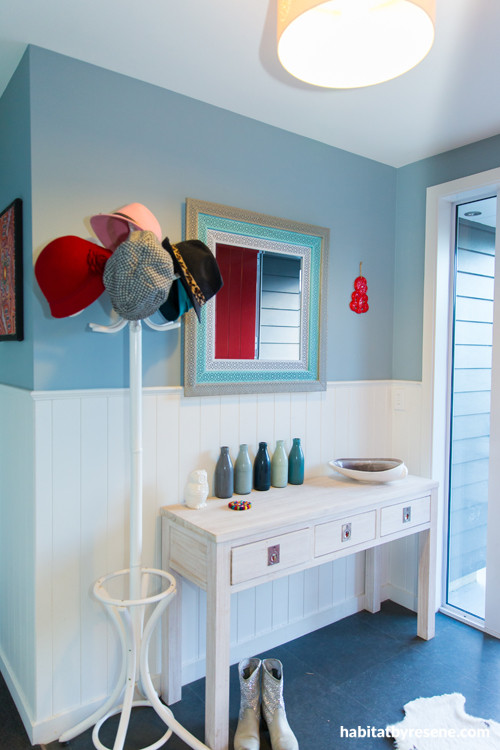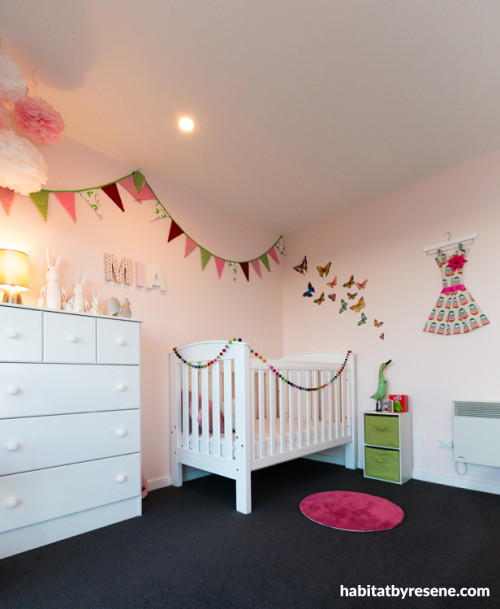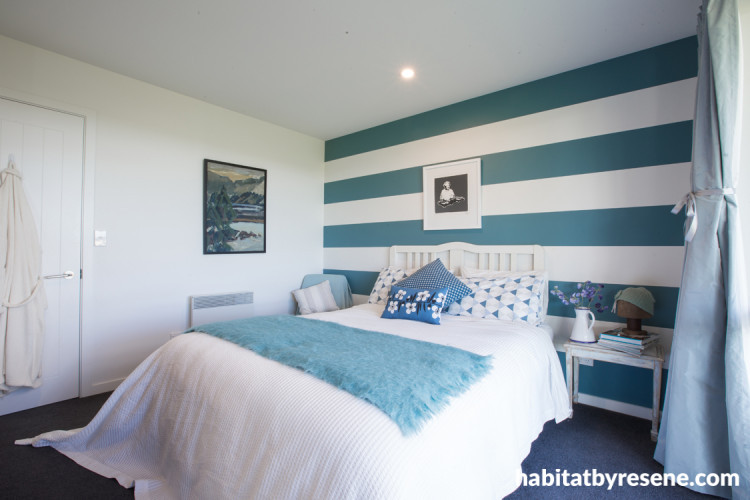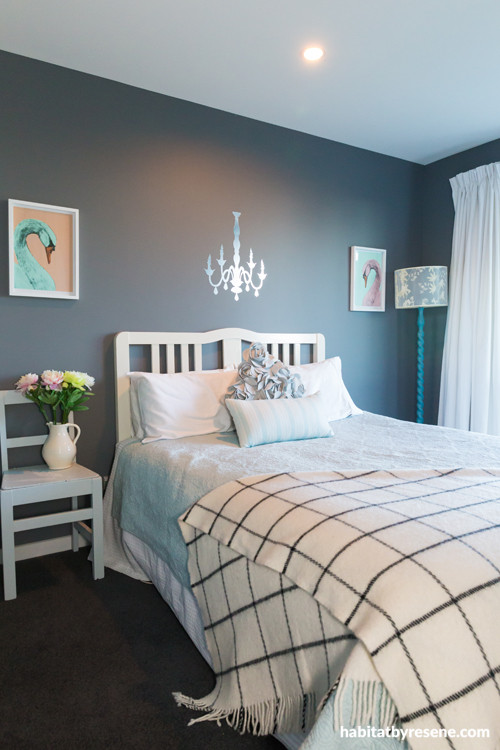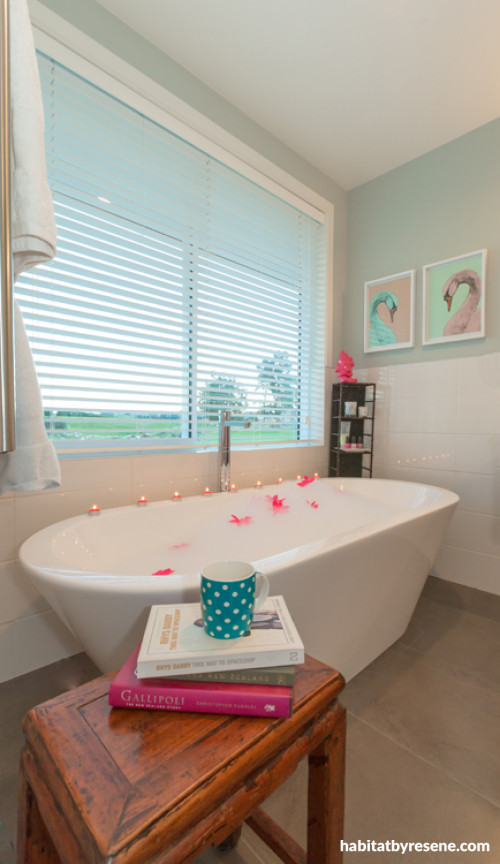 Annabel and Simon bring coast to the country
The soft greys and whites of driftwood and sand; the luminous teal blue skies of North Otago. These colours inspired the interiors of Annabel and Simon Berry's home on the rolling downs behind Oamaru, using paint by Resene.
At the same time, other features in the house – like the replica tongue-and-groove doors and dado panels – reflect the rural setting of their newly built home.
When Annabel was on parental leave with her oldest child Mia, she completed a Diploma of Interior Design… then launched a new business called Design Federation.
While the house was built and decorated with children in mind, it's also a casually elegant domain for adults. The media room is Simon and Annabel's evening retreat, where the rich dark Resene Tuna hugs the walls. An open fireplace and floor to ceiling bookshelves painted in Resene Half Milk White create a homely atmosphere.
"We wanted a dark, comfy room that was our space," says Annabel. "With three children under five [Mia, Jackson and Boe] we tend to come in here to relax and enjoy a movie or sport."
Annabel chose Resene Half Milk White from the Karen Walker Paints range as the background colour for the house, because, she says, it takes on a hint of the surrounding accessories, furniture and flooring. Used in the open-plan kitchen, dining and living spaces it reflects a whisper of blue from the pretty light blue leather lounge suite. In the children's bathroom and on the hall dado, the same colour seems subtly different again.
Did you know… that the latest Resene The Range fashion colours 16 fandeck is rich with dreamy coastal tones. Check it out at your local Resene ColorShop, along with the Whites & Neutrals range.
Daughter Mia lives in a world of fairies and princesses so her bedroom walls painted in soft pink Resene Pot Pourri. Another bedroom is given a more subtle look with Resene Quarter Fuscous Grey, while a spare bedroom features broad horizontal stripes of Resene Smalt Blue and Resene Half Milk White on the wall behind the bed.
"When we were choosing the features for the house we were advised to decide on just one or two rooms where we could be a bit more lavish," says Annabel. "We put an elegant bathtub in the ensuite off the master bedroom and painted the walls in Resene Periglacial Blue. It feels so luxuriously calm."
The house sits at the top of a rise with expansive views of the Kakanui mountain range. Annabel's cousin and fellow designer Sarah Bennett helped with the choice of Resene Half Ironsand for the exterior walls to blend with the rolling hills. They look forward to a time when the native flaxes and stands of trees they've planted will soften the edges of the property.
Read more: A very glamorous boat house

Published: 08 Jan 2015
Do you have a home full of wonderful Resene paint and colour? Send us some snaps by emailing [email protected].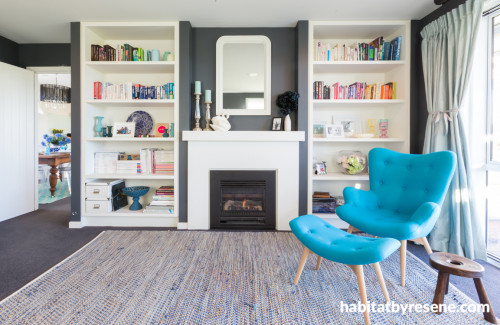 The media room was created as an adult retreat for busy parents Annabel and Simon. The built in bookcase is finished in Resene Half Milk White and is set against a wall in Resene Tuna.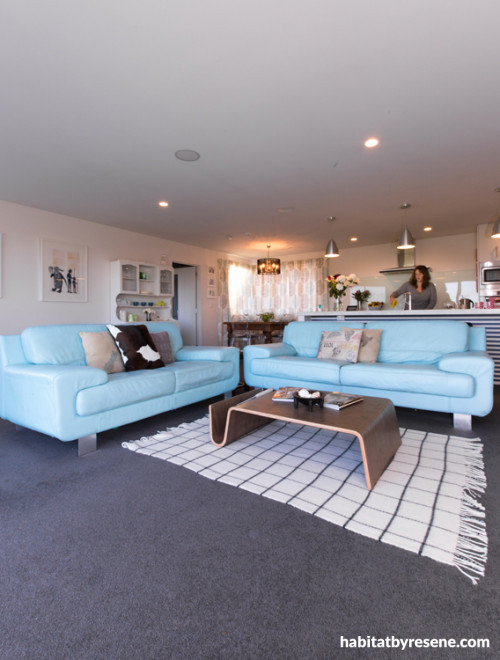 Resene Half Milk White is a restful backdrop for the open-plan living space and tends to softly adapt to the colours around it, such as these pretty blue leather sofas.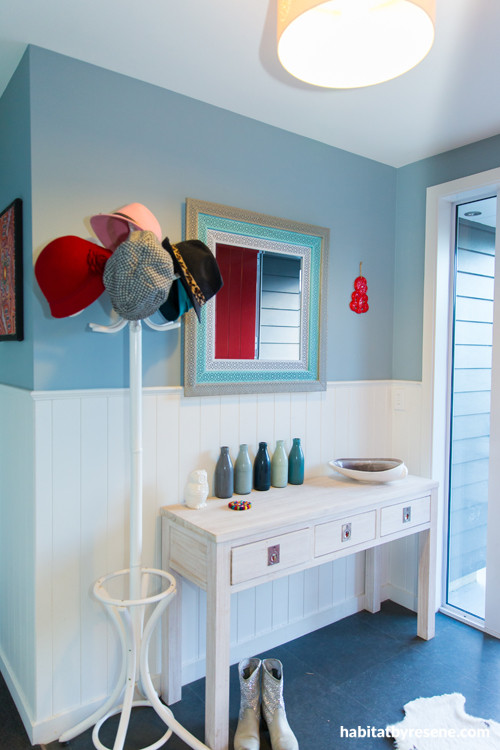 The home's casual villa-style look is epitomised in the entrance hall with its Resene Powder Blue walls above tongue-and-groove panelling in Resene Half Milk White.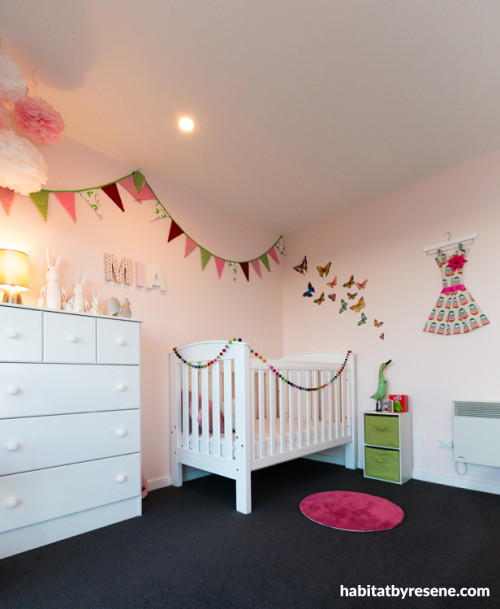 Soft pink Resene Pot Pourri walls create the perfect little girls room.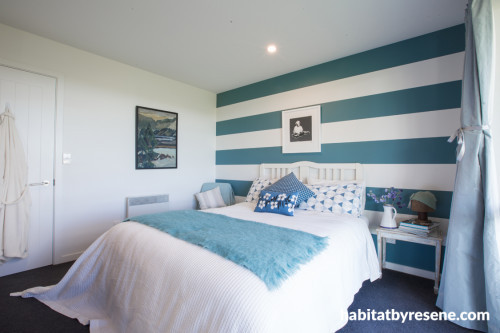 A stunning feature wall is created with broad stripes in Resene Smalt Blue and Resene Half Milk White.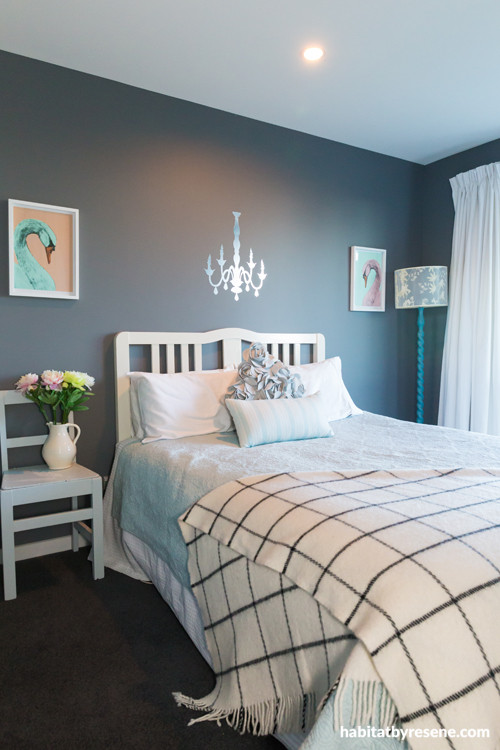 A cosy cocoon of a room, with Resene Quarter Fuscous Grey walls, a chandelier decal and whimsical accessories.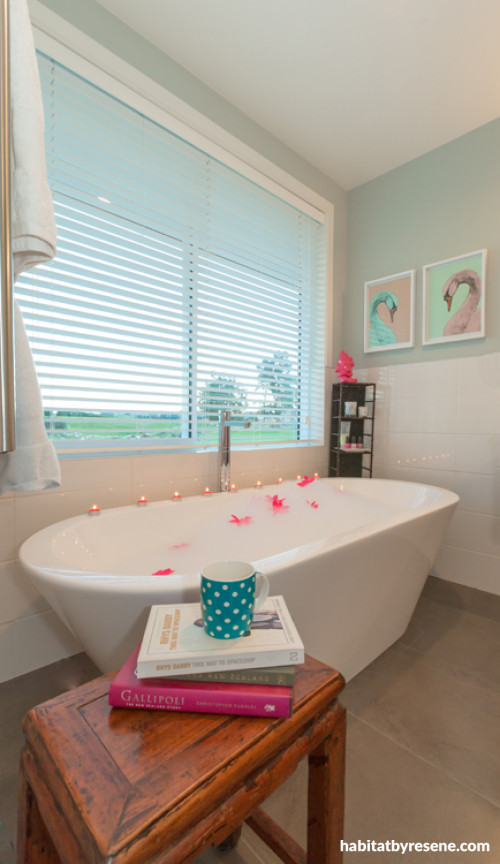 Somewhere to truly relax, the ensuite has a decadent yet casual feel with a freestanding bath and walls in Resene Periglacial Blue.
pictures
Resene Quarter Fuscous Grey
the look
If you're stuck on what
colour to use or need colour
advice, try out the Resene
Ask a Colour Expert service.