►
◄
latest
habitat tv
blog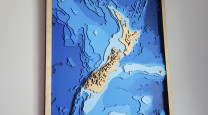 Annabel and Simon's new wave of coastal living
When interior designer Annabel Berry and her husband Simon built their house on the outskirts of Oamaru, they chose a coastal theme for their décor. Seven years and three children later, it was time to test out some new waters with a new wave of Resene colours.
While colour lover Annabel was still keen to stick to a coastal scheme, she felt like the light walls were beginning to feel a bit too shallow.
"I'm obsessed with blue," she says. "While my personal aesthetic still tends towards coastal hues, when we were choosing the new palette, I found that I wanted more depth and texture. The main living, dining room and kitchen were originally Resene Milk White, we added a tongue-and-groove feature wall to complement other heritage features in the home and painted it grey Resene Loblolly and did the rest in Resene Atomic."
"We kept the white architraves and skirtings because they really work with the coastal theme. We reupholstered the lounge suite in a rich tan fabric and introduced an heirloom couch from my grandfather."
Annabel believes that children need a room that reflects them as an individual and that it should be updated every few years as they grow. She encourages her clients to get the input of even their youngest children before choosing the colour schemes for their bedrooms. So, naturally, the Berry children helped choose their paint colours.
Seven-year-old Mia was ready to move away from the mostly pink scheme she's had since infancy and wanted a neutral background to display her artwork.
Together, she and her mother chose the grey-white Resene Cloud. Sporty Jackson, who's five, went with Resene Plantation green on his walls, while loud and bouncy four-year-old Boe's room stayed the same with its feature wall of horizontal stripes in Resene Milk White and Resene Smalt Blue (Resene Smalt Blue is from an older colour collection, try Resene Casal for a current alternative).
Simon and Annabel couldn't be more pleased to keep the original décor they chose for their bedroom. "We love it, so we didn't change it," says Annabel. "The walls are Resene Coast, my favourite navy blue, and we have Resene Atlas with white tiles and a dark timber vanity in the ensuite."
Even when you have a strong concept like she did, Annabel thinks that many still struggle with finding ways to bring it to life. "A lot of people are afraid to use colour or try to use too many shades and tones of colour," she says. "Fortunately, it's not all that expensive to engage a colour consultant to bring together a cohesive and coordinated colour scheme and, quite often, the first consultation is free.
"Engaging an interior designer helps you to think outside the box. Why choose neutrals when there are so many different options out there? A consultant can help you to use colour bravely, to be colour confident, and to have fun with your colour."
top tip Resene colours are still available even if they are not on a current colour chart. View an A4 drawdown paint swatch at your local Resene ColorShop to check you like it and then staff can tint it into your chosen paint for you.
Published: 12 Jun 2019
Do you have a home full of wonderful Resene paint and colour? Send us some snaps by emailing [email protected].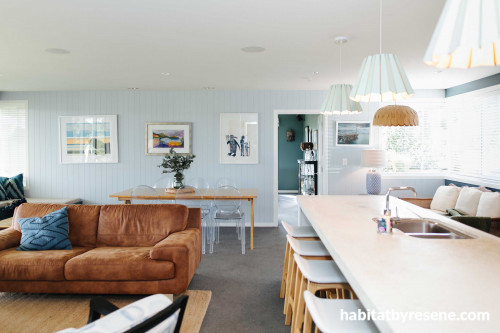 Annabel added a tongue-and-groove feature wall to the kitchen and living area in Resene Loblolly to complement the home's other heritage features. The ceiling and trims are in Resene Milk White.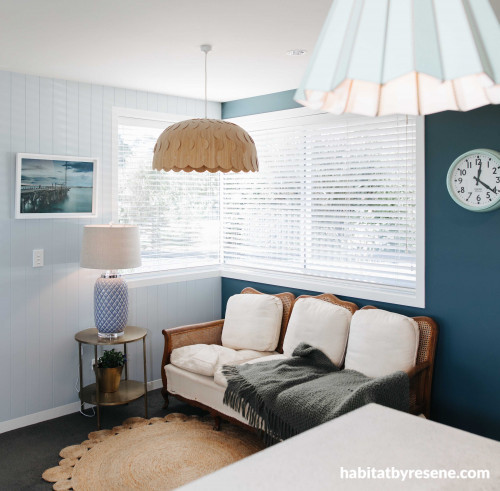 Deep and dramatic Resene Atomic radiates throughout much of the home's major living spaces. The panelled wall at the left is in Resene Loblolly while the ceiling and trims are in Resene Milk White.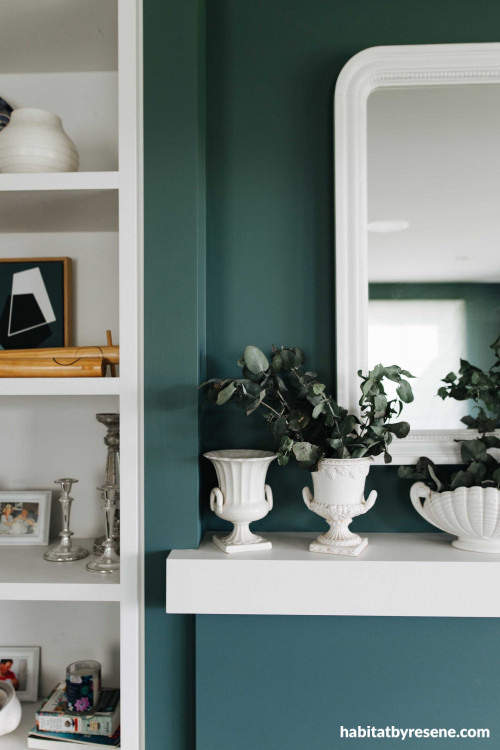 The media room – with its fireplace, bookshelves and recessed screen – is where the adults in the family hunker down when the children are in bed. Annabel and Simon chose Resene Green Meets Blue, which is reminiscent of sea glass, for the walls and Resene Milk White for the trims.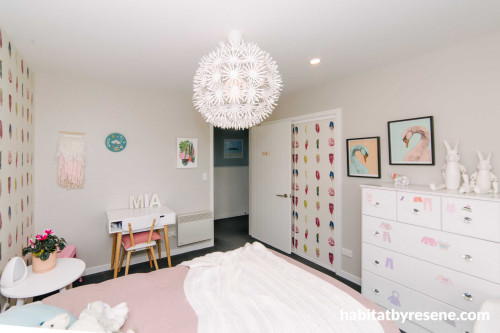 With a little help from Mum, seven-year-old Mia picked Resene Cloud for her bedroom walls as a neutral backdrop for displaying her colourful artwork.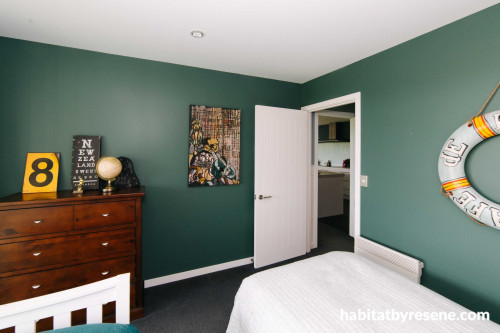 Five-year-old Jackson went for Resene Plantation walls, which contrast beautifully with the Resene Milk White trim.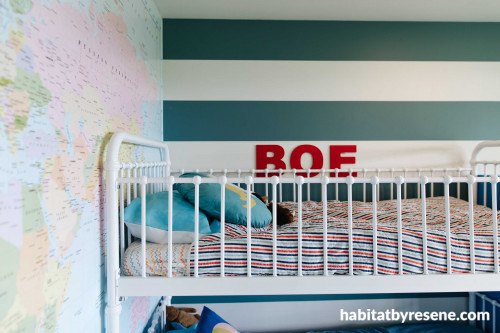 The walls in four-year-old Boe's room are finished in horizontal stripes in Resene Smalt Blue and Resene Milk White along with a map to inspire dreams of far-away lands. Resene Smalt Blue is from an older colour collection, try Resene Casal as a current alternative.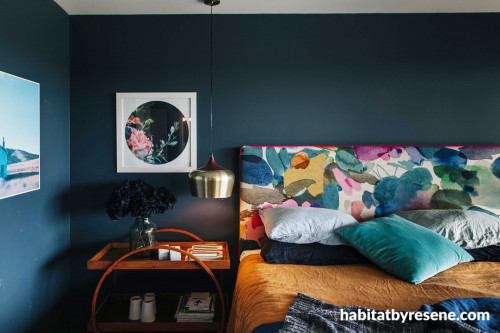 Deep and dark Resene Coast in the master bedroom sets the scene for a sleeping sanctuary. The ceiling is in Resene Milk White.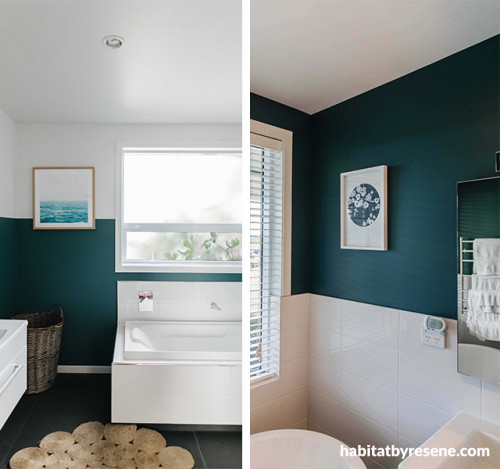 Resene Blue Dianne lower walls teamed with a Resene Milk White ceiling are a striking combination in the main bathroom (left). In the spare bathroom (right), the scheme has been reversed with Resene Blue Dianne used for the top section of the wall. The ceilings are in Resene Milk White.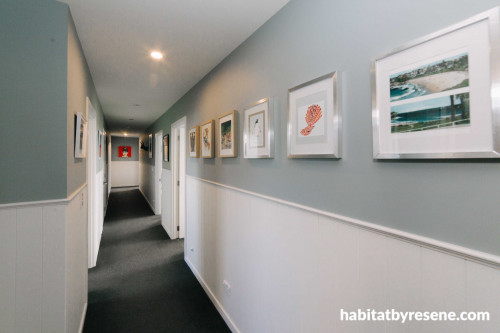 Resene Loblolly walls with Resene Milk White panelling and trim line the home's art-filled hallways.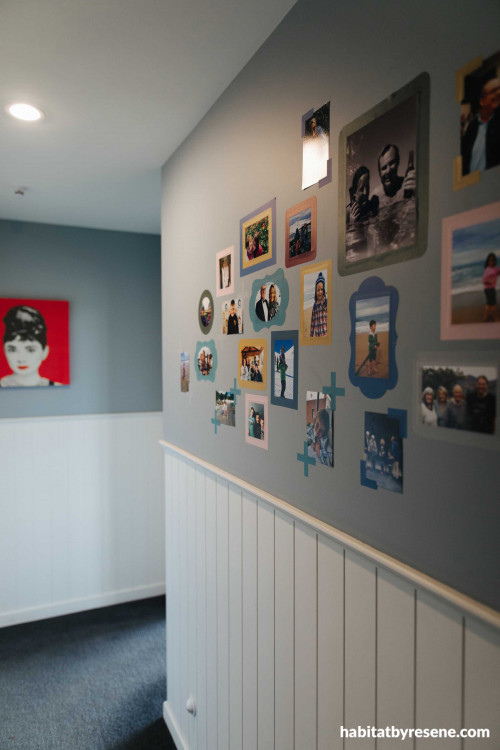 Annabel's clever solution for displaying family photos makes use of colourful adhesive frames that can be switched up as new memories are made. Get the same look by using double-sided tape to stick photos onto shapes painted in Resene colours that contrast with the wall. These walls are in Resene Loblolly walls with Resene Milk White panelling and trim. The restickable adhesive frames are designed and made in New Zealand by Tinch Design.
designer Annabel Berry, Design Federation
images Rachel Wybrow






















the look
If you're stuck on what
colour to use or need colour
advice, try out the Resene
Ask a Colour Expert service.