►
◄
latest
habitat tv
blog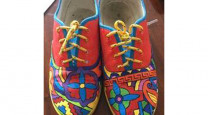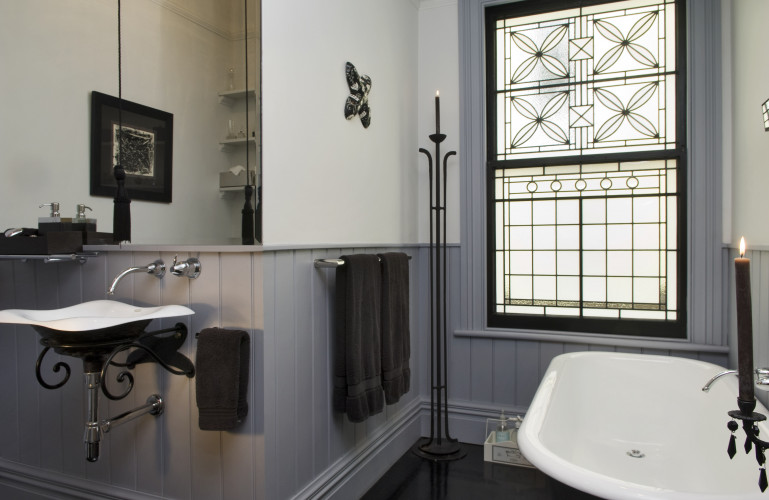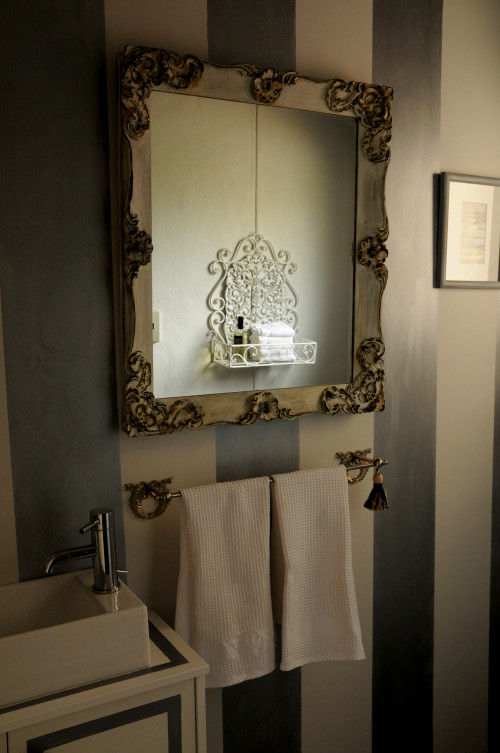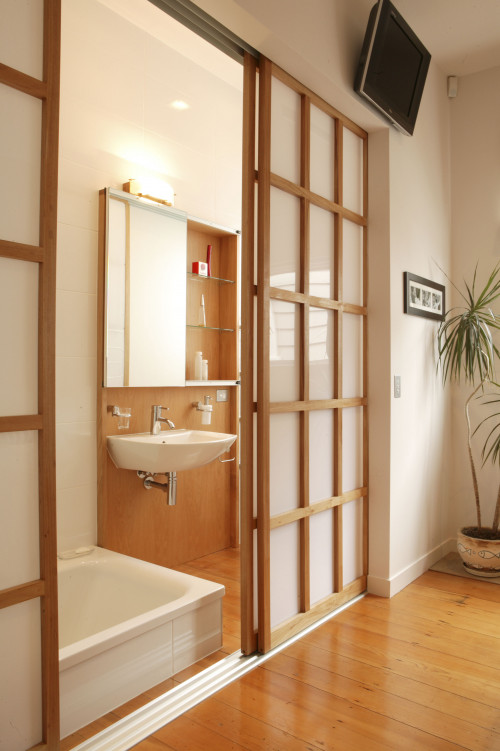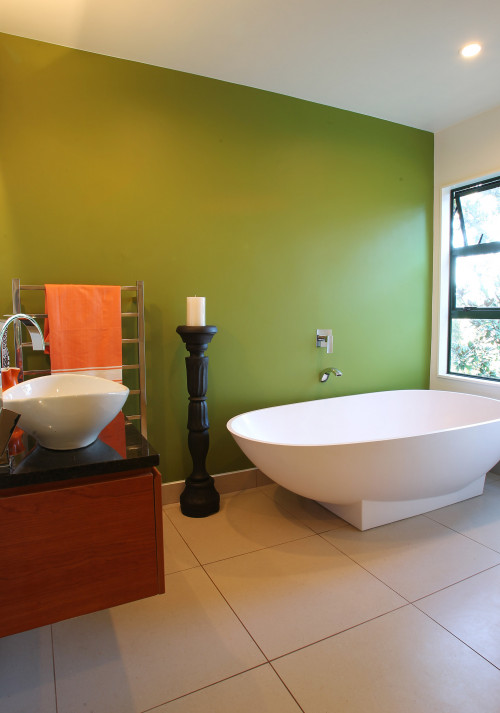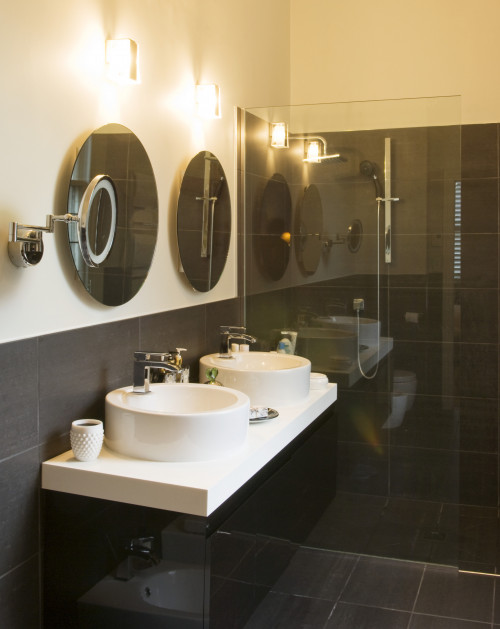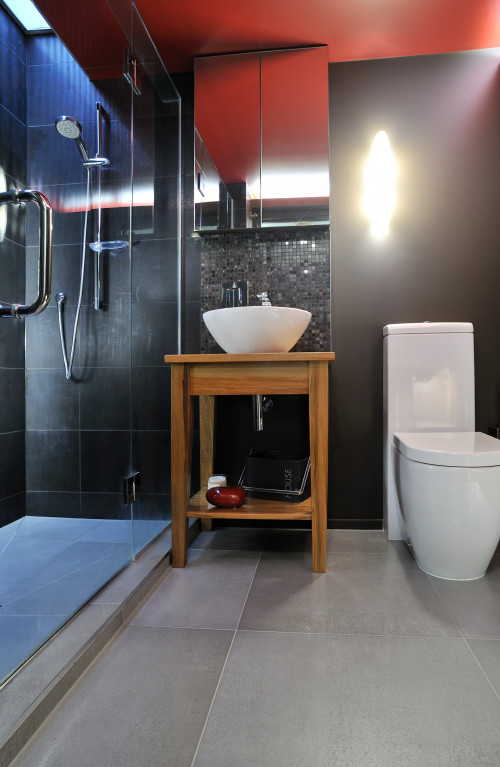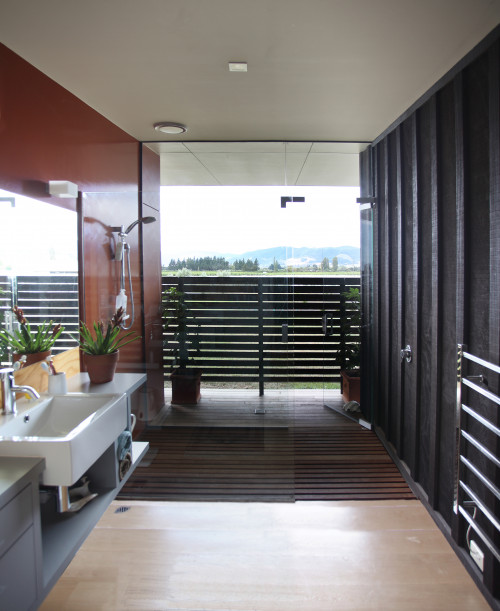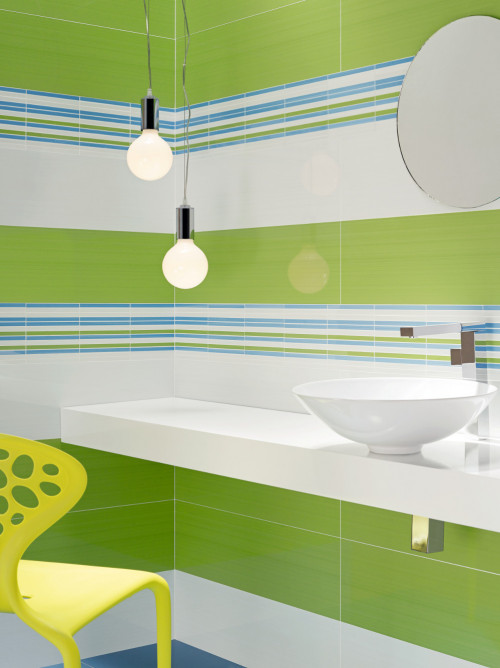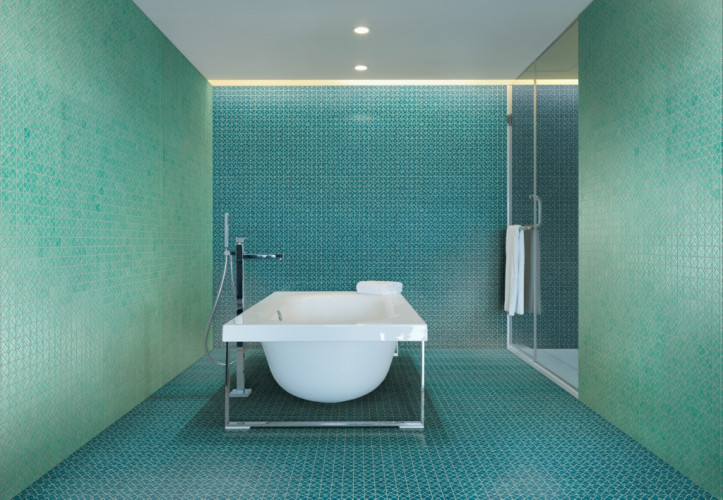 Awash with style: today's bathrooms
08 Nov 2012
Do you have a home full of wonderful Resene paint and colour? Send us some snaps by emailing [email protected].
Take the plunge and be creative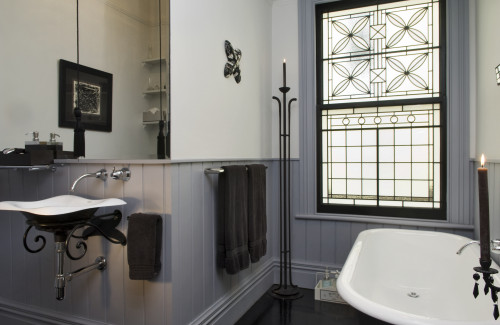 For the smallest room in the house, we sure give our bathrooms a lot of attention. Are they purely practical? Nope. A place where you slosh on a bit of water, take care of ablutions (it's a weird word that one), and exit as quickly as possible. Maybe. But we've noticed at Habitat that homeowners do lavish a lot of time and design prowess on their bathrooms. The result is that rather than a series of clinical spaces that resemble the inside of a chilly bin, we've come across many bathrooms overflowing with character and style, and saturated with delicious Resene paint colours. Take the one above, for example, in its eclectic French/kiwi style with Resene Mischka panelling and Resene Seashell walls.
Take a dip into decadence
Many of these rooms are moody, lavish places with beautiful fittings and well-thought-out design elements and accessories. They don't necessary slavishly follow the style of the rest of the house although some sort of visual link is a good idea. So in a villa bathroom, you may use a clawfoot bath but surround it with quite a contemporary look. Or conversely in a modern house, have quite a detailed bathroom interior. Ask your mother if she would ever have thought of putting a chandelier in a bathroom a few decades ago and she would think you're nuts. Today, they're almost de rigeuer.
Other elements can add decadence without costing you a bomb – rich paint colour, stone-look tiles, curvaceous tapware, plush towels.
Big is better
Generosity is the feeling many of us strive for, even if the room is fairly small. There are tricks to give the impression of size, such as wall-hung vanities or pedestal basins, large format tiles set on the diagonal, level-entry glass shower cubicles and free-standing baths – essentially any way you can see more of the floor.
If you're renovating, have a good look at the bathroom layout to see if you can reconfigure it to look bigger – can you tuck the shower behind the door, nick a bit of space from a wardrobe in the bedroom next door, reposition the door so that the layout makes more sense?
Ensuites have become veritable pamper palaces with huge double showers, baths and double basins.
Pick a theme
Here are some themes that work superbly with bathrooms:
• A restful zen-style look with slatted timber, stone vessels, a mid-neutral paint finish, a sunken bath and cool stone tiles underfoot.
• A glamorous French style with chandelier, free-standing bath, wrought iron candleholders, curvy basin and painted tongue-and-groove walls in rich creamy-white (try Resene Quarter Wheatfield or Resene Pearl Lusta.
• Cape Cod style with white-washed timber vanity, an old ladder to hang the towels, baskets and shells with walls in soft egg-shell blue (try Resene Periglacial Blue or Resene Breeze).
• The luxury hotel look with dark walls, stone-look tiles, crisp square basins and a multi-jet shower.
pictures
Photograph by Mark Heaslip
A regal French look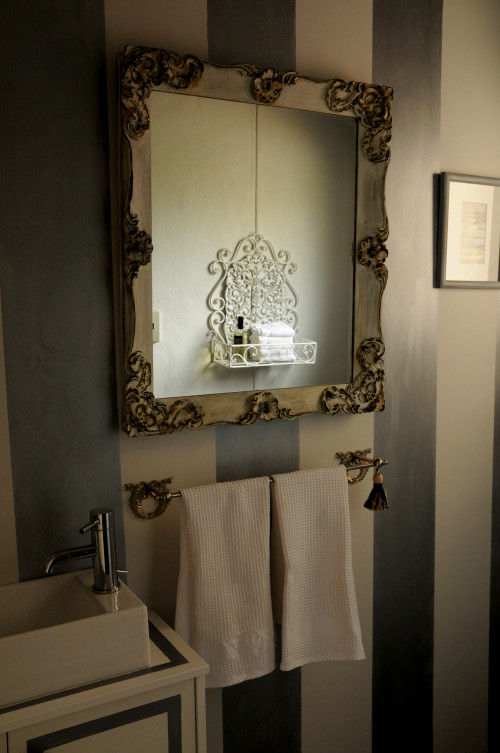 Broad stripes of Resene Atom from the Metallics and Special Effects range are alternated with Resene Blanc for a regal look for this bathroom.
pictures
Photograph by Rossi Gannon
The secret's in the shoji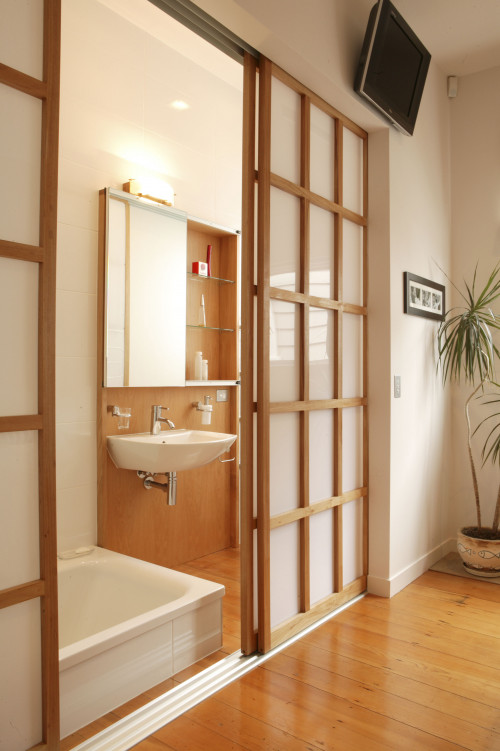 This space-saving ensuite designed by SGA (Strachan Group Architects) has an eastern aesthetic with its shoji screen sliding door. The walls are Resene White Linen.
Tropical magic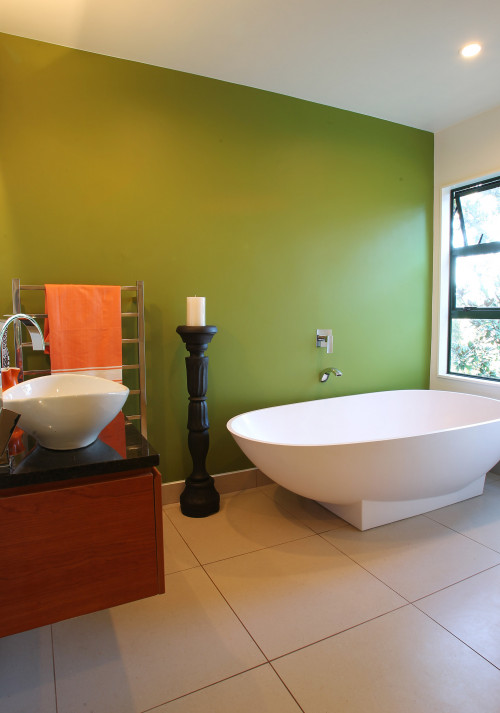 A hint of tropical magic with a sculptural bath offset by a Resene Pacifica wall. The design is by Liz Kerby of Workspace Design.
pictures
Photography by Frances Oliver
Art Deco influences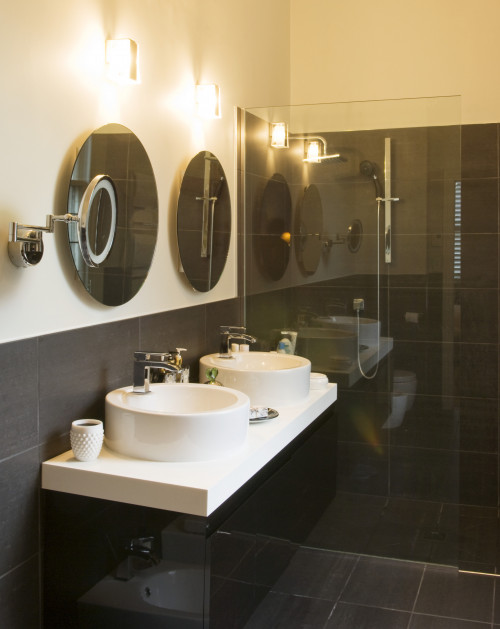 A sophisticated Art Deco influence for this ensuite with its circular basins and mirrors. The walls are Resene Alabaster.
pictures
Photograph by Mark Heaslip
Like a lacquered box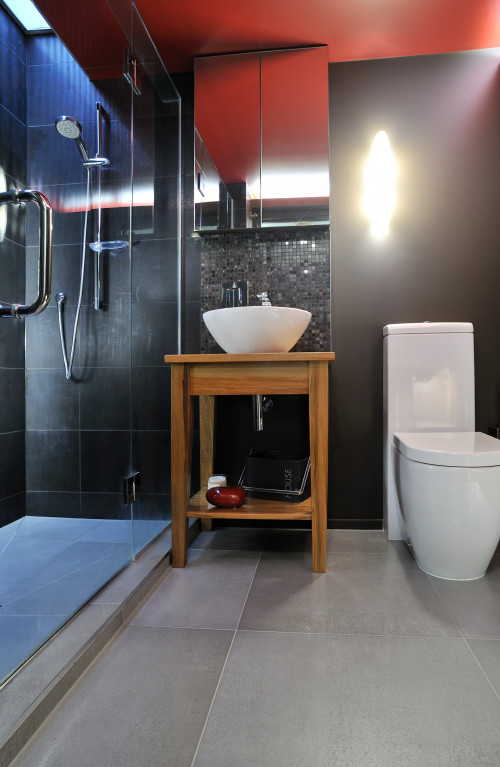 This bathroom was inspired by a lacquered Chinese box, hence the Resene Red Berry ceiling and jewel-like glass mosaic tiles. The design is by Salmond Reed Architects.
pictures
Photograph by Mark Heaslip
Out in the open... almost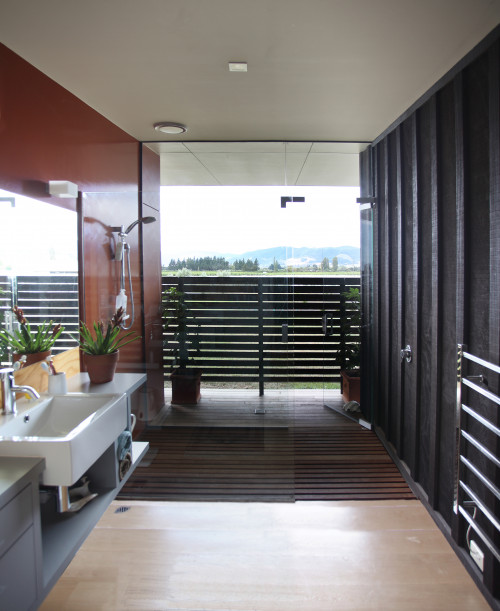 That indoor/outdoor feeling but for a bathroom. A glass-walled shower is the dramatic focus of this bathroom in a house designed by Irving Smith Jack Architects. The interior walls are a mix of board and batten timber finished with Resene Waterborne Woodsman tinted to Resene Treehouse, and plasterboard painted in Resene Cumin.
Striking stripes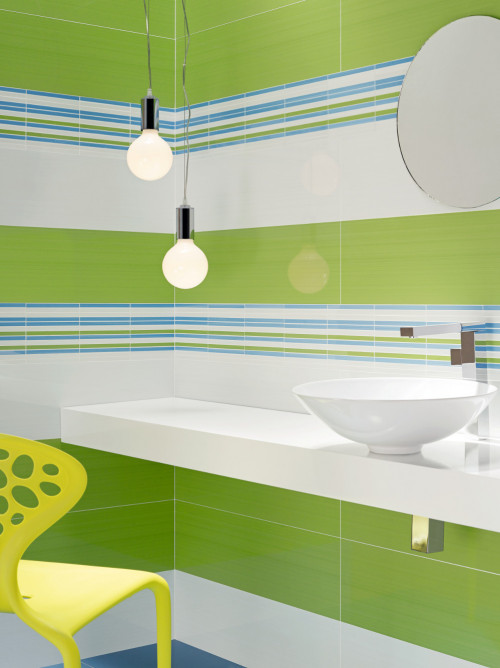 A striking linear design is possible with the Dreams Italian tile series from Tile Warehouse.
A cheeky flip side to tiling
Let the surfaces speak for themselves with the Beside tiles designed by Massimiliano Adami. With a strong hand-crafted element, the idea of Beside is to highlight the 'back' side of the tile, which typically features a diamond pattern. Available on indent from Tile Warehouse.