►
◄
latest
habitat tv
blog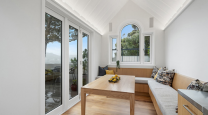 Master Builders' Chief Executive David Kelly shares his tips for building in the challenging climate.

Planning... more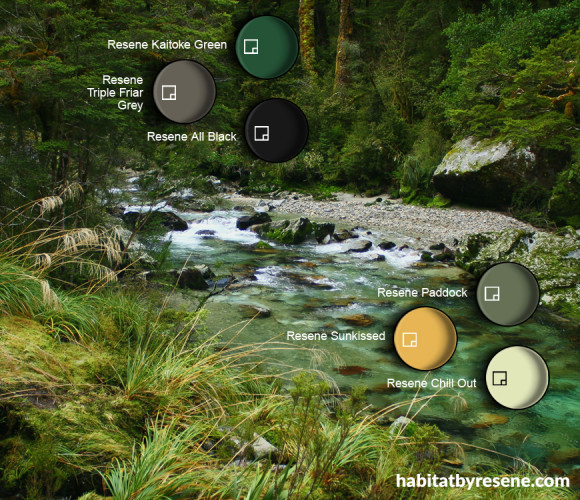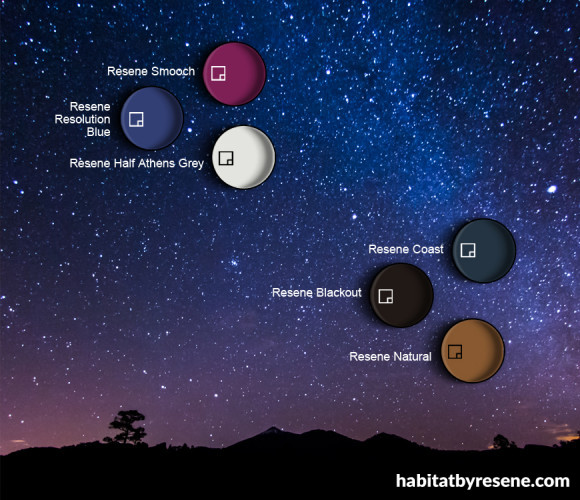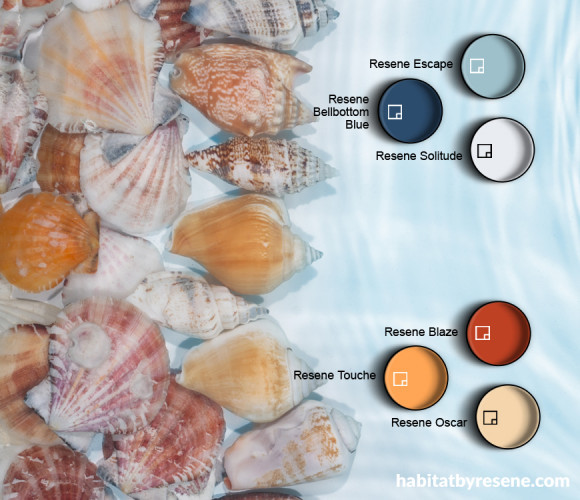 Be inspired by nature
Summer's the perfect time to get in touch with life beyond the walls of our house – a walk on the beach or through the bush, a dip in the local river, or relaxing under the stars in the evening with friends and a glass of wine.
While you're out and about, stop and look at the way Mother Nature puts together her colours. She can be a great teacher when it comes to compiling schemes for your own interiors. Chances are that if it looks great in nature, it will also work inside.
'Natural' schemes featuring warm browns and muddy greens are set to be a feature of interior trends for 2015 – what better inspiration than the forest. Inky blues are also set to continue as a key colour this year – so look to the night sky for your colour lead. Soft coastal blues are a perennial favourite, so indulge in a bit of beachcombing and collect shells to start your colour palette.
Work on texture and tone
Remember that the colours in nature are rarely one tone only. Just look at these shells as an example, with colours that range from bone white, through pink blush and deep apricot. A beach palette also has varying textures from gritty sand, to translucent blues and pearlescent shimmers.
Top tip: To use your own nature photos for inspiration, load them into the Resene Colour Palette Generator and it will suggest some Resene colours for you to help get you started, see www.resene.co.nz/picturepalette
Check out more ?of our nature-inspired schemes.
Published: 15 Jan 2015
Do you have a home full of wonderful Resene paint and colour? Send us some snaps by emailing [email protected].
Forest magic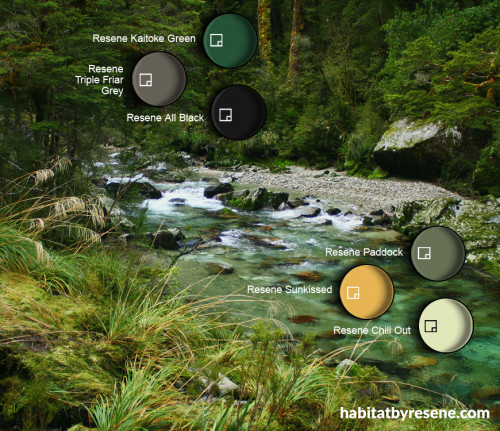 In this forest oasis, all the richness of colour winds through the trees above, whilst the ground is scattered in cooler tones. To replicate, complement walls in Resene Triple Friar Grey with a feature wall in rich, emerald Resene Kaitoke Green; complete the striking balance with cabinetry in Resene All Black.
Introduce cooler tones to complete a harmonious scheme – try flooring in Resene Chill Out, with accents painted in Resene Sunkissed, a golden, ochre yellow, and furniture in Resene Paddock, a soft, pastoral green.
Starry, starry night
There's a constellation of colour to be found in the night sky. Use a feature wall in Resene Coast as a backdrop to furnishings in Resene Resolution Blue, pink-tinged purple Resene Smooch, and white Resene Half Athens Grey (also perfect for trims).
Ground the scheme with a neutral hue – try timber wood stain Resene Natural, or the sharper, black-based brown Resene Blackout.
Seashell splendour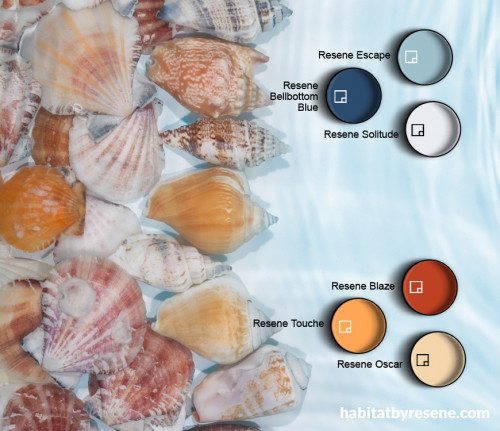 Taking inspiration straight from the ocean, a balance of pale Resene Escape, chalky Resene Bellbottom Blue, and hint of blue Resene Solitude on walls, doors, and trims will remind you of summer all year long.
Sprinkle your room with fiery tones, such as Resene Blaze, Resene Touche, and Resene Oscar, to warm up an otherwise cooler scheme, all from Resene The Range fashion colours 16 fandeck.