►
◄
latest
habitat tv
blog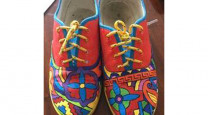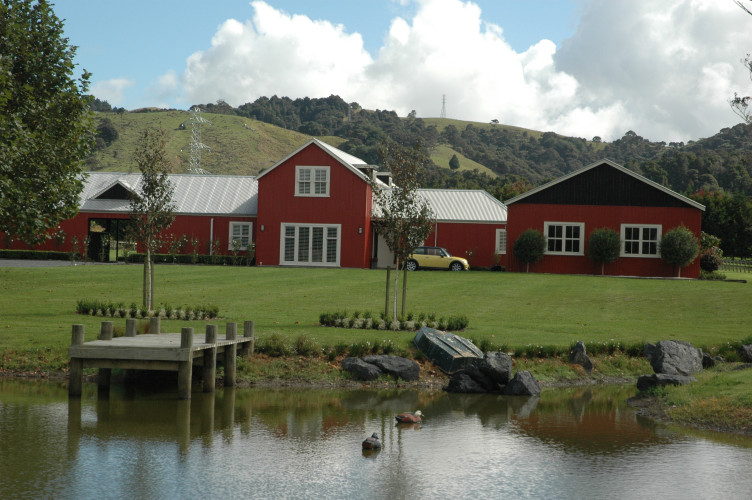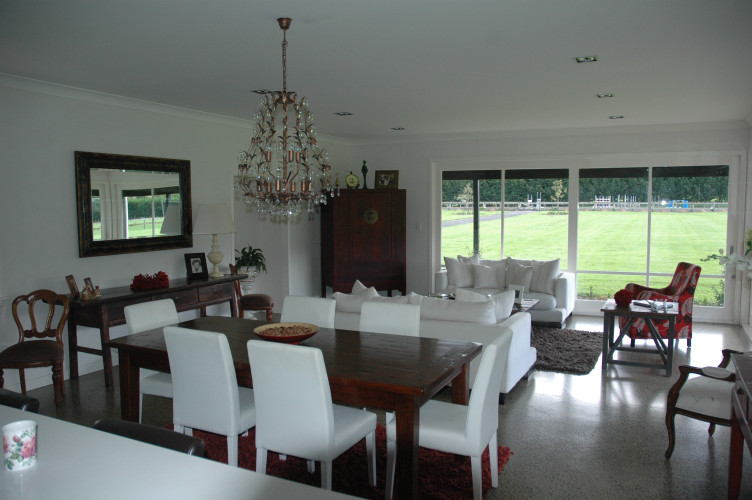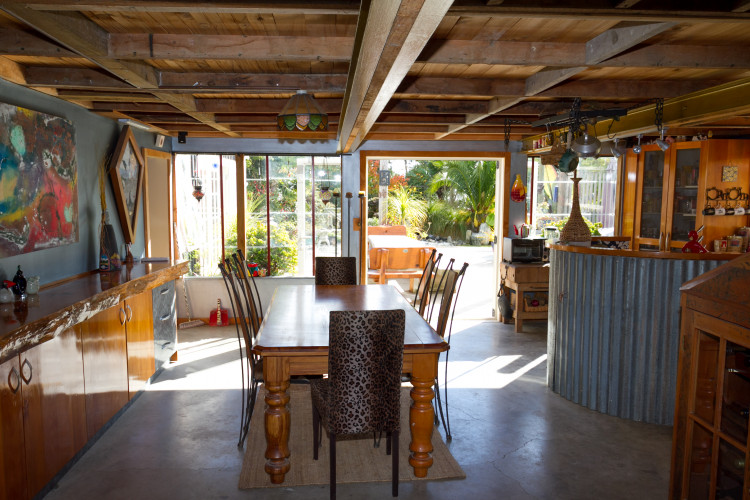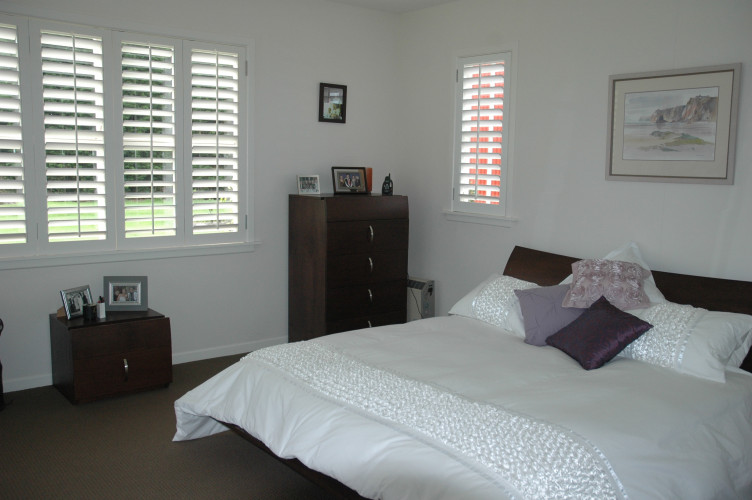 Monica's Big Red Barn
28 Apr 2011
Do you have a home full of wonderful Resene paint and colour? Send us some snaps by emailing [email protected].
A colourful country home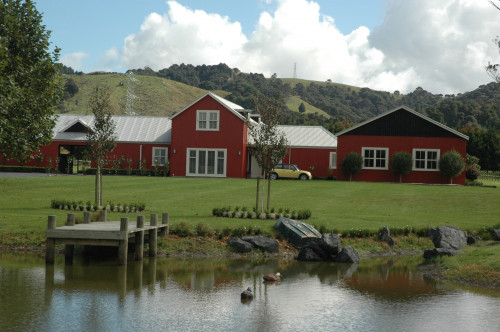 "This was just a cow paddock when we bought it ten years ago," says Monica of the place she now calls home. Hidden from the road, down a rambling driveway lined with huge London Plane trees, it is the kind of house that makes your eyes open wide when it finally comes into view. Painted entirely Resene Pioneer Red, it is a dramatic sight.
"The idea for the 'big red barn' was originally Michael's, but it was so easy for me to buy into, " explains Monica, referring to architect Michael Brewerton, who designed the house. "I did some work for the old NZ Dairy Board (now Fonterra) and spent several years travelling around rural New Zealand, visiting both dairy and sheep farms. The old iconic red cowsheds, shearing sheds and hay barns always seemed quite lovely to me."
One end of the long, barn-like building is dedicated to stables, while the other end contains the family home, surrounded by flower gardens, vegetable gardens, paddocks and a pond.
"We wanted the exterior to appear as authentic as possible, which is why we chose wooden joinery as opposed to the much cheaper alternative. We didn't want the inside looking like a barn, though! We wanted a welcoming family home. I chose most of the furniture and fittings myself, but I did ask interior designer Janice Kumar-Ward for advice as I had seen some of her work and loved her style. She helped us choose the paint colours, and designed the kitchen and living area. She did an amazing job - the area works so well for entertaining and dinner parties. Janice also insisted on the window shutters, which I think are a very stylish feature of the place."
What was the biggest challenge with decorating your home interior? I wanted it to be stylish, but it is a country home, so it has to be functional too - after all, we are likely to be coming inside dripping wet after being drenched in a storm while checking on the newborn lambs! So, the concrete floors are a great success!
Which space do you get your greatest satisfaction from, and why? I still think I get the most satisfaction from the living area. I love the way it is decorated, so I enjoy looking at it while in the kitchen, and being able to look out through the huge ranchsliders to the lawns and gardens. The other spaces that I love are the red room – fantastic for parties - and being able to lock yourself away upstairs in the cosy and comfortable TV room.
What are you planning to do with your home interior next? Upgrade the splashback and install some more energy-efficient heating. While the underfloor electrics are wildly indulgent and lovely to walk on, they are totally irresponsible and ridiculously expensive!
pictures Architect: Michael Brewerton [email protected] Interior designer: Janice Kumar-Ward [email protected] Get the look: Get the exterior look with Resene Sonyx 101 semi-gloss waterborne finish, and the interior look with Resene SpaceCote Low Sheen on walls and Resene Lustacryl semi-gloss waterborne enamel on trims and joinery.
Monica's favourite room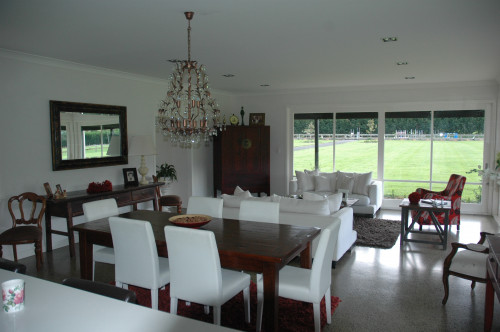 "I can't imagine ever wanting to change it," Monica says of the living room decor. She chose all of the furniture herself, on one serendipitous visit to Living Edge in Newmarket, Auckland. "I actually went there looking for a table for our bach, and ended up buying all these other pieces because I immediately loved them," she laughs. "I still don't have a table for the bach!"
Red white and blue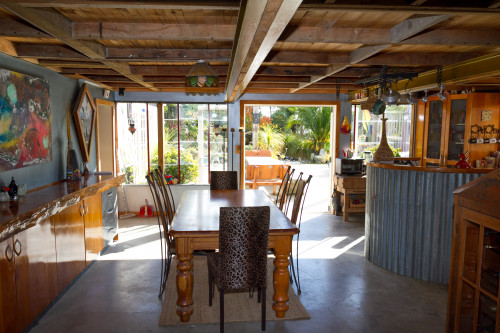 In the games room, a union jack flag that Monica's father carried with him throughout WWII is proudly displayed on a wall painted Resene Mustang, while another wall is covered in Florence Broadhurst wallpaper with a repeated horse motif. "Both my daughters, Anne-Marie and Eliza, have been mad about horses all their life, and in fact this was the drive behind moving to the country. So, the wallpaper was perfect for us," explains Monica.
Be my guest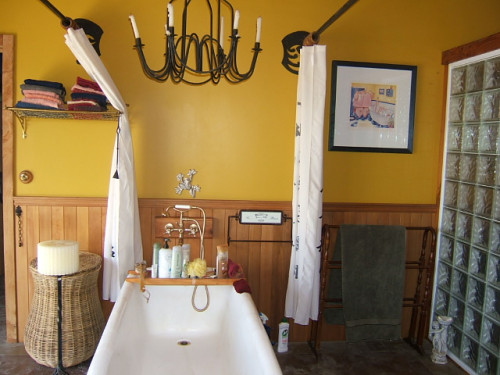 The guest bedroom is painted with light green-gold Resene Iko Iko.
Home entertainment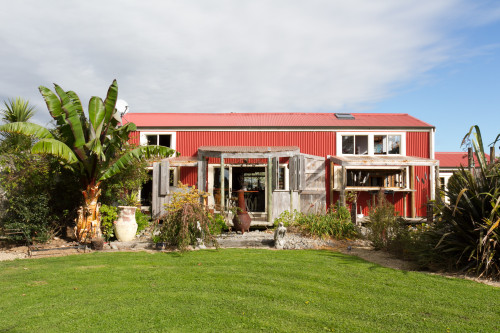 The "cosy and comfortable" TV room upstairs is painted with Resene Cougar.
It's all white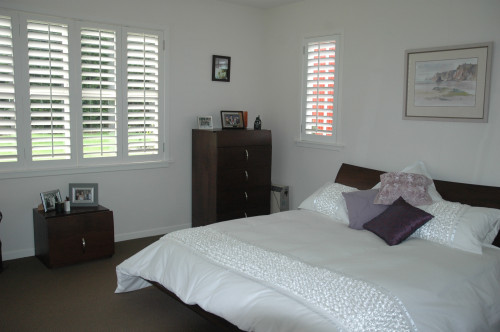 Monica chose dark wood furniture and bright Resene Wan White from the Karen Walker paints collection for the walls of her own bedroom.
the look
If you're stuck on what
colour to use or need colour
advice, try out the Resene
Ask a Colour Expert service.