►
◄
latest
habitat tv
blog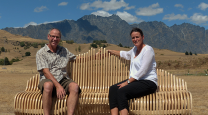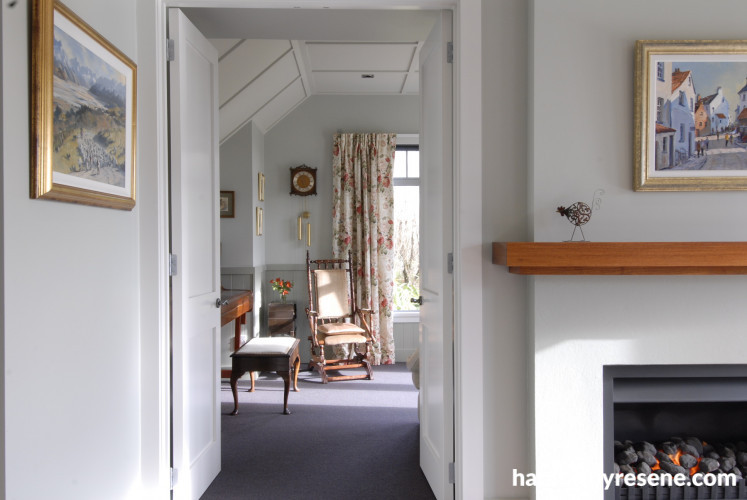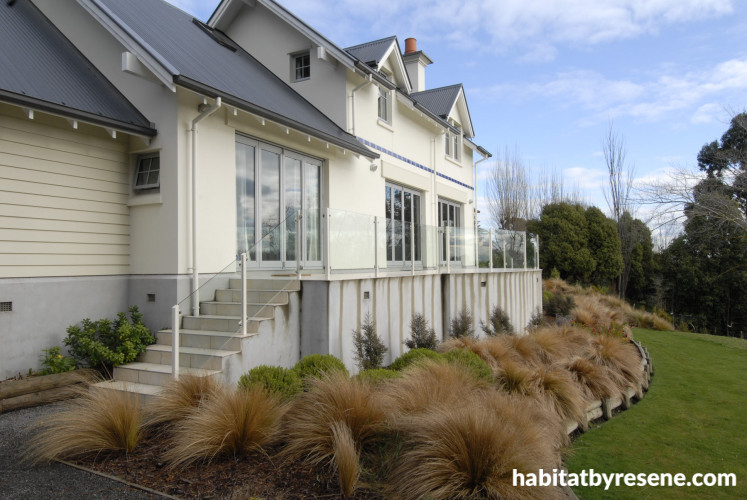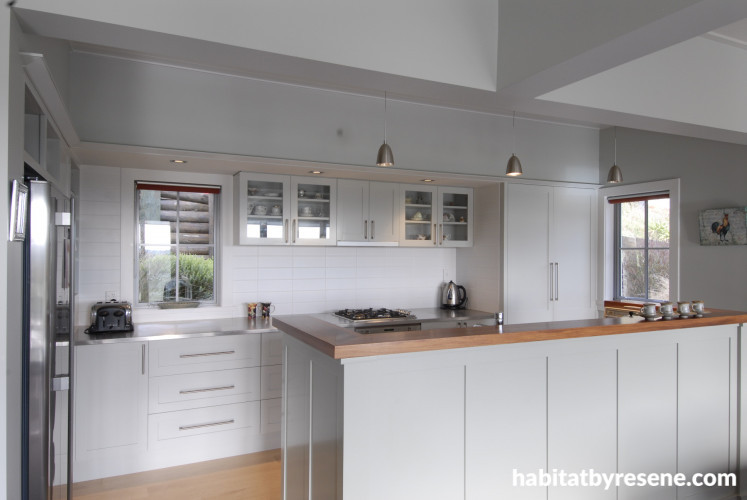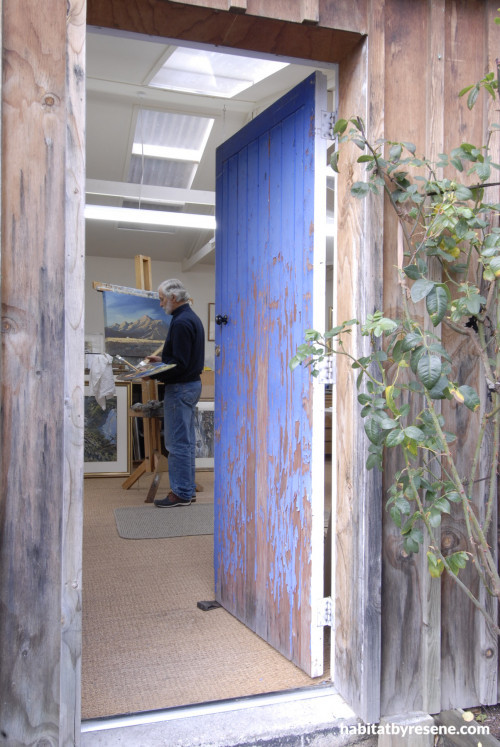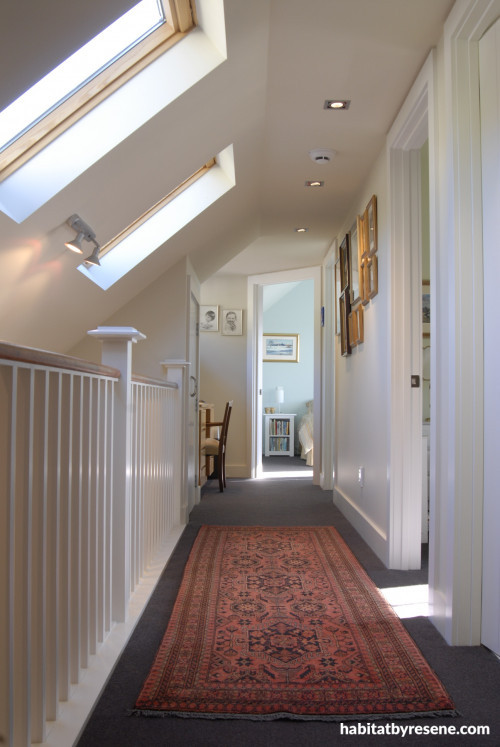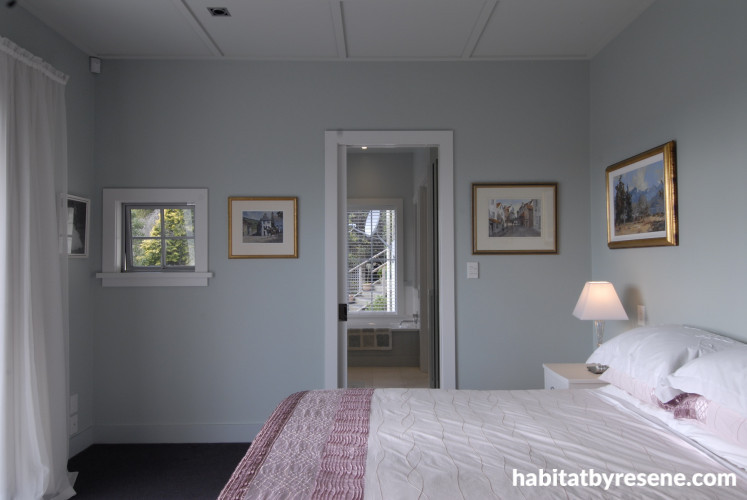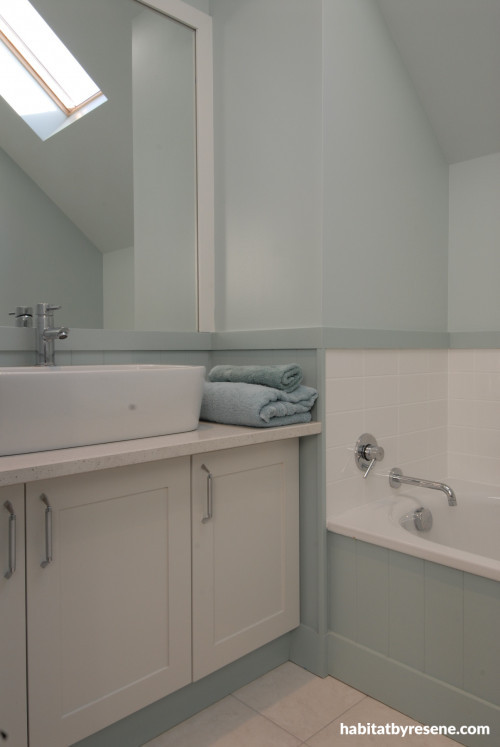 Bill and Lesley's contemporary cottage calm
Published: 14 Jun 2012
Do you have a home full of wonderful Resene paint and colour? Send us some snaps by emailing [email protected].
A place to rest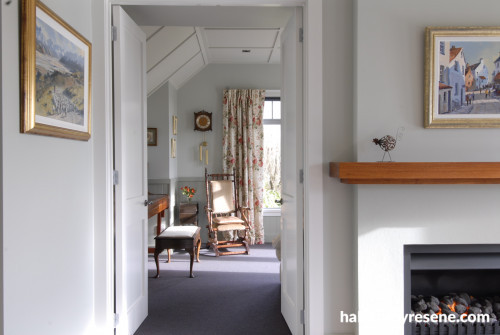 This semi-rural Christchurch cottage has all the charm and whimsy of a character home but all the ease of a modern house.
Lesley and Bill Moore's house was actually built on their own lower paddock. Pet sheep Ewe2 and Cuddles had to pack bags and move on to new pastures but Bill, a professional artist, got to keep his long-time art studio.
Lesley and Bill love the peace and rural views of their city-limit location, features that have been enhanced by architect Ashley Muir of Dunedin-based practice Mason and Wales.
Inspiration tip: Bill and Lesley were inspired by the architectural philosophy of American Sarah Susanka, author of The Not So Big House. She believes that if homes contain quantities of daylight, natural materials, beautiful forms and the things the owners love, then huge spaces and rarely used rooms are redundant.
The Moores have indulged themselves with design features often deleted in modern houses - diminutive cottage-style windows, varied ceiling styles, thicker walls, and dado-studded interiors.
The couple's favourite room, the 'snug', works on a number of cottagey levels. It's deliberately intimate and free of technology. The windows descend to almost ground level, to allow a seated view past trees and tussocks. And the ceiling coves down, so you feel enveloped.
Plenty of natural light and soft colour, often inspired by the landscape, are important to the couple.
At the time of building, "everyone seemed to be doing deep browns and greys," Lesley says. The painters spoke of their relief at using different, fresh tones. Lesley made one exception in the entrance way, where Resene Double Sisal below the dado gives way to Resene Half Sisal above.
Tip: Charcoal-hued carpet throughout anchors the schemes, allowing paint colours to vary, and create each room's mood. The ceilings are one-eighth of the wall colour strength, unifying each room and giving a spacious feel.
Some colours have been deliberately chosen for their recessive quality, in the interests of visual peace. Resene Wan White from the Karen Walker rangefor doorways, sills and skirtings has proved, Bill says, "a wonderful choice" in the way it allows other colours like Resene Lemon Grass, Resene Hermitage and Resene Half Ashanti to sing.
"We think that using graduating shades which suit their setting helps the house to feel bigger," Bill says.
The walls of the main photograph are Resene Lemon Grass and the dado behind the chair is Resene Double Lemon Grass.
pictures
Pictures by Juliet Nicholas; words by Liesl Johnstone.
Nestled in tussock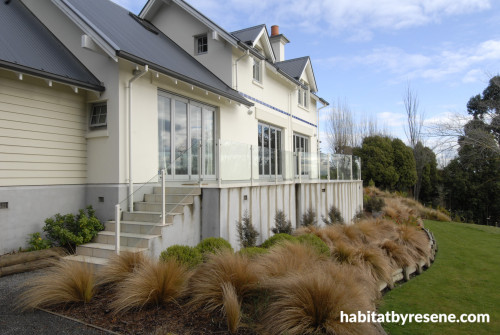 Landscaping is a core part of the concept. Designed by their son landscape architect, Mike Moore, plenty of tussocks and other natives keep the surrounds low maintenance, while Lesley ensured the odd rhododendron, rose bush and hydrandea were included. The house exterior is Rockcote and Linea weatherboard finished in Resene Half Wheatfield and Resene Wheatfield.
The kitchen is a calm oasis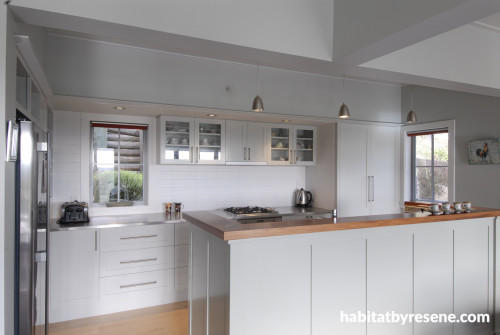 Because the kitchen is integral to surrounding living space, care has been taken to continue materials, forms and colours (Resene Lemon Grass). The same cherrywood used for the stair-rail and the fireplace mantel tops the kitchen island. A dark granite bench echoes the charcoal-coloured carpet. Splash-back tiles possessing the same matt, tonal effect as Resene Wan White were a lucky find.
At work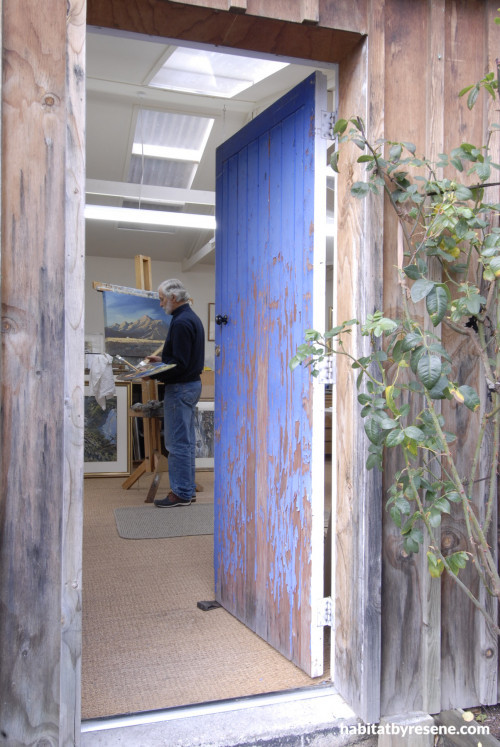 Bill, a professional artist, got to keep his long-time art studio with its distressed blue door.
Diffuse light for the hallway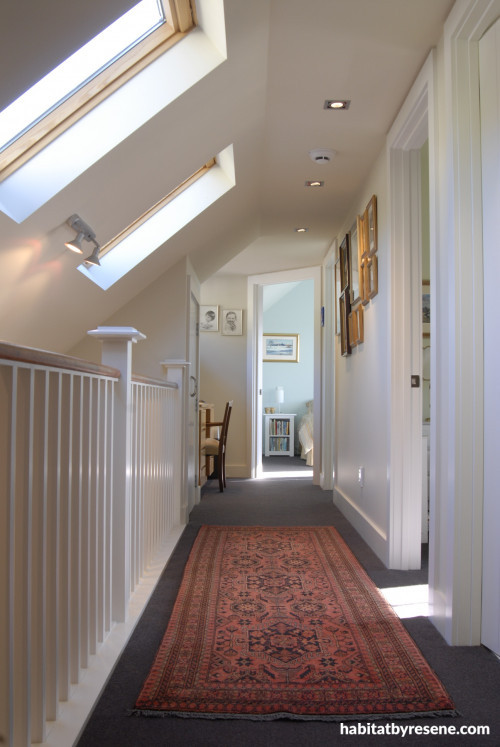 The upstairs hallway is bathed in soft light from cleverly positioned skylights.
A soft egg-shell quality for a bedroom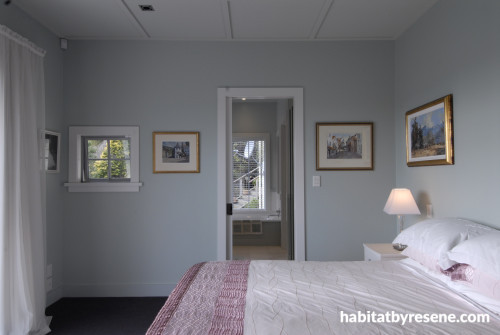 Resene Half Ashanti walls bring a deep egg-shell quality to this bedroom.
Softly softly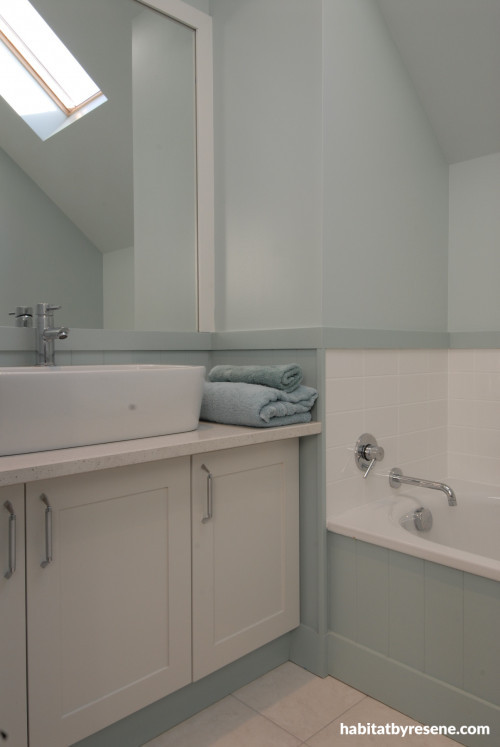 The vanity in the upper bathroom is finished in Resene Wan White to create a warm contrast to the Resene Half Ashanti walls.
Resene Double Lemon Grass
the look
If you're stuck on what
colour to use or need colour
advice, try out the Resene
Ask a Colour Expert service.