►
◄
latest
habitat tv
blog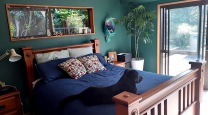 A bit of luxe with your latte?
Published: 27 Mar 2014
Do you have a home full of wonderful Resene paint and colour? Send us some snaps by emailing [email protected].
Creating a glamour kitchen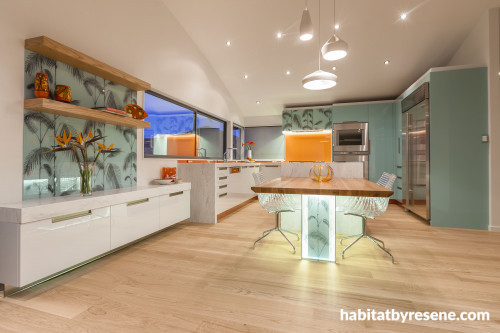 Having a glamorous kitchen isn't everyone's cup of chai. Some of us prefer a humble rustic flavour, a cluttery vintage style or something sleek and designer. Then some of us want a bit of bling.
New kitchens are expensive so if you want yours to look like the million dollars you felt like you've spent, there are some simple ways, like using glossy Resene paint, that will lift the look.
The designer of the kitchen above, award-winner Mal Corboy, is well-known for his breathtakingly glamorous kitchens. This elegant and whimsical design includes tall cabinetry in Resene Kumutoto that sit alongside lower Resene White Thunder cabinets. The splashback and toe-kick are in Resene Whizz Bang, the walls are Resene Half White Pointer and the ceilings are Resene Quarter White Pointer. A delicate palm motif is printed onto the back of the glass above the splashback and behind the shelves.
A colour scheme agreed on by many kitchen designers that goes a long way to creating a luxe look is black and white. It may sound simple but use these colours in the right balance and with high-gloss Resene Uracryl (that's a tough urethane acrylic that can be used for kitchen cabinets), the combination can look amazing. And from a more practical view-point, high gloss means easy clean. Designer Celia Visser also suggests including jewel-like colours like red, emerald green and yellow.
Avoiding clutter and kitsch
As a variation, kitchen designer Natalie Du Bois suggests cream and black for a more traditional but equally glamorous look. "Introducing some, copper, gold, silver or brass tones will push the whole feel to the next level."
Kitchen architect Toni Roberts points to good lighting as a vital component, especially when using high-gloss or textural finishes. "Without the vital lighting to highlight the gloss, it would be blah rather than hurrah!" She says that using metallic finishes (like those from the Resene Metallics and Special Effects range) are evocative of affluence. Subtle shimmery shades along with the 'yellow' metallic such as gold, bronze and pewter are on the ascendency in terms of fashion, notes Toni.
Materials matter
Materials that ooze sophistication are an obvious choice – marble for the benchtop and/or the splashback; glass mosaic tiles or textured tiles for the splashback, beautiful handles, laser-cut panels or printed glass, glamorous lights and beautifully designed drawer inserts.
Another devise that says low-key sophistication, says Rochelle Jackson from Kitchen Elements, is using colour in unexpected places, like inside a pantry or inside drawers. "Having a contrast colour or timber interior when you open the door gives you a surprise and looks very up-market."
Celia Visser suggests using over-sized mirrors in an adjacent dining space, probably sitting on the floor, and a feature chandelier for extra glamour.
Black, the ultimate in sophistication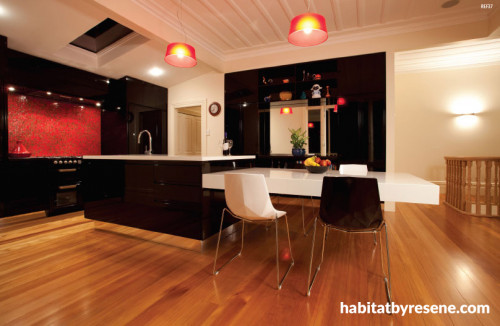 Black with a shot of bright red in the splashback makes this kitchen luxurious and moody. In a house designed by Gary Todd Architecture, it uses Resene Black, Resene Black White on the ceilings and Resene Double Pearl Lusta on the walls.
Bold and beautiful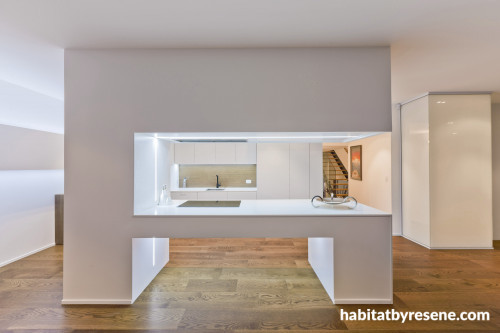 The simplicity of this very designer space and the boldness of the forms instantly speaks of high-end architectural glamour. The kitchen is in Resene White and was designed by Celia Visser of Celia Visser Design.
Luxe materials shine on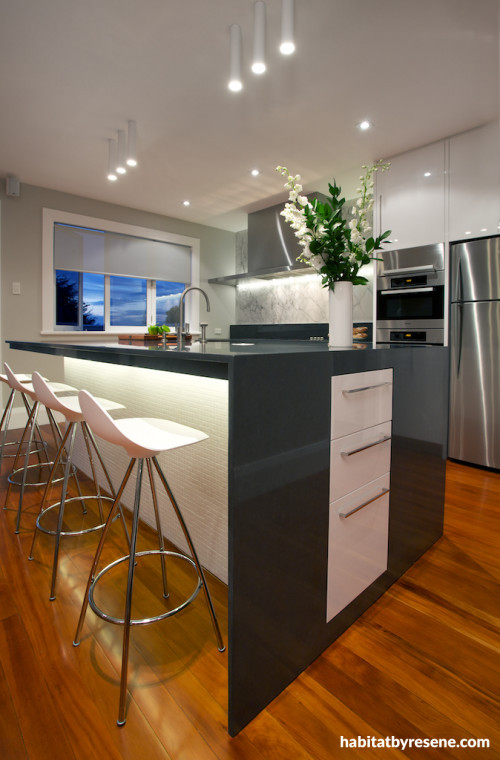 A waterfall of stunning glossy granite bench top and a marble splashback are the centrepieces of this sumptuous kitchen designed by Natalie Du Bois of Du Bois Design. It's joined by cabinetry in Resene White and walls in Resene Half Truffle.
Element of surprise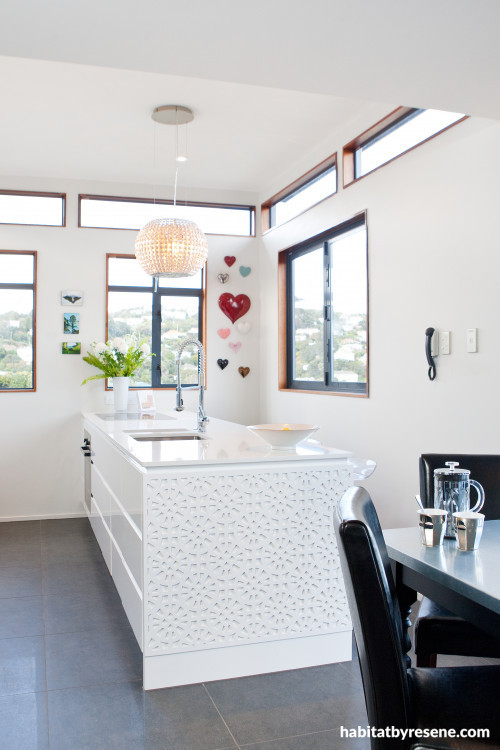 The element of pleasant surprise lifts a kitchen above the usual, like this delicate laser cut pattern set into the end of the island in this kitchen designed by Rochelle Jackson of Kitchen Elements. Colours used are Resene Black White and Resene Half Black White.
Delicious mocha tones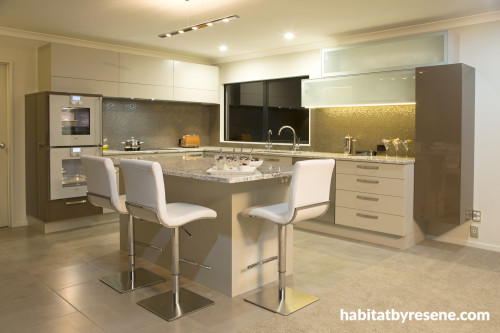 Shimmering and utterly delicious, this kitchen designed by kitchen architect Toni Roberts was inspired by the owners' love of coffee. The silky smooth caramel, coffee and mocha tones include cabinets in Resene Rocky Road and Resene Half Napa. The owners then found the richly textural Snow Lake granite, which looks like cookies and cream ice-cream. Ironically for coffee-lovers, Resene Half Tea was selected for the walls and Resene Quarter Tea for the ceilings.
Resene Half White Pointer
the look
If you're stuck on what
colour to use or need colour
advice, try out the Resene
Ask a Colour Expert service.