►
◄
latest
habitat tv
blog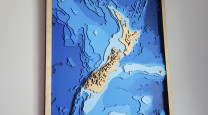 Black and white and fab all over
There's a phrase in interior decorating that claims that "every room can use a touch of black." Using black can be a great way to create a focal point that anchors the space and generally adds a sense of sophistication to a room. It's also a popular choice for creating what is commonly known as a monochromatic colour scheme.
Monochromatic colour schemes are actually any scheme derived from a single base hue, and extended using its shades, tones and tints – which is to say, a hue that's been modified by the addition of black, grey or white. As a result, the energy in the space is more subtle and peaceful since the colours naturally go together without any risk of them fighting one another. So while black and white colour schemes are indeed monochromatic, in reality, the term applies to any room that sticks to a single colour (e.g. uses blue from top to bottom). Black through to white schemes are often known as achromatic colour schemes.
One of the great things about decorating your walls and floors with a black and white scheme is that they'll go with virtually any other colour you want to bring into the space. If you're the type of person who likes to switch things up now and again, a black and white scheme might be the perfect match for you. You can easily change out soft furnishings and accessories when the seasons change, for parties or entertaining, or whenever the mood strikes.
But let's face it – picking the right white can be hard. There are literally hundreds of whites to choose from, so how do you know which one to use? The Resene Whites & Neutrals chart is often the best place to start if you're looking for a good range of popular neutral options without being overwhelmed with too many choices.
Published: 30 May 2019
Do you have a home full of wonderful Resene paint and colour? Send us some snaps by emailing [email protected].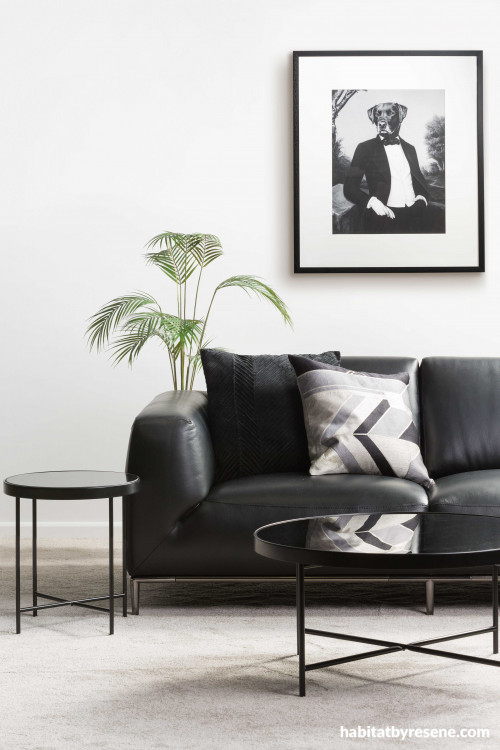 Perennially popular Resene Alabaster looks very grown up on the walls of this all black and white lounge.
Resene Black White has held top spots in the list of Resene's most popular colours for a number of years, along with Resene Alabaster. Four variants of Resene Black White – double, full, half and quarter strength – have all made this year's top 20 too. In fact, all of Resene's current Top 20 are versatile black and white neutrals that can be complemented with many other colours for a look that can be anywhere from soothing to striking.
Resene Black also made the Top 20, but other variations like Resene Noir, Resene Nero, Resene Charcoal continue to be popular choices as well.
While the current Top 20 can also be a good reference for building your palette, neutrals can look very different under different lighting circumstances. Always be sure to check your colour choices with a Resene testpot before you commit to a colour. Paint an A2-sized card, leaving an unpainted border, and move the colour around the room at different times of the day and evening to see how it looks. Alternatively, you can view A4 drawdown paint swatches of Resene ColorShops in their in store colour library. Resene staff can also order you in these swatches for you to try them at home.
Top tip: If you find a Resene neutral colour that you like but are keen to see other variants, use Resene's individual whites and neutrals palette cards or The Range Whites and Neutrals fandeck to see more options.
For more inspiration, check out these 'tuxedo looks' grounded with colours from the Resene Whites & Neutrals chart and some sensational patterns from the Resene Wallpaper Collection.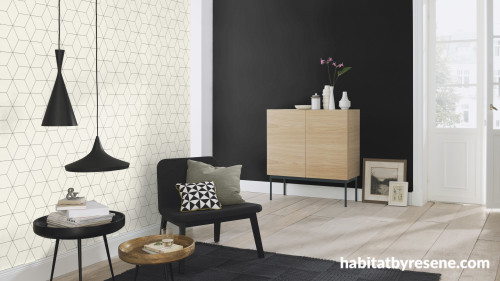 Resene Wallpaper Collection 624304 is an elegant pattern from the Modern Art range.
The striking geometric pattern of Resene Wallpaper Collection 624304 from the Modern Art range is unquestionably elegant as part of a black and white scheme. Pair it with an accent wall in Resene Dark Web with doors and architraves in a bright white like Resene Double Alabaster. Try Resene Quarter Spanish White on other non-wallpapered walls to warm things up, mix in a few accessories in Resene Grey Area, and give timber a soft, worn-in look with Resene Colorwood Whitewash – just enough to leave the woodgrain showing through.

Resene Wallpaper Collection 622324 from the Modern Art range.
Purple can be a stunning option to pair with a black and white scheme, especially with an eye-catching pattern like Resene Wallpaper Collection 622324. Try it with a soft lilac like Resene Memory Lane or a deep violet like Resene Purple Rain, paint a major piece of furniture in a warm red-based grey like Resene Rocky Mountain and go for trim in a greyed white, such as Resene White Pointer.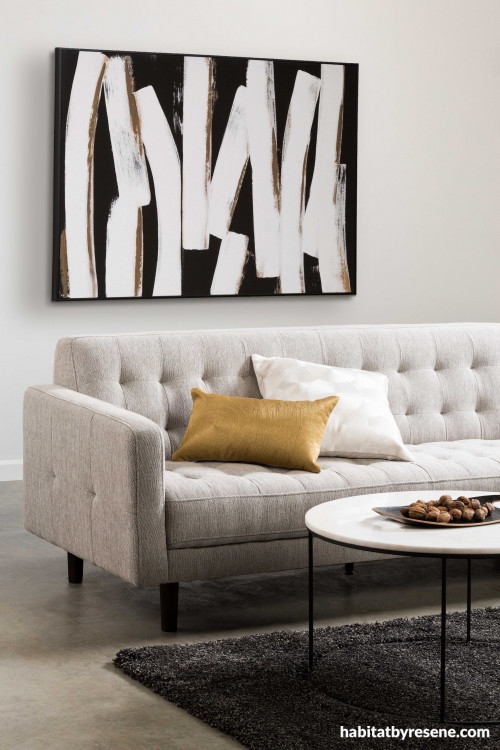 Resene Alabaster walls and trims look warm and inviting in this neutral lounge thanks to the accent colours, including the gold cushion and the brown in the artwork.
Golds and browns look equally elegant in a black and white room. Try Resene Thumbs Up, Resene Influential, Resene Swiss Caramel or Resene Barnstorm with a stark white like Resene Alabaster and a true black like Resene Noir, then go for a warm wood stain such as Resene Colorwood Natural, Resene Colorwood Bark or Resene Colorwood Walnut on the floors.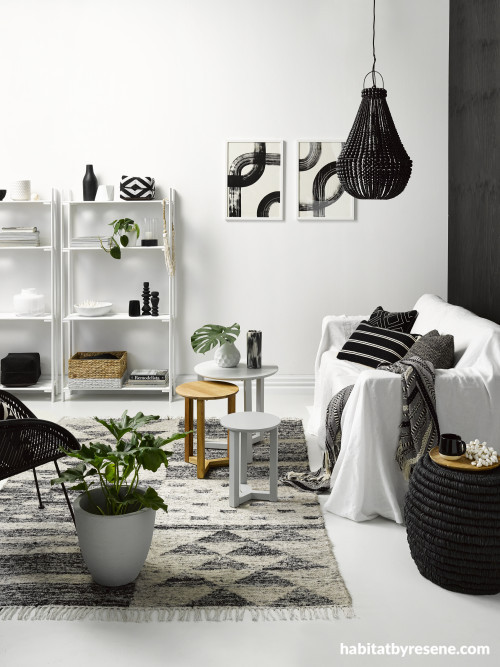 Resene Alabaster Walls look cool next to a feature ply wall stained Resene Colorwood Pitch Black and floors in Resene Quarter Atmosphere, but fresh plants and a variety of textures add plenty of cosiness. The side table is in Resene All Black, the large nesting table is in Resene Quarter Delta, the small nesting table is in Resene Delta and the large plant pot is in Resene Kensington Grey.
If you'd like to bring black outside, Resene Pitch Black is from the Resene Exterior wood stains colour chart and can be used in the Resene Woodsman product range on exterior timber. Be sure to check with your local Resene ColorShop before deciding on which product will suit your project best.
Alternatively, you can also use Resene Pitch Black in a Resene Colorwood base for use indoors – which was what was done in the scandi lounge above on the ply feature (at right). It's been teamed with Resene Alabaster on the walls and architraves, Resene Quarter Atmosphere on the floors, Resene All Black on the woven textured side table, Resene Quarter Delta on the large nesting table, Resene Delta on the smallest nesting table and Resene Kensington Grey on the large plant pot.
Top tip: In a black and white scheme, fresh plants are a great way to bring in natural colour and warmth.
Other ideas to try:
imagesNood, Melanie Jenkins, Flash Studios
styling Claudia Kozub?
product sourcesWestin 3-Seater Sofa, Aura Coffee Table, Aura Side Table, Monty Shag Rug, Le Baron Fine Artwork, Astoria Cushion,Swirl Metallic Cushion, Bloom 3-Seater Sofa, Desert Framed Canvas, all from Nood.