►
◄
latest
habitat tv
blog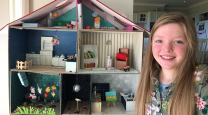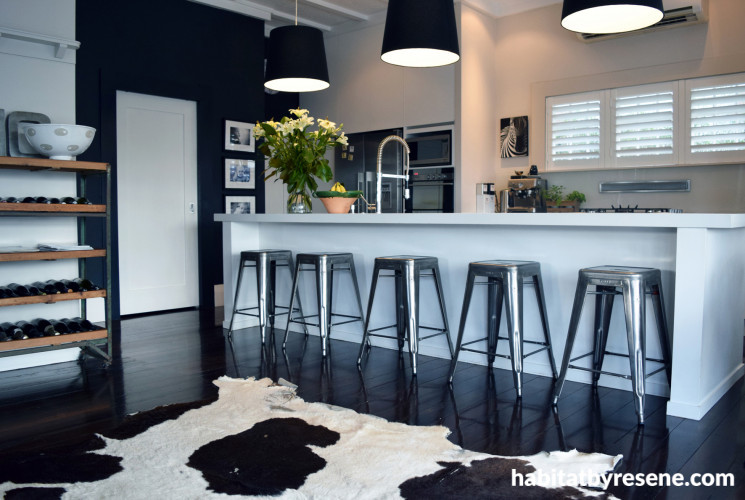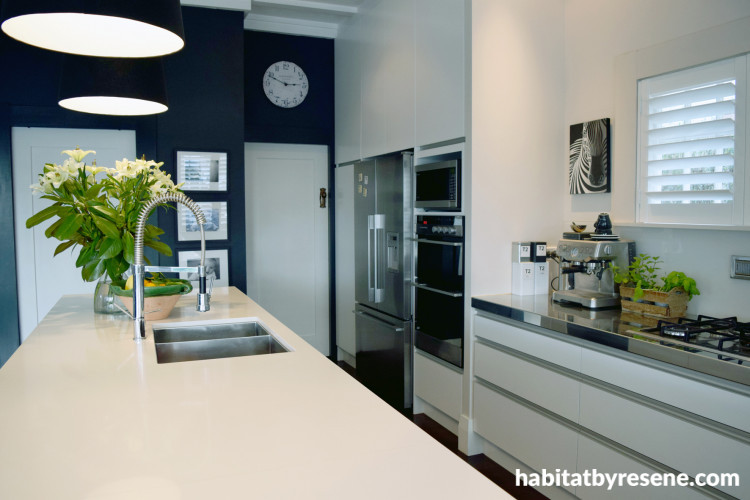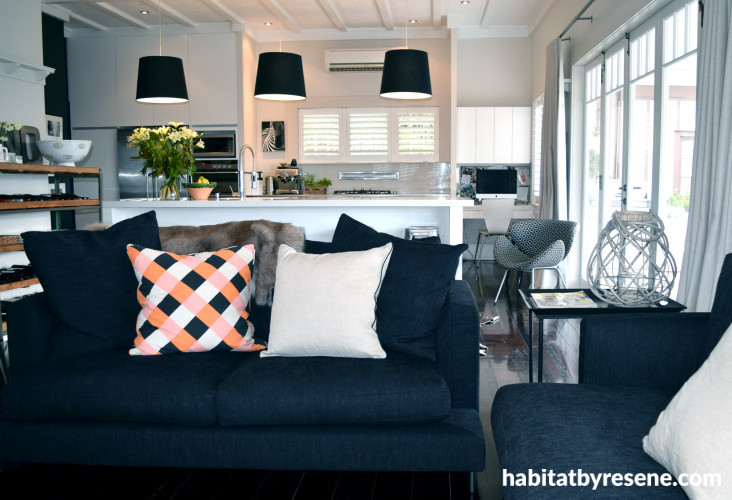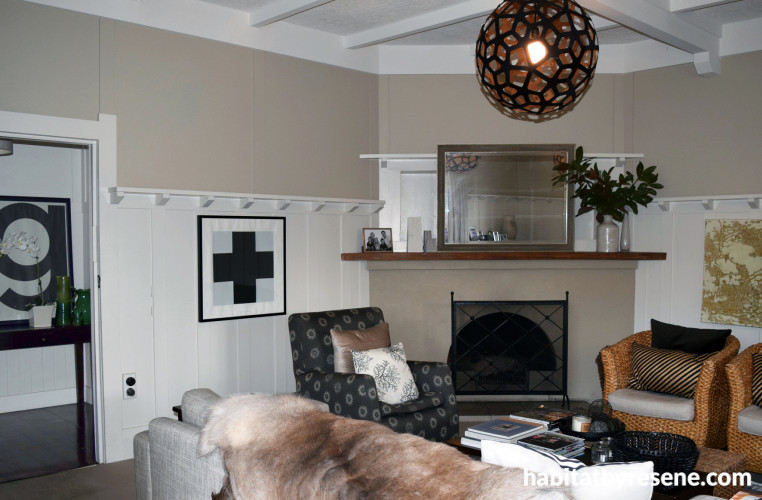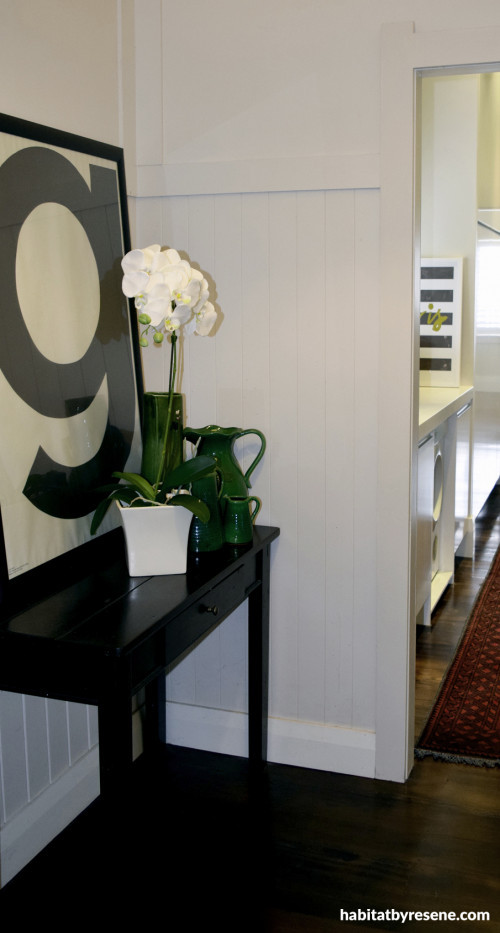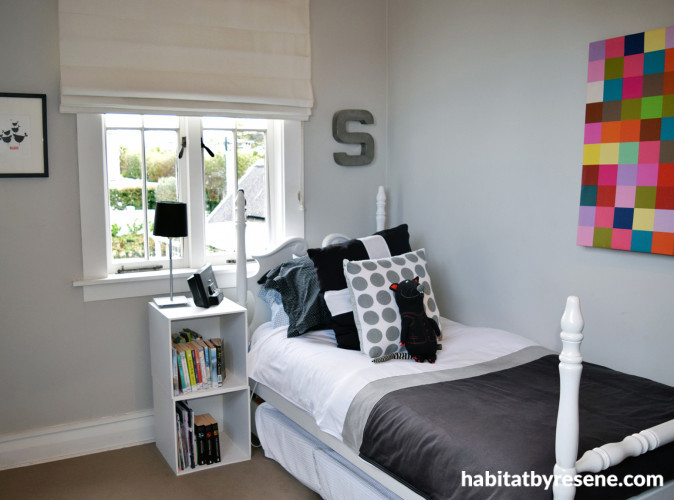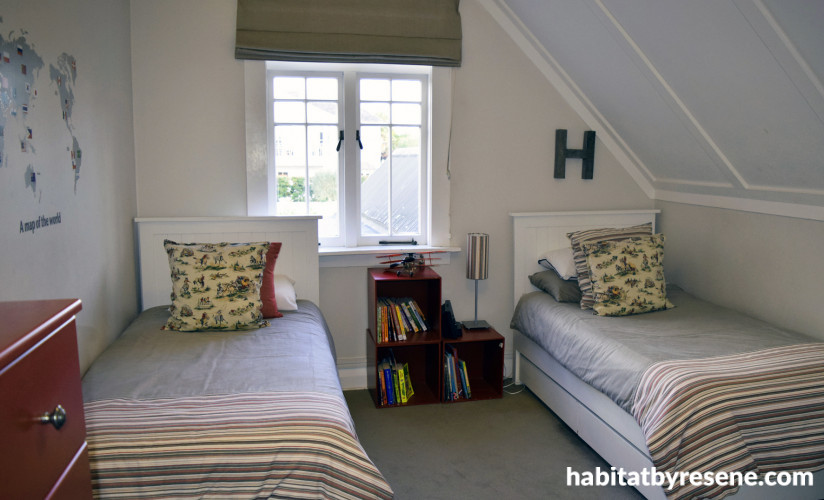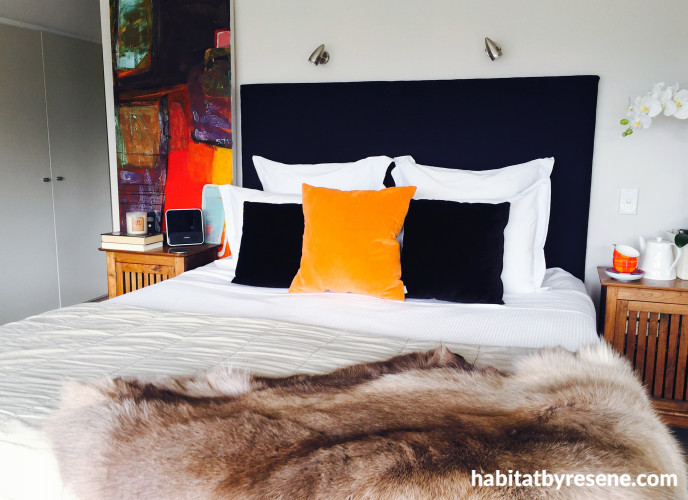 Blake and Gabs find the right white
White airy homes are all the rage these days, and with good reason. Paint your walls the right white, and you're inviting glorious light and space to any room – it's so natural and so easy on the eyes. But don't be fooled: achieving a beautiful neutral interior such as this refurbished 1920s villa is so much more than just slapping on a coat of plain white paint.
Homeowners of the villa, Blake and Gabs, took the time to perfectly execute the right shades of white throughout their home. Using varying strengths of Resene Akaroa, Resene Tea, as well as Resene Alabaster and Resene Eighth Friar Grey, character details of the home come alive, picking out the amazing woodcraft from that era.
Wise decisions on colour didn't stop there. Sharp, inky-black accents have been added to create depth in all the right places of the two-storey home. Deep black Resene Cod Grey adds a striking feature wall in the kitchen, while tasteful dark furniture and art pops against the white walls. It's a monochromatic-lover's idea of heaven.
Explains Gabs: "I love using black when decorating as it adds depth, never seems to date and it hides a multiple of sins when it comes to the children!"
We talk to her about the home's interior design.
How did you decide on the overall look of the interiors?
I don't really follow a look but tend towards light and bright where possible, with splashes of various shades of black for depth and a mix of furniture and artwork which has captured my eye over the years. Our interior has evolved over time and will continue to do so!
What part of the house are you most happy with?
Definitely the kitchen and living room. Everyone seems to congregate here whether it be winter or summer where we can throw the doors open to the deck and pool.
What is your advice for someone trying to achieve a similar look?
Keep walls lighter overall, and use dark paint, furnishings and light fittings for depth in certain areas. Layer the personality of your home with colour, pattern and texture.
What was the biggest decorating, renovating or building challenge for this project?
Designing and remodelling the new master bedroom suite. The original bedroom came complete with different floor levels, no ensuite and many windows to work around. It's now all on one level, with a generous dressing room, additional floor-to-ceiling wardrobes and ensuite.
We also found painting out the dark wood paneling in the lounge and stairwell a challenge and a bit of a gamble. These projects took a lot of preparation and painting time but we were very happy with the end results... brighter spaces in essentially the southern-most facing areas.
Published: 31 Dec 2015
Do you have a home full of wonderful Resene paint and colour? Send us some snaps by emailing [email protected].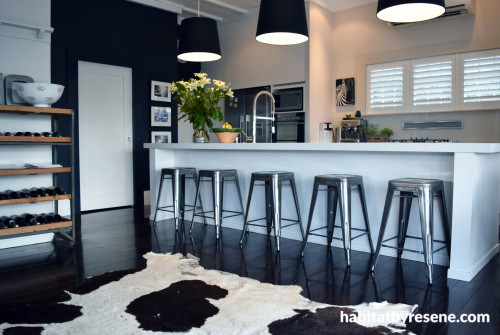 The kitchen is pride of place for homeowners Blake and Gabs, and where everyone tends to gather. A corner painted in deep dark Resene Cod Grey adds just the right amount of depth to the room, otherwise painted in various strengths of Resene Tea, a popular beige white.
pictures
Jessica Judge
A wonderful balance of black Resene Cod Grey and white Resene Tea on the kitchen walls.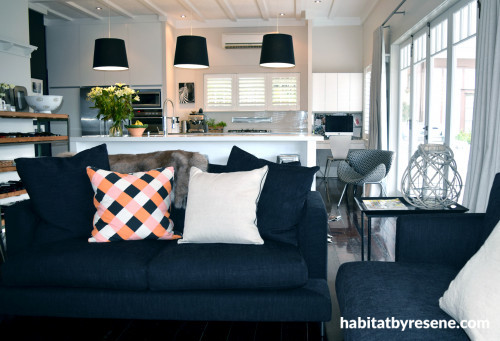 The kitchen and living room, which opens up to a deck and pool. The ceiling is painted in Resene Alabaster, a crisp white that adds another dimension to the monochromatic living area, looking great above Resene Cod Grey (black) and Resene Tea (white, on the walls).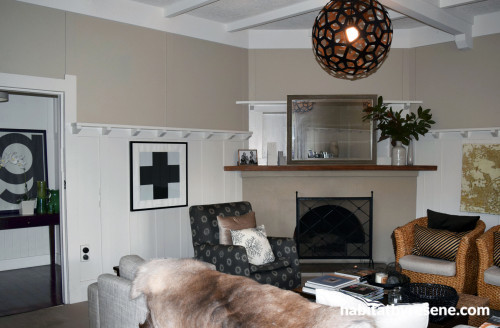 How many shades of white can you count? There are three – Resene Akaroa on the walls and fireplace surrounds, Resene Alabaster on the ceiling and trims, and Resene Blanc, a Parisian white, on the wood paneling.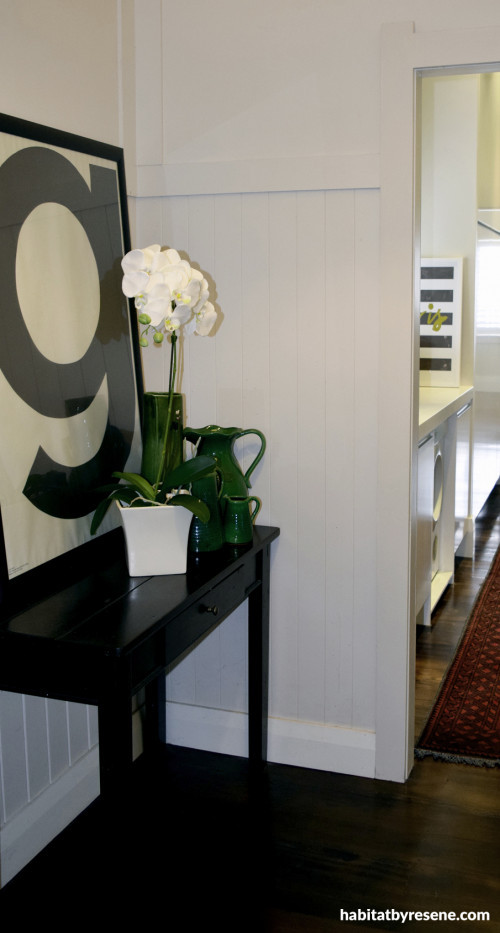 The walls of this 1920s character home are beautifully textured with grooves and panels brought alive by varying strengths and shades of white. Here the walls are painted in Resene Half Tea, with trims in Resene Alabaster.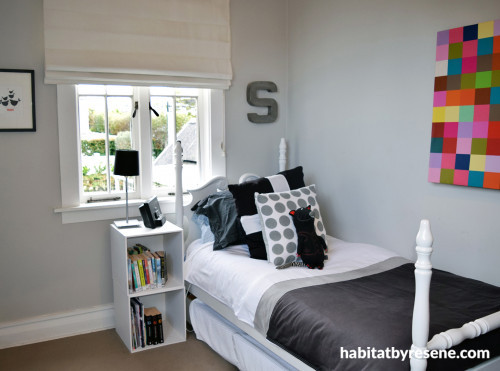 Daughter Sophie's room is painted in Resene Eighth Friar Grey, with trims in Resene Alabaster, showing brighter colour through her artwork and accessories.
Young Ollie's room is painted in Resene Half Tea and Resene Alabaster.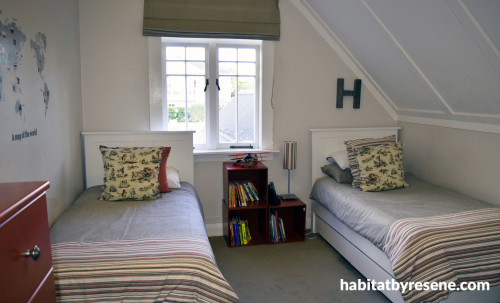 The same goes for Hugo's room, using Resene Half Tea to draw light into an otherwise sunless space. The ceilings are also in Resene Alabaster.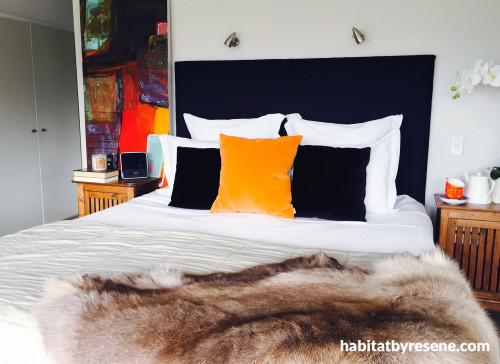 The most challenging room of the house refurbishment. The main bedroom, once a two-level room, now has an ensuite, generous dressing room and a fabulously cosy bed setting. The walls are painted in Resene Tea.
the look
If you're stuck on what
colour to use or need colour
advice, try out the Resene
Ask a Colour Expert service.