►
◄
latest
habitat tv
blog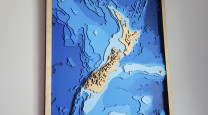 Art Battle Auckland's first Spotlight artist Kelly Williams is stepping up to the canvas once again
14 Sep 2023
Kelly's first exposure to the Art Battle audiences involved creating a 40"x40" canvas over the course of three hours and producing a piece that was full of attitude – this lively artwork was quickly snapped up via silent auction by a keen buyer.
Kelly Williams [aka Mountain Duck] is of Ngati Kahu ki Whangaroa and Braemore Gunn descent, and has an early background writing graffiti across the streets of Auckland. Back before Len Brown's "zero tolerance" policy turned Auckland mostly grey, his "EVOKE" moniker and quirky characters could be found all across the inner city. These were often long-standing pieces, around the heights of Kingsland where no one else had managed to get at, or could afterwards.
His artistic talent led him into a local animation studio, where he started drawing classic style cartoons for our local show Brotown and a couple of Disney shows.
A taste of using computers soon found him on a graphic design path, which slowly morphed into a digital design career that spanned nearly two decades. After climbing the ranks of the corporate world and working on cutting edge projects for the likes of TVNZ, ASB Bank and Air New Zealand, Kelly has opted out of the city life and currently resides in Raglan; where he spends his days building sculptures and stage décor for clubs or festivals, creating mixed media artworks, facilitating street art and cartoon workshops, and of course surfing.
His current art is a culmination of all the influences and styles he's explored over the years, and is best described as "Mash-up pop-psychedelic-cartoon-graffiti"; featuring representations of his heritage via traditional Māori and Celtic deities in his works, alongside more traditional pop art and nostalgic iconography, these are often interspersed cosmic musings in a street art style and surfing themes.
Exploring the use of Resene paints, Kelly has pushes them well past the standard brush and stroke methods, into heavy dilutions and washes, and even some quirky weed-sprayer techniques - all with very interesting and unique results so far.
Kelly will be painting at a few events over the coming months, so get along to witness the lively gestures and experimental mayhem during live performances and try to snap up one of his wild statement works while you can!
Kelly's upcoming events:
Art Battle - 21 September, Wynyard Pavilion Auckland.
La La Land - 14 October, Reimagine Festival New Plymouth.
A Tiny Show - November, The Tiny Shop, Raglan.
Shipwrecked Music & Arts Festival - 9 February 2024, Te Arai.
Earthbeat Festival - 22 March 2024, Atiu Creek.
See more of his work at www.themountainduck.com
Instagram @mountainduck
Don't miss the next Art Battle - September 21st at Wynyard Pavilion – where Kelly will compete with 11 other artists in a night of live art and action!
Join the fun as a spectator - buy tickets online here.
Special ticket prices available for friends of Resene! Just $20/ticket!
Enter the code COLOUR when you buy your tickets to get this discount.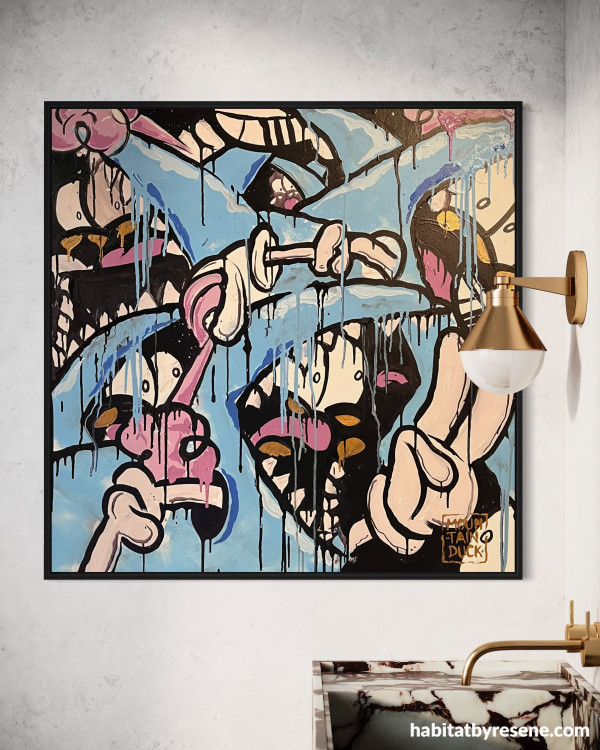 "Too Many Mako Miketū (in Malibu)" – Kelly's piece from his first Art Battle performance, painted in Resene FX Nightlight, Resene Malibu, Resene French Pass, Resene Butterfly, Resene Smitten, Resene Gold Dust and Resene Nero.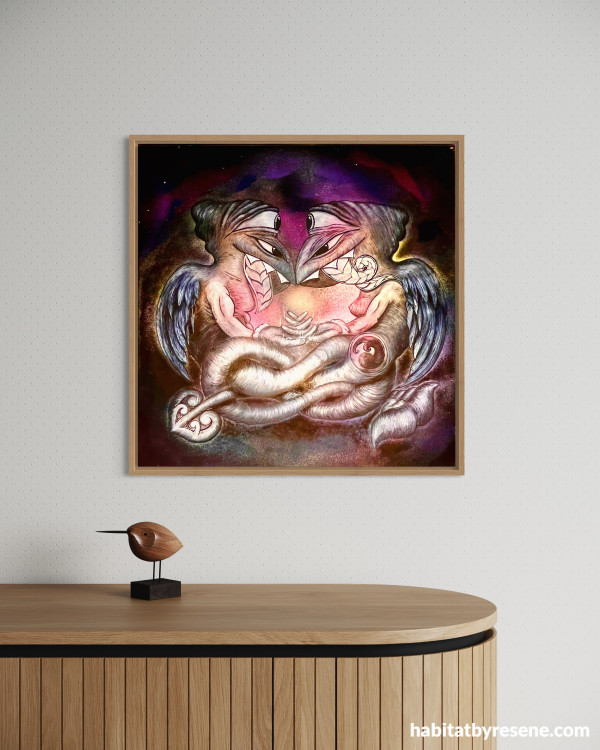 "Mutunga Kore Aroha (Eternal love in the endless night)" - Painted by Kelly at Earthbeat Festival as part of Three Lefts pop up gallery collective. This is Kelly's own personification of Ranginui and Papatūanuku, locked in their initial embrace and creating the first light and warmth in the universe. This 60 x 60cm piece was painted with Resene acrylics on marine plywood – currently for sale via artist website.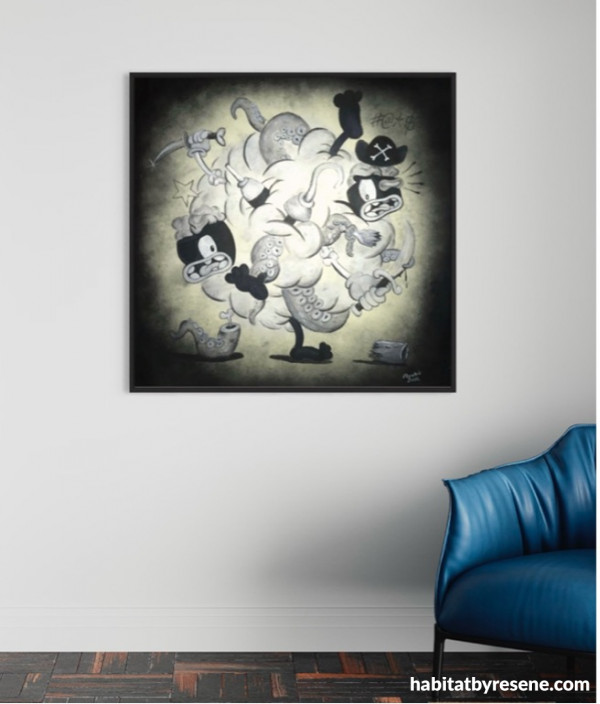 "Kerfuffle at 2:22" - Painted by Kelly during Shipwrecked Festival as part of Three Lefts pop up gallery collective - featuring Kelly's Miketū and Mikitahi characters, struggling with their eternal nemesis Te Wheke. This 60cm x 60cm, recently sold, is painted in Resene Charcoal, Resene Indian Ink and other Resene acrylics on marine plywood.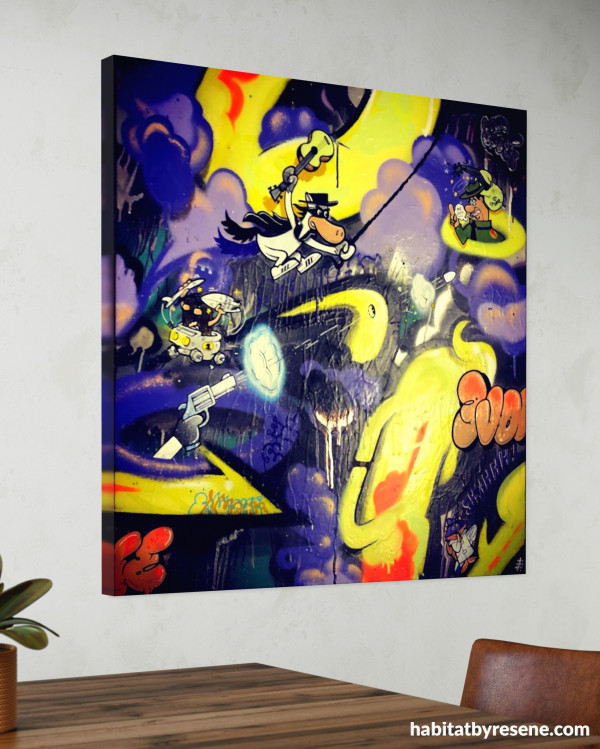 "Lockdown Surftown" – A creative and colourful piece by Kelly, using Resene colours and on canvas.
More info on Art Battle:
Heats:
There are four heats to go until the grand final!
Wynyard Pavilion
17 Jellicoe Street, Auckland CBD
21 Sep 2023, 6-10:30pm
2 Nov 2023, 6-10:30pm
14 Dec 2023, 6-10:30pm
1 Feb 2024, 6-10:30pm
GRAND FINAL: Eden Park stadium
Reimers Avenue, Kingsland, Auckland
28 Mar 2024, 6-10:30pm
On the night:
Doors open 6pm.
First round of 6 artists starts 7pm.
2nd round of 6 artists starts 8pm.
Final round of 4 selected artists starts 9pm.
Winner(s) announced 9.45pm
Auction/Bidding 9.45pm-10pm.
Finish/Close 10-10.30pm.
We look forward to seeing you there!
Published: 14 Sep 2023