►
◄
latest
habitat tv
blog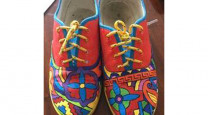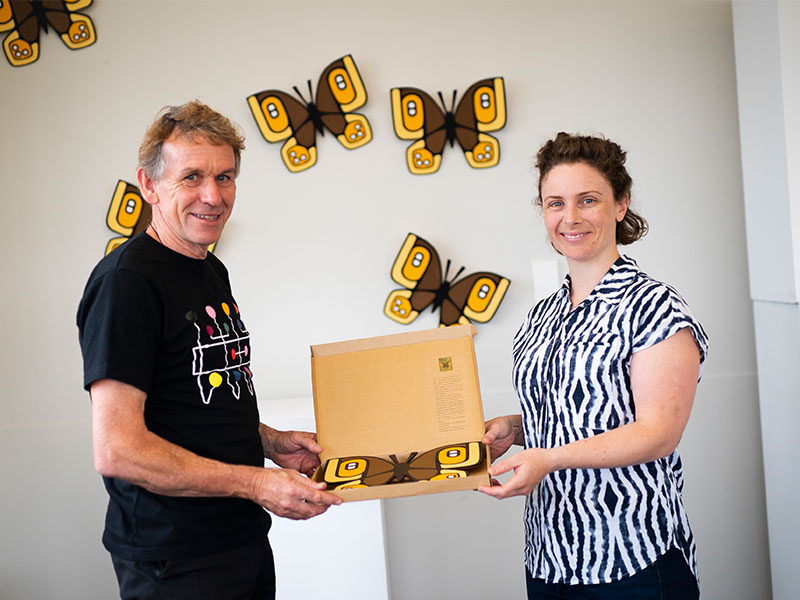 A colourful cultural heritage project takes flight at Otago Polytechnic
28 Feb 2019
Inspired by a series of iconic postage stamps depicting New Zealand butterflies and moths, a pair of Otago Polytechnic lecturers have given wings to a project that mixes cultural history with design research and artistic flourishes of Resene paint.
Design lecturer Gavin O'Brien and Hannah Joynt, Lecturer in Art, Digital Media and Design at Otago Polytechnic, have produced a limited run of wooden butterflies inspired by Enid Hunter's 1970 iconic design of a New Zealand postage stamp featuring a Tussock Butterfly.
Made from laser-cut bamboo laminate, the butterflies feature a palette of sustainable Resene paints in Resene Bardot, Resene Buttercup, Resene Saddle Brown and Resene Black.
Supported by the copyright owners of the image, New Zealand Post, Gavin and Hannah produced limited run of the butterflies to test the market, with several being as gifted as 'koha'. They recently received permission to do a second, larger batch.
"To date we have made a limited run of 50, of which we have about 20 still for sale at $120 each. A further run is anticipated later in the year, possibly extending to the one cent Red Admiral Butterfly stamp and the half cent Glade Copper Butterfly stamp of the same series."
"Hannah and I decided to turn this multi-faceted project into a fundraiser to contribute to Otago Polytechnic's connectivity to the wider community with a research project linking New Zealand design history with overt Maori content, contemporary technology, and a dash of entrepreneurship. Landcare Research's Ahi Pepe/MothNet project provided a perfect link," says Gavin. The duo plan to donate 10% of their profits raised from sales to the project.
Gavin says they see it as a "pracademic" project, one that will be used in future teaching over the coming year. He and Hannah are also hoping to present their work at a research symposium to be held at Eastern Institute of Technology - Te Aho a Maui - in April. The theme of the symposium is community-centred research, demonstrating the key role that New Zealand's institutes of technology and polytechnics (ITPs) play in ensuring that research has a tangible impact and benefits our communities.
"As a young stamp collector in the 1960s and early '70s, I was always taken by the highly stylised design," says Gavin – so it comes as no surprise that one of the butterflies has landed on the front of his beautiful board and batten home in Broad Bay, Dunedin.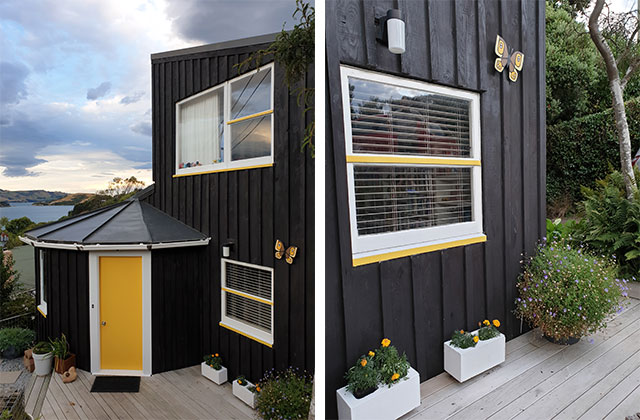 Gavin has lived in this lovely Dunedin home with his wife Yvonne and daughter Maeve for 8 years. The house is a hybrid design that has twice been altered since the original build in the late 1980's. The front entry and courtyard was most recently reconfigured four years ago in conjunction with family friends who work in the building and landscaping industries. The cladding is stained with Resene Crowsfoot natural stain and features pops of Resene Bright Spark on the door and the front faces of the window sills.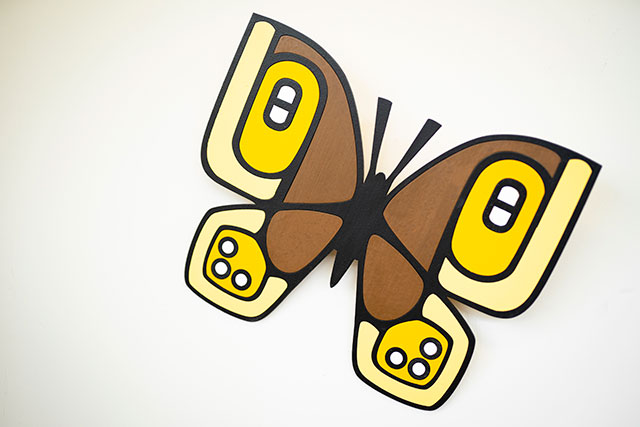 Inspired by Enid Hunter's 1970 iconic New Zealand postage stamp design featuring a Tussock Butterfly, Gavin and Hannah's butterflies are made from laser-cut bamboo laminate and painted with Resene Bardot, Resene Buttercup, Resene Saddle Brown and Resene Black.
Those interested in supporting the project and purchasing a butterfly of their own can contact Hannah at [email protected] for more information.
images Jodie Gibson, Otago Polytechnic and Yvonne Caulfield