►
◄
latest
habitat tv
blog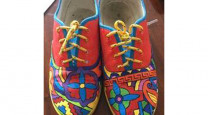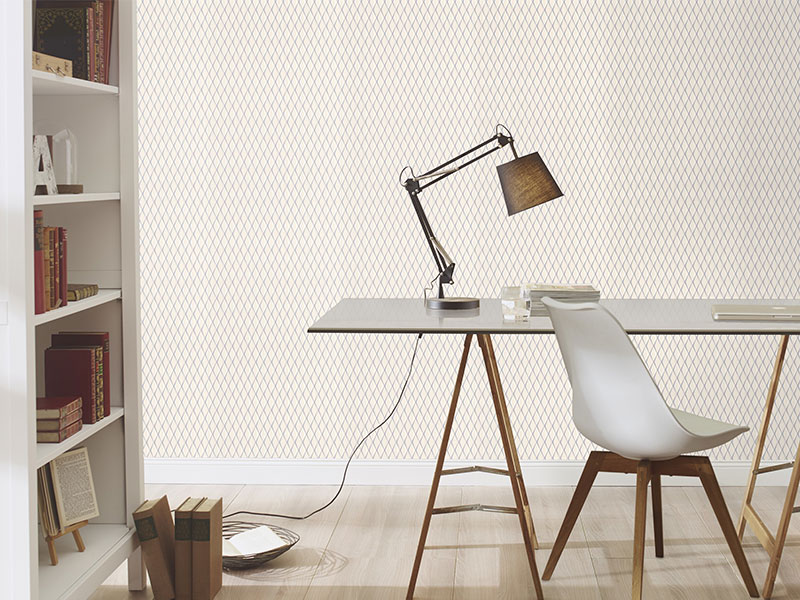 Diamonds are a wall's best friend
07 Aug 2019
Interiors trends may come and go, but as the adage says, diamonds are forever.
While Marilyn Monroe may have preferred the real thing, when it comes to interior decorating, skip the gemstones and explore the versatility that this classic shape offers.
Though typically considered a formal shape, diamond patterns can range greatly. From simple and understated to casual and colourful, there's a diamond design in the Resene Wallpaper Collection for everyone. Try one of these four designs to make a striking impact in your interior.
Classic glamour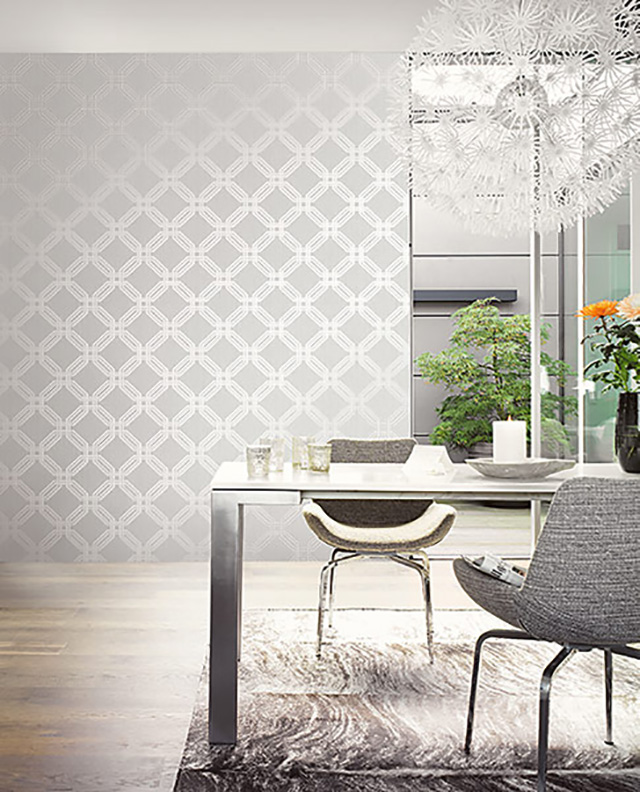 Silvery and stunning Resene Wallpaper Collection OY32307 has a subtle texture and a metallic finish, making it ideal for building a timeless and glamourous look. Try it in a dining room with a sideboard in Resene Quarter Baltic Sea, chairs in Resene Silver Chalice and a ceiling in Resene White Pointer.
To break things up and bring in a couple of pops of on trend colour, add in a few small decorative accessories, such as vases or trays, in Resene Unwind and Resene Twisted Sister.

Contemporary Minimalist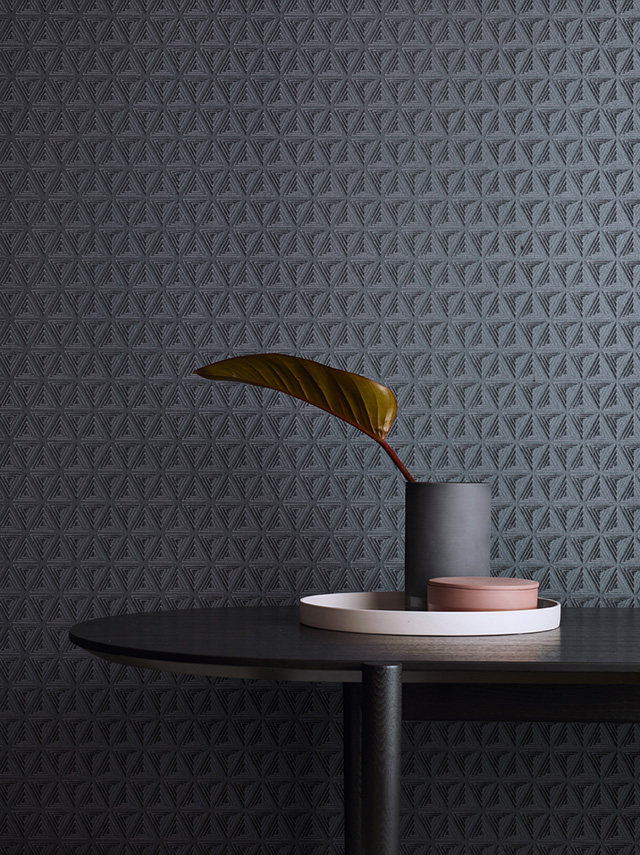 Resene Wallpaper Collection GLA103 has a clean, contemporary look that's perfectly suited as a backdrop for a trendy, tonal colour palette in today's popular pinks and charcoals. Try it in a lounge with major pieces of furniture, such as a coffee table and bookcases, in Resene Dark Web. Then, go for trims in Resene Quarter Bokara Grey, a floor in Resene Double Merino and add accessories in Resene Just Dance and Resene Despacito.
For a truly minimalist look, stick to matte finishes, such as Resene SpaceCote Low Sheen, and choose solid textiles in fabrics like linen, cotton and wool.

Organic and natural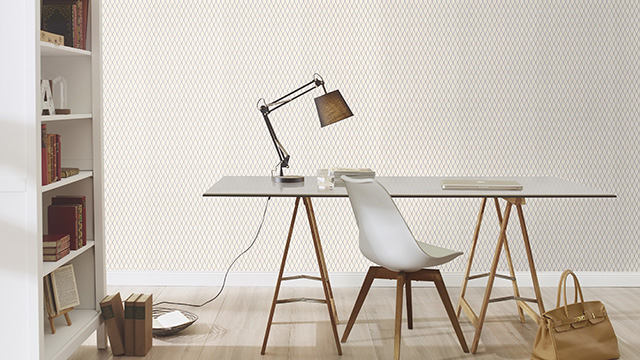 For a natural look with modern appeal, look no further than simple and neutral Resene Wallpaper Collection 800722. Use it in an office teamed with a timber floor in Resene Colorwood Whitewash, timber accents (such as table and chair legs) stained with Resene Colorwood Natural, trims and a bookcase in Resene Rice Cake, a lamp shade in Resene Artisan, and small accessories in Resene Swiss Caramel and Resene Dapper.

Top tip: Look for furniture that has elements that mimic the shape or angle of the pattern in your wallpaper design to bring a sense of cohesiveness to the space through repetition. In this room, the shape of the trestle legs echoes the angles of the diamond pattern in Resene Wallpaper Collection 800722.
Pretty and playful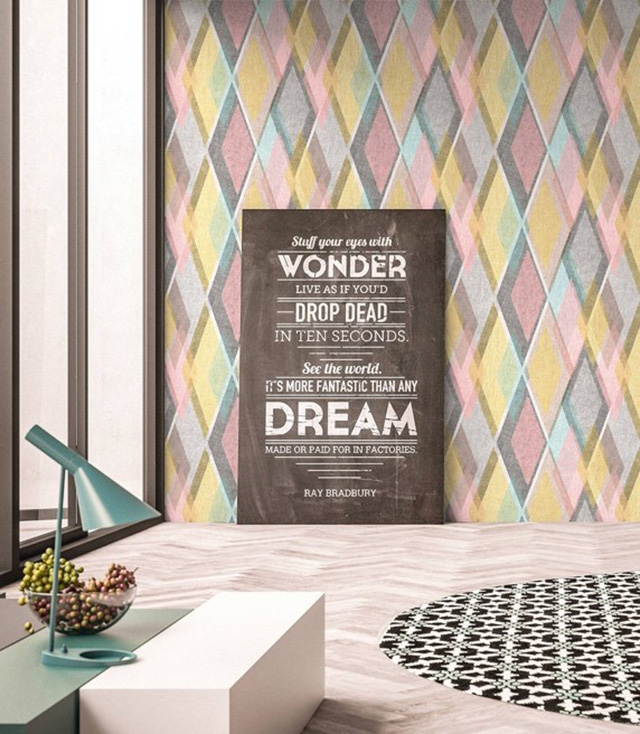 A light-hearted take on a classic harlequin design, colourful and casual Resene Wallpaper Collection 35591-3 completely counters the formality of structured diamond patterns and instead evokes a fun and creative vibe. Try it behind a bed with adjacent walls and ceilings in Resene Quarter Tea, add a dresser in Resene Ethereal, a headboard in Resene Rebel and accessories in Resene Shilo and Resene Green Meets Blue.
For even more visual texture, double – or triple – down on angular patterns by adding a parquet floor stained with Resene Colorwood Rock Salt and a rug in a black and white geometric design.