►
◄
latest
habitat tv
blog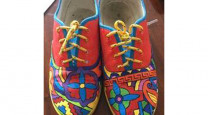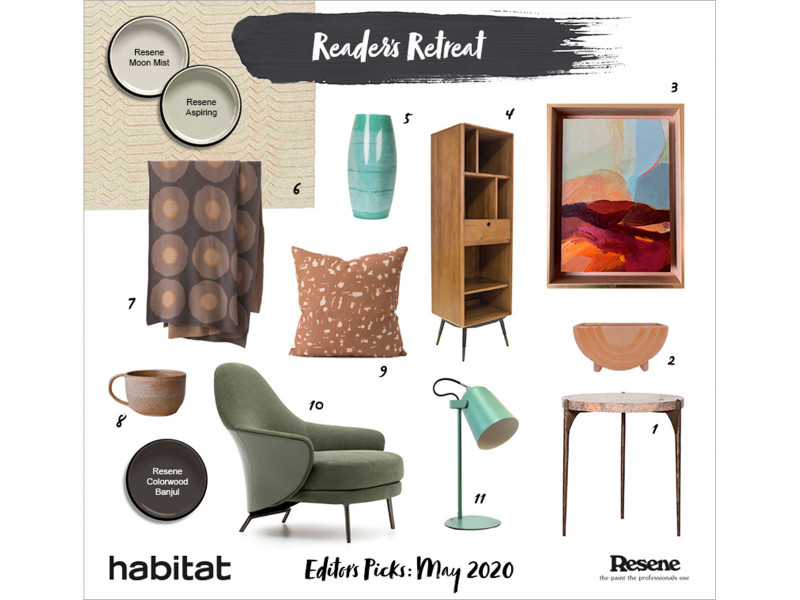 Editor's Picks: A nook for enjoying your favourite books
06 May 2020
With much of the world stuck at home, there has never been a better time to catch up on some of the books we've been meaning to get around to. Those who write and edit for a living are generally, and unsurprisingly, avid readers. But if you, like me, hadn't been reading as much as you'd have liked until recently, your home may also have been missing a suitable space to do it in.
Much like with a home office, designing a reading nook that you're actually going to use starts with choosing a key piece of furniture: the right chair. Start your search by asking yourself what position you like to read in. Personally, I am one of those people who likes to put my feet up on to the chair or sofa I'm sitting on so that I can curl up into it, so my ideal reading chair is a deep and wide one. Maybe you prefer an ottoman to prop up yours, or to be more upright, or more reclined. The answer to this question should be your main guidance before you focus on other aspects of the chair, like colour and shape – because if it just looks pretty and you don't actually like to lounge in it, I can promise that you never will. I like this armchair, as it offers plenty of options including choice of fabric for both front and back and has a matching ottoman available, but I appreciate it most for its simplistic, stylish shape and that its arms are splayed enough that I can fully curl up in it.
In a space meant for reading, cosiness should reign supreme, so be sure to pick soft furnishings that you enjoy the feel of. In designer speak, we call this the 'hand' of the fabric. A soft, medium pile rug that is divine on the toes, a non-scratchy knit throw in a pretty pattern and a feather-filled cushion in an easy to clean fabric do the trick for me.
To most people, earthy colours are inherently restful – which is why I have selected Resene paint colours and items for this space in hues that are pulled from nature and are fairly muted. I would take Resene Aspiring from the dado line down to the floor and slightly lighter Resene Moon Mist from the dado line all the way up and on to the ceiling to add an extra element of style. But in order to ground the space, I would choose timber flooring stained in dark yet warm Resene Banjul, which also complements the colours of the furnishings.
While the suggestion may be sacrilege to some, second-hand books on less than gripping topics can frequently be found at op shops and rummage sales – and possibly even in your own home or garage – and can be put to decorative use with a lick of paint on their spines or covers. For this room, I would pull the most eye-catching colours out of the Georgina Hoby Scutt painting I selected to paint a few books and pick up some Resene testpots to match. Resene Red Berry, Resene Florentine Pink, Resene Flashback, Resene Bali Hai and Resene Trinidad would work a treat in adding some interest to the space. These colours could then be used in a third place in the room, such as on plant pots, vases, picture frames or other similarly small accessories to achieve adequate repetition and balance. Using a single colour in three places is the magic number that helps your eyes and brain link them together and interpret them as being part of the palette.

While the chair, bookcase and side table I've chosen aren't from a set – or even from the same shop – they still go great together because they all share commonly coloured and shaped legs. When mixing and matching furniture, this is the very first thing you should pay attention to when deciding whether or not items will work with one another. When it comes to a bookshelf, I prefer closed sides to keep books or decorative bits from falling out – but I also like this one from Nood that has extra dividers and shelves of varying heights to keep book organisation at a maximum and extra vertical space for dust to collect at a minimum. As for the side table, a place to rest my cup of tea and my phone while it charges is about all the surface area I need. I like the elegance of this marble topped one for its shape and colour.
Ensuring adequate lighting is also of high importance in a reading nook in order to avoid eye strain – especially if you read into the evening, when your room will naturally have less daylight. Be sure to include a task lamp in your space that can be directed onto your pages rather than relying on overhead lighting, which will either end up being too bright or not bright enough.
If you will be reclaiming a corner of an open-plan room for your reading nook and are looking for a little more privacy, try a folding screen (such as this walnut and brass one from Me & My Trend) to create some division and send a message to others you live with that distractions will have to wait as you're currently off in another world. Or, you can create your own out of three identically sized pieces of thick plywood or MDF by installing hinges to their edges. That way you can also paint them in your favourite Resene colour to match your space.
Mood board
Paint: Resene Moon Mist, Resene Aspiring
Timber Stain: Resene Colorwood Banjul
1. Khotan Side Table from Republic Home
2. Rainbow Planter in Terracotta from Iko Iko
3. Landscape in Aubergine by Georgina Hoby Scutt from Good Thing
4. Stanley Shelf in Dark Brown from Nood
5. Cloudy Momi Aqua Vase from Republic Home
6. Armadillo & Co Savannah Rug in Natural from The Ivy House
7. Sunflower Cotton Knit Throw from Citta
8. Curved Mug by Salad Days from Blackbird Goods
9. Still Life Cushion Cover from Citta
10. Minotti Angie Armchair from ECC