►
◄
latest
habitat tv
blog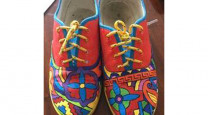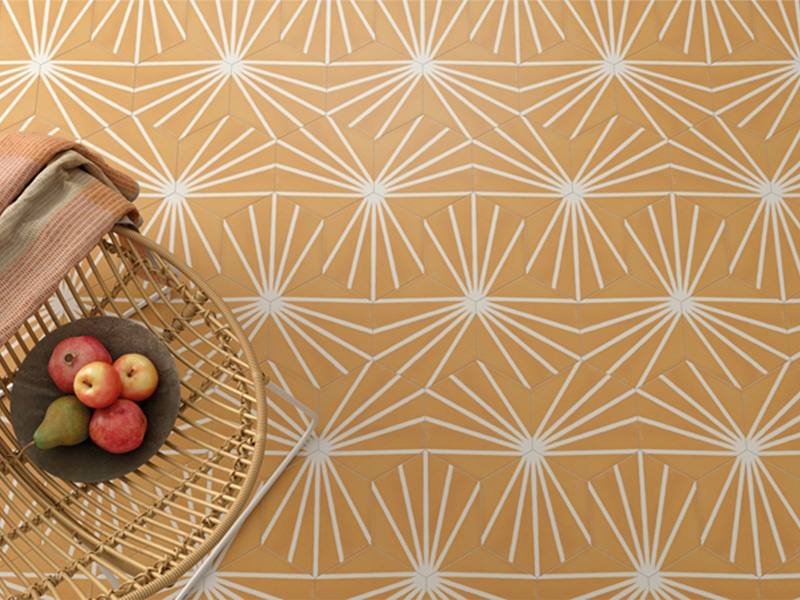 Embrace design from decades past with one these retro-revival makeovers
25 Jun 2019
It's easy to feel bewildered when you're staring down a fixer-upper covered in old laminates, but the truth of the matter is that most of today's interior trends are largely rooted in the past – and we owe so much of what's hot in contemporary design now to that of decades gone by.
Before you grab the sledgehammer, try taking a good hard look at your space through new eyes. There could be some classic, era-defining details that would be better embraced and given an uplift rather than an overhaul.
Below, we've put together three kitchen/dining concepts that give a nod to the '70s, '80s, and '90s – each with their own fresh contemporary spin. If the last time your space was given an update was during one of these decades, one of these mood boards might be just the ticket to making the most of beautiful elements you already have.
1970s Revival: Citrus Squeeze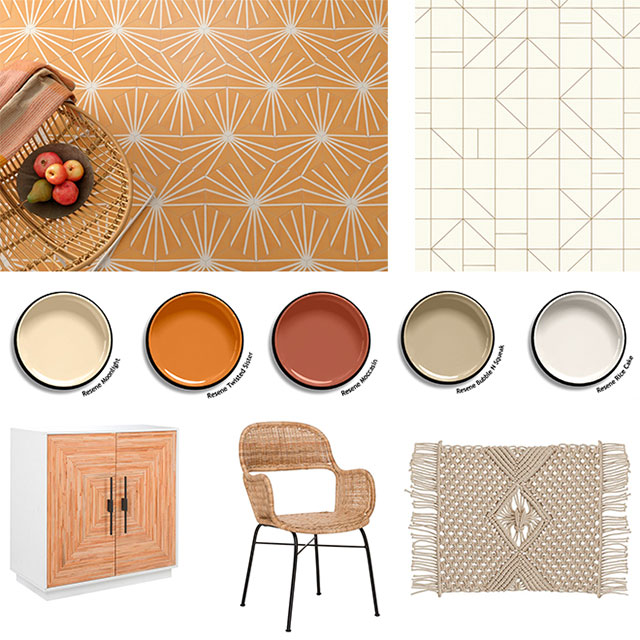 Top left: Meraki hexagon tiles in Mostaza from Tile Warehouse. Top right: Resene Wallpaper Collection 610727. Bottom from left: Cabana Bar Cabinet, Daintree Carver Chair and Macre Placemat from Freedom Furniture.
The right paint and tile combo is a classic way to achieve a convincing retro look, but the key to really nailing a revival look is to focus in on the best details that defined the decade. In the 1970s, that was colours like burnt orange, mustard, avocado with natural materials like warm-toned timber and woven fibres.
This citrus-inspired kitchen/dining palette lends a welcoming energy that is as lively as it is polished. A soft orange reminiscent of a sun-worn vintage polaroid, these Meraki hexagon tiles in Mostaza from Tile Warehouse are ideal for building a 70s-inspired palette. Try them with a simple geometric design like Resene Wallpaper Collection 610727 on a statement wall. Go for Resene Rice Cake on unpapered walls, Resene Moonlight on cabinetry, repaint a retro dining table in Resene Bubble N Squeak, and add a few accessories in Resene Twisted Sister and Resene Moccasin.
Lastly, bring in elements of glossy timber– try Resene Aquaclear or Resene Qristal Clear Poly-Gloss finish – and, if you can get your hands on one, add in a mint green retro-revival style fridge to really sell the look.
1980s Revival: Pastels that pop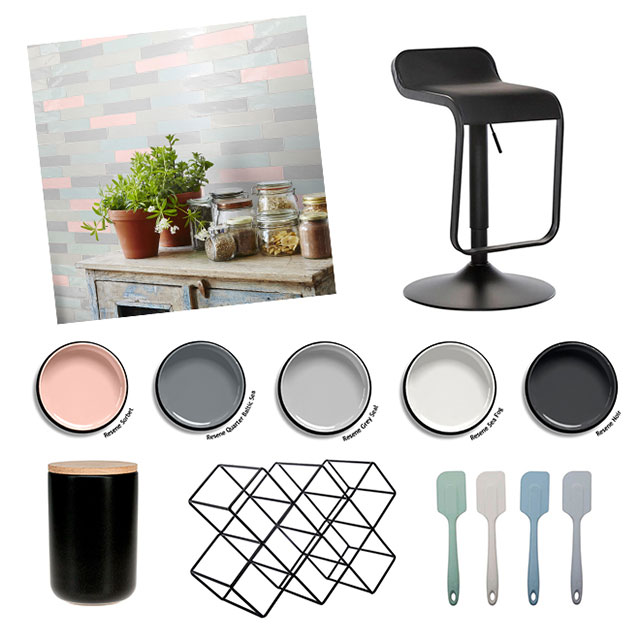 Build an 80s-inspired kitchen with a pink and grey palette of Resene Sorbet, Resene Quarter Baltic Sea, Resene Grey Seal, Resene Sea Fog and Resene Noir. Clockwise from upper left: Harmony Collection gloss 75mm x 300mm tiles in Blush, Sky, Cotton and Smoke from Tile Warehouse; Barnett Bar Stools, Zeina Spatulas, Jura Wine Rack and Dane Canister, all from Freedom Furniture.
With their handmade look and subtle glaze, the pastels from the Harmony Collection from Tile Warehouse are ideal for bringing in some serious throwback charm. Try the blush version with walls in Resene Sea Fog, cabinets in Resene Grey Seal, an island in Resene Quarter Baltic Sea and bar stools in Resene Noir then add a few small accessories in Resene Sorbet to play off the blush-coloured tiles. Keep timber flooring and other elements light and warm in Resene Colorwood Natural or stick to the grey theme with Resene Colorwood Greywash.
1990s Revival: Green meets glamour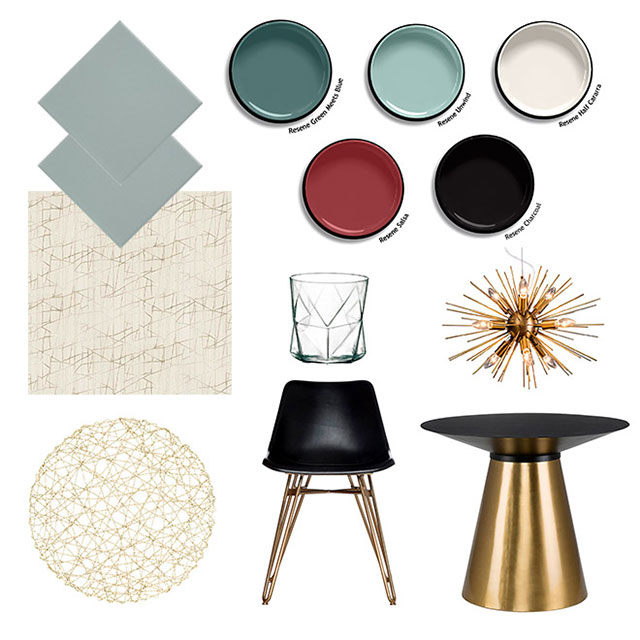 Try a colour palette anchored in notes of soft turquoise for a bit of neo-nineties glamour with Resene Green Meets Blue, Resene Unwind, Resene Half Cararra, Resene Charcoal and Resene Salsa along with Resene Wallpaper Collection 524512. Clockwise from top: TOPCER 2019 15mm x 15mm tiles in Turquoise from Tile Warehouse; Cassiopeia Glass, Daines Pendant Lamp, Riche Dining Table, Tannery Leather Dining Chair and Cubist Placemat from Freedom Furniture.
In an era known for grunge, extreme sports and hip-hop, the best high-end interiors in the 1990s were known for their glossy glamour.
This refined palette can unite a kitchen/dining area and lifts the space to new heights of style with a surprising mix of pastel turquoise and aqua alongside black and red with a focus on strong geometric shapes. Go for black granite or marble countertops and cabinetry in Resene Lustacryl tinted to Resene Charcoal with TOPCER tiles in Turquoise from Tile Warehouse.
In the dining area, lighten things up with Resene Wallpaper Collection 524512 on key walls and Resene Half Cararra on the remaining walls and trims. Paint a statement piece of furniture, such as a sideboard, in Resene Salsa and add smaller accessories, such as plant pots or vases, in Resene Green Meets Blue and Resene Unwind. A statement pendant lamp with notes of retro style will bring in some real character without overwhelming the space with one specific style. Seek out furnishings with details in smoky glass, brass, terrazzo and marble and plenty of high-gloss black finishes.