►
◄
latest
habitat tv
blog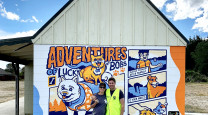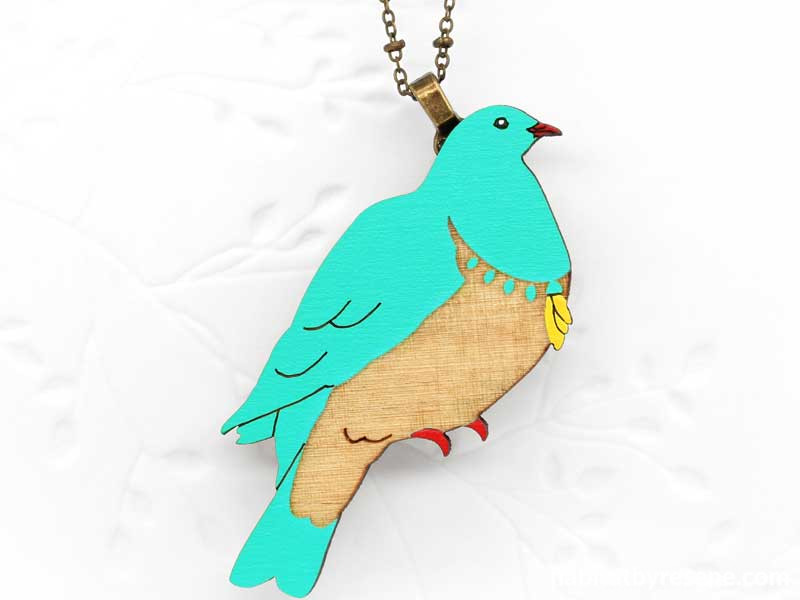 Shop crafty and local for Christmas with this roundup of handmade gifts from New Zealand makers
02 Dec 2021
Stuck for that unique gift for the person who has everything? We've corralled a collection of the unusual and beautiful from artisan makers, and you can order direct from them online.
Pots of fun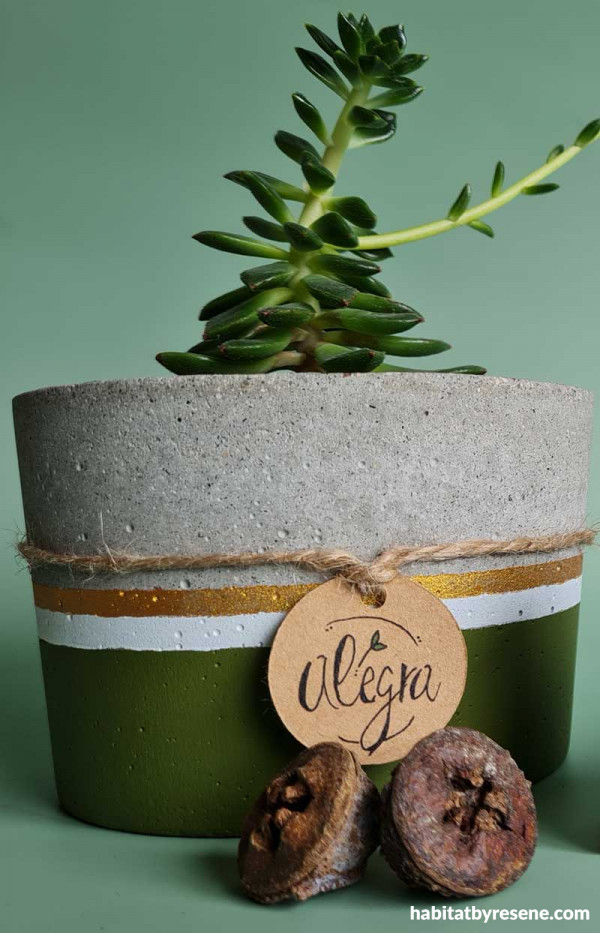 Pick up a pot in the colours of the season. Alegra by Nataly Castano offers a range of handmade concrete items for the home, and she adds colour with Resene Saratoga, Resene White and Resene Gold metallic. Find her pots at www.chooice.co.nz/store/alegra/
Cheers to that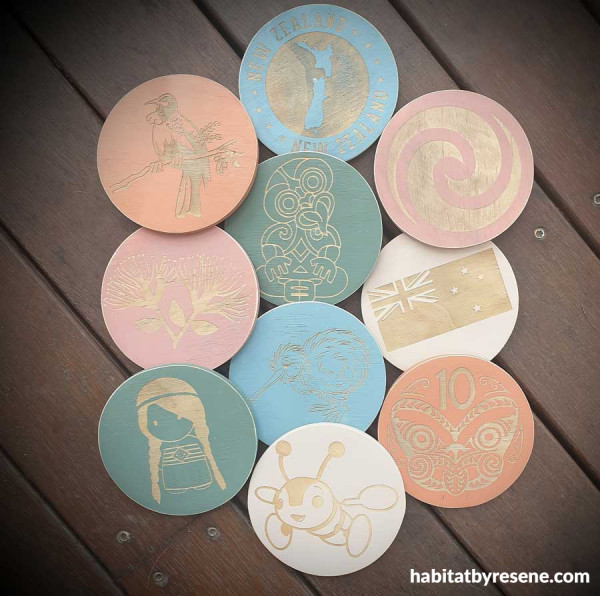 Kiwiana coasters may just be the perfect pastel touch for those socially distanced drinks parties. These are router-cut from bamboo plywood by Kristeena McNeil of The Router Room. They are hand-painted in Resene Gecko, Resene Tuscany, Resene Gothic, Resene Coral Tree and Resene Half Rickshaw.
See more of her work at www.chooice.co.nz/store/the-router-room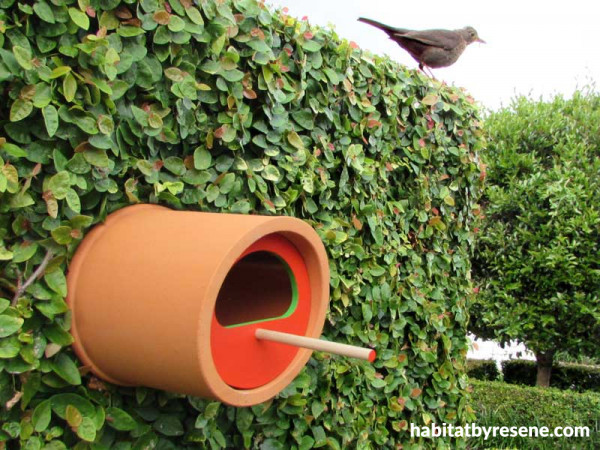 Nest in show
Nick Charlton had just finished applying the paint (Resene Guardsman Red and Resene Bilbao) when this prospective tenant appeared. And who wouldn't want to move into one of these bijoux residences? To last the distance Nick has chosen Resene Lumbersider as his paint of choice.
To gift a birdhouse to your favourite bird love, visit Nick Charlton Design at www.nativebirdnz.com
Feathered friends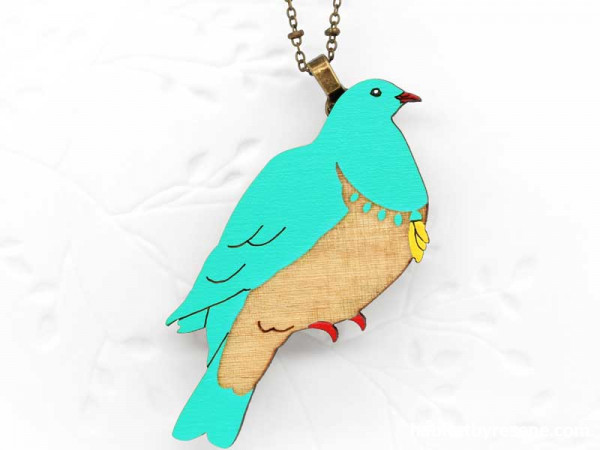 Carrying on with the bird theme – Felicity Meade of Little Wolf Studio laser-cut this kererū/wood pigeon out of plywood. It wears a kōwhai necklace, hand-painted with a tiny paintbrush using Resene Niagara with highlights of Resene Turbo and Resene Poppy. It hangs from a fine, beaded antique brass chain.
See more of her work here
Go green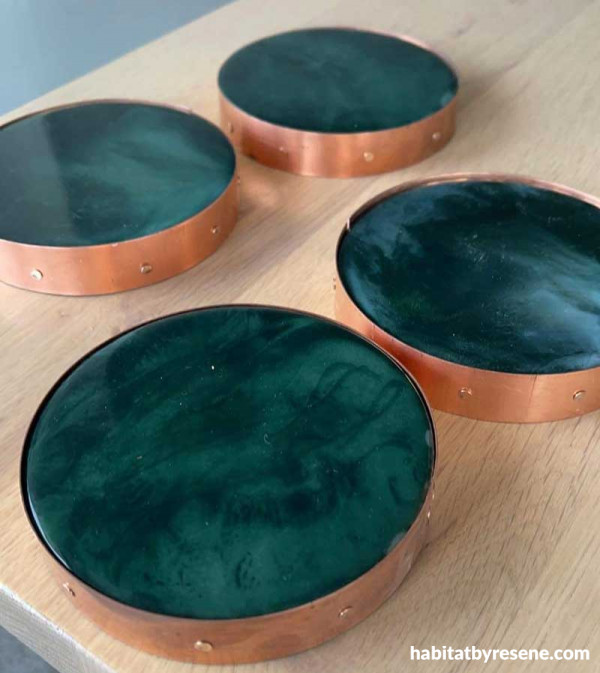 Natalie Walker mixes resin and Resene paint to create her collection of pounamu-effect coasters. To create the greenstone look, Natalie has used a combination of Resene Black White, Resene Permanent Green. Resene Kaitoke Green and Resene Palm Green to achieve the mottled effect of the precious stone. The coasters are encircled by copper. See more of her work at Contemporary Revolution Art: www.contemporaryrevolutionart.com/
Mother of dragons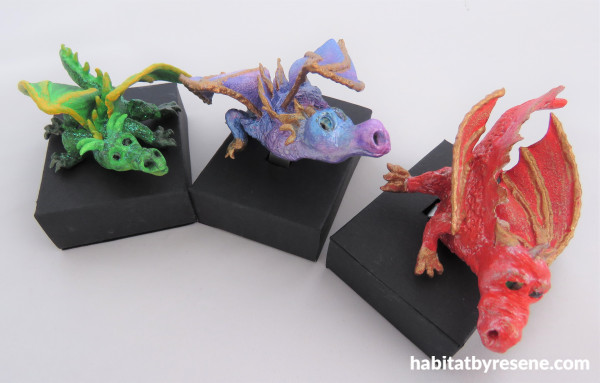 Arty Vicky, Vicky Millman, adores dragons and creates them in all sizes. These three Ring Dragons are made from wire, fabric, aluminium foil and CosClay. and painted with five Resene FX Metallics: Resene Funtasia, Resene Yeehaa, Resene Sugar and Spice, Resene Silver Aluminium, and Resene Bullion.
See more of her work here
Cycle style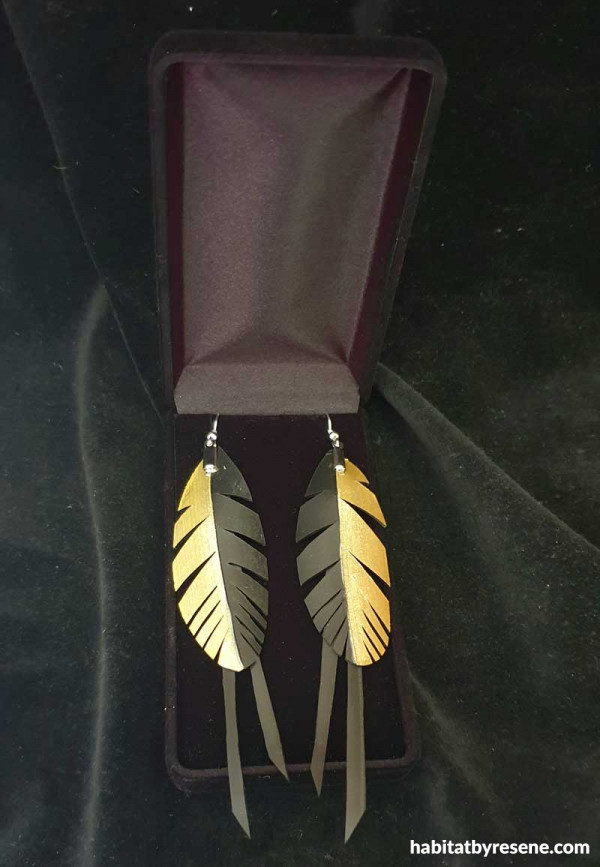 Elaine Grant-Dolby's feather jewellery is taking flight across the country. Her iridescent works start from upcycled bicycle tubes and with a splash of Resene paint and an abundance of creativity they are turned into fine-feathered artworks. These earrings are painted in Resene Gold Dust perfect for the Christmas season.
See more of her work here
Light fantastic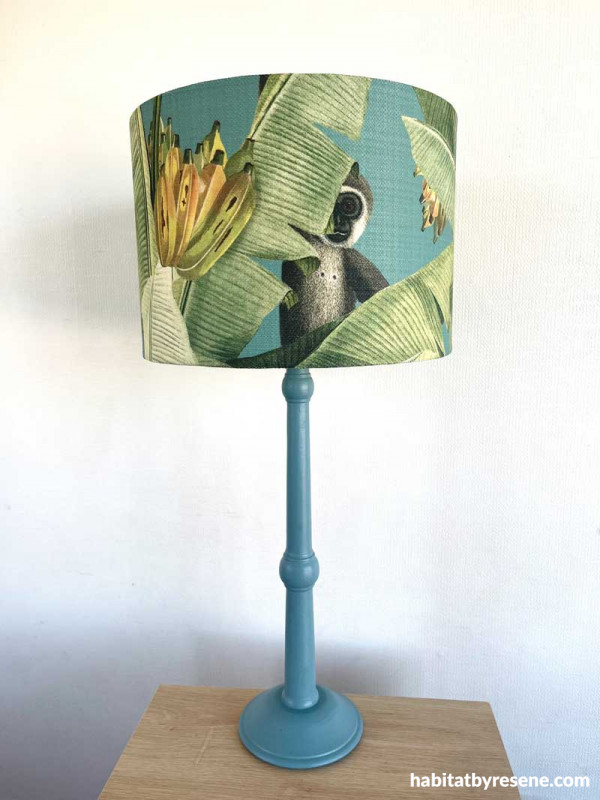 Add some summer sizzle to the living room with a lampshade from the tropics. When Holly Spooner is not handmaking lampshades she's busy transforming her 1950s bach with dazzling colours from the Resene range. On this lampshade she's paired Resene Half Smart Blue with a funky tropical print. For orders contact her on Instagram: @the_pink_couch_house
A gift that's alive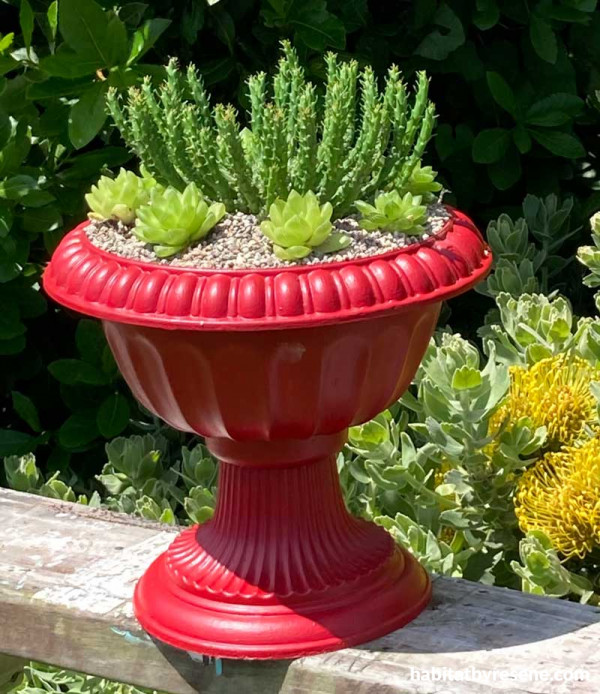 Botanical artist Kirsty Glasgow specialises in unique wedding and event pieces. For a Christmas theme she has gone rip roaring red with this urn in Resene Pohutukawa.
Contact her on Instagram @framedalivenz
Published: 02 Dec 2021