►
◄
latest
habitat tv
blog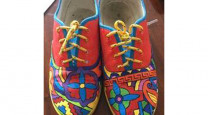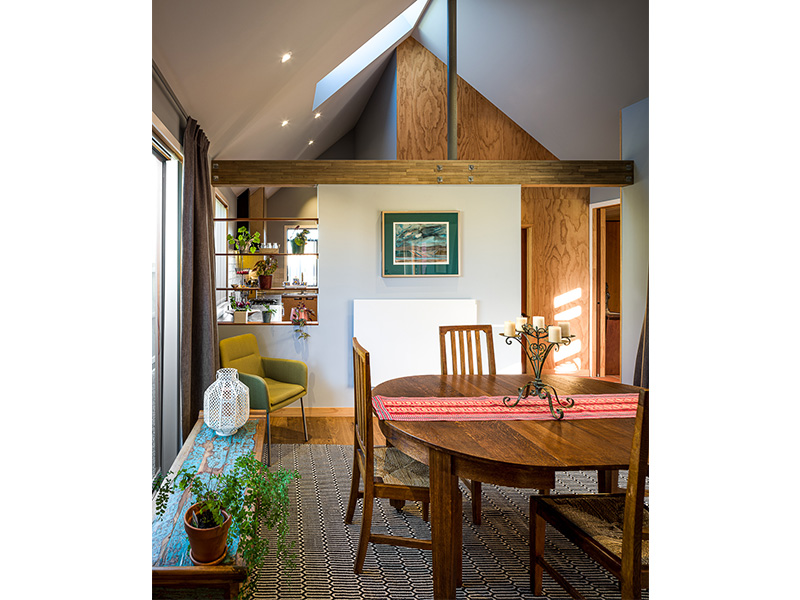 One dining room, three beautiful ways
19 Feb 2020
The gabled dining space in Stephanie Waterhouse's Christchurch home is a superb space. The design is a brainchild of Architect Don Jamieson and architectural graduate Joshua Dubbeld, one that is full of light, honest materials and a Resene colour palette that is reflective of the beautiful surrounding area.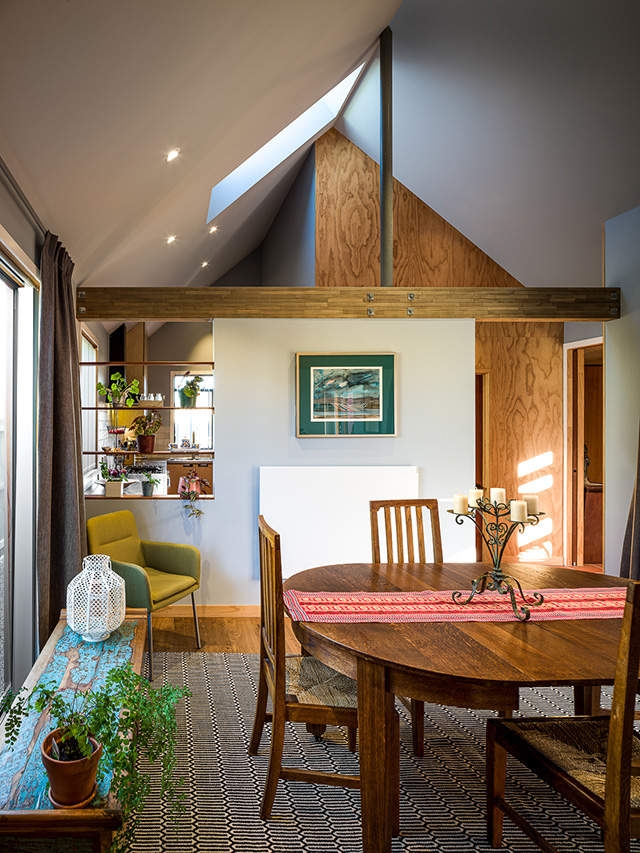 The walls of Stephanie's mid-century modern inspired dining space are painted soft blue Resene Longitude below the impressive gabled ceiling, which is in Resene Eighth Spanish White.
Even though it's quite a unique space, there is plenty of flexibility for it to be reinvented to suit different styles. We asked two designers, Amy Moore and Angelique Armstrong, to demonstrate two other ways it could be decorated.
Amy Moore suggests this alternative scheme: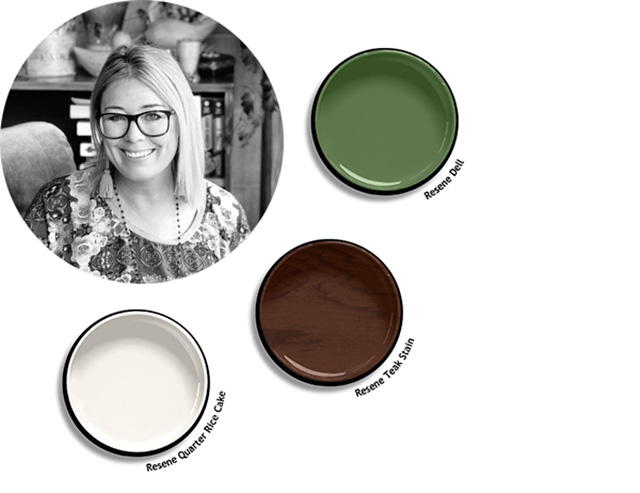 "I have given this dining space an organic feel through the use of green and timber while the angular forms of the white wire chairs give it a bit of an industrial edge. The stunning artwork draws your eye to the back of the room where it can continue on through the open shelving to the kitchen beyond, but it also brings the colour continuity of the Resene Quarter Rice Cake ceiling and adjacent walls on to the feature wall while furthering the nature theme. Where a visually solid table could dominate, a glass topped version creates a feeling of spaciousness. The large bubble pendant adds an element of drama when dining while tying together the mid-century modern details of the lounge chairs, table and accessories into one cohesive package."
A bold colour goes a long way when used well. A verdant feature wall in Resene Dell defines this delicious dining room, filling it with colourful character. It's flanked by adjacent walls and a ceiling in Resene Quarter Rice Cake while Resene Colorwood Teak wood stain brings warmth to the timber wall and floor. Choosing soft furnishings that match your wall colour helps them to recede and create a greater sense of visual space. Lamp from Mr. Ralph, Wallace Chair, throw and cushion from French Country Collections, rug and side table from Città; Nebula Art from Runa and Holly, Arco Round Dining Table from Freedom Furniture, curtains from Little & Fox.
Angelique Armstrong suggests this alternative scheme: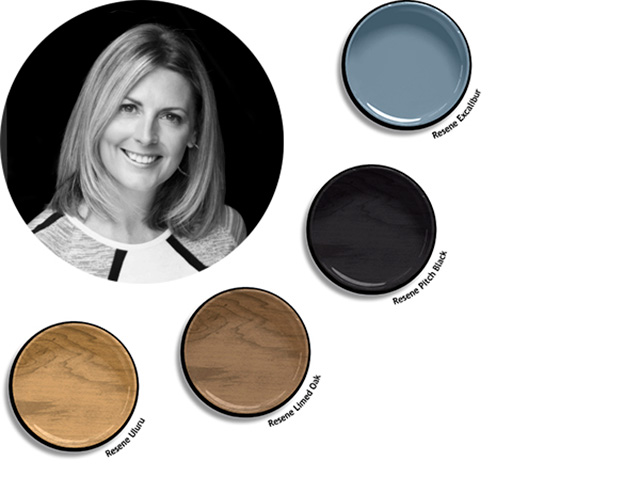 "While this house is contemporary, there are elements of the dining space that feel like a call back to classic 70s design. The plywood details also give it a similar vibe to some holiday homes. I wanted to keep the furniture modern and have added a feature wall in one of the latest Resene fashion colours, Resene Excalibur, behind the buffet unit, which is topped with a vase of fresh lavender and other accessories that lyrically evoke the colours of summer. Against the classic Resene Colorwood Pitch Black timber stain of the ply and the Resene Alabaster walls, I wanted the room to feel fresh, homey and little different from the normal. This is accomplished through a layered blend of dark and light timbers with black and gold accessories while the repetition of round shapes helps create a unified space."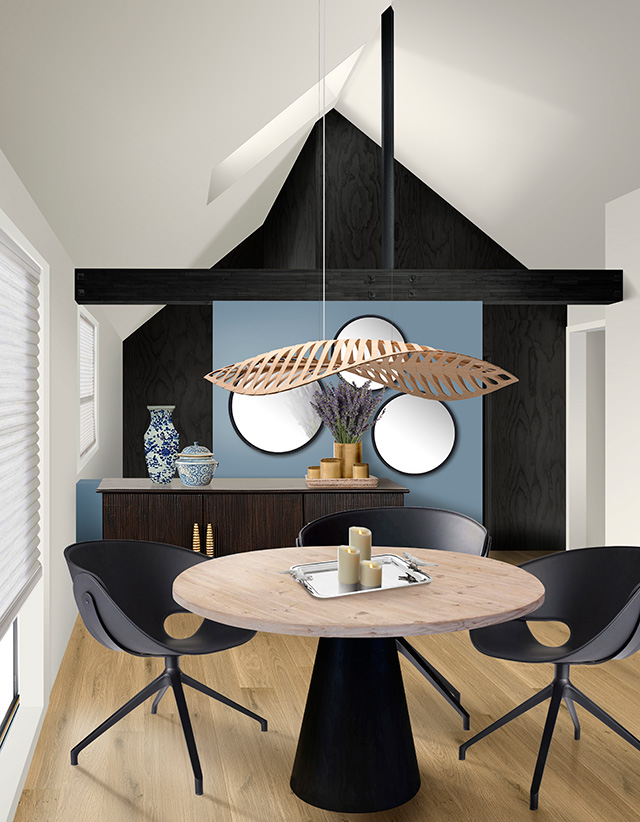 Despite the depth of colour in Resene Colorwood Pitch Black, taking it – and the plywood – across the back wall further opens up the space, rather than closing it. The key is keeping the ceiling and adjacent walls light and bright in Resene Alabaster and visually breaking up the space with a feature wall in Resene Excalibur. Angelique went for timber flooring stained in Resene Colorwood Uluru followed by a coat in Resene Colorwood Limed Oak to create even more layers in the space. Paloma Recycled Pine Table with Cone Base from CC Interiors, Tonon Flat Lounge 924 Chair X4 from David Shaw, Jupiter Media Cabinet, Bistro Round Mirrors, brass vessels, rattan tray, and candles from Corso De' Fiori, Navicula Natural Medium lamp from David Trubridge, vases from Le Monde and crocodile tray from Regency Distribution.
architectDon Jamieson?
architectural designer Joshua Dubbeld?
interiors designers Amy Moore, Angelique Armstrong
illustrationsMalcolm White
photographyDennis Radmacher