►
◄
latest
habitat tv
blog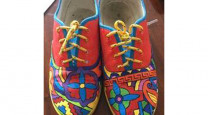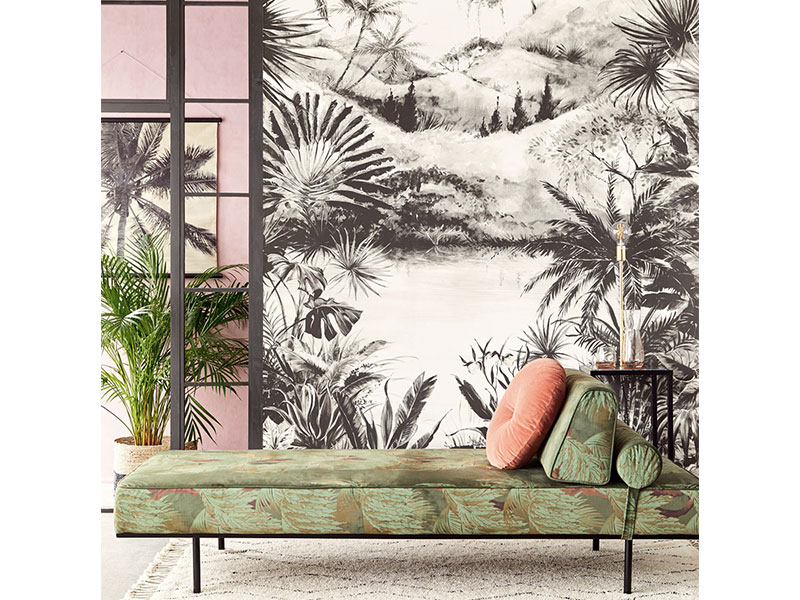 The tropical trend turns over a new leaf
15 May 2019
Today's tropical patterns have come a long way from the trendy bold emerald-green-plus-millennial pink version that was hugely popular. If you're tired of seeing that all too familiar look, try cultivating a lush look that's all your own with one of these fresh and refined elevated designs from the Resene Wallpaper Collection.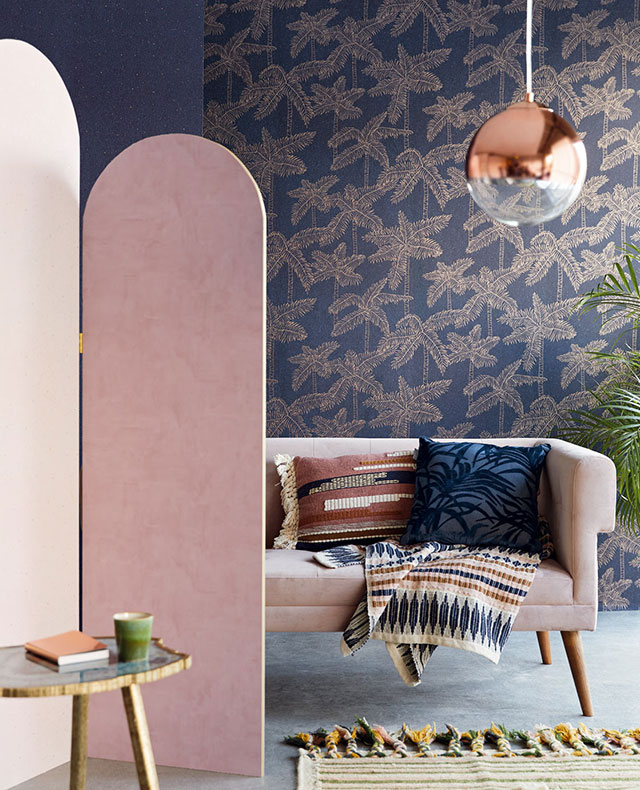 If you're not completely ready to say goodbye to millennial pink, use it in a more grown-up palette by pairing it with a cosmopolitan and classic navy, like the background of Resene Wallpaper Collection E384514. Use it for a feature wall and opt for Resene Coast on the remaining walls, then add in a statement piece of furniture painted Resene Shilo or Resene Ethereal and flooring in a dusty blue like Resene Raindance.
To finish the look, choose copper toned accessories to play off the pattern – or, give some of your old favourites a facelift with a fresh coat of Resene Rose Gold, which has a luxe metallic finish.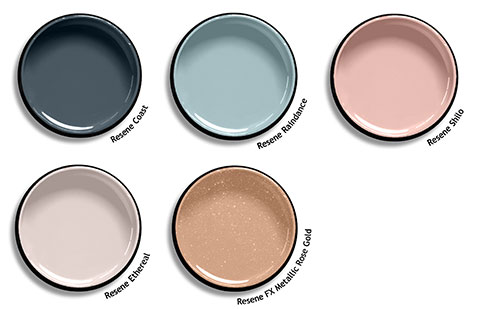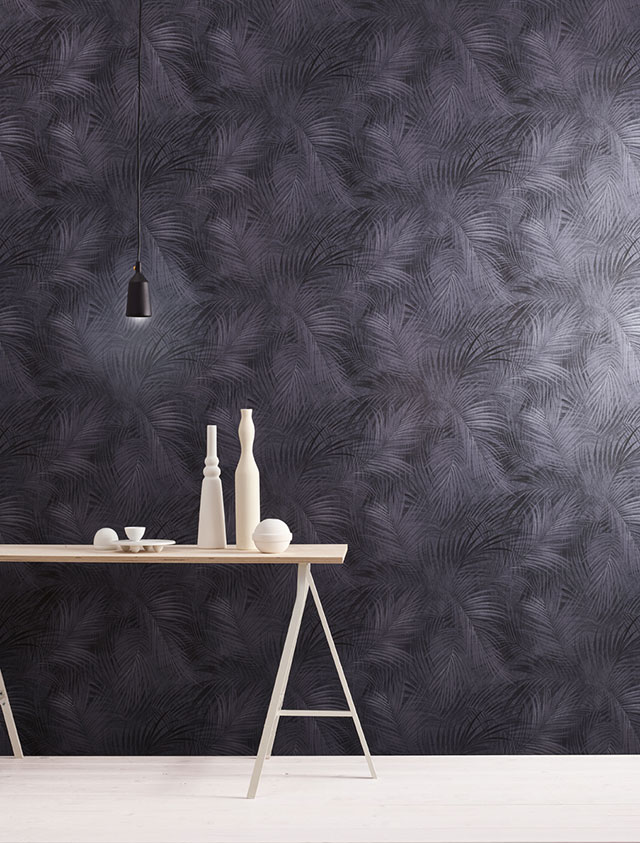 Tropical patterns are typically quite graphic, but that doesn't mean they have to overwhelm. For a pared-down minimalist look, try Resene Wallpaper Collection GLA901 with a mix of soft and creamy whites like Resene Quarter Spanish White, Resene Rice Cake and Resene Poured Milk, timber finished with Resene Colorwood Whitewash and a few pops of Resene Suits or Resene Noir.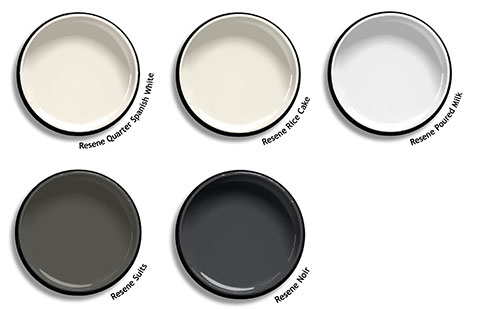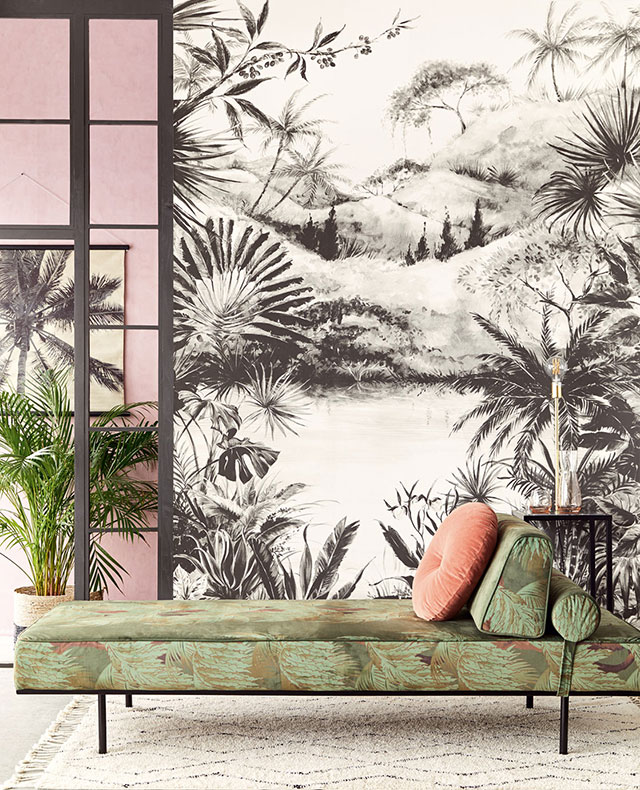 Tropical goes greyscale in Resene Wallpaper Collection 384604. For a worldly and sophisticated space like this one, try juxtaposing it with key pieces of furniture painted in soft greens like Resene Waiouru and Resene Green Smoke. For added interest, pair it with an accent wall in Resene Princess, trim in Resene Dark Web and floor in Resene Eighth Stonewashed.
Top tip: When using a big, bold feature wallpaper, frame an offcut and hang it on another wall in the space to bring in some pattern repetition without going overboard.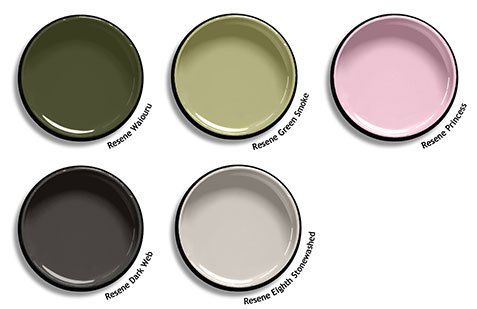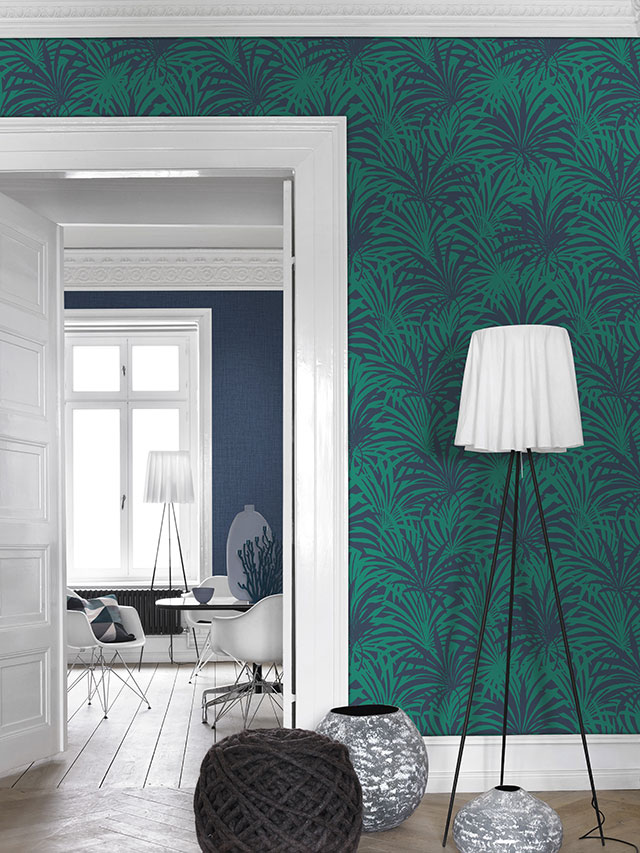 If you have a home with traditional elements, build a beachy bach look with Resene Wallpaper Collection 525946, a dusty weathered blue like Resene Safehaven and timber flooring in Resene Colorwood Mid Greywash. For added interest, try painting some small accessories – such as vases or baskets – in a rich sapphire like Resene Bewitched, a vibrant on-trend aqua like Resene Yowza and a high-contrast charcoal like Resene Quarter Bokara Grey. Keep trim crisp and clean in a bright neutral white like Resene Alabaster.